Paying for health insurance, after never having done so, is one of the biggest downsides to self-employment.
If you're not prepared for the costs of buying your own insurance plan, it can be a huge pain.
While not nearly as common as the ACA Marketplace or COBRA insurance, health care sharing ministries are a great way to protect yourself and your family.
What Is a Health Sharing Plan?
A health sharing plan is where you share your medical expenses with others in a health care sharing ministry. Because of this, it is often cheaper than traditional health insurance.
To clarify, medi-share ministries are not health care or health insurance.
And you must meet all requirements and/or have the same religious beliefs to be accepted into any health care ministry.
How Does Health Sharing Work?
Sharing medical bills means you carry one another's burdens in the sharing community.
Your share account helps cover other members' medical bills, and the favor is returned when you have medical bills.
Top Health Care Sharing Plans
To help you narrow down the best option, here are the details on the most popular health care sharing ministry programs.
1. Medi-Share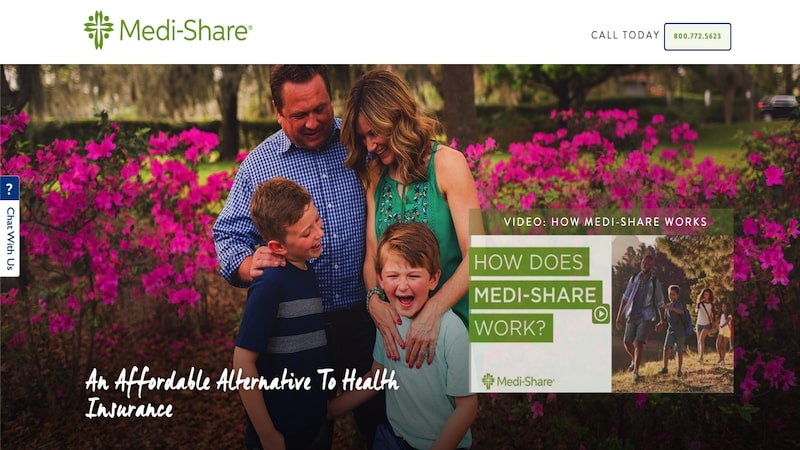 Medi-Share is a very popular health care sharing ministry. Unlike some medi-share ministries, Medi-Share does help negotiate expenses on your behalf.
This feature is a huge benefit as it can be difficult to negotiate without the help of insurance providers.
Also, get up to 20% off your monthly share amount if you meet their health incentive requirements.
Another bonus for Medi-Share members: Free, unlimited virtual doctor visits with Medi-Share's network of board-certified doctors.
Medi-Share bases its pricing on age, size of household, where you live, and the program option you choose.
There is an annual amount of qualifying medical bills that a family must meet before any eligible bill may be shared among the members.
Once you meet your annual household portion, all eligible bills will be processed for sharing for the entire household.
Not per person or event. It is one amount for the whole family for the year.
What You Need to Know
To be a Medi-Share member, you must meet the following qualifications:
Must have a valid Christian testimony indicating a personal relationship with the Lord Jesus Christ
Share the conviction that believers are to bear one another's burdens
Not engage in sex outside of traditional biblical marriage
Not use tobacco or illegal drugs in any form
Be a U.S citizen or a permanent resident with a visa or green card and SS number
Like other healthcare-sharing ministries, Medi-Share is not insurance but is still worth noting.
Learn More: Medi-Share Review
Medi-Share is currently waiving the app fee and new member fee through the end of the year (Value of $170 in savings)! Find out more by clicking here.
2. Samaritan Ministries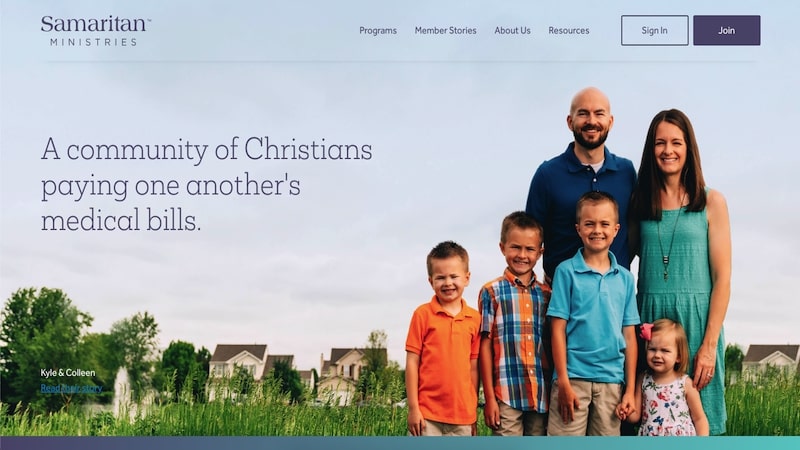 As stated on their website, "Samaritan Ministries members are a group of believers that have come together in Biblical community to help bear one another's medical burdens without the use of health insurance."
Samaritan Ministries are available in all 50 states and some foreign countries. The monthly sharing program expenses can vary as they depend on your marital status, age and the number of dependents.
They offer two packages; the Samaritan Basic and the Samaritan Classic.
What You Need to Know
Joining either of these Samaritan Ministries plans will cost you $200 as a one-time startup fee. This fee is non-refundable, even if you are only enrolled for a few months.
For any need over $250,000, you can join the optional, Save to Share plan. This is $399 per year, with a $15 annual administrative fee.
For the first two months of the membership, you will send payment to the office. After the first two months, you will then send payments directly to members in need.
With other ministries, you will send payment directly to them, and they will dispense to the recipients as needed.
One major downside of Samaritan is that you are responsible for negotiating with medical providers directly.
Lastly, if you wish to join this medi-share ministry, you do need to practice an evangelical faith.
3. Christian Healthcare Ministries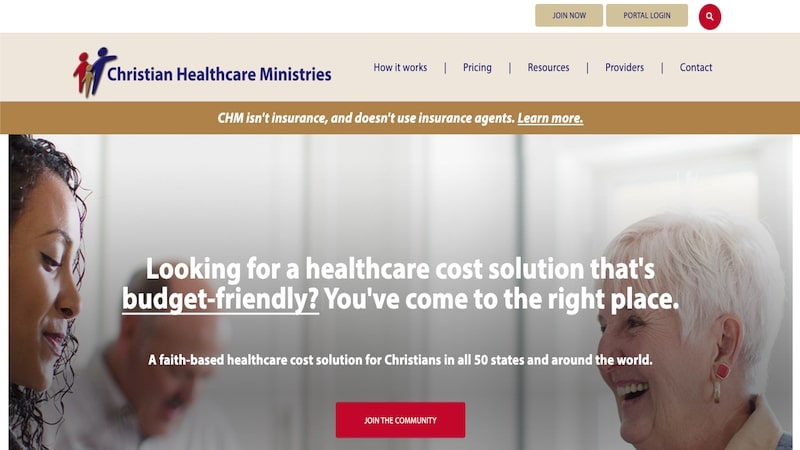 Christian Healthcare Ministries (CHM) is an affordable, biblical and compassionate, faith-based healthcare cost solution for Christians in all 50 states and around the world.
CHM is a nonprofit health cost-sharing ministry in which Christians share each other's medical bills. Again, this is not a typical insurance company.
They offer three main programs; gold, silver and bronze. You also have the ability to add on "Brother's Keeper."
This is a catastrophic medical bill program that increases your lifetime max per illness for anything over $125,000.
The annual fee for "Brother's Keeper" is an additional $45 per family.
What You Need to Know
To be a CHM member, you must meet the following qualifications:
Must be Christians living by biblical principles (this includes abstaining from the use of tobacco and the illegal use of drugs)
Follow biblical teaching on the use of alcohol, and attend group worship regularly if health permits
There are no restrictions based on age, weight, geographic location or health history.
CHM does not help negotiate your bills or make payments in your name. Also, payments are sent directly to CHM.
4. Liberty HealthShare
The next medi-share plan we'll talk about is Liberty HealthShare. Unlike Medi-Share, Liberty is available in all 50 states and has a strong reputation online.
Liberty Healthshare plans offer three programs; Liberty Unite, Liberty Connect and Liberty Essential.
All programs from Liberty Healthshare are based on single, couples and families. The prices are also based on three age brackets – under 35, 35-49 & over 50 (see guidelines for exceptions).
What You Need to Know
To be a Liberty HealthShare member, you must meet the following qualifications:
Agree to share one another's burdens and all other shared beliefs mentioned in their comprehensive qualifications page.
Believe that your body is a temple
Eat foods that nourish your body, not harm it
Do not drink alcohol in excess
Do not use tobacco products
Worship regularly with others
Additionally, you can check out Liberty Healthshare legal notice for specific state regulatory notices and notation that they are "not an insurance company and that it does not guarantee payment of medical costs. Our role is to enable self-pay patients to help fellow Americans through voluntary financial gifts."
For our readers, we want to be transparent in acknowledging Liberty Healthshare is being sued in federal court by a Florida-based health system.
5. Sedera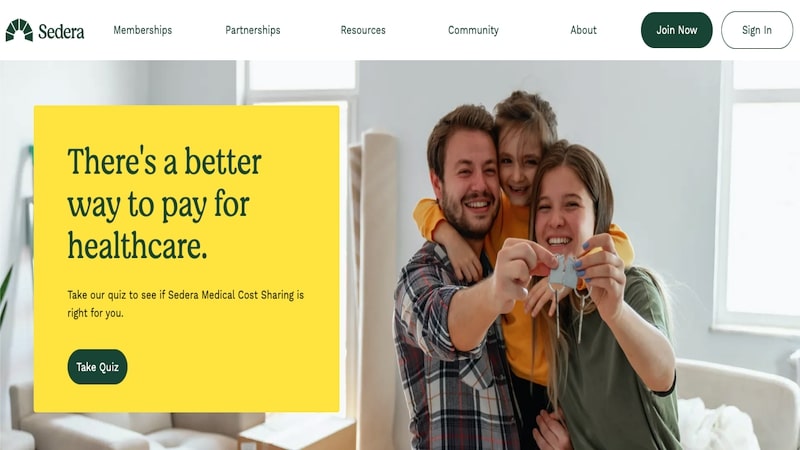 Sedera offers a transparent, affordable approach to medical cost sharing.
This medi-share company operates in nearly every state in the U.S. with the exception of Illinois, New York, Pennsylvania, Washington and Vermont.
Sedera bases your out-of-pocket costs on one of five membership health share plans. We'll outline the plans next.
The health share plans do not include your Direct Primary Care Monthly Membership fees.
The plans are based on your age and the number of people in your family.
There are additional costs for tobacco users and other costs too. See the Sedera website for more information.
What You Need to Know
Sedera has member guidelines as well. They call their guidelines "Principles of Membership".
Some of the Principles of Membership include abstaining from the use of illegal substances, a commitment to practice good health and lifestyle measures.
Also, you need to agree to understand that Sedera is a benevolence organization and that they don't guarantee payment of medical expenses.
For more information on Sedera, visit their website at the link above.
Frequently Asked Questions
If you're thinking about signing up for a health care sharing plan, here are answers to some of the most common questions.
1. How do health care sharing ministries work?
In most cases, you will present your membership card upon arrival. In essence, everyone in the ministry pays a specified amount each month.

This is known as an annual personal responsibility or unshared amount. Think of it similar to a deductible in a traditional health insurance program.

If your medical bills go past a specific amount, then the expenses are shared by the group within your ministry.

If you need to pay some doctors or medical providers with cash, you will be reimbursed by the ministry.
2. What are the differences in plans between each of the medical sharing ministries?
While none of these plans are health insurance, they have similarities to major plans.

Instead of paying a monthly premium (like in health insurance), you pay monthly amounts for yourself and your family.

Each plan also has different requirements and total covered amounts per event.
3. What type of restrictions are there for new participants?
Each plan has its own restrictions and qualifications.

Make sure you read through them carefully to ensure you qualify and are eligible to enroll in the specific plan.
4. Are families allowed in health sharing programs?
Yes, all the plans mentioned above do allow families. Each plan will be different, but each adult must meet all the requirements on each site.

The fees are higher as the costs are dependent upon the number of people enrolled in the health sharing plan.
5. How does it work with the Affordable Care Act?
As members of a non-insurance health care sharing ministry, members have an exemption from the federal requirement that they must have insurance or pay a penalty tax.
6. Do I still have to pay if I don't have any medical expenses?
Yes, similar to not having any insurance claims, you are still responsible for making your monthly payments (or share) even if you don't incur medical expenses.
7. What if I have pre-existing conditions?
The protocols for pre-existing conditions are different for each medi-share ministry. Some of them might not allow you to be eligible for the first year of your membership like Liberty Healthshare.

Some of them may not cover pre-existing conditions at all. So be sure to read the fine print or ask the medi-share ministry directly about your health situation.
8. Is there a commitment to my membership?
No, from what I've researched, there are not six or 12-month terms. But, if you miss a payment or it's late, your service will become inactive, and you might need to re-enroll.
9. Can I enroll in both traditional health insurance AND a health sharing plan?
Technically, yes, you can enroll in both. However, it would most likely be much more expensive.

On Liberty's site, it notes that some members enroll simply to help others and never plan on submitting bills.
10. Do I need to submit a statement of faith?
It depends. Some ministries require you to submit a statement of faith. Others won't.

Check to see if the plan you are considering requires a statement of faith before applying.
Health Care Sharing Plans vs. ACA
Now that you have learned about health sharing ministries, you should take time and compare them with your current plan. Figure out what will work best for you and your family.
You might want to stick with traditional insurance if you do any of the following:
1. Take prescription drugs
Some medi-share plans won't cover all medications and prescriptions, unlike ACA plans.
Paying prescriptions without any type of insurance can be incredibly expensive!
2. Indulge in tobacco use
If you use tobacco, none of the medi-share ministries above will allow you to enroll.
While this might be a good reason to stop using tobacco, know that it is not permitted with any of these medi-share plans.
3. Have an HSA (health savings account)
Unfortunately, you can't pair an HSA with a health care sharing plan to save even more on taxes.
If you do have a HSA-compatible plan already, though, check out Lively, which is Free, FDIC insured, and it takes about 5 minutes to set up.
4. Have a chronic or pre-existing condition
Some, but not all, medi-share plans won't allow you to enroll if you have chronic or pre-existing medical conditions.
Even if you have a recurring condition, I'd recommend sticking with traditional health coverage.
Recurring incidents will be charged each time as a new medical service even though it might be treating the same issue.
Who Might Be a Good Fit for Health Sharing Plans
Healthcare Sharing ministries won't be for everyone, but they might be a good fit for.
A Christian who likes the idea of sharing costs with like-minded individuals
If you believe in helping others and sharing costs, this is a great option.
You want to use doctors in different networks and areas
With these ministries, you don't have to worry if your provider is in-network or out-of-network. This can be a huge benefit for someone who doesn't love going to one provider or wants multiple opinions on complex medical conditions.
People who live in expensive ACA states
Each individual's costs will be vary, but some states have much higher costs than health sharing plans.
Healthy individuals
These plans can be great if you rarely go to the doctor but want a safety net in case something big does come up.
Summary
Switching from traditional health coverage to a health sharing plan is always an option.
If you've been enrolled in a traditional insurance plan, it might feel like a big difference, but it can save you thousands each year.
Remember, don't just choose the plan that is the cheapest, find the one that works best for you and your family.
Health-sharing plans are much less expensive, generally have a lower deductible, lower annual costs and helps you share the cost with other like-minded individuals.
But, if you have chronic medical conditions, prescriptions or don't meet the faith requirements, stick with traditional insurance.