Even if you are young and healthy, it's crucial that you have health coverage to protect against injuries or medical scares.
But health insurance isn't always cheap. Even low-cost plans can cost you hundreds of dollars a month. In fact, many Americans avoid going to the doctor because they can't afford to be properly insured.
How To Get Cheap Healthcare
Here are some options to help you find cheap health insurance options for you and your family.
1. Go Through Your Employer
This choice is a no-brainer for anyone who works for a sizable company.
If your employer subsidizes the cost of health insurance, you'll usually get better coverage and pay less than if you were to try and purchase insurance on your own.
In most cases, employers will allow you to buy insurance for not just yourself, but your immediate family.
Employers will often give you a choice between a more robust plan with higher premiums and a lower-cost plan with less coverage or more restrictions.
Companies often will offer dental insurance and vision plans as well.
The Kaiser Family Foundation reported that about 156 million people receive employer-sponsored insurance.
On average, most workers contribute between 0% and 25% of the premium cost to get health insurance.
And workers who received employer-sponsored insurance contributed an average of $5,588 in premiums in 2020, while employers contributed $15,754 (source).
2. Check Heathcare.gov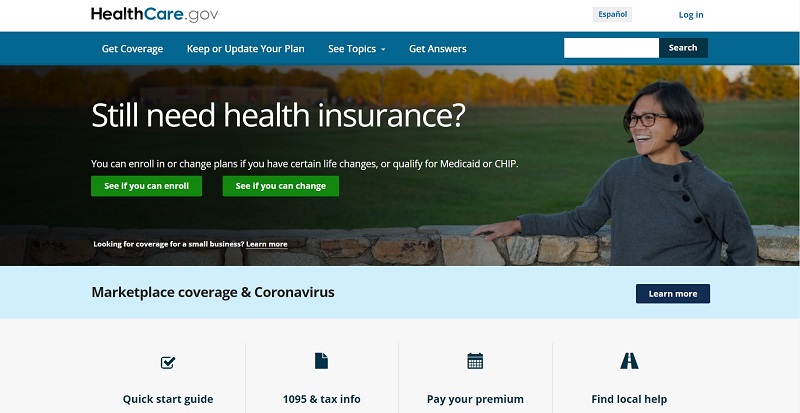 If your employer doesn't offer health insurance, Healthcare.gov can be one of the most affordable options with government-subsidized insurance plans.
The Affordable Care Act isn't perfect but it allows many Americans to access insurance, often at reasonable prices, through a healthcare exchange.
You may even qualify for subsidies if your income is below certain levels.
When is open enrollment for health insurance?
Open enrollment is usually from November 1 to December 15 each year. During this time, people can switch healthcare plans without penalty for the next calendar year.
However, you may be able to still sign up for insurance if you've had certain life changes:
Job loss
Having a baby
Getting married
The open enrollment period is generally from February 15 to May 15.
During this time, people can buy or switch health insurance plans penalty-free.
Healthcare.gov offers tiers of plans with a variety of monthly premium payments and deductibles. And depending on your income level, you may qualify for subsidies.
When comparing plans, the exchange asks for your estimated annual income to calculate your subsidy. The monthly premium price is after the subsidy discount.
Healthcare.gov directs you to a state healthcare exchange to compare plans. You can find your state's health exchange here: www.healthcare.gov/marketplace-in-your-state/.
See What Assistance You Qualify For
In addition to potentially qualifying for subsidies, you may be eligible for a variety of federal or state programs designed to reduce your health costs.
Here are three of the largest health aid programs:
Medicare: over age 65
Medicaid: are disabled or have a low income
Children's Health Insurance Program (CHIP): For families that make too much for Medicaid but can't afford private health insurance.
There may also be programs at the state and local level.
3. Health Sharing Ministries
It is possible to get reasonably priced health insurance through religious groups that share costs among members. These are called health care sharing ministries.
Not all ministries officially qualify as insurance under the provisions Affordable Care Act. To be recognized, these ministries must be a non-profit.
They must also share the same religious or ethical beliefs, can't discriminate, and must have been formed before the year 2000.
Health sharing ministries may not cover as many procedures as secular insurance companies. But your monthly costs can be lower and help you save money.
Each ministry has different plan options and pricing.
Some health care sharing ministries include:
Christian Healthcare Ministries – Offers plans ranging from $78 to $172 per month, depending on the coverage level. Members can add catastrophic coverage for extra financial support in the event of a medical problem.
Liberty HealthShare – A group that began as part of the Mennonite Church, Liberty is now open to anyone who signs to follow five statements based on biblical principles.
Medi-Share – A Christian ministry based on the notion of "sharing of burdens." Monthly prices range from $181 to $627.
Samaritan Ministries – Offering "classic" and "basic" plans offering as much as $250,000 worth of coverage. There is no coverage for pre-existing conditions, and they cover prescriptions for only 120 days.
4. Consider a High-Deductible Plan
If you are healthy, you may be able to save money on insurance by agreeing to pay higher deductibles in exchange for lower premiums.
So-called high-deductible plans could save you money if you avoid illness or injury, but come with the risk of paying a lot out of pocket if you have bad health news.
The the average monthly premium on high-deductible plans is approximately $500 for an individual and $1,550 for families. The monthly cost can vary by state.
Of course, the tradeoff is that deductibles are much higher than traditional insurance. Many people refer to high-deductible plans as "catastrophic coverage" or "bankruptcy protection."
The IRS defines any plan with a deductible higher than $1,400 for an individual and $2,800 for a family in 2021.
If you have a high-deductible plan, your out-of-pocket expenses can't top more than $7,000 for a single person and $14,000 for a family each year.
With high-deductible plans, patients are usually asked to pay for all expenses up front until they meet the deductible.
It may seem like you are paying a lot of out of pocket, even if you are ultimately saving money.
Because of the potential for high up-front costs, those with high-deductible plans may want to consider opening a health savings account, which allows you to set aside money on a pre-tax basis to pay for medical expenses.
Health savings account withdrawals can be tax-free for qualifying health-related expenses. The money can be withdrawn in the same year the contribution is made or as late as retirement.
It's also possible to invest health savings account balance to earn passive income.
5. Use a Broker
You may have used an agent or broker to purchase home or auto insurance. Why not try one for health insurance as well?
A health insurance broker is a professional who can help you find the best policy for you at the right price.
In some states, they may be required to hold a license and have a fiduciary duty to act in your best interest.
Keep in mind that most brokers work directly with insurance companies and are paid by commission from those firms, not by you. So it's in your best interest to find a broker that works with multiple companies.
The fact that brokers get paid by commission can be a double-edged sword. On the one hand, it's in their best interest to find a plan for you so they can get paid.
On the other hand, they may be inclined to match you with a plan that has extra features and coverage you don't need, due to the potential for a higher commission.
You can find a broker by searching The National Association of Health Underwriter's database as well as the Local Help database from HealthCare.gov.
6. Stick With Your Parents
Are you under age 26? If so, there may be no need to stress about shopping for insurance just yet.
Under the provisions of the Affordable Care Act, children can remain on their parents' insurance until age 26.
This option is a huge benefit to young people who may still be in school or just entering the workforce.
If your parents agree to keep you on their policy, they will pay more in premium. You can offset this cost by paying them back.
Even if you pay them back for that difference, you'll end up paying far less than if you were to seek insurance on the open market or healthcare exchanges.
7. Explore a Student Plan
So you're off to school. You've picked a major, met your roommate and have your class schedule. But do you have coverage in case you get sick at school?
If you are a college student but can't remain on your parents' insurance, you may be eligible for low-cost insurance through your university.
To clarify, some colleges offer health insurance and then lump in the cost with your room and board.
Private companies can also offer lower premiums for students.
A company called University Health Plans helps administer low-cost health insurance for students at dozens of colleges around the country.
Another option is comparing rates with your current car insurance company. Their rates can be competitive with other insurance options.
8. Evaluate an HMO
For the most part, you can place health insurance into two buckets: a Preferred Provider Organization (PPO) and a Health Maintenance Organization (HMO).
There are also "Point of Service" (POS) plans, and "Exclusive Provider Organizations (EPO) that are a hybrid between the two. Generally speaking, PPO plans are more expensive but have fewer restrictions.
If you choose to go with an HMO, your premiums will be low or even non-existent, and you may have smaller deductibles as well.
However, HMO's usually will only allow you to see a doctor within a specific network and will require a referral from a primary doctor to see a physician.
If low costs are your primary concern, an HMO may be worth considering, but you must be aware of the possible rules and restrictions.
9. Look Into Group Insurance
Everything is better as a group. And you may be able to get health insurance at the lowest cost through a group rate.
Insurance companies don't mind offering lower rates to groups, because it allows them to get many customers at once while spreading risk. Most group plans are employer-sponsored.
However, you may be able to get group insurance through collectives of freelancers, professional and trade organizations. Two examples are the such Screen Actor's Guild and Freelancer's Union.
Organizations for retired people, such as AARP, are another option.
If you are self-employed, you may be eligible to get small group insurance in 17 states.
Healthcare.gov also features the Small Business Health Options Program that allows the self-employed to get health insurance.
Employers with less than 50 employers can contribute to a Health Reimbursement Account (HRA) for employers that have a plan through Healthcare.gov.
10. Use and Online Insurance Finder
One of the best things you can do to save on health insurance costs is to shop around. You could contact each possible health insurance provider directly for quotes, or you can use a comparison portal.
Ehealthinsurance.com is an online platform that will list various plan options after you enter some basic information.
Even Healthcare.gov has a plan finder function that allows you to search for plans not available on the federal marketplace.
Pay Less for Being Healthy
Are you a non-smoker? Are you willing to track steps? Do you belong to a gym?
Some insurance companies will offer discounts or other incentives for people who are healthy or willing to make certain lifestyle changes.
The Affordable Care Act allows insurance companies to charge more in premiums to tobacco users, making it financially sensible to quit smoking.
Several apps pay you to exercise too.
Moreover, your employer might offer financial incentives if you take part in a wellness program.
A survey from National Business Group on Health and Fidelity Investments noted that 86% of employers offer some sort of incentive, with the average incentive valued at $784.
Some Key Questions to Ask
Here are some key questions to ask as you decide what health insurance plan to select.
What is your budget?
You should determine how much money you have available to contribute toward insurance. It should be a household expense you budget for with a predictable monthly cost.
Can you pay more now to avoid higher costs later?
To save money on monthly premiums, you may have to pay a higher deductible. Or, to avoid a sizable deductible, you'll need to pay higher premiums.
Can I get health insurance through my employer?
If your employer offers health benefits, they are most likely subsidized and much cheaper for you than if you were to go to a health exchange or the private market.
How healthy are you?
If you are healthy and young, you may be able to purchase a low-cost plan with minimal coverage. Or, if you have chronic conditions, you may need to spend more for robust coverage.
Do you value convenience?
Some lower-cost plans will require you to get referrals for specialist visits. Others will only let you see doctors in your network. To see any doctor at any time, you may have to pay more.
Do you need maternity care?
Having a baby is expensive, and some health care plans have more offerings for expectant mothers than others. Bringing a baby to full term is not something you want to skimp on.
Will you need prescriptions?
If you need to take medication, seek a plan that offers good coverage for prescriptions. Some plans restrict how often you can order medicines. Others may provide partial coverage.
You can also use a service like GoodRx that negotiates up to 80% savings on prescriptions with local pharmacies. This free platform helps you save money when insurance doesn't.
How long do I need insurance for?
You have a gap in employment or another issue that prevents you from accessing traditional insurance. This is where alternative products like short-term insurance may be useful.
"No Insurance" Should Not be an Option
I once met a man who chose not to purchase health insurance. He said, "I work out. I eat well. That's my insurance."
I often wondered what he thought would happen if he tore an ACL playing touch football, or got hit by a drunk driver.
Unless you're extremely wealthy and can afford to pay for a medical catastrophe that comes your way, forgoing insurance altogether is not advised.
Even the most healthy among us fall and break their arms, get into car accidents, or come down with life-threatening diseases.
A visit to the emergency room for even a minor issue could leave you with thousands of dollars in medical bills.
The costs of surgery could run in the tens of thousands of dollars.
While the Affordable Care Act no longer has a tax penalty for not having coverage, insurance provides peace of mind.
Summary
One of the most important things you can do to grow and protect your net worth is to ensure you are adequately insured.
This means shopping for quality coverage that will prevent you from paying high medical bills for a one-time emergency or a chronic illness.
Yes, health insurance can be costly. And when you go a long time without using it, it can feel like a waste of money.
However, you're always thankful to have it when you need it, and it should be a priority to budget for it.