When you think of typical nurse duties, you generally conjure up an image of a hospital with patients who need assistance.
Although many nurses are needed to physically work in hospitals, there are many opportunities for registered nurses (RN) to work from home.
Where To Work from Home As A Nurse
It may seem unlikely that you can find a work-from-home job with your RN license.
However, there are many places hiring! Let's take a look at the common places that hire nurses to work from home.
1. Aetna
Aetna (a subsidiary of CVS) is one of the largest healthcare and life insurance companies in the U.S. The insurance giant regularly hires RNs for telecommute positions across the country.
The Atena careers web page has many options available for RNs to work from home. Just filter your search using the telecommute filter to see what is currently available.
2. CareNet
CareNet is a healthcare service that offers 24-hour assistance to its patients. The focus of the company is on telehealth services.
Because of that, it makes for the perfect place to find a work-from-home job.
In addition, the company has a strong focus on bilingual patients. For that reason, the company encourages bilingual nurses to apply.
Check out CareNet career opportunities here.
3. McKesson
McKesson is a large player in the healthcare industry. The company offers nurses to work from home as implementation consultants and telehealth providers.
However, the roles are very different. As an implementation consultant, you will assist in the design and implementation process of new healthcare programs.
As a telehealth nurse, you will perform typical nursing duties over the phone.
To find open positions, check out the McKesson careers page.
4. Cigna
Cigna is another healthcare giant that provides work-from-home opportunities for RNs. The most common job available through this company is a medical case manager.
The company hires for other positions, but on a less regular basis.
To find out more about Cigna's job opportunities, take a look at the Cigna careers page.
5. UnitedHealth Group
UnitedHealth Group regularly hires RNs to work from home. The company is known for providing solid jobs with good benefits.
Many of the jobs offered by UnitedHealth Group require you to travel within your local area. Although the job is not strictly from your home office, it is still based in your home.
To find out more, visit the UnitedHealth Group careers page.
6. Ontrak Health
Ontrak Health (formerly Catasys) is a company that works with medical organizations to lower the costs of their operations. It does that by identifying patients with behavioral health disorders.
Specifically, behavioral disorders that contribute to other medical conditions.
In other words, it's looking for patients with substance abuse, anxiety or depression issues that keep them from seeking care.
As an RN, you can be employed as a Care Coach. This role is responsible for helping patients enroll in the Ontrak Health program.
This is a year-long program to treat behavioral disorders. With this job, it will be your duty to help the patients through the entire process.
The job is mostly conducted from home. However, there are some required in-person meetings.
7. MediTelecare
MediTelecare is a company that is focused on connecting patients to appropriate mental healthcare professionals.
As a telehealth clinical psychologist, you will conduct phone evaluations of patients remotely.
8. CVS
CVS is one of the largest pharmacy chains where many people receive healthcare. As an RN, you can work from home in two different positions.
The first is through the Home Infusion program. This job would require you to make home visits to patients and provide infusions.
And the second option is managing a nurse hotline, which would be entirely from home.
Check out the CVS jobs site to find out more about these options.
9. Johnson & Johnson
Johnson & Johnson has a variety of opportunities for nurses to work from home. However, these options only pop up from time to time.
Although the frequency of these opportunities is low, it is still worth mentioning this option.
If you want to work with the company, then you will want to check Johnson & Johnson careers page frequently.
10. McBee
This healthcare consulting firm works with a variety of healthcare organizations to provide additional support.
McBee hires nurses to review medical records and assess different treatment options. You may also be asked to relay relevant information to insurance reviewers.
Many of these opportunities are part-time, which may be exactly what you are looking for.
The McBee careers page has more information about these opportunities.
11. Mercy
Mercy has more than 40 clinics and specialty hospitals in its network. However, the company also offers some jobs for nurses to work from home.
As a remote nurse with Mercy, you would take calls and provide answers to patients. A basic requirement is that you have five years of experience in a hands-on healthcare environment.
Find out more about the opportunity on the Mercy careers page.
12. Elevance Health
Elevance Health (formerly Anthem) hires nurses for work from home positions. And many positions come with good benefits packages.
Some of the positions it hires for include nurse medical manager. Be prepared to assist patients over the phone.
Find out more on the Elevate Health careers page.
13. BioMarin
BioMarin works with patients who have very rare disorders and diseases. Although the conditions may vary, the company claims to offer high-caliber care to each patient.
To reach that goal, BioMarin hires nurse clinical coordinators who assist the patients through the process.
Most of the duties will be conducted remotely. However, some in-person visits may be necessary. Due to this, you may need to travel locally on occasion.
In order to work in this role, you must have experience working directly with patients. The company also prefers to hire RNs.
Find out more about these opportunities on the BioMarin careers page.
14. Humana
You have likely heard of this healthcare giant. The size of the company allows it to post work-from-home opportunities on a regular basis.
Within the company, there are many different types of roles for RNs to fill.
Just check out the Humana careers page to get started.
15. Best Doctors
Best Doctors (a subsidiary of Teladoc) offers healthcare services remotely. Through the telehealth option, the company is able to assist many patients who cannot travel.
The telehealth company has work-from-home positions that RNs can fill on a semi-regular basis. You may need to visit the job board at Teladoc several times before finding an open position.
16. FoneMed
As the name implies, FoneMed provides patients with over-the-phone care. As an RN with FoneMed, you will field calls and answer questions from patients.
Some of the positions are location-dependent. However, others can be done from home.
You can find out the details of each job posting on the FoneMed careers page.
17. The U.S. Department of Veteran Affairs
This large federal government agency hires remote workers to provide triage services over the phone. If you are interested in working with the agency remotely, find out more from the VA careers page.
18. Allegiance Benefit Plan Management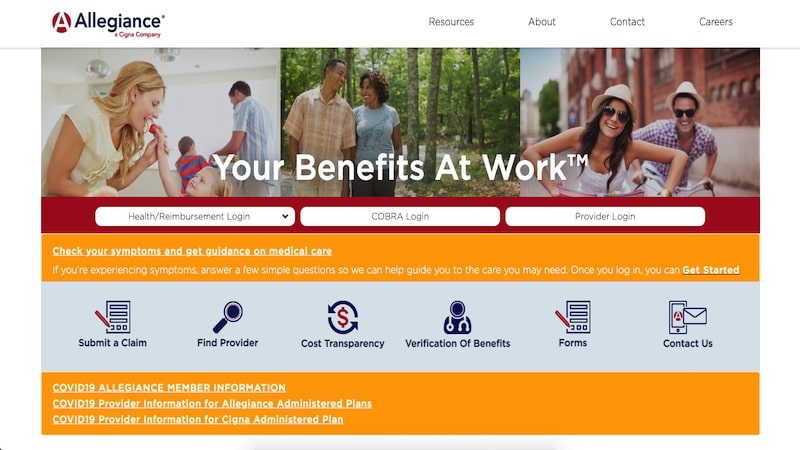 Allegiance Benefit Plan Management works with companies to create medical packages as a part of their benefits plans.
As an RN, you could be hired as a case manager or medical review nurse. Both positions are completely remote, but your level of interaction with patients will vary.
If you are interested, visit the Allegiance Benefit Plan Management website.
19. Amedisys
Amedisys offers a limited number of opportunities to work-from-home RNs on an irregular basis.
Most of the opportunities seem to require you to travel locally to see patients, but you would be based from your home office.
You should check the Amedisys site regularly for opportunities if you are interested in working with them.
20. Abbott
Abbott focuses on providing accurate diagnostic systems for a variety of healthcare problems. On an irregular basis, the company hires RNs to answer patient questions over the phone.
In order to work here you would need to become very familiar with the Abbott products. If you are interested in learning more, then check out the Abbott careers page.
21. Change Healthcare
Change Healthcare hires medical coders to work from home. It requires that you have experience in medical coding and an RN license.
Some of the postings have location requirements, but the duties can be done from home.
Find out more on the Change Healthcare careers page.
22. Auto Injury Solutions
Auto Injury Solutions works with auto insurance companies to validate claims. As an RN, you would work over the phone to clarify medical terminology and other potential issues with claims.
Although you will need to attend an in-person training, you will quickly transition to your home office.
The company offers a competitive benefits package. Learn more at Auto Injury Solutions.
23. Evolent Health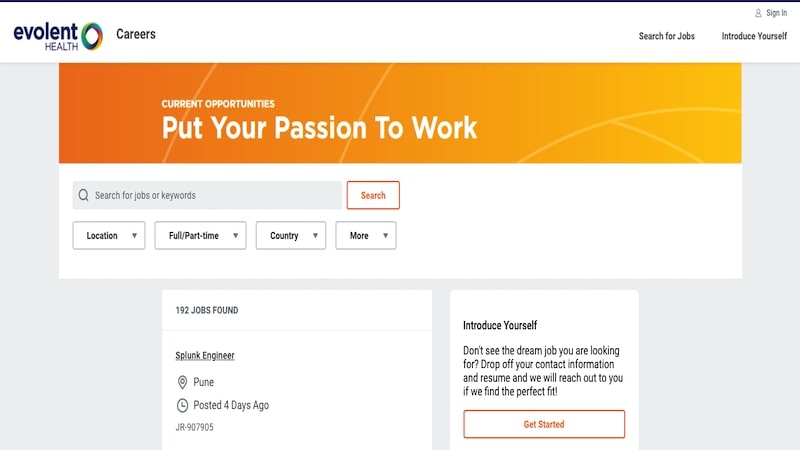 Evolent Health works with healthcare organizations and has a need for RNs to fill several remote roles. In order to find the best opportunity for you, check out the Evolent Health job search page.
Some of the requirements of the jobs include experience in the field. In addition, some require educational credentials to support your license.
24. eQHealth Solutions
eQHealth Solutions hires RNs to perform case manager duties remotely. You will help patients through the treatment process by creating medical plans.
Along with that, you will oversee the care of your patients. Even though the job is based from home, it may require some local travel to your patients.
In addition to your RN license, you will need between three and five years of hands-on experience to be considered.
To find out more about the requirements, check out the eQHealth Solutions site.
25. AviaCode
As the name suggests, this company works with organizations to provide medical coding support. The company hires RNs with medical coding experience to work from home with the company.
If you are interested, take a look at the AviaCode site.
26. CareCentrix
CareCentrix works with patients and insurance companies to lower the overall cost of healthcare. The company offers many work-from-home opportunities.
As an RN, you will likely assist patients by phone as they work through their home care regime. The basic goal of the job is to help the recovery process go smoothly for patients.
With many openings becoming available regularly, the CareCentrix job search page is a great place to start looking for an opportunity.
27. GeBBS Healthcare Solutions
GeBBS Healthcare Solutions occasionally lists remote opportunities for RNs. The most commonly listed job is a surgical clinical reviewer.
You would be responsible for consulting with medical staff and ensuring quality care for the patients.
You can find out more about these opportunities on the GeBBS Healthcare Solutions career page.
28. iMedX
iMedX works with medical organizations to provide medical coding and transcription services. As a remote RN, you would likely be required to work some weekend and night hours.
Specifically, the company hires workers for its second and third shifts. If this type of schedule interests you, then check out the iMedX careers page.
29. WellStar
WellStar hires RNs to work as remote case managers. Although the company has a good reputation for flexible work arrangements, there are caveats.
Specifically, you need to be aware of the location requirements of each job. You will be able to work remotely, but your license may need to be current in a specific state.
Find out more about WellStar opportunities on its career page.
30. Registry Partners
Registry Partners works with a variety of medical organizations to review records and ensure efficient care.
The company offers RNs to work remotely as VPS data abstractors. The duties include reviewing medical records in the PICU and NICU areas. That means you need hands-on experience in those areas.
If you have the experience, then you should check out the Registry Partners careers page.
31. Piedmont Healthcare
Piedmont Healthcare offers part-time work-from-home opportunities to RNs. Most of the jobs require some local travel to provide at-home care to patients.
However, most of your duties can be performed from your home.
Check out Piedmont careers for more information.
32. Molina Healthcare
Molina Healthcare is a large player in the healthcare insurance industry. Because of the large size of the company, there is a wide range of career opportunities.
The company regularly hires experienced RNs to work from home.
Take a look at Molina Healthcare's career page to see if any of the postings are a good match for your experience.
33. Interim Healthcare
Interim Healthcare is focused on providing in-home care to geriatric and disabled patients. It is likely that you would need to make visits to your patients.
However, the position is considered remote. Be sure that you can fit patient visits into your day before applying for a job with Interim Healthcare.
34. IntellaTriage
IntellaTriage works with medical organizations to provide triage solutions. The company hires RNs to work over the phone for a variety of clients.
Typically, you will need to work weekends and holidays with Intellatriage.
If you are interested in working with Intellatriage, then check out the IntellaTriage employment page.
35. AdhereHealth
AdhereHealth works to connect patients to their pharmacies in a better way. It offers remote call center positions to RNs who will review any prescribed medications.
The goal is to ensure nothing overlaps negatively.
To find out more, visit the AdhereHealth careers page.
36. Piper Clinical Solutions
Piper Clinical Solutions works in the dental insurance industry to assess claims properly. As an RN, you would work to review each claim before it is effectively processed.
And the requirements of the company are rigorous. It prefers RNs with eight-plus years of medical experience and vast experience with medical coding.
If you meet the qualifications, then you can find the postings on the Piper Clinical Solutions careers page.
37. Study.com
Study.com offers a different type of job for RNs. With this job, you would be asked to create lessons for nursing students.
Typically, the company prefers writers who have a background in teaching medical subjects. And the hours are very flexible, which may be exactly what you need.
If this sounds interesting, check out the Study.com careers page.
38. Online Nursing Teaching Facilities
Many online schools hire RNs to teach their courses. However, you will need to also have an advanced degree (MSN or Ph.D.) to land a job.
A few of the options include Excelsior College and Strayer University. Take a look to see who is hiring now.
39. Nursing Admissions Evaluator
Many colleges hire RNs with at least an MSN degree to review applications. You would be responsible for admitting the most promising students in the program.
One college that is hiring is Western Governors University.
40. Livongo
Livongo hires nurses to work from home to educate patients with diabetes about the condition over the phone. You can find out more about this opportunity on the Livongo careers page.
41. GEIS Writers
GEIS Writers hires RNs and other medical professionals to create medical content. If you have your RN license and decent writing abilities, then take a closer look at GEIS Writers.
Summary
There are lots of opportunities for nurses to work from home. Regularly searching through each company's site is one way to find a good opportunity. Or,do you need a more expedient way to find a job?
If so, then consider using FlexJobs or Indeed as a part of your search.
It may take some time to find the right job for you. Do not give up! The right opportunity will eventually present itself. Just keep searching until it comes along.
If you prefer to work for yourself, check out side hustle ideas for nurses.