If your health costs are rising every year, you're not alone. A recent employer survey by the Kaiser Family Foundation found that worker's contributions to health insurance premiums have increased 71 percent since 2009.
Over the same period, wages increased only 26 percent, and inflation went up 20 percent. Because of rising costs, more and more people are opting for high-deductible health plans (HDHP), which offer access to health savings accounts (HSAs).
HSAs are a great way to get a tax break and access investment options that can give you a higher return.
We'll look at the best places to open a health savings account (HSA) to minimize costs and maximize benefits.
Top HSA Providers
Here are our picks for the best places to open a health savings account and invest your money.
1. Fidelity HSA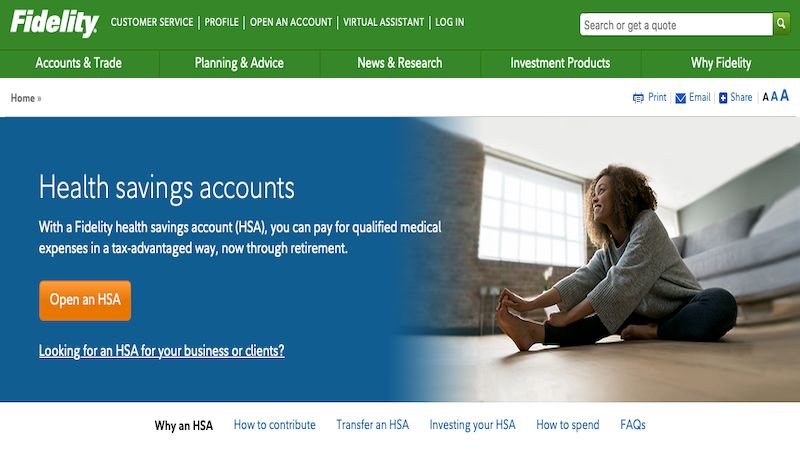 While Fidelity is well-known for investing, few people realize that the brokerage offers HSA accounts. In fact, some employers provide both employer-sponsored Fidelity 401(k) plans and HSA plans.
One of the biggest advantages of a Fidelity HSA is that it's free. This means no account minimums or fees, no administration cost or charges for debit cards.
It's a brokerage account that gives you options for your money, including investing your balance.
Fidelity is best known as a self-directed brokerage platform, which is also available through your HSA account. You can invest in more than 10,000 mutual funds, stocks and bonds.
This includes access to zero-cost funds, which are commission-free and offer a 0 percent expense ratio.
With a Fidelity HSA, you get access to options such as an online account, including bill pay, which allows you to make online payments for qualified medical expenses.
You also get access to a debit card, checks, electronic funds transfer and bank wires at no additional cost.
2. Lively HSA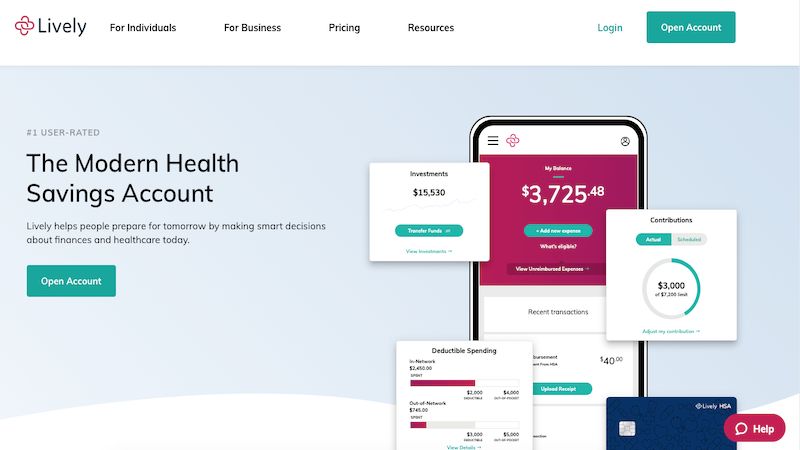 Just like with Fidelity, you can open an HSA account at Lively for free. Individual health savings accounts are free, with no hidden fees. You also have the peace of mind of an FDIC-insured account.
To invest your balance, you will have to open and maintain an account with TD Ameritrade, which is a difference from Fidelity. If you opt for the savings-account option, you will earn interest on your balance.
There are no minimum cash requirements so that you can invest the entire balance of your HSA account. Your investments via TD Ameritrade are free as long as they are inside a Lively HSA. You will have access to stocks, bonds, ETFs, mutual funds and more.
You also get $0 commission trades for ETFs, options and stocks.
Lively also offers online banking, and debit card options and their HSAs are 100 percent paper-free.
3. HSA Bank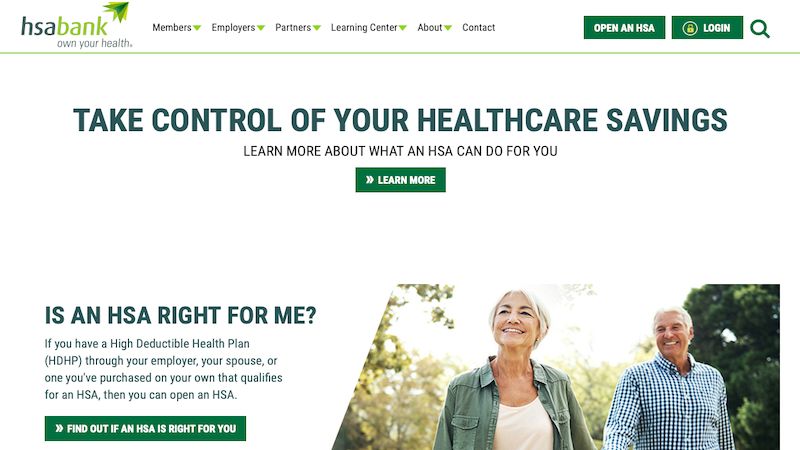 HSA Bank, a division of Webster Bank, N.A., offers several consumer-directed health accounts, including HSAs. You get access to modern features such as an online account and a mobile app.
They allow you to pay medical expenses using funds from your HSA account by writing a check, swiping a linked debit card, or using online banking. The accounts are FDIC-insured with an investment threshold of $1,000.
There is no minimum balance requirement, but you will pay a fee for savings account balances of less than $3,000. Expect to pay $2.50 per month for your HSA account.
You can invest your HSA balance through a self-directed TD Ameritrade brokerage account for stocks, bonds and mutual funds with $0 commission which applies to online U.S. exchange-listed stocks, ETFs and option trades which makes them an attractive investment.
Another option is the Devenir's self-directed investment program, an enhanced fund lineup of 31 no-load, low cost funds spanning a range of fund families and asset classes.
The program includes the HSA Guided Portfolio tool that powers a user-friendly experience that goes above and beyond traditional investment guidance.
Devenir charges a 0.30% annual fee, which is invoiced quarterly. The fee is calculated on a percentage basis and assessed based on the valuation on the last day of each quarter equating to 0.075% (or $0.75 per $1,000).
The fee is deducted pro rata from the mutual fund account on or about the 10th business day following the end of each quarter. No commission is charged on investment trades.
4. First American Bank HSA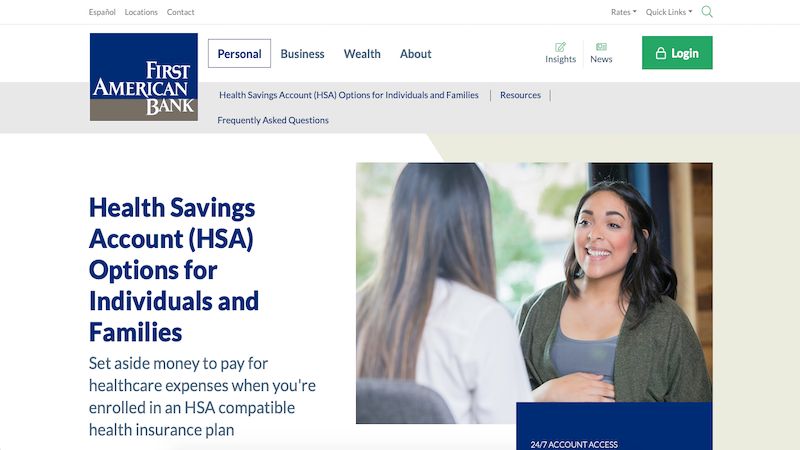 Another good option for opening an HSA is with First American Bank.
With the basic First American Bank HSA plan, you get access to features such as online banking and a free mobile app. In addition, there are no monthly account fees or minimum balance.
You can get access to your HSA funds via a debit card or online bill pay. Savings account balances earn tiered interest rates based on how much you have in your account. Your account is also FDIC-insured.
With an HSA PLUS account, you get all the features of the basic HSA with added access to a self-directed investment account with a selected group of mutual funds. The PLUS account comes with a $4.95 monthly fee but no load or trade fees.
Unlike other HSA accounts, your investment options are limited. While First American Bank has some nice features, there are better options for those interested in investing their funds.
5. The HSA Authority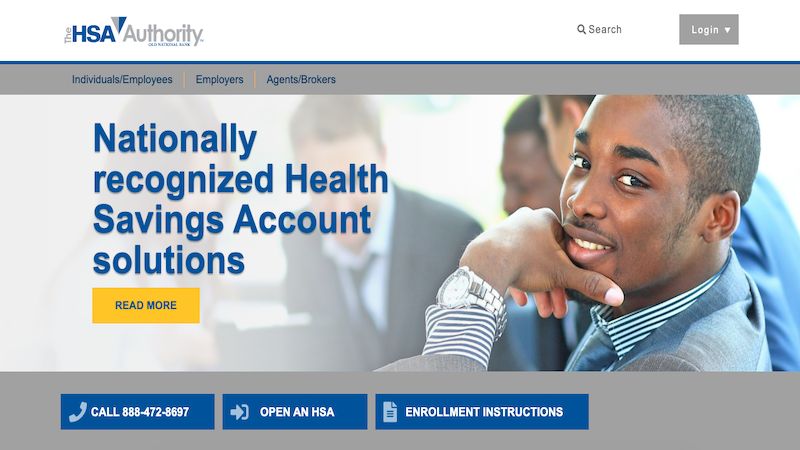 The HSA Authority, run by Old National Bank, offers an FDIC-insured account option. There are no monthly fees, and you can enroll for free online. If you'd rather go the paper route, expect to pay a fee of $14.99.
HSA Authority accounts come with modern features such as online banking and a debit card. You also have the option of paying bills via check. Interest rates on accounts vary based on your average balance.
Once you reach a balance of $1,000 in your account, you can invest it in load-waived mutual funds.
However, investing will cost you to the tune of $36 per year. You will have access to 30+ mutual funds to grow your HSA balance.
6. Optum Bank HSA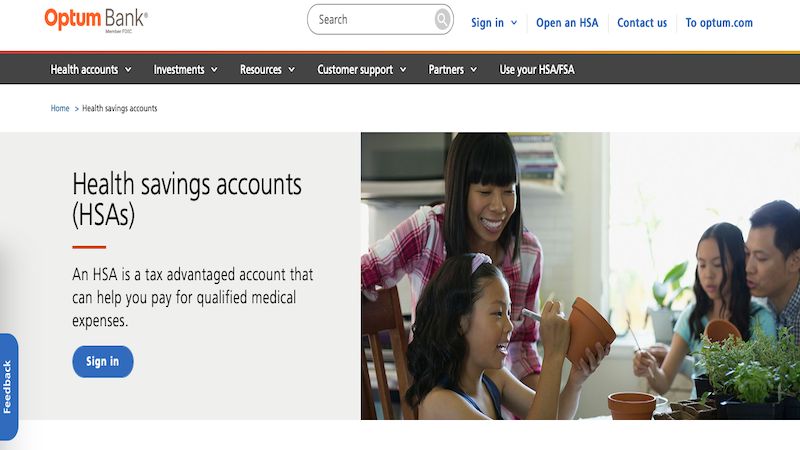 Optum Bank HSA is common with employers who offer this option. This is in part because Optum Bank is part of UnitedHealth Group. Employers often cover the $2.75 monthly fee, which you will see deducted from your account if you leave your job.
Optum offers FDIC-insured HSA accounts with features such as a mobile app, debit cards, checks and online banking. There is no minimum balance to get started, but if you want to invest, you will need to meet the $2,000 investment threshold.
When it comes to investing, you are limited in your options to those available through the Optum Bank platform. Also, you will have to pay a monthly investment fee of up to $10. This charge can quickly add up, eating away at your balance.
7. BMO Harris HSA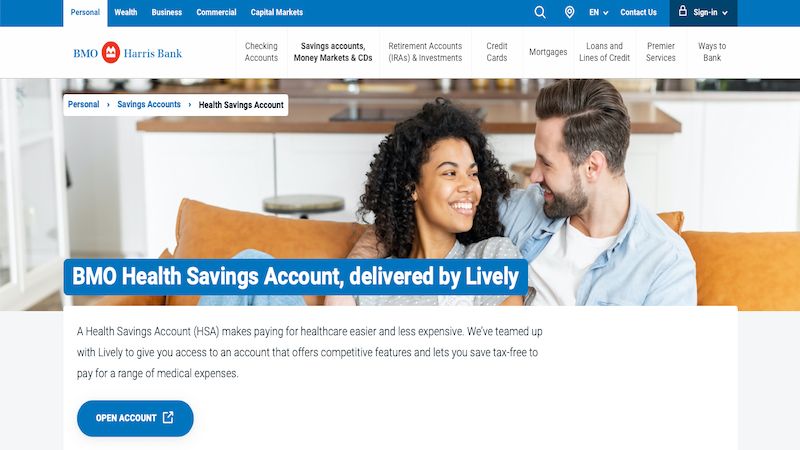 If you're looking for a no-frills HSA account and don't need an investment option, consider a BMO Harris HSA. There is no minimum opening deposit and no monthly maintenance fee. You can easily access your funds and get free paper and online statements.
The account comes with a chip-enabled debit card, free checks and online banking. You will also have access to the BMO Digital Banking app to manage your account from your hand-held device.
The interest rate you earn is tiered based on your balance. For balances of more than $50,000, you can earn an APY of 1.25 percent as of Dec. 26, 2019, which is high.
Other HSA Options
If none of the HSA account options above fit your needs, here are a few others to consider.
Inland Bank HSA
Inland Bank HSA offers a free account, but you will need a minimum balance of $100 to open it. There is no minimum balance requirement to avoid a service charge. This is a basic account that doesn't allow for investing.
If you want to invest your HSA funds, you will have to upgrade to the Advantage account and maintain at least $250 in your account. There is also a monthly service charge of $2.95. Investments are limited to a list of around 30 mutual funds.
HealthEquity HSA
HealthEquity HSA offers three different options for investing your balance. The self-driven options come with a 0.033 percent monthly investment administration fee but no other charges. The other two options include access to an advisor and come with additional fees.
For someone that needs a little more hand-holding than self-directed investing accounts, this could be a good option.
However, all the various fees can eat away at your earning potential so read carefully and make sure it makes sense for you.
UMB Healthcare Services HSA
With more than a million accounts under management, UMB Healthcare Services HSA offers both a savings account and investment option. Savings accounts are FDIC insured and pay interest based on balance tier.
You get access to a debit card and online banking. For the savings account, there is no minimum balance, but if you want to invest, you need a balance of at least $1,000.
There is a $2.95 per month account fee, which is waived for balances over $3,000. If you want to invest, expect to pay an additional $3 per month. There are no trading fees, but you are limited to 30+ pre-selected mutual fund options.
Saturna HSA
The HSA by Saturna offers a unique fee structure that may work well for some people and not for others. There are no monthly fees on Saturna-affiliated mutual funds.
If you want to trade stocks, you will pay $14.95 per trade online or $24.95 if using a broker. For bonds and options trading, expect to pay $19.95 to trade online and $29.95 plus $1 per bond if using a broker.
There is no minimum opening balance, and there is no investment threshold. However, accounts are not FDIC insured, and you don't have a savings account option.
How to Evaluate HSA Options
It is difficult to evaluate HSA options because many have similar features. If your employer offers an HSA, start your evaluation there. Most employers cover account fees, and using the account may make sense with your health insurance.
However, if you separate from your employer or purchase your own health insurance, fees and investment options become more important. So options such as the Fidelity HSA become attractive because of the lack of fees and a plethora of investment options.
When looking at different HSA accounts, consider how you will use the funds. If you're only looking for a savings account, an option such as the BMO Harris HSA can help you maximize your earnings.
However, if you plan to invest your balance, compare investment options, and account fees before picking an HSA.
How to Use an HSA to Maximize Savings
HSAs are a great way to pay for routine copays and out-of-pocket medical expenses with pre-tax dollars. Depending on your tax bracket, the savings can be significant.
To maximize your savings, make sure you contribute as much as you can to your HSA account. If you can afford to contribute the maximum, this should be your goal.
Unlike FSA accounts, if you don't use the funds in any given year, they will roll over to the next year.
Set up an automatic contribution to your HSA out of your paycheck. This way, you're saving money on autopilot with every paycheck. All contributions and growth are tax-free, and you can withdraw the funds tax-free for qualified medical expenses.
HSA vs FSA
The IRS recently released the inflation-adjusted contribution limits for a health savings account. For 2020, an individual can contribute up to $3,550 to an HSA, while for a family, the limit is $7,100.
On the other hand, flexible spending account (FSA) contributions are limited to $2,750 for 2020. The contributions are with pre-tax dollars, and you can withdraw funds tax-free to cover qualified medical expenses. However, if you don't use the money by a designated plan date, you will forfeit the balance.
An advantage of HSA plans is that they are FDIC-insured but always double-check with the administrator of the plan you are considering. Keep in mind that investments in HSA plans are not FDIC-insured. Unlike HSAs, FSAs do not offer the option to invest your balance.
Besides, HSA plans cost money while FSA accounts are free. Most employers cover the cost if they offer an HSA option as part of an HDHP plan. But if you separate from your employer, you will be on the hook for the fees.
This is also the case if you buy a plan through the Affordable Care Act marketplace.
One advantage of HSA plans is that there is no use-it-or-lose-it penalty, which is common with FSAs. It's important to note that, for the most part, you may not participate in more than one HSA plan.
Since HSA plans can be a great savings vehicle similar to an IRA, finding a plan with sound investment options and low fees can help you maximize earnings.
HSA Comparison Table
| | |
| --- | --- |
| Company | Monthly Cost |
| Fidelity | $0 |
| Lively | $0 |
| HSA Bank | $2.50 |
| First American Bank | $0 |
| The HSA Authority | $2.00* |
| Optum Bank | $2.75 |
| BMO Harris | $0 |
*pricing is different if you enroll to paperless billing
Related Article: How To Consolidate Your HSA Accounts
Summary
If you have a high deductible health plan, consider opening a health savings account. HSAs offer many tax advantages and can help you save and pay for health expenses. Just keep in mind that HSAs come with their own set of fees that can eat into your account balance.
Before opening an HSA, review the list of best places to open a health savings account. There are some great options, including ones that cost you nothing even if you plan to invest your balance.