Finding college scholarships is tedious, and it's easy to miss opportunities. The application process is also time-consuming when you don't have help.
ScholarshipOwl can make applying for scholarships less frustrating. The service offers personalized recommendations for free. Plus, it lets paying members submit applications through the platform.
Find out how this scholarship database can help you find the scholarships you are an excellent match for as well as the potential membership fees.
Summary
ScholarshipOwl provides free personalized recommendations, although a paid plan is necessary to apply within the platform and track your progress. New users can enjoy a 7-day free trial to decide if the premium features are worth the cost.
Pros
Free search tools
Personalized results
7-day free trial
Cons
Limited free features
Must create an account
Potentially expensive
What is ScholarshipOwl?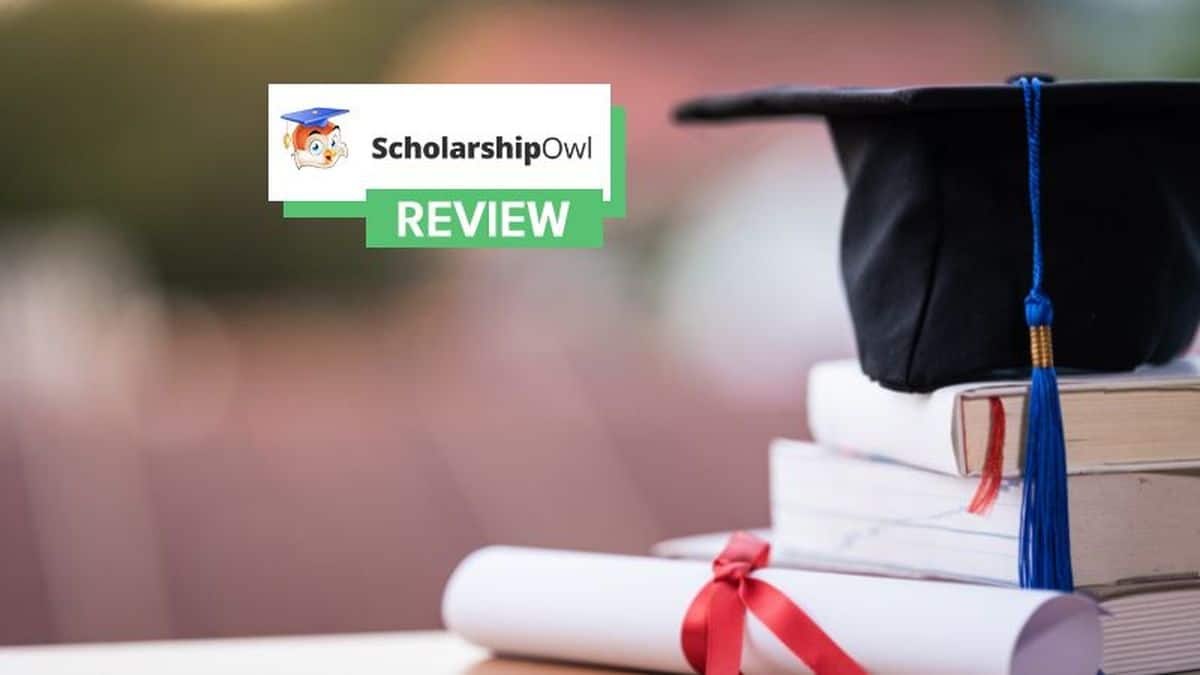 ScholarshipOwl is a legit scholarship search engine that helps parents as well as college and high school students quickly find relevant opportunities in the United States and Canada.
The site provides a freemium service. This means that it's free to search for scholarships that are usually worth up to $10,000.
However, a paid membership is necessary to apply for opportunities directly through the platform.
Other premium benefits include professional essay proofreading and an online video library to learn more about college admissions and financial aid.
If you're not ready to upgrade to a paid membership after a seven-day free trial, each scholarship listing includes a link to the scholarship website so that you can apply manually.
The scholarship app also offers a no-essay program that lets you automatically apply when creating your free account.
There are even special student discounts that can help you save money on self-paced courses, computer software and other tools to prepare for college entrance exams or complete coursework.
Another reason to consider this platform is that you won't be bombarded with email offers from third parties. Instead, they will go to your member dashboard.
How Does ScholarshipOwl Work?
You can follow these steps to find scholarships and apply through the platform.
Sign Up
Parents, college or high school students can create a free ScholarshipOwl account. The signup process is easy and takes less than 10 minutes.
You will submit these details to receive personalized recommendations:
Current education level grade and GPA
Degree type (i.e., bachelor's, master's)
Ethnicity
Field of study and career goal
Potential college choices
The platform will also ask if you're interested in military-connected aid or attending online courses to search for additional opportunities.
Get Matched to Scholarships
After completing the initial profile questionnaire, the scholarship database will recommend various opportunities matching your background, field of study and college of choice.
You can anticipate receiving matches for over 200 opportunities currently accepting applications. Most of the award amounts range from $300 to $10,000.
The initial recommendation screen lets you scroll through the top recommendations. It's also possible to use the search engine filter by the application deadline or prize amount.
Since you will likely see matches for many scholarships you have never heard about before, you can tap the "View T&C" button to inspect the provider's website and review the eligibility requirements.
Some of the scholarships might be exclusive to the platform, but many can be found elsewhere as they are public knowledge.
Being able to receive free personalized suggestions is a compelling reason to use scholarship sites like ScholarshipOwl.
Apply and Earn Scholarships
If you have a paid membership, it's possible to apply for scholarship recommendations directly within the platform.
Scholarships that require an essay allow you to craft your piece within the platform, or you can upload a document. The website can help you submit other items needed to avoid disqualification.
After gathering the necessary information, you can hit the "Apply for scholarship" button.
For easy-to-apply scholarships, the platform will automatically enter your details so that you can spend your time on other listings.
How Much Does ScholarshipOwl Cost?
A ScholarshipOwl membership costs from $0 to $69 every month since there are three different membership plans. While this is a broad range of prices, most paid users can anticipate a monthly cost between $10 and $20.
Here is a closer look at the membership benefits for each pricing tier.
Free
ScholarshipOwl offers a free tier if you only want to use the platform to find personalized scholarships.
Sticking with this freemium service membership option means that you must apply directly through the website of the scholarship provider.
While more work is necessary on your end, you can view similar results as a premium member. Additionally, saving money can be worth it as the application process is very competitive and not every student earns scholarship money.
You can anticipate receiving new recommendations every month, and you can search for potential candidates between updates. There are no additional membership benefits available at this tier.
Premium
The Premium Plan is the best membership offering because you can apply for scholarships using the dashboard.
There are three different membership options:
Monthly: $20 monthly
Quarterly: $45 every three months ($15 monthly)
Half Yearly: $60 every six months ($10 monthly)
Prepaying for a six-month membership offers the cheapest monthly rate of $10. It also allows students to apply for various scholarships during the academic year.
You can try this plan for free for seven days before your linked payment card or PayPal account is charged.
Tier benefits include:
Automatically apply for scholarships
Customizable membership dashboard
Live chat support
Track submitted applications
Weekly scholarship updates
You can also access special student discounts for several educational services. These tools can help high school and college students improve their academic success.
VIP
Upgrading to the VIP membership plan provides full platform access. You will pay $69 per month, an expensive jump from the standard paid plan.
Unfortunately, this plan doesn't include a free trial. However, you can cancel at the end of the month.
Its exclusive benefits include:
College admissions and financial aid videos (over six hours)
Personalized account manager
Professional review of one 500-word essay each month
You must decide if the college prep material and essay review service are worth the extra cost. A cheaper alternative can be asking a guidance counselor or a trusted teacher to help you navigate the essay writing process.
Is ScholarshipOwl Worth It?
The free or entry-level premium tiers are the best membership options since you can find the information you need to find and apply for scholarships quickly. It is one of the top scholarship websites since it lists many personalized opportunities.
Some users will balk at having to pay to apply directly through the platform since some competing services offer similar benefits for free.
The platform's seven-day trial period is sufficient to determine if the automatic application tools can help you save time. Consider starting this trial when you're ready to apply for several scholarships to maximize your experience.
Justifying the VIP plan is the most challenging because of its $69 monthly price tag. The cost can be worth it if the professional essay review helps you win a scholarship.
However, using ScholarshipOwl to optimize your application doesn't guarantee a win.
Additionally, one complimentary essay review may not be worth the expense. This might be the case if you're applying for several opportunities per month that would benefit from extra proofreading.
ScholarshipOwl Features
These are some of the best membership perks Scholarship Owl offers, although most require a paid membership.
Smart Owl Scholarship
The No Essay "Smart Owl" Scholarship is available to all free and paid members. As its name implies, you won't have to draft an essay or submit letters of recommendation. A winner is randomly drawn each month.
The scholarship amount varies and can be as much as $7,000. That said, it is usually lower. For example, the October 2022 scholarship giveaway is worth $2,222.
Personalized Scholarship Suggestions
There are countless scholarship opportunities, and it's impossible to apply or qualify for each one. This search platform pairs listings with your personal profile and educational interests so that you don't waste time on irrelevant opportunities.
Each listing displays:
Award amounts
Application deadlines
Submission requirements (i.e., essay, video, parent statements)
Preferred fields of study
The platform also strives to verify each listing to prevent scams. Non-verified postings have a credibility score that can help you prioritize which programs to apply for first.
You can also see how many members have submitted an application so far and determine if it's a recurring scholarship that you can apply for in the future automatically.
Apply on the Platform
The primary reason to upgrade to a paid membership is having the ability to apply for scholarships directly through the app.
Your membership dashboard has an "Easy Apply" section that compiles the no-essay contests that only require submitting your name. If there are multiple opportunities, you can apply for them all with a single click of the button.
For scholarships that require some extra work, the platform clearly lists the necessary documents. After uploading the required information, you can hit the submission button.
Quickly Apply for Similar Scholarships
The platform's artificial intelligence will recommend other opportunities immediately after you apply. This feature keeps the application momentum going and keeps the research process efficient.
Automatic Applying
Several recommendations have recurring application deadlines. ScholarshipOwl can automatically apply during the next enrollment period so that you have more chances of winning an award.
As most scholarships require unique content, you might be unable to set the application process on autopilot for that many.
However, it can be an effortless option for the easy ones as you can find them all in one place instead of spending time going to each provider's website to apply.
Track Your Application Status
It's easy to keep tabs on which scholarships you have applied for already. You can view the application deadline and the winner announcement date.
If you're still finishing an application or haven't started, there are separate tabs for in-process applications and those you're saving for later.
Essay Writer
Paid members can write their scholarship essays within the app. The writing experience is similar to Google Docs but can make it easier to upload your final draft.
As most scholarships are very competitive and can have thousands of applicants, it's still a good idea to have another person proofread or critique your essay before sending it off.
VIP users also receive the benefit of submitting one essay per month to a professional to receive feedback.
None of the ScholarshipOwl tools guarantee your chances of winning an award, but they can help you create the best essay possible.
ScholarshipOwl Ratings
Users praise the ScholarshipOwl customer support team for its helpful and fast responses. Many people also report how easy it is to find opportunities and apply. However, there are complaints that the available opportunities are limited.
Here's how ScholarshipOwl ranks on the different rating websites:
| | | |
| --- | --- | --- |
| Website | Rating | Number of Reviews |
| Trustpilot | 4.6 out of 5 | 947 |
| Apple App Store | 4.4 out of 5 | 892 |
| Google Play | 3.5 out of 5 | 125 |
These are a few ScholarshipOwl review excerpts from site users:
"I had initially been upset with my experience, and then I contacted support thinking I may not get much assistance, but they were SUCH a great help. They were so kind and fixed my problem as best as they could." — Shelbie J.
"Many scholarships listed, yes, but that auto apply does not actually work for a LARGE majority as most scholarships have requirements that you must manually do. Don't believe the hype; this is going to take a lot of work as well." — Akeem R.
"I've been using ScholarshipOwl for a few semesters now. While I may not have been awarded any scholarships yet, I appreciate the ease of applying for them in one place. I also really enjoy the essay writing tools they provide." — Bethany S.
"As a non-military, non-minority grad student in my 6th year, they didn't really have any scholarships I qualified for, but the search function enabled me to figure that out quickly." — June B.
Pros and Cons
Here are the positives and negatives of using ScholarshipOwl to apply for college and graduate school scholarships.
Pros
Receive personalized suggestions
Automatically apply for no-requirement and recurring scholarships
Verified listings to prevent scholarship scams
Apply within the platform and track applications
Cons
Only paid members can apply in-platform
Potentially high monthly fee from $10 to $69
Some users won't qualify for many listings
Free members have limited tracking tools
Summary
ScholarshipOwl makes it easy to find personalized scholarship opportunities for free with its easy-to-use platform. It ensures that high school and college students are less likely to overlook national and school-specific scholarships.
A paid membership is necessary to simplify the application process and have more customization options. However, upgrading isn't necessary if you're on a tight budget and don't mind applying directly from the scholarship's website.