If you drive a car for several years or you have other motorized vehicles in you have other motorized vehicles in your garage including a motorcycle, boat, or an ATV, you might have a few old car batteries in your garage.
When you are ready to clean house, you might think nothing twice of simply tossing them into the trash dumpster. If you didn't know it, you can sell your old car batteries for cash.
Where to Sell Used Car Batteries
Whether you have a dead battery or one that was only purchased a few months ago, you can sell it for cash.
While some vendors will pay you a flat-rate, you may consider selling your newer batteries for top dollar to buyers that are looking for a good battery without having to pay the core charge or brand-new retail price commanded by an auto parts store.
1. Your Local Auto Parts Store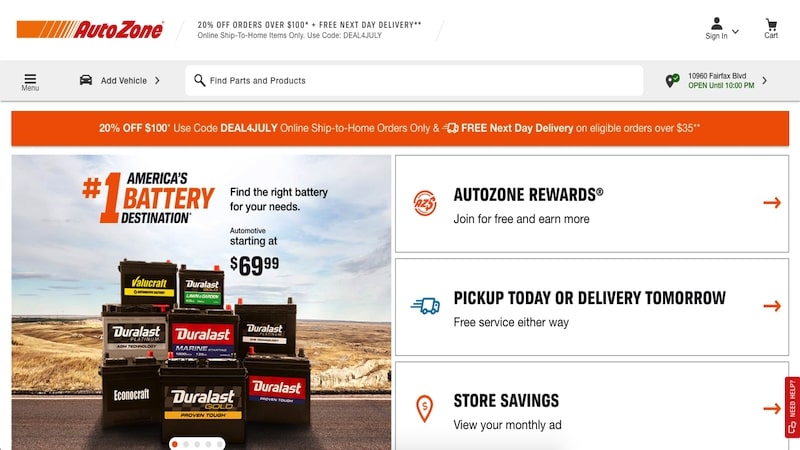 One of the easiest places to start selling is your local auto parts store. This might be a national brand like AutoZone, Advance Auto Parts, Napa, or O'Reilly. Locally-owned parts stores will also accept used batteries.
If you are buying a new battery at the same time, the auto parts store will mostly offer you a credit to offset the core charge ranging from $5 to $12 for most localities.
States charge a core fee that will be added onto your new battery purchase to pay for the cost of recycling old batteries. Stores will pay the fee if you turn in your old battery at any location within the next 30 days.
You might be able to receive store credit that is comparable to the core charge if you are not buying a new battery. If they do, that's $12 to spend on your future auto parts needs.
Stores are not required to offer store credit, but, they should recycle it for free.
2. Scrap Yards
When the local auto parts store won't pay you cash, you can always take it to a scrap yard. You might think that scrap yards are only for selling old refrigerators and even recycling old glass jars and bottles.
Used car batteries are purchased for their lead core that can be remanufactured and used again. How much you earn will depend on the current market price for lead scrap.
Since there are usually 21 pounds of lead in a car battery, you can potentially earn about $7 per battery when the lead scrap rate is 0.33 cents per pound.
You can find your closest scrap yard by checking online for "local scrap yards."
If you have several scrap yards nearby, try calling each yard to see what their current buying price is. Not every yard has the same purchase price.
Many yards will pay a higher amount per pound if you have several batteries to sell at once.
3. Metal Recycling Centers
Metal recycling centers and scrap yards are very similar, but there can be some differences. Typing in "metal recycling centers near me" can generate an entirely different set of search results instead of looking for scrap yards.
Different search results mean additional opportunities to find the absolute top dollar you can receive for each car battery.
These recycling centers might have their current rates listed on their website. Otherwise, it doesn't hurt to call their office before you leave your house to see if they do battery recycling and what is the best price.
Just like scrap salvage yards, you will usually earn more per battery if you have several to sell.
4. Craigslist
You might be able to sell on Craigslist too. This might be a better option if you have a newer car battery that still has a serviceable life to it.
If your car was totaled and needs to be scrapped, you might decide to remove any items of value including tires, custom stereo systems, and car batteries.
How much you will earn depends on the cost of the battery and the demand. Buyers looking for a spare car, motorcycle, or marine battery will be looking to pay less than retail value for a brand-new battery. That's true even if there are only a few years left.
If you don't live near a scrapyard or do not have the time to visit one, this can also be a more time-effective option. And, you have the opportunity to earn more than scrap value too.
Make sure to create your ad with key words such as auto batteries, car parts, car batteries for sale. And with any local sales, make sure your buyer is reputable.
5. Auto Repair Shops
You can also consider selling your used, working batteries to a local repair shop.
These shops might have the tools to recondition the batteries themselves and sell them at a discount to their customers that don't want a brand-new battery.
In order to sell your battery to a repair shop, it must be defect-free. They will test the battery to ensure it is properly working.
This option can be a good alternative to make more than the going scrap metal rate and not having to haggle with potential Craigslist buyers.
6. Pull-A-Part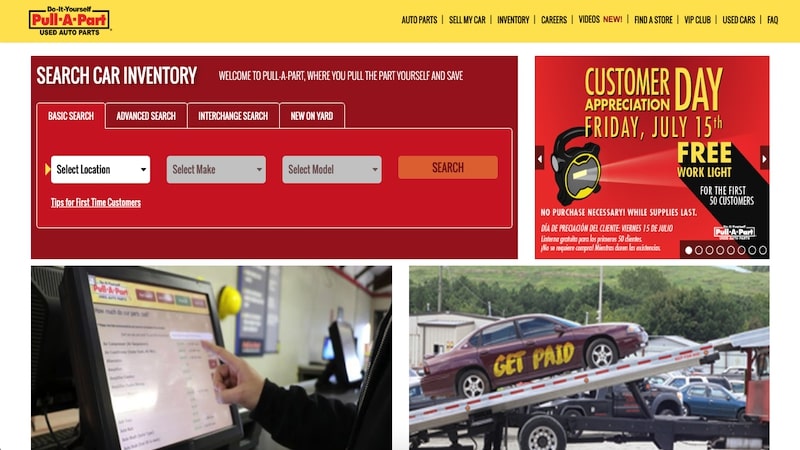 If you want to sell your entire automobile, including your car battery, Pull-A-Part will tow away your car from your driveway. You will receive a quote for the entire car and instantly get paid in cash.
If you have an old clunker or you want to simply get rid of a "lawn ornament" this option will solve several issues at once as you will also get paid for your scrap metal too.
7. Pawn Shops
Usable batteries can potentially be sold to your local pawn shop for extra cash. Since a "middleman" is involved that also needs to earn a profit, this method might not be as lucrative as you might expect. For lightly used batteries, you will still be able to earn more money by selling it yourself on Craigslist.
Of course, if you need money in a hurry, a pawn shop will give you the cash you need to today while they work on finding the right buyer.
8. eBay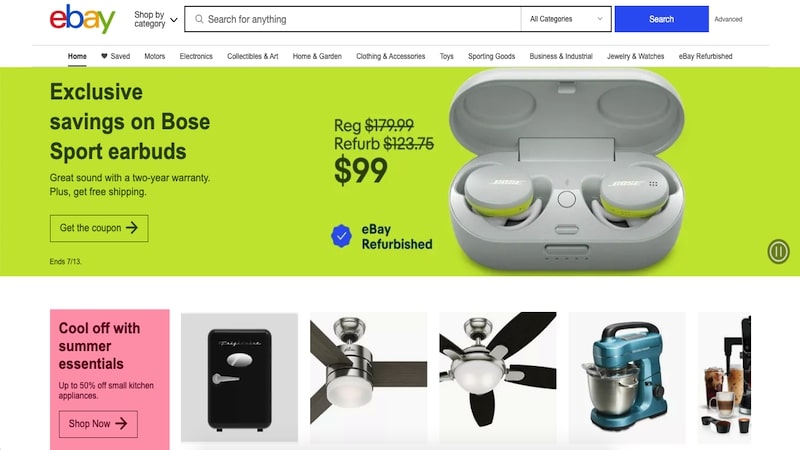 Just as you can sell (almost) anything on eBay, you can also sell your car batteries. It doesn't matter if it's new, used, or dead.
Somebody might be willing to buy it if they cannot find their battery at a local store for a similar price. This can be a good tactic for car, motorcycle, ATV, and marine batteries.
If you are selling a lot of batteries, you can also list your auction as local pickup only to prevent your entire profit from being absorbed by shipping costs.
9. Global Tech Environmental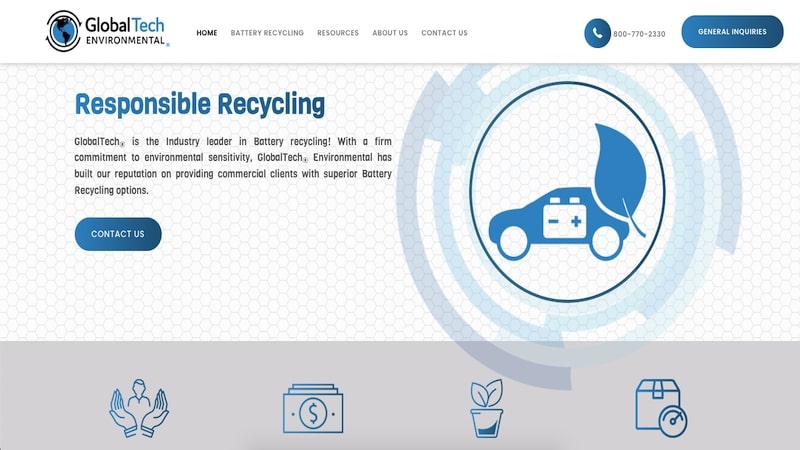 If you have over 500 pounds of batteries and electronic scrap to sell, you can sell them to Global Tech Environmental. They will buy your automobile batteries and many other industrial batteries.
It's important to know that only businesses can sell to Global Tech Environment. If your business qualifies, they will pick up your batteries from anywhere in the U.S.
10. Peddle
Peddle is another car resale website that lets you junk your entire car and receive a single quote for everything under the hood.
All you have to do is enter the vehicle make and model information on Peddle's website to receive an instant quote. If you accept, you will be paid after they tow away your vehicle.
11. iScrap App
The iScrap App can help you find the best battery buyers in your area. They maintain a list of which vendors only accept bulk shipments and the businesses that will buy a single battery from individual buyers.
You can also use the app to schedule a local pickup.
12. Newspaper Classifieds
There are two different money-making options when it comes to the newspaper classified section. The first option is where you can list your batteries for sale.
People who collect batteries as a side hustle will usually look at the newspaper to look for good deals that are not listed online.
A second option is to see if any scrap buyers have placed an advertisement. If so, you can give them a call and see how much they will pay. They might be your local metal recycling center or scrap yard, but you never know.
Each business has a different marketing strategy and uses different media channels to earn a profit.
13. Have a Yard Sale
If you have ever tried picking up a car battery, you have probably noticed one characteristic immediately. They're heavy and bulky. It can be a chore to load them into your car and take them to the nearest store or scrap yard.
To save the hard labor, have a yard sale instead. People visit yard sales all the time looking to flip items for a profit.
You might not make as much money as selling it to a vendor yourself, but, it can be a more efficient use of your time. Plus, you have the opportunity to sell many other unwanted possessions that can net you a higher amount of cash.
14. Battery Reconditioning
A somewhat unconventional approach is to recondition old car batteries. There are several different devices and methods people use to recondition old batteries so they can continue to recharge and have an extended service life.
If you currently have a few dead batteries, you might be able to recondition them to continue working for your own vehicles to prevent you from spending the money you just earned from selling a battery.
Or, selling reconditioned batteries could be a potential side hustle if they are reliable enough for other people to use on a regular basis.
15. Your Local Recycling Center
Some localities might not allow used batteries to be sold for cash. If that's the case for you, your local community recycling center or landfill should accept your batteries free of charge.
Doing so will still help protect the environment and helps the battery makers pass the savings onto future customers as they don't have to mine as much new lead.
Summary
As long as people are using vehicles to get from one place to another, there will be a demand for car batteries.
Manufacturers recycle the lead core of old batteries to keep costs as low as possible.
By knowing the market price for your battery, you can get paid to sell your used batteries for scrap or another individual that might need a spare battery.