A side hustle can help improve your financial health. While the idea of earning extra income has been around for a while, Steady is an app that can transform your ability to make money in your free time.
With the help of the Steady app, you'll be able to explore side hustle opportunities in one convenient spot.
Curious to find out if Steady can provide the extra income options you are looking for? Let's take a closer look.
Summary
The Steady app can help you find opportunities to boost your income. With side hustle options to meet your needs, you'll love what Steady has to offer.
Pros
Free
Matching to side gigs
Easy to use
Cons
Limited traditional jobs
Tricky to filter
Can take time to get paid
Is Steady Legit?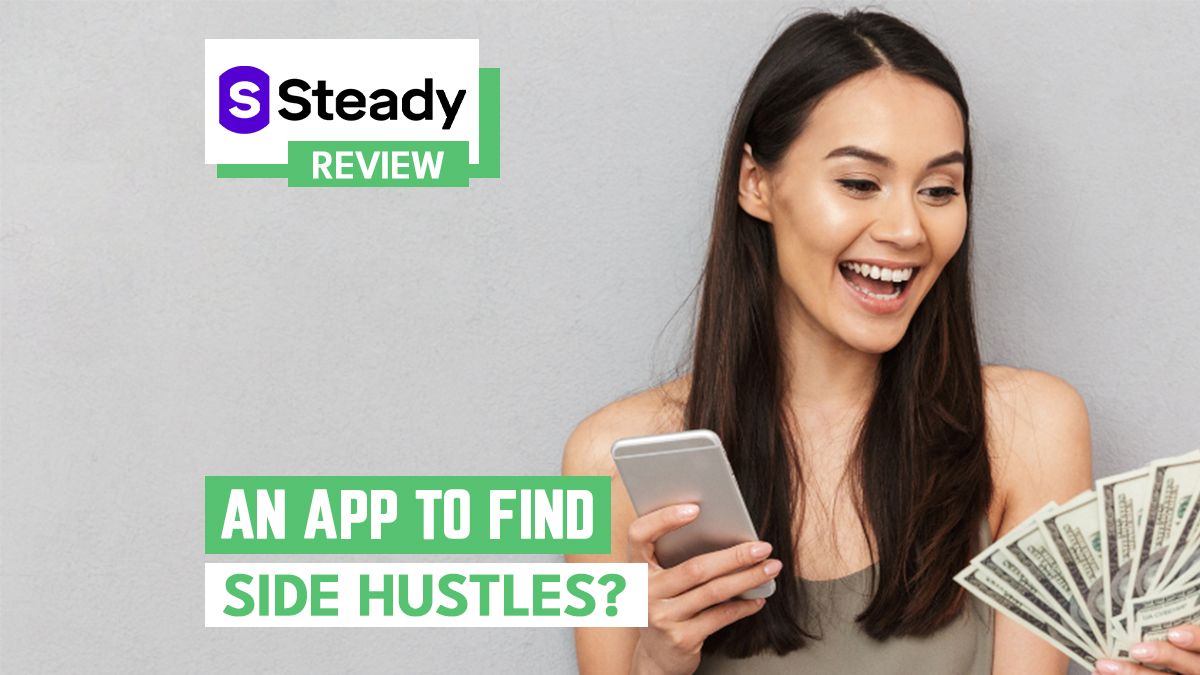 Yes, Steady has a 4.1 on Trustpilot with over 2,800 reviews. This shows that many people have successfully used Steady to tap into new income opportunities.
What is Steady?
Steady is a free app designed to help you find side hustle opportunities. They currently have over two million members.
The idea for Steady came about when the founder, Adam Roseman, was helping his retired dad find a part-time job to make ends meet.
After helping his dad find a side hustle opportunity that met his income goals, flexibility needs and interests, Roseman teamed up with Micheal Loeb and Eric Aroesty to create Steady.
The Steady app pulls together a wide range of side hustle opportunities. As a user, you can download the app and find potential side gigs based on your needs.
According to Steady, their members earn over $5,500 more per year on average. That kind of cash can make a big impact on your budget.
Who is Steady For?
The convenience of having a large number of job listings in one place is enticing. But who can benefit the most from working with Steady?
The app can help the following workers:
Side hustlers
Freelancers
Those seeking part-time work
People looking for full-time opportunities
Regardless of the type of work you are searching for, Steady can help you find opportunities.
It's important to note that the full-time opportunities on Steady typically require you to have technical skills to be a good fit.
If that doesn't sound like you, Steady might not be the right option for your needs.
How Does Steady Work?
As you consider whether or not to try Steady, you may be curious about how the app works. Here's what you need to know.
Sign Up
You'll sign up by providing some basic information, including your name, phone number and email address. It's free to sign up, so you won't need to enter any credit card information.
Once you create a password, you'll be asked to connect your bank accounts. Although you don't have to do this, it can be helpful to take advantage of the income tracking tools offered by Steady.
The app uses the latest technology to protect your data. With that, you can feel comfortable working within the app.
Next, Steady will ask you a series of questions, including:
Does your bank have overdraft, minimum balance or ATM fees?
In case of an emergency, do you have a way to earn $500 in extra income within a month?
Do you find it easy to save money towards reaching your financial goals?
Do you want access to commission-free investing in stocks, funds and options?
Are you looking to improve your credit score?
Would you like to save money on car insurance?
After answering these questions, Steady will allow you to earn money immediately. Here's a look at the offers I received.
These offers might be a quick way to earn cash, but the real money is in the side hustle opportunities.
Search For the Right Side Hustle
You'll be asked to take a nine-question survey to match you to the best gigs for you. The questions include:
What type of work are you looking for?
Where are you looking to work?
What modes of transportation can you use for work?
What's your highest level of education?
What languages are you proficient in?
Where do you currently work?
What other job titles have you had in the past?
What licenses or certifications do you have?
Which job categories are you interested in?
Here's a sample of the jobs came back for my search:
I was impressed that they found 57 jobs that I could connect to through the app.
Start Bringing in More Income
At this point, you can apply to potential opportunities and boost your income. Depending on the time you have available, you can tap into as many side hustles as you want.
As you earn money through your side jobs, Steady will help you track your income with ease.
Steady Features
Steady provides a few beneficial features to its users. Here are the most helpful perks the app offers.
Job Search
Steady's Job Search feature can help you sort through potential opportunities to find the right ones for your unique situation.
You can use their filters to narrow down options by job type, location and more. Steady will also provide jobs recommended specifically for you.
Additionally, you can type in keywords to search for certain jobs or employers you might be interested in.
Income Boosters
With Steady's Income Boosters feature, you can quickly boost your income, improve your finances and get rewarded.
Steady works with various advertisers that let you earn money by completing offers. These can range from signing up for a new bank account to creating a profile on a different website to downloading an app and more.
Current Income Boosters offers range from $10 to $75.
Income Tracker
The Steady Income Tracker lets you see which of your income sources are bringing in the most money. You must link your bank account to use this feature.
Income Tracker will show you:
How much you've made this month and during prior months
Your income trends
All of your income transactions
A summary of your income sources
Being able to see this information easily may help you improve your income and increase your earnings.
Employer Insights
The Employer Insights feature gives you an overview of potential employers, how much they pay each week on average and how often they distribute payments.
This can help you decide which companies to work for since you'll be able to estimate your potential earnings and know when you'll get paid.
Steady App Reviews
Here's a look at some reviews straight from the Google Play store:
"It's the real deal! Does exactly what it says it will on the boosters! I've completed 2 of them and was promptly rewarded!! So long as you have a linked account, you're instantly paid!" – Ivy Jayo
"Solid resource for supplemental income or savings and streamlining of your personal finances. Thanks Steady. You have made my life just a little less stressful." – Rocky LeBlanc
"WoW! I actually received money and did nothing really but download an app and answer some questions! Easiest 40 bucks I ever made. Totally legit app. Thank you Steady!" – Tia Bilas
Although you can find good and bad feedback about the app, the reviews are overwhelmingly positive.
Overall, Steady has an average of 4.4 out of 5 stars from a total of 15,000+ people on the Google Play store. It also has a Trustpilot score of 4.5 out of 5 stars from 2,800+ people.
Positives and Negatives
As with any financial tool, there are positives and negatives to using Steady. Here are some pros and cons to consider.
Pros
Easy to use
Free
Connect to income opportunities when you need to
Income tracker tool
Cons
Few traditional jobs
Tricky to filter
At a glance, it appears that the pros outweigh the cons. That said, you'll have to decide for yourself whether or not you want to sink time into this app as you search for a side hustle opportunity.
FAQs
Before using Steady, you'll likely have some questions. Here are answers to the most frequently asked questions about the app.
Can you earn real money with Steady?
Yes, you can earn real money with Steady. The amount you earn will vary based on the time and effort you commit.
Is Steady free?
Yes, you can sign up for Steady for free.

Some of the Income Boosters opportunities require a purchase to take advantage of the offer, but you don't have to participate in those if you don't want to spend money.
Do I have to give Steady my bank account information?
No. Providing your bank account info is not required to use Steady.

However, you'll miss out on the income tracking feature if you don't provide your bank account information.
Is Steady a good fit for me?
You'll have to decide for yourself whether or not you want to give Steady a try.

The app will connect you to many income opportunities, but you may find more specialized opportunities on different platforms.
Is Steady secure?
Yes, Steady claims their app is both secure and safe.

They will never sell your information to third parties, and they use the latest technology to protect your data.
Summary
Trying to find side hustles can be overwhelming if you don't know where to start. Fortunately, Steady can help you get started.
With Steady, you can find new income opportunities. It can even help you improve your financial situation with its innovative tools.
If you need help finding your next side hustle, then Steady could be the perfect solution.