With college costs rising year after year, parents and students alike have a legitimate reason to be concerned about how they'll afford this huge expense.
Whether you're a parent paying for your child's college education or a student trying to afford your tuition, Upromise might be able to help you boost your college savings.
In this Upromise review, we'll explain how the company works, discuss its features and share customer feedback to help you determine if the platform is right for your college saving goals.

Summary
Upromise is a rewards program that helps you earn money for college. You can earn rewards that are redeemable for cash by making purchases, scanning receipts and more.
Pros
Multiple earning rewards options
Deposit right into your 529 account
Get cash back on groceries
Monthly sweepstakes drawings
Cons
Grocery and dining rewards limited
Other cards may pay more
What is Upromise?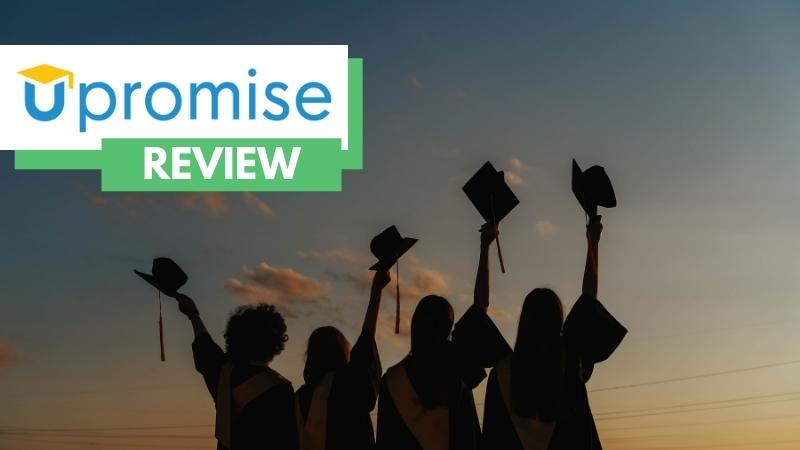 Upromise was founded with the mission of helping families save more money for college.
To date, the company has awarded over $1 billion to families to help them cover college costs.
Upromise partners with businesses to help give its members the chance to earn rewards and cash back on their purchases. It also offers support to families to ensure they get the most out of saving for college.
Founded and owned by student loan provider and servicer Sallie Mae for many years, rewards giant Prodege recently purchased Upromise.
This acquisition made sense for Prodege given how Upromise works.
How Does Upromise Work?
Upromise works similarly to many of the best rewards sites. You complete specific actions and get rewarded monetarily.
For instance, when you use Swagbucks or sites like it, you get rewarded for completing a variety of activities. These include taking surveys, watching videos, shopping online and more.
Upromise uses that premise but in a different way. While it lets anyone sign up and earn rewards, its primary focus is helping you earn money to fund your college education.
Earnings from Upromise can be transferred to any linked checking or savings account. However, you can get Upromise bonus earnings if you have your rewards transferred to a 529 plan account.
Essentially, this means that you'll earn more if you transfer your earnings to a 529 account as opposed to a regular checking or savings account. This makes the site an ideal cash back site for college students and their families.
To earn rewards with Upromise, you can:
Complete shopping deals
Take surveys
Download apps
Sign up for services
And more
Upromise also offers educational guides, a credit card that helps you save for college, a mobile app and a blog.
Any U.S. resident age 13 or older can sign up for an account.
How Much Does Upromise Cost?
Using the Upromise platform won't cost you a dime. There is no annual fee and no cost to sign up.
Since it's free to use the site, you can earn rewards at no added risk to your bank account.
That said, to take advantage of certain cash back offers, you will need to spend money. Fortunately, the purchases you make can be items you buy regularly.
For example, Upromise currently offers $1.00 cash back on egg or bread purchases from any brand at any store.
Additionally, if you decide to apply for the platform's credit card, there is no annual fee. However, you will pay 15.24%-25.24% APR based on your creditworthiness if you carry a balance.
To ensure that using the credit card doesn't cost you any money, make sure to pay your balance on time and in full each month.
Key Features of Upromise
Upromise has several key features that can help you earn money for college or get cash back in general.
Grocery Cashback
Upromise has teamed up with numerous popular grocery chains, including Walmart and Target, to help you earn cash back on grocery purchases.
You can get cash back on items you buy at the grocery store by:
Purchasing specific items located on the Upromise grocery list
Submitting any receipt from a grocery store purchase
The rewards you'll earn vary depending on how much you spend and what you buy.
To claim your rewards, simply snap a picture of your grocery receipt using your phone and your Upromise app. Upromise will analyze the receipt and give you the coordinating earned rewards funds.
Restaurant Dining Rewards
You can earn money for your Upromise account when you eat at restaurants.
If you dine at participating restaurants and pay with a debit or credit card that is linked to your Upromise account, you'll earn 2.5% cash back on all purchases.
Cash back amounts are based on purchases, including drinks, taxes and tips.
Plus, if you pay for your restaurant meal using your Upromise Mastercard, you will earn 5% cash back on restaurant purchases.
Note that individual restaurants may have rules, regulations and limits regarding which types of credit and debit cards they accept. They might also have purchase limitations for the cash back earnings.
Upromise Mastercard
Upromise has a Mastercard you can qualify for and use to make everyday purchases.
You'll earn 1.529% cash back on all purchases you make with your Upromise Mastercard when your Upromise account is linked to a 529 account.
If your Upromise account is not linked to a 529 account, you'll earn 1.25% cash back on all purchases.
Upromise's Mastercard also has an optional roundup feature where all purchases made with the Mastercard can be rounded up to the next dollar.
The roundup money will then be added to your Upromise account as rewards funds. There is no annual fee for the Upromise Mastercard.
Online Shopping
Upromise will reward you for certain online purchases that you take advantage of using the platform.
When you log in to your Upromise account and click the "Shop Now" button, you can link through to your favorite Upromise partner stores.
When you make a purchase using this link-through feature, you can earn rewards on every eligible purchase.
Keep in mind that you have to access the store and complete the purchase through the Upromise site.
Offers
Upromise allows members to take advantage of special offers to earn cash.
These can include:
Signing up for a financial account
Downloading an app
Registering for a service
And more
You can access your Upromise account to see notifications of special offers. Then, take advantage of the offer to receive the specified reward.
Upromise 529 Scholarship
As a part of their program, Upromise awards a $529 college scholarship to a Upromise member every month.
Winners are chosen randomly at the end of each month, and the winnings are deposited into the winning member's Upromise account.
Note that you have to have a 529 plan linked to your Upromise account in order to be eligible for entry into the monthly scholarship sweepstakes.
If you have a linked 529 account, you'll get one sweepstakes entry for every dollar you earn using the Upromise rewards plan.
Upromise Referral Program
Using the Upromise referral program can be another way to help fund your 529 plan.
Simply use the personalized referral code assigned to you to invite friends and family members to join the site.
When a friend or family member joins Upromise using the personalized code you shared with them, you'll earn rewards.
As soon as the person you referred earns at least $25 in rewards through Upromise, you'll get a $25 bonus in your Upromise account.
It's important to note that your referral must earn their $25 in rewards during the first 180 days of becoming a member.
Also, promotional bonuses don't count toward your referral's $25 earnings. These include registration and linking bonuses.
Upromise Surveys
Like other rewards sites, Upromise has a surveys feature.
When you complete eligible surveys through your account, you'll earn additional money for your 529 plan or bank account.
Similar to other survey sites, each survey will have prequalification questions to see if you match the demographic that the market research company wants to reach.
Because each company wants to access a target demographic group, you may or may not qualify for every survey you would like to take.
Additionally, Upromise says that there are delays in receiving credit for completed surveys in certain cases.
As a result, it recommends that you write down the survey ID number before you start your survey in case you need to contact the company about receiving credit for a completed survey.
529 Plan Tools and Resource
Another great feature about the Upromise site is that it has a host of online tools and resources for members and non-members alike.
For instance, the site has individual web articles for every state's 529 plan. Each article outlines how the state's plan works, specific tax rules, eligibility requirements and more.
The site also features a comprehensive 529 Basics guide that will share everything you need to know about 529 plans and how they work.
You'll learn about more ways to earn money for your 529 plan, eligible 529 expenses, what purchases are not permitted by the plan and more.
This feature is something that's extremely useful whether or not you open a Upromise account.
Upromise Reviews
When you are deciding if you should use a certain platform, learning about the experience of other customers can help you make an informed decision.
Here's how Upromise scored across various rating websites:
These are a few reviews, both positive and negative, from Upromise users:
"The best! I've saved thousands of dollars since I signed up after my son was born almost 10 years ago!" – Customer
"Nobody answers the phone. Been calling numerous times and nobody ever picks up." – Frustrated and on hold
"The representative was very friendly, pleasant and helpful. She stayed on the phone and walked me through online process of opening a new account. Great job!" – Don F
"My account was hacked and someone tried transferring my money. I have tried calling and emailing to no avail. I've spent hours on hold but cannot get a human on the line!" – Jorge Augusto
Alternatives to Upromise
If you are trying to fund your 529 account and are looking for alternatives to Upromise that can help, here are a few of the top options worth considering.
Bright Start 529 Visa Rewards Card
With the Bright Start 529 Visa Rewards Card, you'll earn 1.529% on the regular purchases you make every day. This is the same interest rate you'll receive with Upromise's Mastercard.
This card is part of the Bright Start Direct-Sold College Savings Program that is sponsored by the State of Illinois. You do not need to be an Illinois resident or attend school in the state to get this card or access the program.
When you use the Bright Start 529 Visa Rewards Card, you can save money for college each time you swipe the card. Once you accumulate $50 in rewards, you can redeem the funds to your 529 account.
CollegeCounts 529 Rewards Visa Card
The CollegeCounts 529 Rewards Visa Card is almost identical to the Bright Start card. It also pays you 1.529% on your everyday spending.
This Visa card is a part of Alabama's CollegeCounts 529 plan. You do not have to be an Alabama resident or attend an Alabama school in order to open, contribute to or use funds from the CollegeCounts 529 plan.
You can redeem your rewards once you accumulate $50 in earnings.
Fidelity Rewards Signature Visa
The Fidelity Rewards Signature Visa Credit card will pay you up to 2% cash back on eligible purchases.
Your cash back can be transferred directly into your Fidelity 529 account. There is no annual fee for this card.
It's also possible to transfer earned rewards into other Fidelity accounts, such as brokerage accounts, HSAs and more.
Swagbucks
If you'd prefer to steer clear of credit cards and are looking for a get-paid-to site that will let you earn rewards, Swagbucks is worth considering.
Like Upromise, you only have to be 13 years of age to use Swagbucks. However, this site isn't geared towards college students or funding a 529 account since the only redemption options include PayPal and gift cards.
That said, you can cash out via PayPal and then request your funds as a check that you can deposit into your 529 account.
Upromise FAQs
Do you still have questions about Upromise? These answers might help clear up any hesitations you have about signing up for the platform.
How do my Upromise rewards get transferred?
Upromise automatically transfers the rewards you've earned once per month. Funds are transferred to your linked account, whether it's a 529 account or a regular bank account.
What is the minimum balance requirement for transfers?
If you have a 529 account linked to your Upromise account, the minimum balance for transfers is $50. Otherwise, the minimum balance for bank account transfers is $10.

If you have more than one of any type of account linked, the minimums still apply to each account.
Is Upromise safe?
Yes. Upromise uses a variety of safety features to ensure your personal information stays secure. For example, they have multi-factor identification requirements when you log in from a new device.

Plus, they use industry-standard data protection to protect your personal information.
Is my Upromise account opened in my name or in my student's name?
Students over the age of 13 are allowed to open a Upromise account for themselves.
Parents or family members can open a Upromise account in their own name and list their students or other loved ones as beneficiaries on the account.
What customer service options does Upromise offer?
You can speak to a Upromise representative by phone Monday through Friday between 9:00 a.m. and 5 p.m. PST by calling (800)-587-7309.

Upromise also has an extensive help center, the ability to submit a help request and a chat feature on their website.
Summary
Earning rewards through Upromise can be a great way to make money to help fund college, reach any of your financial goals or overcome financial problems.
If you are already using any of the earning opportunities Upromise offers on a regular basis, taking advantage of the Upromise rewards program could mean extra money for your 529 account.