One popular way to save money at Amazon is by subscribing to Amazon Prime as you receive free two-day shipping, unlimited media streaming, and exclusive discounts.
If you are a college student, you can enjoy these Amazon Prime benefits for half the cost. As you will discover, there are a few differences between the Amazon Prime Student and Amazon Prime membership plans.
Here's the breakdown of Amazon Student vs. Amazon Prime.
What is Amazon Prime?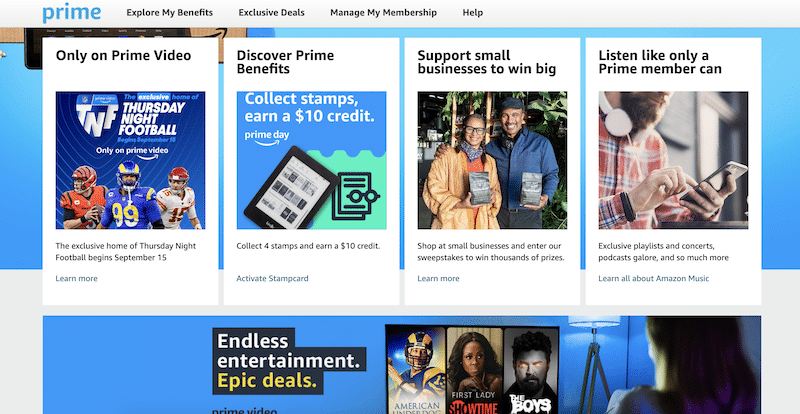 Amazon Prime is the premier membership program that costs $119 a year after a 30-day free trial.
As an Amazon Prime member, you get:
Unlimited two-day shipping
Streaming to Prime Instant Video, Prime Music, Prime Reading and Audible Channels
Additional perks include:
You can download one Kindle book for free each month
Get complimentary access to Twitch Prime
Exclusive discount access to lightning deals
Exclusive discount access to Prime Pantry
20% off diaper subscriptions
What is Amazon Student?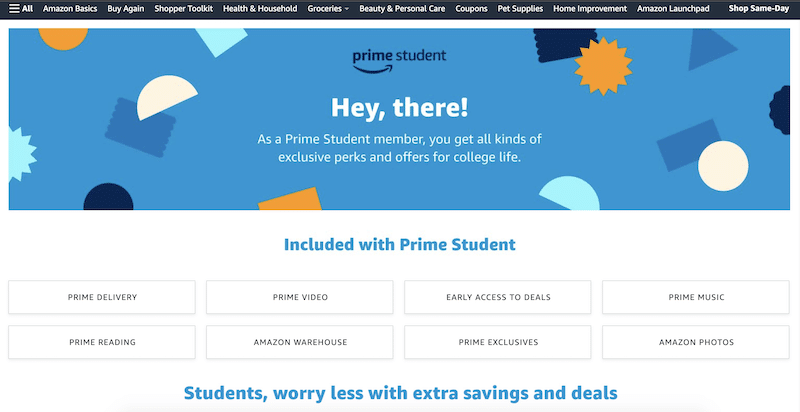 Amazon Student, also known as Prime Student, is Amazon's the college version of Amazon Prime.
It costs $59 a year after a six-month free trial to join Prime Student and has all the core benefits that Amazon Prime offers.
This includes:
Two-day shipped
Unlimited Prime Instant Video and music streaming
Access to Twitch Prime for video games
Prime Reading
Any college student with a valid .edu email address will get all the benefits for only $59 a year. Perks last for four years or until graduation, whichever event occurs first.
Of course, you can always activate the paid membership sooner if you want full access to all the Amazon Prime benefits.
There is are two caveats to receiving all the Amazon Prime benefits once the trial period ends. Amazon Prime Student plans cannot share their Prime membership benefits with others.
With a regular Amazon Prime membership, two adults and up to four children can share benefits if they all live in the same household.
Another Amazon Prime benefit excluded from Amazon Prime Student is the Amazon Mom benefits. These perks include 20% off diaper subscriptions and 15% off baby registry items.
This is another benefit that only a select few college students will use as most student wait until after college to start a family. But, it could be valuable to working students that are returning to attend graduate school as one example.
To use these benefits, you will need to pay for the regular Amazon Prime membership.
Amazon Student Trial Membership Has Limited Benefits
There is a huge difference between the benefits available to both membership plans during the free trial periods. The Amazon Prime trial membership gives you full access to every Amazon Prime benefit.
That's not the case with Amazon Prime Student as the image of a cash-strapped freeloading college student enters your mind.
The trial membership for Amazon Prime Student is six months. That's five months longer than the trial period for Amazon Prime.
Benefits of the six-month trial period:
Free two-day shipping on most purchases
Free same day shipping for select zip codes
Unlimited streaming of movies and TV shows with Prime Video
Prime Photos allows unlimited photo storage that can be shared with friends
Twitch Prime provides ad-free viewing, free game content, and 20% pre-release game discount
Exclusive college deals to save money on electronics, dorm essentials, snacks, and school supplies
Until very recently, the free trial didn't even include Prime video streaming. This addition has helped add value to the free trial period as students will certainly enjoy the two-day shipping and college-related discounts.
But, free streaming can also allow them to save money on their entertainment budget or at least allow students to cancel their Hulu or Netflix or other video streaming subscriptions.
What the Amazon Student Trial Doesn't Include
There are a few trade-offs in exchange for a six-month trial period as students do not get access to every Amazon Prime benefit. Some of the excluded benefits could save them money on education costs during the trial period.
Below are a few of the key Prime benefits that Amazon Student members do not receive until they activate the paid membership.
Prime Music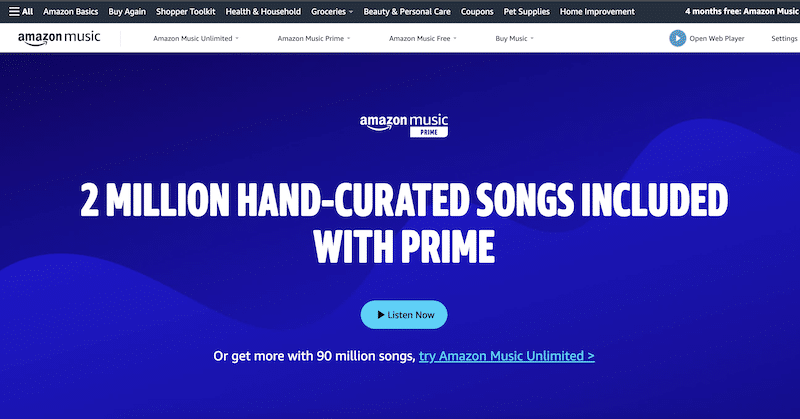 With Prime Music, you can stream over 2,000,000 songs ad-free with unlimited bandwidth.
Prime members also gain access to playlists and an exclusive 20% discount with Amazon Music Unlimited to access over 10 million songs with new releases each week.
Prime Reading
If you own a Kindle, you can borrow one book for free each month with the Kindle Owner's Lending Library.
This can be one way to save money if you need to read a novel for your English literature class or simply like to read in your free time and can save a few dollars by not buying the eBook or paperback.
Prime Reading also allows you to read unlimited books and magazines within their catalog of over 1,000 different titles. With Prime Reading, you also gain access to Audible Channels if you would prefer to listen to an audio book instead of reading a book.
Another benefit of Prime Reading, is that you can read or listen from any device you own and can seamlessly switch between your devices like from your laptop to your phone mid-chapter.
Amazon Pantry
As Amazon already offer free two-day shipping and targeted discounted on snacks and other items that students are more likely to buy, this perk might not be as valuable.
However, paid Amazon Student plans also gain access to Amazon Pantry which gives them even larger access to food and household items that can be shipped anywhere in the contiguous U.S. for $5.99.
For the organized students that want to "set and forget" their orders can also receive a 15% discount on Subscribe and Save orders.
Refer-A-Friend Bonus
As students are always looking for extra cash, they can receive a $10 bonus when a friend signs up for Amazon Prime Student.
Exclusive Amazon Student Benefits
Amazon offers exclusive deals to all trial and paid Amazon Prime Student plans.
Prime Early Access
This is one benefit shared with both Amazon Prime membership plans. All Prime and Amazon Prime Student members get access to the daily lightning deals 30 minutes early.
After that, the remaining inventory is also available to non-Prime shoppers as well. Prime Early Access lets you beat the rush and score great deals before everyone else.
Save Up to 90% on Textbooks
Amazon advertises that students can save up to 90% on textbooks. An Amazon Prime Student exclusive is the ability to rent textbooks.
You can also get exclusive two-day shipping on textbooks shipped from Amazon and discounts that can make it cheaper to buy textbooks from Amazon compared to other third-party sites.
You can even sell your textbooks back to Amazon after you're finished with them.
College Deals
While anybody can save money from Amazon Coupons, Amazon Students have their own discount section called College Deals.
This gives them discounts on electronics, video games, snacks, dorm supplies, and beauty items. After purchasing these items, they are shipped with free two-day delivery directly to their front door.
This can be one advantage to having Amazon Prime Student instead of Prime, as, most of these savings are geared for students.
While some of the deals could also be good savings opportunities for Amazon Prime members needing to buy a new computer, or restock their paper towel supply, most of these discounts probably wouldn't be redeemed by Prime members because of different shopping needs.
How Amazon Prime is Different From Amazon Student
So far, we have looked at how Amazon Prime Student can be more beneficial than Amazon Prime for college students. The two largest differences are that Amazon Prime costs more ($119 per year) and the trial period is only 30 days.
The 30-day trial membership to Prime gives you full access to all the Prime features. The one perk you cannot access during the trial period is the Kindle Owner's Lending Library that allows you to borrow one free book on your Kindle device.
During the 30-day trial, you will be able to enjoy the same trial benefits as Amazon Prime Student.
This includes:
Free two-day shipping
Unlimited Prime Video streaming
Complimentary access to Amazon Prime Photos (including unlimited photo storage) and Twitch Prime
Exclusive deals and discounts including early access to Lightning Deals.
After the trial period ends, your account will automatically be charged $119 and the membership will be valid for one year. As an Amazon Prime member, you also have access to a few benefits that Amazon Student members do not.
Amazon Mom
Parents of small children will enjoy saving 20% on diapers through Amazon's Subscribe & Save program.
And, expectant mothers can also receive 15% off baby registry items. If you do not join Prime, you can still receive the standard 5% discount on diaper subscriptions as well.
Account Sharing
In the earlier years of Amazon Prime Student, you could also share your account. That feature is now exclusive to the $119 Prime membership plan.
Amazon Prime allows two adults living in the same household to create an Amazon Household that allows a single Prime membership to be shared with one other adult and up to four children.
This allows six people total to enjoy all the Prime benefits like Prime video streaming, Prime photos, complimentary access to Twitch channels, and free two-day shipping.
Unfortunately, some benefits cannot be shared like Prime Music, Prime Reading, Kindle First, and discounts on video games and purchased video add-ons. Also, child accounts do not have a shopping feature to prevent accidental purchases.
Who Should Consider Amazon Student?
Amazon Prime Student is obviously designed for college students with an official acceptance letter that can prove enrollment with a transcript or class list.
If you are a college student, you should definitely consider Amazon Student first for the discounted membership fee for similar benefits and the generous six-month free trial period.
Just don't forget to cancel your six-month free trial if you do not plan on using Amazon Prime Student membership long-term.
The flexible six-month trial period is one of the longest free trials you will ever see for any product or service. It gives plenty of opportunities for cost-conscious students to decide if the free two-day shipping, unlimited streaming, and targeted discounts are worth $59 a year.
While the trial offer is very generous, it is only a partial offering of all Prime has to offer.
Many students might be happy to max out the six-month trial, other students that want to use the Prime Music or Prime Reading and Audible Channels benefits immediately will need to forego the trial period and immediately pay the $59 annual fee.
If you order at least four times a year and would pay for two-day shipping each time, the $59 membership fee would pay for itself.
For students who don't own a car, the free two-day shipping is great for last-minute purchases and much easier than finding a ride to the store.
And, being an Amazon Prime Student member means you might be able to scoop up a few exclusive textbook deals and get free two-day shipping in addition to the student-only discounts on technology, snacks, and dorm supplies.
Who Should Consider Amazon Prime?
Amazon Prime is for working adults that are not a college student. Even students that also double as parents may want to consider Amazon Prime to qualify for the 20% discount on diapers as the ongoing savings can outweigh the $59 price tag for an Amazon Prime Student account.
Prime is a good option as it means you can buy any product on Amazon.
Recently, Amazon has restricted access to select products, including the Amazon Essentials private label, from non-Prime members.
Furthermore, Prime members get exclusive product discounts that make it notably cheaper to shop at Amazon instead of other online retailers.
Beyond the shopping perks, Amazon's video and music services have a wide selection of movies, TV shows, and songs to stream.
And, being able to access thousands of eBooks, magazines, and audio books is also a very popular feature. The Audible subscription alone costs $60 a year without an Amazon Prime membership.
Parents of children can also benefit from choosing Amazon Prime. This is because they can share the benefits with their family members and save money by not having individual streaming plans.
Summary
Both Amazon Student and Amazon Prime are good services if you plan to use Amazon for more than the occasional online purchase. The free two-day shipping is definitely a nice touch as other online retailers are rolling out similar shipping policies.
But, being able to bundle Prime Video, Prime Music, and Prime Reading can truly mean all your shopping and hobbies as a college student or working adult can be satisfied on Amazon.