Looking for cheap places to buy eyeglasses? You are in the right place.
Anyone who wears glasses knows how expensive they can be. Costs can skyrocket trying to keep up to date on eye exams, new frames and lenses.
That doesn't even include all the lens enhancements like anti-reflective coating and light-to-dark transitions.
Chances are you've thought about how to save money when buying eyeglasses.
Where to Buy Eyeglasses For Cheap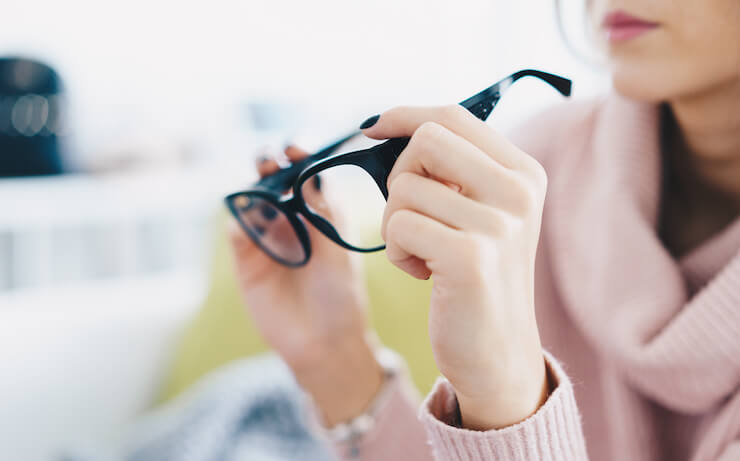 Luckily, the "Eyeglass Rule" from the Federal Trade Commission makes the process easy. Under this regulation, your eye doctor must provide you with your prescription at no extra charge.
That means you can take your prescription and compare prices at any store you want, including some of the best places to buy eyeglasses online.
By shopping around, the savings can be extraordinary. To help you get started, here are the best places to buy eyeglasses.
1. Glasses USA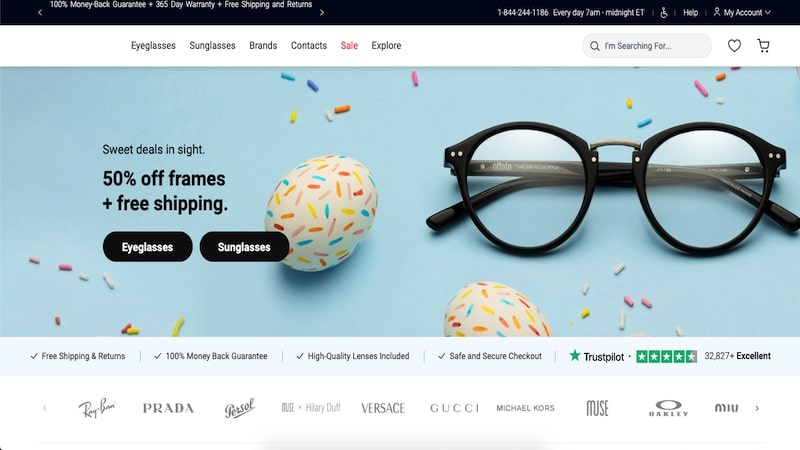 For the best brand names, Glasses USA has you covered. They're a certified premium reseller of Ray-Ban frames.
Plus, you can choose from DKNY, Calvin Klein, Oakley, and more.
The best part? Clearance prices on those frames begin at a discounted price of $19.
All orders come with a one-year warranty on frames and 90-day coverage for lenses.
Get 30% off frames by using code SAVE30.
Buying an extended warranty for accidental damage is possible with the 20/20 Enhanced Coverage option.
Should you decide you don't like your eyeglasses after you get them home, you can return them within 14 days.
Are you wondering how you'll look? The Virtual Mirror lets you upload a photo, use your webcam or import a photo from Facebook to try them on.
Pros
Student discount
Military member & first responder discount
Large selection
Cons
Short time frame on glasses return policy
2. Eyeconic
Eyeconic is a fantastic choice when shopping for eyeglasses. Their site lists savings up to $220 when you buy glasses with them.
Eyeconic can cost you even less if it's your first time ordering with them. They offer a 10% discount when you sign up for their email list.
One of the great things about this company is they accept insurance to help cover costs.
According to Eyeconic, most customers pay a copay of less than $25 and around $31 for eyewear, which is a steal.
If you struggle with knowing which frame looks best, their website features a Virtual Try-On tool to see different styles. Uploading a picture can help you pick the best frame for your face shape and personality.
Whether you're looking for frames or contact lenses, your favorite brands are available. From Acuvue and Air Optix to Anne Klein, Ray-Ban and more, the vast selection is full of fashion.
The 60-day return policy gives you a refund or will exchange your purchase for a new selection.
Pros
Virtual try-on tool
Free shipping
Free returns
Cons
Any returns must be in original, resalable packaging
3. Zenni Optical
Prices at Zenni Optical start at just $6.95, which is an immense discount over other eyeglass retailers.
And like Eyeconic, you get an additional 10% off when you sign up for Zenni's email newsletter.
They'll walk you through the steps, including a Virtual Try-On with a 180-degree virtual mirror to show you how frames look on your face.
Zenni Optical doesn't accept insurance. But using your Flex Spending (FSA) or Health Savings (HSA) Account card to pay is an option.
Your frames can have Transitions photochromic lenses, anti-scratch, U.V. protection and anti-reflective coatings.
Zenni also lets you choose from clear lenses, sunglasses or Blokz lenses to protect against blue light from electronics.
One neat advantage Zenni provides is the ability to engrave custom text or icons on your frames.
You can choose to have your name, business name, a favorite quote or phrase added to your purchase.
Zenni has a 30-day return policy, and replacements for broken frames during this time comes at no cost to you.
If you make a mistake or discover you don't like your choice within 30 days, they'll give you a 100% store credit or a 50% cash refund.
Pros
Shop by "face shape" tool
Glasses as low as $6.95
Virtual try-on tool
Cons
No refunds on shipping charges
4. Warby Parker
With Warby Parker, you're sure to find the right fit and style for your frames when you buy cheap eyeglasses.
Their Home Try-On program lets you pick up to five of your favorite frames to examine in the comfort of your home.
Are you concerned about shipping charges? Don't be. They mail the frames to you for free and provide you with a prepaid shipping label to use when you return them.
For security, Warby Parker keeps your credit card on file. But you won't see any charges as long as you return your trial frames.
And if you're indecisive about which ones might be best for you, their online quiz can match you with some suggestions.
They're not just an online store. Booking an eye exam or browsing their frame selection is available at their retail locations.
Most shops are in California, New York and Texas, but they exist in other states, too.
The frames come at a low cost if you're paying out-of-pocket and Warby Parker accepts FSA and HSA for payment.
They're also an in-network provider for select insurance plans but can bill for out-of-network benefits, too.
Pros
Home try-on option
Buy a pair, give a pair program
Custom production process
Cons
More expensive than some other companies
5. Costco Optical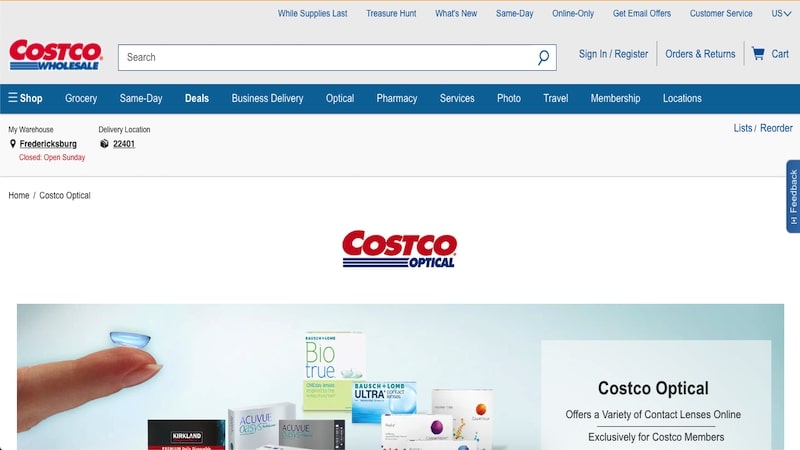 Sometimes shopping in-store is the preferred choice when looking for a new pair of eyeglasses. You have that option with Costco Optical.
They have generous deals, such as offering $30 off each additional pair if you buy them the same day as your original glasses.
The downside is this optical service is only available for Costco members. If you live nearby, an annual Gold Star membership is inexpensive at $60.
The discounts on products and services at every location worldwide might make membership a worthwhile purchase.
Costco Optical offers single-vision lenses, bifocals, and sunglasses. You can also purchase Kirkland Signature HD Progressive Lenses and contacts.
Additional options like polarized, Transitions photochromic, blue light treatment and anti-reflective can personalize your lenses to suit your lifestyle.
Right now you can get up to a $20 Costco Shop Card when you sign up for a new membership.
Pros
In-store shopping option
Additional pair discounts
Generic (Kirkland) brands available
Cons
Costco membership required
6. Sam's Club Optical
Sam's Club is where I go to buy cheap eyeglasses on occasion. Like Costco Optical, only members can shop for eyeglasses at Sam's Club Optical.
Without a membership, you can see the doctor but can't purchase any optical products.
Designer frames that include non-glare lenses start at just $59, making it an excellent option if you're looking for affordable trends.
Plus members can save even more by getting an extra 20% off a complete pair of eyeglasses when ordering in-store.
Sam's Club Optical can bill some insurance plans, though the specifics vary based on location.
Your local store can provide you with a list of insurance plans they partner with, so you can know if they accept your insurance.
Pros
In-store purchase option
See the doctor even without a membership
Accepts some insurance plans
Cons
Membership is required to purchase products
7. 39DollarGlasses
With prices starting at just $39, 39DollarGlasses has frames and lenses to match your style and eyeglass needs.
Upgrading to new lenses to match your new prescription is possible without buying frames. 39DollarGlasses will put new lenses in your existing frames, and the process only takes about seven days.
The site features shopping categories for toddlers, teens, driving glasses and discount selections to make it easy to narrow your choices.
There's no need to sacrifice features when buying eyeglasses. 39DollarGlasses has well-known brands like Transitions lenses and Varilux bifocals available.
They also have Blue495 anti-glare coating to help reduce eye strain while gaming, using the computer or other digital devices.
They give a full refund if you return your order within 30 days.
If you change your mind for any reason after the 30-day window, a full exchange or store credit is available for up to 90 days. Note that you're responsible for paying shipping charges, and multifocal lenses and contacts don't qualify.
Pros
Low starting price for some glasses
Multiple online measuring/ordering tools
Rewards program
Cons
No returns on some products
8. EyeBuyDirect
Saving money on prescription eyeglasses is easy with EyeBuyDirect. The site features a vast selection of frames starting as low as $6. Sorting by type, gender, shape, material and color makes finding your perfect fit a cinch.
Students can cash in on an even bigger deal by getting 20% off their entire order. And anyone can take advantage of the referral program.
For every friend you refer, they give you $10 while your friend enjoys $10 off their first order.
For help sorting through the choices, the Fit & Style Eyewear Quiz can help. After picking your frame, the virtual mirror EyeTry can show how they'd look on.
Uploading your photo is all it takes to try on as many frames as you'd like.
Whether you order a prescription or non-prescription variety, you won't have to wait long. Delivery takes 7 to 14 days, which is about the same as most brick-and-mortar shops.
EyeBuyDirect doesn't accept insurance, but they take both FSA and HSA in addition to most credit cards, Amazon and PayPal payments.
If you're unhappy for any reason, your purchase is eligible for a 14-day no-questions-asked exchange or return. And your eyeglasses come with a full-year warranty to cover defects in material or workmanship.
Shipping is free for orders over $99. All others will pay a reasonable $5.95 charge for delivery to U.S. locations.
Pros
Some frames available for $6
Free shipping for orders over $99
Referral program available
9. Ambr Eyewear
Specializing in blue light-blocking glasses, Ambr Eyewear has prescription and non-prescription styles available.
The lenses look just like regular lenses but have the bonus of protecting your eyes when gaming, watching hours of Netflix or working overtime at the office.
Finding computer-friendly eyeglasses for less has never been simpler.
Free worldwide delivery and returns, as well as 24/7 customer support, make shopping for prescription glasses a piece of cake.
Keep in mind their free shipping benefit has some restrictions since it only applies if you live in the U.S., Canada, U.K., Ireland, Australia, New Zealand or parts of Europe.
Their virtual try-on studio will give you a feel of how different frames will look. Using your webcam or uploading a photo, you can pick which pair best suits your facial features and personality.
If you don't like your glasses, you can return them within 30 days for your money back. You will pay for return shipping, but Ambr Eyewear will refund this cost to you.
They make refunds via PayPal only. To have your complete order refunded, including your postage costs, don't forget to include your PayPal address.
Pros
Large blue light-blocking selection
Free worldwide delivery and returns
24/7 customer service
10. Glasses Shop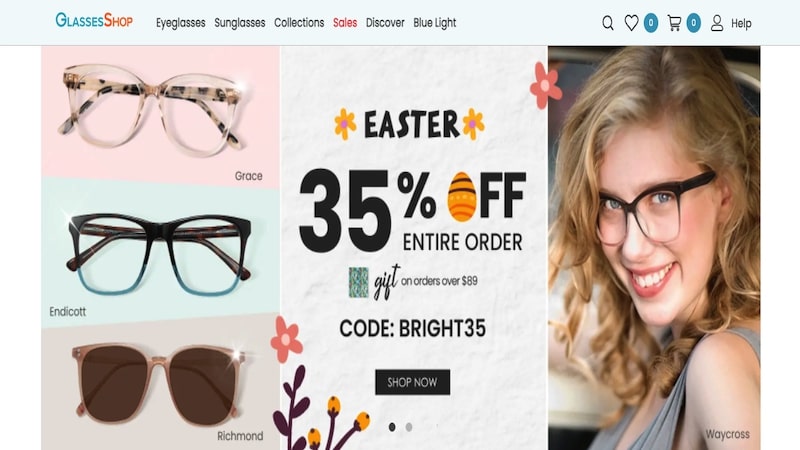 Glasses Shop has excellent prices if you're looking to buy cheap eyeglasses. The clearance shop offers up to 80% off with complete pairs from $5.95.
The deal is even better if you're a first-time customer since Glasses Shop gives you your first pair free. Your free pair includes single-vision lenses with an anti-scratch coating.
Also, they provide a protective case and cloth to store and clean your eyeglasses.
For returning shoppers, you'll like the buy one get one free option. Frames that are on sale don't qualify, but you can order up to six frames with this offer.
Flash sales are also a simple way to save on your next pair of eyeglasses. Frames start at $6.95 for popular styles.
Your order qualifies for a 14-day return if you're not satisfied. Yet a full refund is only possible if you opt for store credit. Otherwise, only 50% of the purchase price goes back to the account you used to buy the item.
Pros
Low starting price on frames
First pair for free
Flash sales available
11. Lenskart
Lenskart provides eyeglasses with Italian designs powered by German technology.
You can get eyeglasses for men, women, and kids here, as well as sunglasses for men and women.
Blue light block glasses, transition glasses and clip-on sunglasses are available as well. Look for clearance and sale items on the site as well.
Lenskart's Buying Guide and Frame Size Guide can help you choose the right pair of glasses for your needs.
Pros
Free worldwide shipping
Student discount program
Helpful buying guide
12. Eyeglasses.com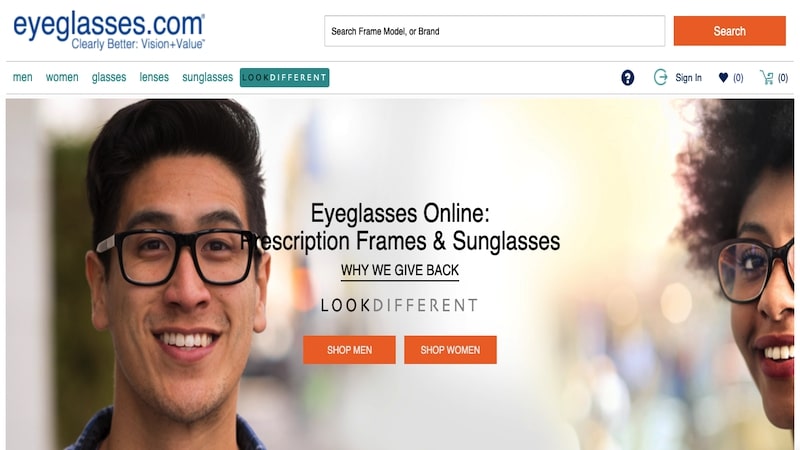 Eyeglasses.com offers a number of benefits to eyeglass wearers. Their prices are about 50% lower than average eyeglasses prices.
They offer over 380 designers and over 200,000 frame choices. The company also offers free shipping to the U.S. and a 30-day money-back guarantee.
You can get men's, women's, and kids' glasses at Eyeglasses.com. Prices for frames start at under $50. If you want to buy cheap eyeglasses, check this place out.
Check out the Eyeglasses.com website for a buying guide and other valuable tools.
Pros
Replacement lens program
Buy one, give one program
Focus on selling quality frames/lenses
How Do These Eyeglass Companies Compare?
| | | | |
| --- | --- | --- | --- |
| Company | Free Shipping | Return Policy | Starting Price |
| Eyeconic | Yes | 60 days | $95 |
| GlassesUSA | Yes | 14 days | $39 |
| Zenni Optical | No | 30 days | $6.95 |
| Warby Parker | Yes | 30 days | $95 |
| Costco Optical | n/a | See store | See store |
| Sam's Club Optical | n/a | See store | $59 |
| 39DollarGlasses | Orders over $99 | 14 days | $39 |
| EyeBuyDirect | Orders over $119 | 14 days | $6 |
| Ambr Eyewear | Yes | 30 days | $63 |
| Glasses Shop | Orders over $69 | 30 days | $12.48 |
| Lenskart | Yes | 14 days | $5 |
| Eyeglasses.com | Yes | 30 days | $108 |
Summary
With these excellent options to buy eyeglasses for cheap, you don't need to fear to update your frames.
You can buy cheap eyeglasses without sacrificing quality.
The cost-effective stores, both in-person and online, have advanced features like photochromic lenses, blue light filtering, and more to deliver a custom pair of glasses.
Using the virtual try-on options available can help you pick the right frame for your face shape.
And some allow you to have your favorites shipped to your house so you can try them on from the comfort of your home.
For the best experience, always read the fine print to understand the return policy and warranty coverage.
And don't forget to sign up for the company's email newsletter to cash in on deeper discounts with coupon offers sent to your inbox.