Almost 90% of Americans own cars, and it's easy to understand why. Unless you live in a major city with a good public transit system, you need a car to get almost anywhere.
It's easy to spend tens of thousands of dollars on a new or even a used car, making selling cars or facilitating the sale of vehicles a huge business.
Many companies have created websites and apps to help people buy and sell their cars.
Car Buying Apps
If you're looking to buy a car, there are a lot of places that you can go. Whether you want to buy new or used, there's an app that can help you find the right vehicle.
1. CarGurus
CarGurus is an app that assists car buyers in finding both new and used vehicles for sale.
It has a powerful search engine for finding used cars, letting you start by choosing the exact make and model of the car that you'd like.
Or you can give yourself more options by selecting a body style. A deal rating accompanies every listing.
CarGurus keeps a list of approximate values for vehicles based on their make and model and will tell you whether a certain car is a good or bad deal based on its price.
You can even sort your search results by the quality of the deal.
The website's new car search engine links you directly to dealerships in your geographical area. You can even send a message to the dealer through the site to ask for a quote.
If you need more information to help choose a vehicle, the app includes a reviews section with expert reviews from CarGurus. Conveniently, you can apply for financing from one of CarGuru's partner lenders.
Plus, it lets you trade your vehicle in or sell it through the site, making it a one-stop shop for all your car-buying needs.
Search over 5 million car listings to find the right car for you at CarGurus.com!
2. CarMax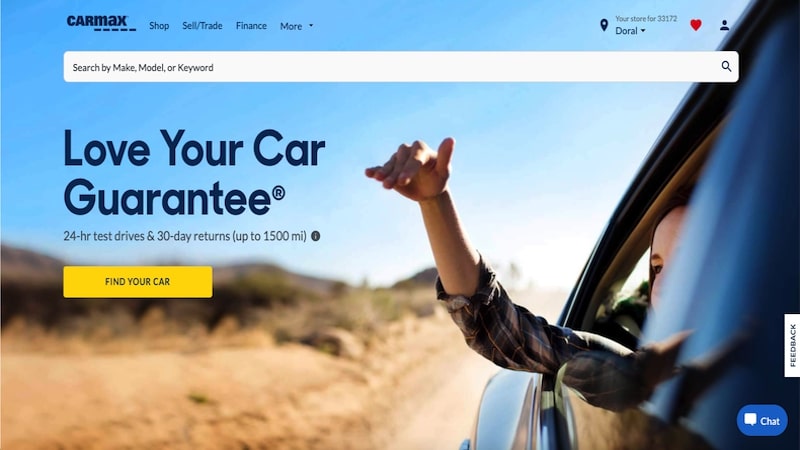 CarMax is one of the country's largest used car sellers, and its app gives you direct access to its massive inventory of used vehicles.
You can start by searching for a specific type of car, a certain make or even a price. Once you've found some options, you can compare as many as ten vehicles at one time, making it easy to find the right car for you.
Each car comes with a history report so that you can see if it's been involved in any accidents or had any major work done to it.
Most also come with a limited warranty from CarMax, covering you if you buy a malfunctioning vehicle.
If you don't plan on paying in cash for your car, CarMax can connect you with a variety of car lenders. You can get multiple quotes and choose the best one, helping you find the best deal.
One feature of CarMax that can be a pro or con depending on your personality is the pricing. Cars are one of the things that people expect to haggle on.
On CarMax, the price you see is the price that you pay, no haggling or negotiating required.
If you enjoy haggling or you're good at it and regularly get great deals, CarMax isn't the right choice for you. If you prefer a simple transaction with no negotiation, that can be a major perk of using CarMax.
3. Autotrader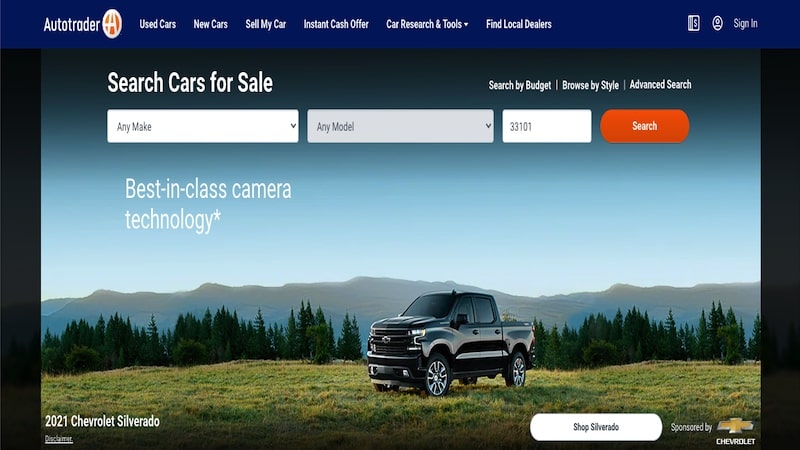 Autotrader is a website that connects buyers with both used and new cars for sale. Like other apps, it has a search engine that lets you filter based on make, model and year.
However, the search engine is a bit less user-friendly than most other apps.
Once you've found a car you like, you can save it to your profile and compare it against other vehicles that have caught your eye.
You can also contact the seller directly through the website or send an electronic offer with a down payment amount and whether you want to trade in a vehicle of your own.
Many dealers will connect you to their financing departments if you make an offer. However, Autotrader doesn't have any financing partners that you can work with.
If you have a car that you're looking to trade or sell, you can get an instant cash offer from Autotrader by providing some information about your vehicle.
This option can save you the effort of making sure you get a good deal when trading your car in with a dealer or selling it to another person in a private transaction.
4. Kelley Blue Book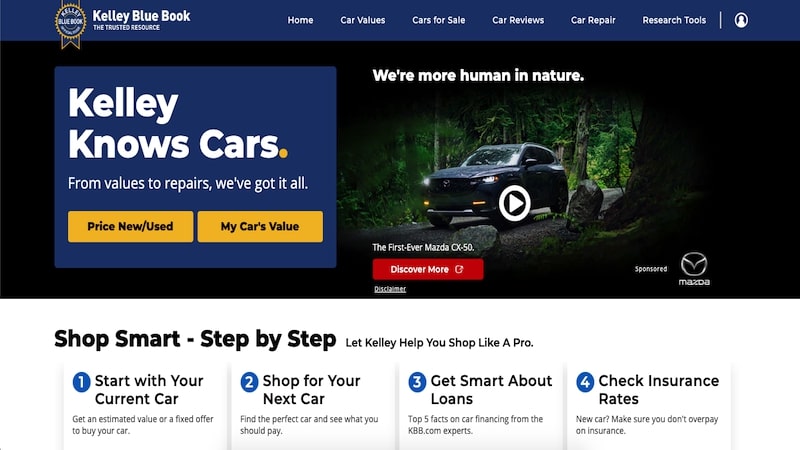 Kelley Blue Book is one of the best-known resources for car knowledge and pricing, so it makes sense that the company runs its car buying app.
The website has a variety of reviews and instructional articles that you can use to decide the type of car that you want to buy.
Once you're ready to start looking for the right vehicle, you can search for cars that are available in your area.
Every vehicle on the site comes with a deal rating based on the price as it compares to the Kelley Blue Book value.
You can also get a discount on vehicle history reports from AutoCheck to make sure that you know everything about the car you buy.
5. TrueCar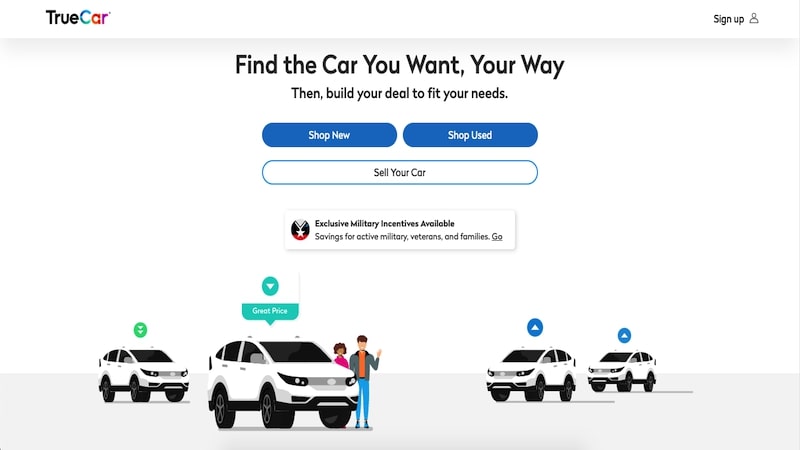 TrueCar helps connect buyers with both used and new cars. Each car that you find comes with a deal rating based on the price of other similar cars.
Listings for new vehicles include a TruePrice breakdown.
The TruePrice shows the MSRP of the car, the market average sale price and the TruePrice that you could pay after negotiating and getting discounts.
The site also calls out incentives that you could qualify for, such as graduating student deals.
If you're shopping at a dealership in person, TrueCar makes it easy to compare prices with other dealers.
You can use the app to scan the window sticker on a car.
The app will automatically compare that information to the other vehicles available on TrueCar to make sure that you get a good deal.
If you want to sell your current car to help pay for your next one, TrueCar makes it easy. Enter some basic information about your vehicle, and TrueCar will ask for trade-in quotes from multiple local dealers.
You can look at each offer and choose the best one to make sure that you get the most value for your trade-in. If none of the offers meet your expectations, there's no obligation to go through with the trade.
6. Edmunds
Edmunds is another new and used car buying website. You can search for new vehicles directly from the dealer or certified pre-owned and used vehicles from used car dealerships.
On top of connecting you with car sellers, Edmunds offers some of the best research and reviews in the business.
You can get a lot of information about any vehicle you're interested in, including a breakdown of its fuel efficiency, common problems and total cost of ownership.
If you have more questions about a certain model, you can reach out to an Edmunds car expert who can give you further assistance.
If you want to sell or trade your current car to pay for your new one, Edmunds has an easy to use appraisal tool.
Just enter the year, make and model, and Edmunds will give you an approximate value for your vehicle if you want to trade it in.
However, it won't connect you directly to dealers who are willing to make an offer. Still, it does provide some valuable insight into the price you can expect to get for your car.
7. CarsDirect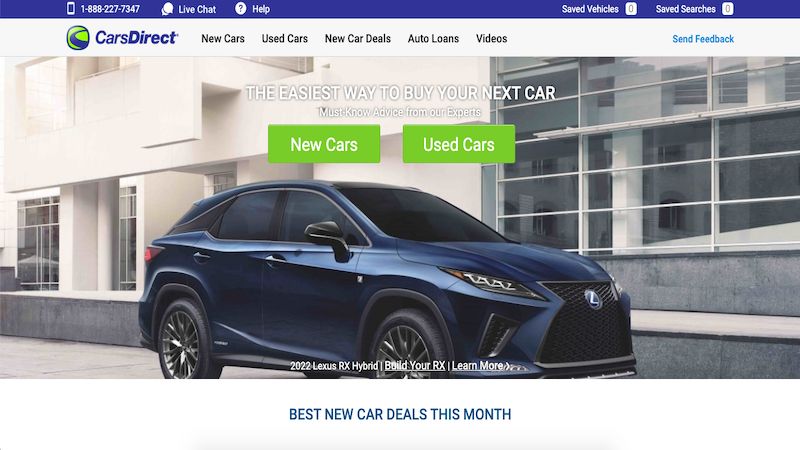 CarsDirect helps buyers find new and used car deals in their area, and provides up-to-the-minute pricing information for the market.
You use the toolbar to search make, model and the area code you're shopping in. From there, you can arrange your search results by price, mileage and more.
Once you find a vehicle you're interested in, you'll fill out the information form and be contacted by the dealership that holds the vehicle.
There's no cost for you to use CarsDirect. Also, CarsDirect can help you find a lending partner if you have less-than-perfect credit.
You can also use CarsDirect to find review information about new cars as well.
8. Cars.com
Cars.com is one of the oldest car buying apps, and it can help you do a bit more than just buy a new or used vehicle.
The website includes links to DIY repair instructions and garages that you can work with to give your car a tune-up after you buy it.
Cars.com also offers a variety of research tools that can help you choose the right vehicle to purchase.
You can easily compare different models of car and get an easy to understand breakdown of each model's pros and cons.
Consumer reviews augment the expert reviews so you can see what other owners have to say about the vehicle. There are also insightful news and safety articles that can help guide your purchase.
Like most car-buying apps, Cars.com makes it easy to apply for financing from the dealer that you're working with.
It also makes it easy to sell or trade-in your car to help pay for your new purchase. You can get an estimate for free by providing some basic information.
If you want to try selling your car, you can list it for sale on Cars.com. Or get offers from local dealers if you don't want to deal with making the sale yourself. Plus, you can even find buyers for junk cars.
9. Fair
Fair is one of the newer car apps on the market. As its name implies, Fair is all about making the car easy, transparent and fair.
Fair isn't a traditional car-buying app since it doesn't help you buy cars at all. Instead, you choose a vehicle, put down a starting payment of about $1,000 (more for premium vehicles) and make monthly payments for as long as you want to use the car.
If you no longer need the car, you can stop making payments and return it. You can also trade it in for another car by making another start payment.
Effectively, you lease the car from Fair with no commitment. The lease comes with roadside assistance, routine maintenance and a limited warranty included.
If this sounds like a good deal, you can search for a car based on the make and model, or you can search based on the monthly payment.
For rideshare drivers, you can even sign up for a weekly payment plan to help you get on the road picking up fares.
If you want to buy a car and own it for the long term, Fair isn't the right choice. But, if you don't mind leasing and like the idea of a no-commitment lease, Fair can be a solid choice.
10. Carvana
Carvana is an app that specializes in helping people buy used cars and trade-in their existing vehicles.
Carvana's app has a vast inventory of available cars. You can search based on the car make, model, style, color, or fuel-efficiency. You can also filter cars based on their price and financing options.
One thing that some people will like about Carvana is its pricing structure. Because Carvana sells all of its vehicles directly rather than connecting buyers to dealerships, the price on the app is the price you pay.
There's no need to negotiate or work to get a better deal.
Once you make your purchase, Carvana will deliver your vehicle to your home if you live in the Carvana service area. If you don't, you'll have to travel to one of Carvana's "car vending machine" locations.
Carvana will subsidize up to $200 of your airfare to get to a vending machine and transport you from the airport to your car.
Tips for Using a Car Buying App
If you want to use an app to buy a new or used car, keep these tips in mind.
Shop Around
When you make any major purchase, shopping around is one of the best ways to make sure that you get the best deal possible. Buying a car is no different.
When you're searching for a vehicle, don't just go to one dealership or use one car buying app. Take the time to look at a few different apps and compare similar cars.
You might find a good deal on a model you didn't initially consider or get a better financing deal through one app when compared to another.
Don't Be Afraid to Negotiate
When you buy a car, usually the seller expects that you'll negotiate on the price of the vehicle. That's true, even when you use a car buying app.
While some apps have set prices as one of their selling points, apps that connect you to private sellers or dealerships don't usually advertise that prices are fixed.
If you're interested in a car, don't be afraid to reach out to the seller and negotiate. If you ask for a small discount, the worst that can happen is that the seller refuses. You still have the option to buy the car at the listed price.
When negotiating, always remain friendly and remember that the seller is under no obligation to cut you a deal. Still, there's never harm in trying to get yourself a better bargain.
Summary
Cars cost thousands of dollars, but they're necessary for a lot of people and can even be a source of income. That makes choosing the vehicle that you buy a major decision.
Car buying apps can assist you as you pick from hundreds or thousands of vehicles to find your next car.
They can also help you learn about fair pricing for different models so you can make sure you're getting a good deal.