If you haven't jumped on the online bank bandwagon, you're late to the game! Online banks offer an average of 20X more than a savings account at a big bank. Also, savings accounts are usually free and you won't get charged a monthly fee.
The reason for this is simple: overhead.
Internet banks don't need to pay for a physical branch and therefore, some of those savings get passed on to the customer in the form of higher interest rates.
So, is it time for you to assess your savings strategy and explore other options that give you more in interest? If earning 20X more than a big bank savings account appeals to you, consider CIT Bank when choosing an online bank account.

Summary
CIT Bank is an online bank that offers a variety of savings products, mortgage loans, and business loans. CIT Bank is a solid option if you're thinking about opening one of their savings accounts to boost your savings this year. The bank offers a decent interest rate and is competitive with other online banks such as Ally Bank and Capital One 360.
Pros
Variety of products
Competitive rates
Cons
Overdraft fees
No local branches
Why CIT Bank?
In addition to having a high yield savings account rate, CIT Bank is light on banking fees. They don't have any fees to maintain your account.
However, like most banks, you will get charged a penalty fee if you decide to take your money out early from a CD.
CIT Bank is a great option for your money because they cater to what customers want, which is pretty refreshing to see in a bank.
For example, they offer five different kinds of CDs for your savings strategy. Their No Penalty CD allows you to withdraw your funds without getting hit with a fee.
They even offer a really helpful home loan for people who can't afford a large down payment.
What to Know About CIT Bank
CIT Bank isn't a full-service bank and they don't offer credit cards, car loans, or retirement accounts such as an IRA.
Another drawback is that they don't have a branch you can walk into, in the event that you need to complete a transaction that requires you to be in the bank.
CIT Bank App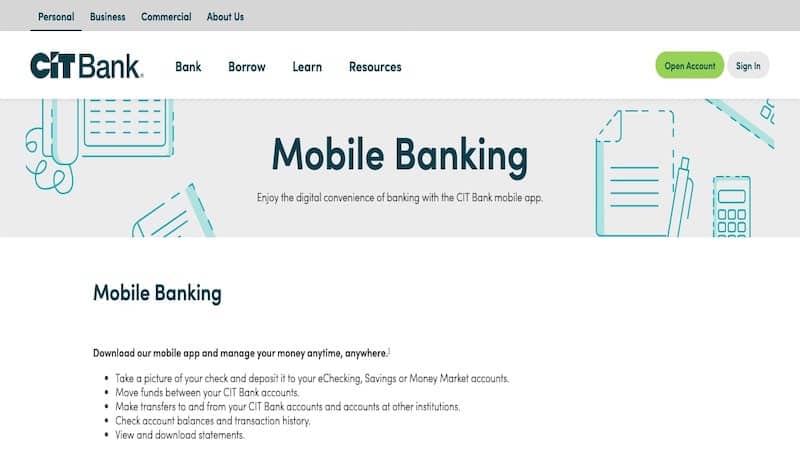 Like many online banks, CIT Bank has a free app that you can download on iTunes or Google Play.
The reviews from over 400 customers are high for iTunes (4.6 out of 5 stars) but quite low for Android (two stars out of 5) from over 90 customers.
Users complained about the clunkiness of transferring money between external accounts and their CIT Bank account.
How is Interest Calculated?
CIT Bank gives you compounding interest daily and then credits it to your account monthly.
If you decide to open a CD, you have three options to receive your interest payments.
You can leave it in the CD
Deposit it to a CIT Bank savings account
Set up electronic funds transfer to deposit it to another checking or savings account
If you decide to withdraw the funds, you need to call CIT Bank to request it. The phone number is 855-462-2652.
How to Sign up for CIT Bank
Opening an account on CIT Bank's website is a straightforward process. It should take about 10 minutes or less.
Here is what to do:
Choose what kind of account you want to open.
Complete your application online.
Set up a login, password, and security questions.
Fund your new account.
You will need to provide your Social Security number, your current bank routing and account numbers, and ID information.
You can fund your account by:
An electronic fund transfer, also known as ACH
A check mailed to CIT Bank
Wire transfer
If you use the electronic method your funds are available in five business days. If you mail in a check, it will take about 10 days to become available.
CIT Bank's Savings Account Choices
If you want a variety of options when choosing your savings account, CIT Bank has an impressive line-up of CDs (certificate of deposit), money market account (similar to a savings account but you need a high balance), and savings account.
Premier High Yield Savings Account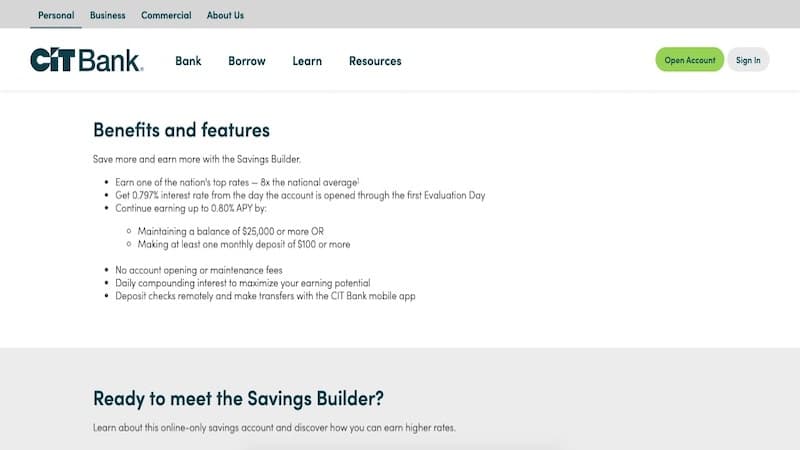 What you should know:
Great for goal-oriented savings through creating free sub-accounts
$0 monthly fee
This is probably the most straightforward type of savings account and the Premier High Yield Savings Account is free to open.
An online savings account is a great way to save for an emergency fund. It's more flexible than a CD because you always have access to your money.
Create Sub-Accounts Based on Savings Goals
Online savings accounts are also convenient because they allow you to open sub-accounts, which are designed to help you save for a specific goal. They can be either long- or short-term goals.
For example, if you open CIT Bank's High Yield Savings Account, you could designate that as your main "emergency fund" and then create a few other accounts based on what you'd like to save for.
Personally, I use my online savings account this way and have sub-accounts set up for car repairs, upcoming snowboarding trips, and a down payment for a house.
Keep in mind that while you can withdraw your money at any time, if you do it more than six times a month, you'll get charged a fee.
This rule isn't imposed by the bank, it's a federal rule. The point of a savings account is to save, so you shouldn't constantly withdrawing money out of it anyway.
CIT Money Market Account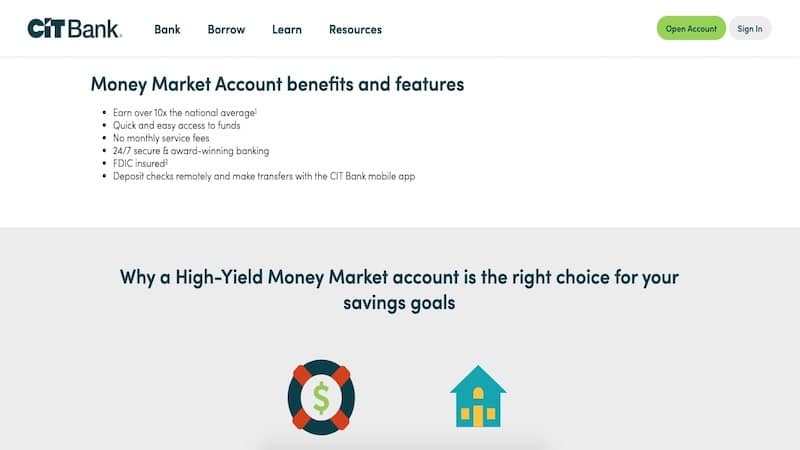 A money market account is a type of savings account that usually requires a significantly higher minimum balance than a regular savings account.
However, the money market account at CIT Bank has a minimum balance of $100 to open the account. The interest rate is competitive.
Using the same example with the $2,000 initial deposit and saving $50 a month for 10 years, I'd have $8,740.71. The total interest I would've earned is $685.
4 Types of CDs to Choose From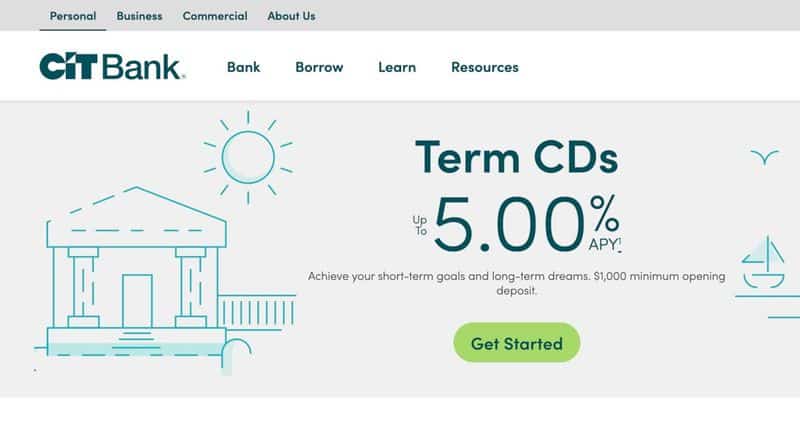 CIT Bank's variety of CDs is impressive. If you are considering building a CD ladder, read on to learn the specifics.
A CD stands for certificate of deposit, and it is a type of savings account that comes with a specific length of maturity or term. Because your money is "locked up" for a certain period of time, you receive a higher interest rate.
This means your money needs to sit in the account for that length of time, which depends on how long you'd like your money to grow. This time can range from a few months to years.
After Your CD Matures
CIT Bank will send you a notification 30 days before your CD reaches the length of your term. Unless you contact the bank 10 days before the CD matures, it will automatically renew. This applies to all CIT Bank CDs.
If you're ready to receive your funds once the CD matures, just contact the bank.
1. Term CDs
Currently, CIT Bank offers term CDs with up to 5.00 % interest.
Get a 13-Month CD at 4.65%
2. CIT Bank No Penalty CDs
What you should know:
Term: 11 months
Minimum deposit: $1,000
This CD is exactly as the name implies. If you want to pull your money out before the term is done, you have access to your funds without getting hit with a penalty.
You need to wait at least seven days after the funds have been received for your CD. You're not allowed to withdraw funds during the first six days after funds have been received.
In order to withdraw the funds, you have to call CIT Bank's contact center at 855-462-2652.
3. CIT Bank Jumbo CD
What you should know:
Minimum deposit: $100,000
Interest rates: Up to 0.05%
If you happen to have $100,000 laying around, CIT Bank has their Jumbo CD account. It's made for large deposits and there are no maintenance fees.
The interest compounds daily, which may help maximize your earnings. As with the other accounts CIT Bank offers, it's also FDIC insured.
4. CIT Bank RampUp™ CD
What you should know:
Term: 3- and 4-Year terms
Minimum deposit: $25,000
CIT Bank's RampUp™ and RampUp™ Plus CDs are currently not available to new accounts. However, you can get a higher yield with a lower minimum deposit using CIT's term CD.
If RampUp™ CDs open to new accounts again, you can adjust your interest rates one time during the term. That is if interest rates for new RampUp™ CDs are higher than your current yield. You will need to contact CIT Bank to request a rate increase.
With a CIT Bank RampUp™ Plus CD, you can add new funds to your original balance as well.
More Savings Options and Home Loans
Custodial Accounts (UTMA)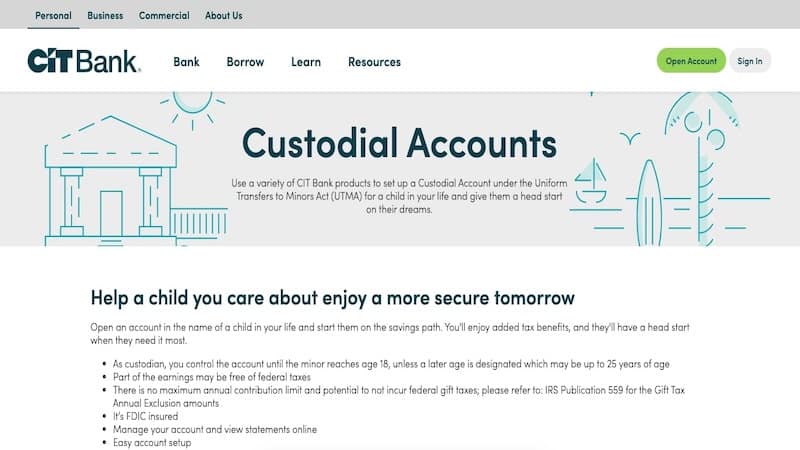 What you should know:
Open a savings account in your child's name
Some of the earnings may be federal tax-free
No maximum annual contribution limit
Are you thinking of saving for your child's college education or future? Maybe you already have a 529 Plan, but want another option to continue saving in your child's name. Set up a CIT Bank Custodial Accounts under the Uniform Transfers to Minors Act.
You will act as the custodian, which means you have full control of the account until the minor reaches 18. You can also designate the age to be 25, instead of 18.
CIT Bank Custodial Accounts let you hold any CIT Bank product. You may keep it simple by only opening one banking account that earns the highest interest rate.
If your child has a large cash balance, you may also open a term CD in their name. Although they don't have instant access to their cash, they can earn more interest.
The interest rate your custodial account earns depends on which CIT Banking products your select.
Home Loans
What you should know:
Purchase loans and refinance available
HomeReady® Program (for those who can't afford a large down payment)
CIT Bank's loan products seem standard with other banks, but they have a special program for homebuyers who don't have a big down payment. It's called Fannie Mae's HomeReady® Program which is a conventional loan that helps moderate-income households who can't afford a large down payment.
It enables homebuyers to qualify with only 3% down. There's also the Framework® Homebuyer Education Program which is a mandatory online course that new homebuyers must take.
Homebuyers who can only put down 3% need to purchase private mortgage insurance (PMI). This may be canceled once 20% of the home's equity is reached, which is a great option. Government-issued loans don't allow you this option.
CIT Bank offers two kinds of home loans for both the purchase of a new home and refinance.
Pros and Cons
Pros
Lots of savings products to choose from
Competitive interest rates
Daily compounding interest rates
No fees for account maintenance
Home loan program for 3% down payment
Cons
The process for receiving interest money requires you to call the bank
They don't offer a checking account
No physical branches
Summary
As you can see, CIT Bank is a solid option for saving money, whether it's in a savings account or CD. Assess your current savings strategy and make sure you have a plan to save and pay off your debt.
Rates compared to National Average, Savings Builder | 21.43 (over 21x National Avg.) Money Market | 16.00 (16x National Avg.)
Check out CIT Bank today to see current competitive rates.