Do you like to leave online reviews to help other shoppers make an informed purchase?
Product feedback plays a very important role in the buying process and also helps manufacturers make improvements to their product lineups.
Now, you can get paid to write reviews by sharing your opinion on the Internet.
How to Make Money Writing Reviews
Product feedback plays a very important role in the buying process and also helps manufacturers make improvements to their product lineups.
There are lots of sites out there that allow you to get paid to write reviews. Here are a few that may work for you.
1. Survey Junkie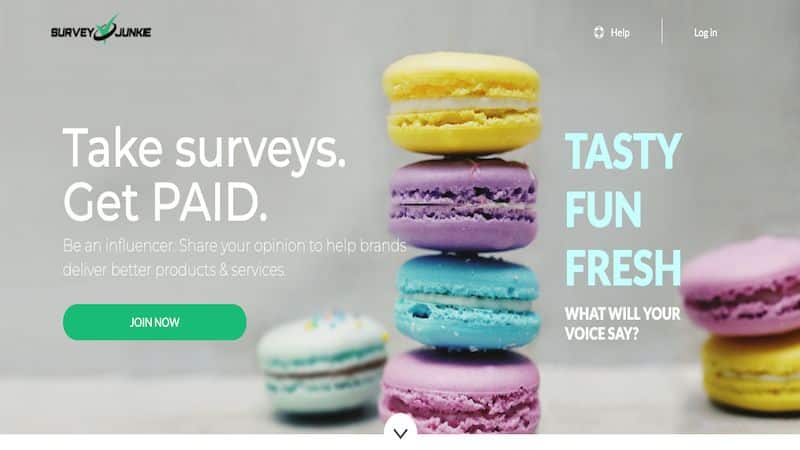 Survey Junkie will pay you to share your opinion on a variety of brands and products.
You will be invited to take a survey on a variety of topics and fully completing your profile will match surveys that are relevant to your habits and interests.
There are over 3,000,000 members and it has many positive user reviews. This site is a great way to get paid to write reviews online.
Once your rewards balance reaches $10, you can request payment by PayPal or a gift card to your favorite store and restaurant.
Gift card options include Target, Amazon, Starbucks and more.
2. InboxDollars
InboxDollars is one of the largest Swagbucks alternatives that also allows you to make money by writing reviews. It's possible to get paid by taking surveys and signing up for the easy cash offers that allow you to get samples.
In addition to these paid opportunities, you can also make money by watching videos, shopping online, playing games, and referring friends.
Watching videos can be an exciting way to make money with InboxDollars because you have the opportunity to provide feedback on TV commercials.
Some of these commercials haven't aired yet and you get to be one of the first viewers.
In addition to earning cash by sharing your opinion, you will also receive automatic entries into the weekly InboxDollars sweepstakes.
When you are ready to be paid, InboxDollars will pay you by check. Gold members also have the option to be paid with a Visa prepaid card or an eCard.
You automatically become a Gold member when you've earned at least $30 with InboxDollars.
3. Rebaid
Rebaid is one of those hidden gems on the internet. Remember the old days of mail in rebates?
Where you would send a form in the mail and wait for a check? Rebaid has automated a way to get paid to write reviews online.
You can now shop with stores such as Amazon, Walmart and more. Receive rebate money directly in your bank account within 3 days.
By offering certain brands on Amazon rebates, these companies can get their products out in front of the competition.
As as part of Rebaid, you can share reviews on these products and let other consumers know what you think about the products.
You are not required to leave a review yet doing so helps the seller. Rebaid is free to use.
4. Slicethepie
Slicethepie claims to be the largest online review site. You can get paid to review new music, fashion items, accessories, and commercials before they are released.
Unlike some of the other review sites that don't give you samples, you will get paid for every review.
Note that if you leave quality reviews you can earn additional bonus monies.
Once you earn $10 in rewards, you can be paid by PayPal. And, you can receive a bonus for referring a friend.
5. Moms Meet
Finally, a place where moms can share their opinions and connect with other health-minded mothers!
Moms Meet lets you sample healthy, organic, and eco-friendly products with your family and friends.
You earn points by providing your honest feedback that can be redeemed for gift cards, printables, surprise fun packs, and gifts.
To begin reviewing products, you will need to apply for the Mom Ambassador or Blog Ambassador membership levels.
Along with writing reviews, you can also earn points by watching educational videos and webinars, participating in community discussions, and completing quests.
It's free to join Moms Meet and you also get a 100-point bonus just for signing up!
Joining Moms Meet can be a great way to learn about more earth and people-friendly products.
6. Get Reviewed
Get Reviewed will pay you cash for sponsored blog posts and blog reviews. To get started, you need to be a blogger with a domain authority of 20+ and a self-hosted website.
Once you join, product owners and sponsors pay you to write about products and services. You will get paid 14 days by PayPal after your article has been completed.
It's free to join Get Reviewed and can be an excellent way to earn some additional money writing content.
7. Ciao
Ciao is a UK-based paid review website that is open to the international community. You can get paid to write reviews online for products listed on their website.
They also pay additional money for focused categories that are changing on a regular basis.
The payment for each review can vary based on how much traffic it generates. Note that payments for some activities can be quite small.
One good thing about reviewing with Ciao is the low payout requirements of five pounds which is about $6-$7 USD depending on the exchange rate. This can be a great way to get paid to write reviews online.
8. CrowdTap
CrowdTap is a fun way to get paid to review products because you can complete daily missions.
Selecting a mission on your smartphone will give you the opportunity to be rewarded for leaving a high-quality review of the featured product.
After successfully leaving a review, you can be rewarded with gift cards, product samples, and other merchandise rewards.
In addition to reviewing products, you can also earn points for completing daily polls and responding to survey invitations.
You can earn additional points for sharing your CrowdTap reviews on your blog and social media channels.
Gift card rewards earned through CrowdTap are issued through Tango Rewards do not expire.
9. ListVerse
ListVerse will pay you $100 to make a "Top 10" list. This writing format can be a creative opportunity that is different from your typical product reviews.
Jamie Frater founded Listverse due to an insatiable desire to share fascinating, obscure, and bizarre facts.
Articles include topics such as "Top 10 '90s Songs You Didn't Realize Were So Heartbreaking."
It can be a good way to make several recommendations in a single article by writing one or two paragraphs for each item.
If you love writing about obscure and bizarre facts, this may be a way for you to get paid to write. You will be paid via PayPal.
Note that article ideas have to be approved before you'll be paid for writing the article. And the Listverse website says to go for the bizarre when submitting ideas.
10. Start Your Own Blog
Starting your own site is one of the best options to get paid to write reviews online because you can earn passive income from your reviews as you write the review and can earn a small commission each time somebody buys the item through your website.
Blogging about the products you use is a great way to share your first-hand experience through words and pictures as other review sites might limit your review to a few brief paragraphs.
If you are new to blogging or want to start a blog, here are two resources you should check out.
Hosting your blog at Bluehost is very affordable and only takes 10 minutes to get started.
It's important to note that although it will take time for you to start earning from your blog, the income potential can be quite high.
11. UserTesting
Do you want to make money by testing apps and websites? While you are not really writing reviews online, UserTesting will pay you $10 per test when you make a 20-minute video.
This can be a great opportunity when you prefer to voice words instead of writing your opinion.
You can begin leaving reviews online with any device as long as it downloads the necessary recording software and can record you testing the service in real-time.
Companies are willing to pay big bucks to watch people interact with their product and UserTesting can be one of the most lucrative ways to earn money by making reviews.
If you're comfortable in front of the camera and are willing to give honest feedback about websites, this could be a great side hustle for you.
12. Harris Poll Online
Harris Poll Online is one of the oldest and most reputable research firms around. The company has been seeking user feedback for over five decades.
Most surveys focus on your review of brands and their proposed marketing campaigns.
For example, you might be asked to watch a series of videos and share your opinion as a company puts the finishing touches on an upcoming marketing campaign.
In other instances, you might be asked to rate label designs as companies are constantly redesigning the packaging of products to maintain "market appeal."
With each survey, you earn HI points that can be redeemed for gift cards. And, you are also entered into the weekly and quarterly cash prize drawings with each survey you complete.
13. PINCHme
PINCHme lets you write reviews for samples. Every Tuesday, you can select a new box of samples to be reviewed and they will be shipped to you for free.
After trying out the products, leave your review on PINCHme and you can do it all over again on the next Sample Tuesday.
Membership is free and available to any resident living within the continental U.S. When it comes to writing reviews for money, this is a great option.
One drawback to PINCHme is that you don't receive payment or rewards for your reviews–the samples are considered your payment.
However, the no-cost samples can be nice if you enjoy trying out new items and letting the brand know what works and what can be improved.
14. ReviewStream
ReviewStream allows you to get paid to write reviews online about nearly any product. In addition to getting paid for writing the review, you will also earn a cash bonus when a user votes for your content.
User votes indicate that your review is useful and relevant to prospective buyers.
While you can write a review on almost any product, you should pay attention to the rules.
ReviewStream will pay higher rates for more detailed reviews that meet their publishing guidelines. If you want to make money, quality is important.
Your earning potential can also be higher by writing reviews online for in-demand products.
ReviewStream will pay you via PayPal when you are ready to request payment. The minimum payout varies per user.
You can find details regarding minimum payouts on the ReviewStream website.
15. Software Judge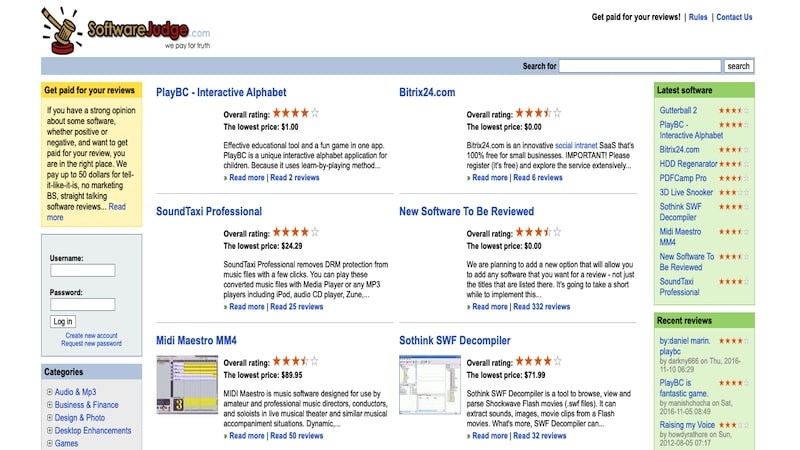 Software Judge will pay you up to $50 for you to write reviews for the software you use on a regular basis. The minimum payout is ten cents per review and you can submit up to three reviews per day.
You write the review and Software Judge encourage you to "tell it like it is."
In addition to being paid in cash, a more lucrative form of payment can be digital products like programs, games, and e-books.
Software Judge will also occasionally give you free product keys and game downloads as an added bonus for being a regular reviewer.
The minimum payout to get cash (they send via Western Union) is $200.
However, you can purchase software and e-books with your earnings once you've reached a balance of $20.
16. YouTube Brand Connect (Previously FameBit)
YouTube BrandConnect takes a slightly different approach to reviews.
You can get paid by negotiating your payment and the channels you plan to use to review a specific product.
It's possible to get paid to write reviews and share them on your social media accounts, blog, or on YouTube.
The review expectations with YouTube BrandConnect might be higher, but, the earning potential can be more lucrative.
It's free to join and new sponsorships are being added each day across a variety of product categories.
However, you can join via invitation only. The best way to get an invitation to join is to create great content on YouTube.
You can be paid by PayPal, check, or direct deposit.
17. Socialix
Socialix is an affiliate network that can be a good option for moms that double as bloggers.
By pitching proposals to advertisers, you can write reviews and include affiliate links within the post.
You can also share your reviews for additional exposure. The more exposure you get, the better chance you have of getting more partnerships with Socialix.
Some of the popular review categories include:
Entertainment
Lifestyle
Fashion
Beauty
You can request payment at any time by PayPal or Direct Deposit. The payment will be delivered within 24 hours from when you initiate the request.
18. Paramount Pulse
Paramount Pulse is an invitation-only review site operated by Viacom Media Network. Members like you are asked to review television and cable channels.
Channels you might review include:
MTV
Nickelodeon
VH1
TV Land
CMT
Comedy Central
You can earn points by completing surveys and writing reviews.
Many community members have redeemed their points for Amazon gift cards. Or, you can also redeem your points for other retail gift cards as well.
19. Smiley360
Smiley360 is another website that will give you samples in exchange for you to write a review and give feedback.
While you don't necessarily get paid, not having to buy a product to review it can be an equally valuable perk.
You will also earn points when you write reviews that can qualify you for better "missions" in the future.
Another reason to consider Smiley360 is that membership is available to anybody 13 years or older. And, membership is open to all 50 states!
If you want to be among the first to try new products, this might be a good community for you to join.
20. Tryazon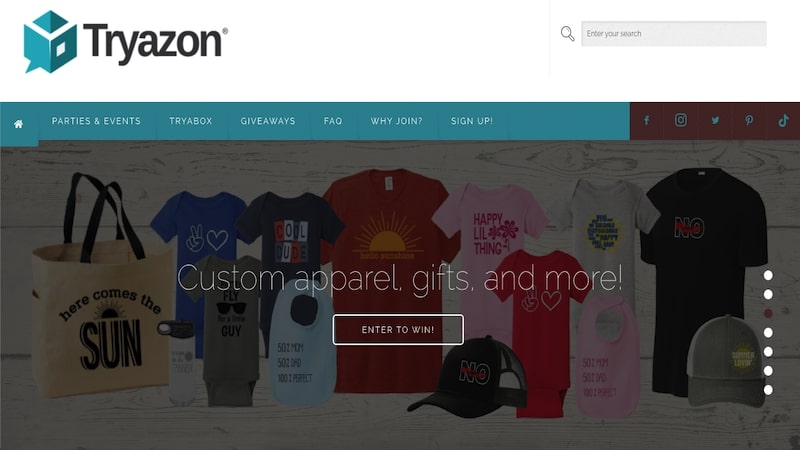 Tryazon lets you sample products individually or by hosting a party.
You get to keep the products you sample and the manufacturer will also send you coupons and discounts that can be used for future purchases.
It's free to join and can be a fun way to share your thoughts with friends, family, and other shoppers.
As with Smiley360, there's no actual payment for participating in review writing. So, while you won't make money if you write a review, you do get free products.
21. Panel Pay Day
Panel Pay Day will pay you for writing reviews in five ways:
Online Surveys
Participate in a Focus Group
Participate in a Discussion Group
Become a Mystery Shopper
Complete Online Tasks
It's possible to earn up to $150 per task.
Even as a mystery shopper, you can earn between $10 and $50 an hour where you grade a company on your shopping experience and review your experience!
You will also earn your first $25 just by signing up with Panel Pay Day and completing your first survey.
Panel Pay Day can be a good option if you work full-time or simply looking to add another income stream.
You can expect to receive between two and four invitations every month. However, this will vary based on the demographic answers you provide when you sign up.
22. SeedingUp
SeedingUp is another site designed to monetize your blog, social channels, or video channels.
It's free to join SeedingUp and you have the opportunity to make money if you write sponsored reviews You might even be invited to test products.
Payment for writing reviews will be different for each advertiser. Good social media interaction is helpful, but not required, for blog owners who want to join.
23. Valued Voice
Valued Voice allows you to earn money by writing reviews on the following mediums:
Blogs
Facebook
Twitter
Pinterest
YouTube
Instagram
Linking more accounts will increase the probability of getting approved to write a paid review.
The categories available for reviewers are expansive and includes parenting, pets, personal finance, education, news and more.
You are eligible for payment once you have earned more than $100 and payments are made on the first of each month.
Upgrading your account membership can allow you to be paid sooner and without having to meet the $100 threshold. This can be a faster option if you want to make money writing reviews.
24. PayPerPost
PayPerPost is another blogging resource to get paid for sponsored posts. To get started, submit your blog information and wait to receive invitations from advertisers.
Sponsors send proposals based on your blog's demographics and content. You can accept or reject each proposal, allowing you to make money if you write a review.
Once you accept a proposal, you publish your review and will be paid 30 days later through PayPal.
25. Sponsored Tweets by Izea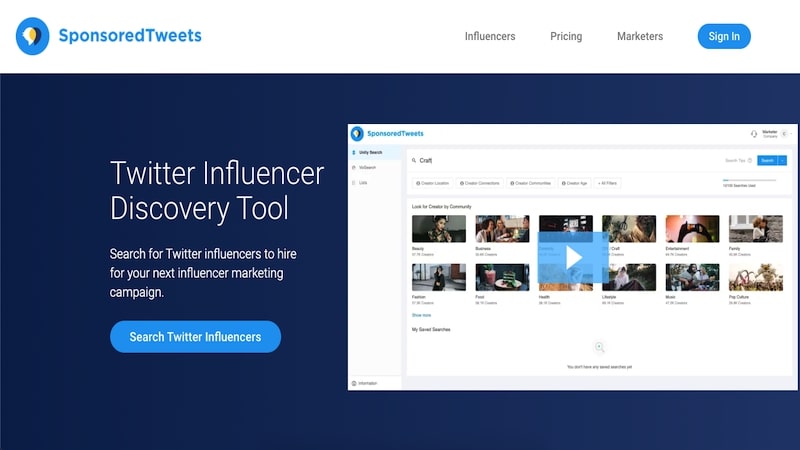 Sponsored Tweets is owned by the same parent company, Izea, as PayPerPost.
Whether or not you have a blog, Sponsored Tweets will pay you to tweet to your Twitter following.
That's pretty easy work as you only need to write 140 characters to get paid.
Earnings are primarily based on your audience size. That means that the bigger your following, the more opportunity you have to earn.
Increase your following before signing up if your numbers are low. Payments will be sent via PayPal, so this is an easy way to make money.
26. Mom it Forward
Mom it Forward is another platform where mothers can get paid for writing reviews of products on their own website or by hosting social media parties.
You can also get paid to host local events by partnering with advertisers.
And, you also have the opportunity to network with other bloggers to expand your audience reach which can open up doors for future income streams or boost exposure to your existing product reviews.
This is a true hands-on community where you can get paid to share your opinions in a fun and social manner.
27. SocialToaster
As a SocialToaster, you share products you love with your social media friends and earn points with each click, comment, like, and retweet.
You can recommend products you like on Facebook, Twitter, and LinkedIn. Points can be redeemed for prizes and VIP experiences.
SocialToaster primarily works with companies that partner with employees to share information about products and services.
28. BrandBacker
BrandBacker is another platform that connects bloggers with advertisers.
You get paid to write sponsored reviews of products that you test for some of the leading retail brands from a variety of product categories.
So far, over 30,000 influencers and bloggers have signed up to receive weekly offers for sponsored posts, product samples, and discounts.
Offers come every week, giving you frequent opportunities to get paid for writing reviews.
Summary
There are many different ways you can get paid to review products. While the sky is truly the limit for bloggers and social media influencers, non-bloggers can also earn money every day by joining a review community or a survey site.
If you want to get paid to write reviews, now you have many different ways to get paid for providing your first-hand experience.