One of the best benefits of online shopping is finding new products to try at a discount. Your search can be more rewarding when you use Rebaid.
With Rebaid, you can receive cash rebates worth up to the full purchase price on Amazon and other online shops.
Here is a closer look at how Rebaid can help you make money shopping online and testing new products.

Summary
Rebaid lets you receive cash rebates worth up to 100% of the item price by check or direct deposit. You still pay shipping and sales tax but don't have to leave a product review. Most offers are on Amazon and it's free to join.
Pros
Rebates up to 100%
Multiple product categories
Free to join
Cons
Requires upfront purchase
Rebates are mailed
Limited daily offers
What is Rebaid?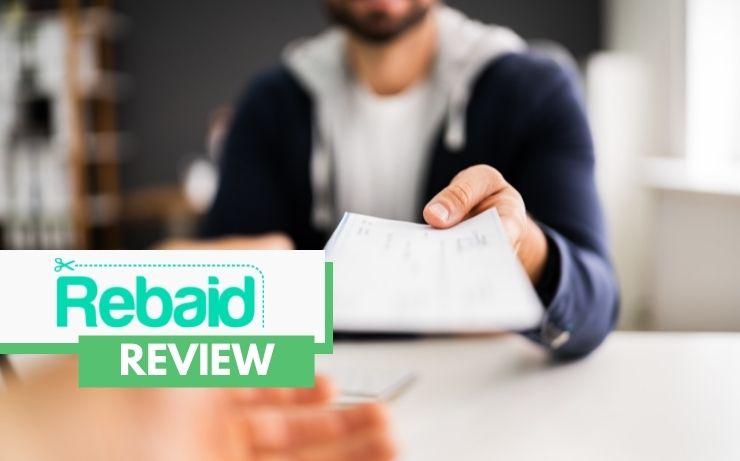 Rebaid is an online marketplace that lets shoppers receive cash rebates on a variety of items from various product categories.
These categories include:
Baby
Beauty and makeup
Clothing and jewelry
Cooking
Health supplements
Home and garden
Jewelry
Pet supplies
Snacks
Stickers
Toys
You won't find household staples on this platform, but you can find other accessories that you may need to stock up on.
Sellers can offer a discount of 100% to shoppers that purchase a promoted item and verify their purchase. According to Rebaid, approximately 3,000 products launch each month.
This service primarily showcases products selling on Amazon. However, you can also find rebates for products at Walmart, Target, eBay and Etsy.
Who Can Join Rebaid?
One person per household can create an account. You must be at least 18 years of age to join.
Additionally, membership is currently limited to shoppers in the United States.
How Does Rebaid Work?
Here is a closer look at how Rebaid works for shoppers and sellers.
For Shoppers
Shoppers can quickly compare discounts online using the platform.
To complete these comparisons:
Search for available discounts on the Rebaid website
Choose your desired product offer
Submit your name and mailing address to receive your rebate
Read and agree to the rebate terms and conditions
Purchase the item at full price
Verify your purchase within two hours of activating the offer
Receive your rebate during the estimated payment window
As a new user, you can only receive your rebate as a mailed check. It takes up to five weeks to receive your rebate, but there are no transaction fees.
After you're a Rebaid user for five weeks and redeem two offers, you can begin requesting online rebates. This delivery speed is within six business days, but you pay a $1 transaction fee.
You can redeem up to 10 offers per month as a new user and one purchase per promotion. Your monthly redemption limit gradually increases as your platform experience increases.
It's possible to pay for your purchase with cash or an Amazon gift card. Just make sure that you buy the correct item and verify your purchase within two hours of claiming the rebate.
Sellers cannot require you to leave product reviews before receiving your rebate check. If you decide to write a review, your honest feedback can be positive, negative or neutral.
For Sellers
Sellers like using Rebaid because it's an easy way to generate interest and sales for their new product listing.
By making a couple of sales at a discount, their product listing can rise to a higher position in the search results.
The benefit of this is that other potential shoppers are more likely to purchase their listing instead of a competitor since they appear first.
If you want to sell an item, you can create a promotion. Once your offer goes lives, shoppers pay full price for the product and submit their order number to claim the rebate.
Sellers pay a flat monthly fee to list their promotion and another fee for each successful redemption.
Rebaid will verify the purchase and send payment to the shopper. Once the transaction is complete, it is possible for sellers to send text messages to the shopper to ask for a review.
How Much Does Rebaid Cost?
Here are some of the fees you might pay as a Rebaid shopper or seller.
For Shoppers
It's free for shoppers to join Rebaid and redeem offers. The only potential fee is $1 to receive direct deposits instead of a paper check.
You may also pay a small fee to replace a lost rebate check.
While it's free to use Rebaid, remember that your upfront costs include:
Product price
Taxes
Shipping
As most products sell on Amazon, it's possible to waive the shipping costs by having an Amazon Prime membership.
In addition, spending at least $25 for your total order can also waive the shipping costs on Amazon-fulfilled orders.
For Sellers
Sellers can choose from two monthly plans that give them different customer contact options.
These plans include:
Basic: $0 per month plus $2.95 per redemption
Pro: $79 per month plus $2.95 per redemption
A Pro membership lets you contact buyers via text. It also allows you to make Search, Find, Buy campaigns where the shopper uses a keyword and searches for your offer in the product listings instead of receiving a direct product link.
Key Features
Here are some of the best benefits of this e-commerce platform.
Rebate Promotions
You will find cash rebates for a variety of product categories. There are many rebates worth up to 100% of the purchase price, although you're still responsible for sales tax and shipping.
There are three different ways you can receive your rebate:
Paper check: Get a mailed check within five weeks, no fees
Direct deposit: Receive rebate to a linked bank account in three days, $1 fee
Discount codes: Receive your discount at checkout using the promo code
The discount code feature is relatively new and somewhat uncommon. In most cases, you will need to copy your order number and paste it into the rebate promotion page to verify your purchase and claim your rebate.
While this cash back site requires some effort, it's significantly easier than most mail-in rebate programs that require you to mail or upload a copy of your store receipt.
In most instances, the rebate offer takes you directly to the product page on Amazon or the other participating marketplace. However, some sellers may have you search for the product using a specific keyword to claim the offer.
Redeem Multiple Offers Each Month
You can claim rebates for 10 promotions each month. However, you can only claim one rebate per product so that other users can also enjoy the savings.
Each offer is also guaranteed when you satisfy the offer terms and conditions. Essentially, you agree not to sell or return the product and won't provide a fake order number.
New offers are constantly launching, and you can also see when the redemption window opens so you can be one of the first to claim it.
The platform even displays how many redemption claims are available for a particular product each day. You can use these details to find the most popular offers first and use your remaining redemptions for other appealing items.
No Redemption Minimum
There isn't a redemption minimum to cash out your earnings. You will receive your rebate within five weeks if you opt for paper checks and two to three days for direct deposits.
If you claim multiple rebates at the same time, you may receive multiple payments.
Search Filter
As there are approximately 20 pages of available offers, a customizable search filter can help you quickly find your best offers.
Some of the search capabilities include:
Highest discounts
Cheapest purchase price
Search by keyword
Newest offers first
Most popular promotions
There currently isn't a filter for non-Amazon promotions. You will see which marketplace you must buy the item on by clicking the offer page.
Once again, 99% of the promotions are on Amazon, so you'll rarely purchase from a non-Amazon seller.
Deal Notifications
You can receive a weekly email newsletter that highlights some of the best offers, including the 100% free deals. The service may also send real-time notifications for other offers when you submit a request.
One benefit of this platform is that your email inbox won't fill up with lots of unnecessary emails that overtake your essential communications.
Unfortunately, many similar sites send so many messages that you must consider opening a separate account just to receive product offers.
In addition to the weekly email summaries, you can also browse the latest promotions on the company's Facebook page.
These two outlets can make it easier to stay up-to-date and help you avoid missing an exciting rebate.
Partner Offers
The rebate promotions are the best reason to use Rebaid and offer the highest savings potential. However, you can find additional discounts at participating online stores.
These discounts can help you purchase gifts, electronics, candies and other household items for less money.
Some of these discount codes are exclusive to Rebaid and can be higher than the standard discount offer for new customers if you go directly to the merchant website.
Refer Friends
After trying Rebaid for yourself and verifying it's a legit platform for cash back, you can refer friends and receive a $10 cash bonus after their first rebate redemption.
Friends, family and acquaintances may join through your link. However, only one account per household is allowed.
Rebaid Reviews
Here are some Rebaid testimonials from real-life shoppers.
Trustpilot
Rebaid currently has a 4.5 out of 5 rating on Trustpilot with 963 reviews.
Here are some reviews from users:
"I love Rebaid as it's a great way to shop for products you need at great discounts or even free. A lot of the products are items I need or would be buying anyway, so why not get them through Rebaid for free or almost free. And the rebate check is mailed really quick." –Linda Mrozinski
"Fun products and good offers. Some trouble with specific product searches. Had to go through page by page each time because the website would not filter." –Lisa Lisota
"Not always products I need but I check regularly cause I never know what they have. Great app and easy money!!" –Laura Cary
Better Business Bureau
There are zero customer reviews for Rebaid through the Better Business Bureau (BBB). However, the company has BBB accreditation, no complaints and an "A+" rating.
Frequently Asked Questions
These questions can help you decide if you want to use Rebaid to save money.
Is Rebaid free?
Yes, Rebaid is free for shoppers. Your only costs are the item purchase price (minus the rebate amount), sales tax and shipping.

Sellers pay a monthly fee to list their promotions on the platform. This is how Rebaid makes money.
Can I use coupons with Rebaid?
Yes, you can use additional product coupons and gift cards to complete your purchase.

However, you must agree not to cancel your order, return or exchange the promoted product after claiming the rebate.
How much are the Rebaid rebates?
Your cash back rebate can reimburse up to 100% of the item price. However, most rebates are only between 20-70% of the sales price.
Do you need to leave a product review?
No, leaving a product review is optional. However, the seller will appreciate your honest feedback.

Amazon and the other marketplaces prohibit sellers from requiring customer reviews in exchange for rebates to discourage fraud and dishonest reviews.
What are the Rebaid customer service options?
You can submit an online ticket to resolve missing rebates and other issues. Most tickets receive a response within 24-48 hours.

An online knowledge library also answers common questions about shopping and navigating the platform.
Is Rebaid safe?
Yes, Rebaid is safe and guarantees you will receive your cash back rebates. The seller may send text messages after you complete a purchase, but the platform doesn't sell your personal information or shopping history.
Summary
Rebaid is a legit way to find free stuff online or at a discount. If you're able to pay full price and wait for your rebate to arrive, this platform is an easy way to save money on items you're going to buy.
Being able to redeem multiple offers per month and the quick payment options also make this an exciting platform to use for online shopping.