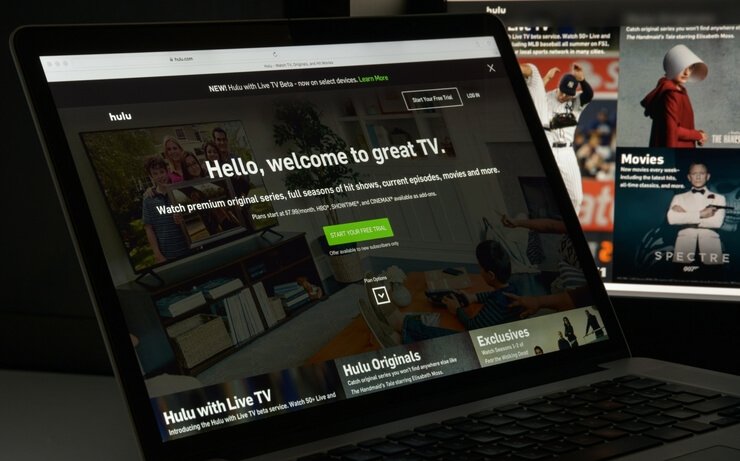 Streaming, as opposed to getting cable packages, is a popular choice for many TV and movie viewers these days. With cable TV and satellite package costs spiraling out of control, people are searching for money saving alternatives for their TV viewing habits. Not to mention the ease of signing up for a streaming program.
After all, why deal with all of the cumbersome work of having cable television – the cable box, the installation guy, the outrageous cost – when you can stream TV shows and movies in a fraction of the time and effort with a simple website visit?
Among the many streaming options like Netflix, Sling TV, Pureflix and more, there exists the popular Hulu and Hulu Plus (now called Hulu with Live TV).
Hulu is fast becoming a worthy competitor to the two most popular streaming companies: Netflix and Amazon Prime Video.
So, what's so great (and not so great) about Hulu, and how can you know whether Hulu or Hulu Plus is best for you? I'll share a bit about the pros and cons of both Hulu package offerings, and talk about some questions you can ask yourself to determine which one might be best for your TV viewing needs.
The Hulu Story
Although the Hulu company was originally started in 2006, it wouldn't be called "Hulu" until late 2007/early 2008, depending on your source.
Today, Hulu has a handful of owners, including The Walt Disney Company, Comcast and Time Warner. According to their website, Hulu grew to over 17 million subscribers in 2017 – an increase of over 5 million subscribers from the 2016 numbers.
People are definitely using Hulu as a source of streaming TV and movies, and using it in large numbers.
So, what makes Hulu so popular, and if you're considering Hulu which program option is best for you?
Hulu's popularity begins with basic Hulu, so we'll start there.
Hulu Basic
The Basic Hulu is Hulu's most popular plan to date. At just $5.99 a month, you can stream Hulu TV shows and movies to a variety of devices including your TV, your tablet, your PC, your smartphone and more.
You will have to view "limited" commercials with the Hulu basic package, although the site doesn't specify what it means by "limited".
You also have the option to choose Hulu basic with No Commercials for $11.99 per month. However, "no commercials" doesn't really mean "no commercials".
According to the website, due to "streaming rights" there are a few shows that will have commercials before and after the episode airs, even with the "no commercials" option.
Shows that air commercials before and after even with the "no commercials" package include Grey's Anatomy, Once Upon a Time, Marvel's Agents of S.H.I.E.L.D and a few more. More details about that can be found on Hulu's website.
The basic plan will give you unlimited access to Hulu's streaming library, including exclusive series, Hulu originals, kids shows, hit movies and more.
As I browsed the Hulu library I found a good number and variety of shows and movies that could encompass a wide range of tastes for many individuals and family members. Some of the shows and movies include:
Hulu originals such as The Handmaid's Tale, Future Man and Difficult People
Classic movies such as Iron Man, 50 First Dates and George of the Jungle
Popular TV shows such as Seinfeld, The Goldbergs, Top Chef and The Good Doctor
There were thousands of selections to choose from and that makes basic Hulu a good choice for many viewing households. The $5.99 per month price tag is affordable for most households as well.
You won't find as big of a selection of movies and TV shows on Hulu as you will on Netflix, FYI. But there is, in my opinion, a nice variety of shows and movies in every genre, even with Hulu's basic plan.
So, why would you want more? What would be the benefit of having Hulu Plus vs Hulu? Well, that all depends on how set you are on seeing your favorite shows when you want to see them. Let's talk a little bit more about Hulu's premium package.
Hulu Plus (Hulu with Live TV)
If you're interested in knowing the difference between Hulu vs Hulu Plus, you can find a serious reveal in its new name; Hulu with Live TV.
With Hulu with Live TV you'll get the added streaming benefit of being able to view 50+ top cable and prime time channels live instead of having to wait until their shows' episodes are available through traditional streaming, which can sometimes be several months.
Sports fans may especially find interest in Hulu with Live TV as it includes several different sports channels in its live stream package, including:
ESPN
ESPN2
ESPN News
The Olympic Channel
And more. Some of the other channels included with Hulu with Live TV? Check out the list below.
National Geographic
The Disney Channel
The History Channel
HGTV
The Travel Channel
Fox News
Fox Business
ABC
Fox
CNN
The Food Network
And others. There's over 50 total channels available with Hulu with Live TV.
The great thing about being able to live stream on-demand with your favorite channels is that you won't have to wait to see the big game or the big event happening on your favorite mainstream TV channel.
You'll be able to stream in real time and catch events as they're happening, and at only $44.99 a month Hulu with Live TV is much more affordable than many cable packages, which are often running upwards of $100 per month these days.
Hulu with Live TV is available on a number of different devices, including Roku, Fire TV Stick, Xbox One, Apple TV, Playstation 4, other Apple devices such as iPods, iPads and iPhones, Android phones and tablets, Windows PCs, Windows phones, Kindle Fire and more.
Add-Ons
For those attached to their favorite premium movie channels such as HBO, Hulu with Live TV – although it doesn't come with those channels – does allow you to purchase movie channels as add-ons every month.
For between $8.99 per month and $14.99 per month extra, you can also have access to HBO, Cinemax and Showtime with your Hulu package.
There's a lot to like about Hulu. So, with all of the different benefits of the two packages, how can you know which one is for you? Let's talk about some questions you can ask yourself as you decide.
What's Best for Me: Hulu vs Hulu Plus?
The answer to that question depends on a number of different things. Let's start with viewing habits.
What Are My Viewing Habits?
The first question you'll want to ask yourself concerns your viewing habits. Are you a big TV watcher or not so much? Do you have those prime time shows you just have to see, or could you take them or leave them?
If you absolutely cannot miss the newest episodes of This is Us or American Idol, you may want to go with the Hulu with Live TV option.
However, if TV is something you only watch when there's nothing else to do and you don't know the difference between The Goldbergs and The Batchelor, you'll likely be fine with regular Hulu as an added option for TV viewing choices when there's nothing else going on.
Your viewing habits are going to be a big determining factor in whether or not Hulu with Live TV over Hulu basic is a good use of your money.
If you love your TV shows – and love seeing new episodes when they air and not several days or weeks later, you'll definitely want to choose Hulu with Live TV over regular Hulu.
What is My Budget?
Budget also makes a difference in whether or not you'll want to choose Hulu or Hulu Plus. While even the Live with TV package isn't astronomically expensive at $39.99 per month plus taxes, the cost does add up over the course of a year or more.
With the regular Hulu plan you'll be paying $95.88 plus taxes for the year (if you don't choose the more expensive "no commercials" plan), but with the Hulu with Live TV package you'll pay nearly $500 plus taxes for the year.
If you have serious and important financial goals such as getting out of debt or catching up on retirement savings, $400 a year is not a small amount of cash, especially when you add it together with other smallish cost-cutting measures.
As you decide which Hulu package is for you, it might be a good idea to take your budget and financial goals into account and ask yourself which package brings more value to your life when you think of it in partnership with your financial goals as well.
If you're sitting pretty financially and have little or no money goals or worries, $44.99 per month probably won't break your bank account.
Also, if you do have targeted financial goals you're working on but want to get the Hulu Plus package as a primary source of entertainment for the year, it may bring enough value to your family to warrant the cost.
After all, a year's worth of Hulu Plus is definitely cheaper than a weekly trip to the movie theater.
As you determine your budget, it's helpful to take all of these considerations into account when deciding on a Hulu package.
Am I Considering Hulu as a Replacement for Cable or Satellite?
If you are considering Hulu as a replacement for your current cable or satellite plan, the money savings could make your choice an easy one – even if you do choose the Hulu with Live TV package.
It's not uncommon to pay $100 per month or more even for basic cable and satellite packages, and Hulu with Live TV is a lot cheaper than that, yet offers many of the same benefits. Though it only comes with a bit over 50 channels, it does carry a lot of the more popular cable channels as we discussed earlier.
And honestly, how many of the 150 channels that your cable package comes with do you really watch anyway, right?
Hulu with Live TV does offer a valid option for replacing your current cable or satellite package if it costs the same or less – and likely has many of the channels you currently watch on cable anyway.
But you'll have to check out the available lineups on both and compare to be sure you're not losing any of the channels you absolutely love to watch on cable before deciding whether or not to make the switch.
Or, you'll have to decide if it's worth living without any channels you'll lose in order to save some cash.
The bottom line is that switching to Hulu or Hulu with Live TV is a viable option for those currently subscribed to a cable or satellite package, and those who are simply looking for more TV and movie viewing options at an affordable price.
Streaming packages may not be for everyone, but they could be a good choice for those looking for cost-effective options for more TV viewing choices.
Personally, my family and I have used streaming services for over five years now. When we moved from our home in suburbia to a hobby farm, we decided to ditch the cable package and try a streaming package.
And we couldn't be happier. There are always plenty of TV show and movie options for our entire family, and it gives us a more expansive TV viewing selection on those days in the cold Midwest when hanging out outside isn't an option.
The added bonus is that we're savings hundreds of dollars per year over our old cable TV package, and using our money savings to create a better financial picture for ourselves.
If you're looking at a Hulu package, whether or not you choose Hulu or Hulu with Live TV will vary based on your budget and your viewing preferences.
But with either plan, I think you'll find Hulu a worthy alternative to cable and satellite TV packages. There's plenty to offer, and often at a fraction of the price.
Have you ever tried Hulu or Hulu Plus? If so, what was your experience? Feel free to share in the comments below – we'd love to hear from you!