Wouldn't it be great to be able to watch local tv without paying for cable?
Watching television can be expensive. Cable TV packages range in price from $40 or more for a very basic package to $150+ for comprehensive packages.
A large cable or satellite TV package can really make a dent in the average budget. As a result, people often seek out ways to watch local TV without cable.
There may be dozens of local TV channels available for viewing in your area that you can access for free.
Here are some of the best ways to access them without having a cable or satellite TV subscription.
How to Get Local Channels Without Cable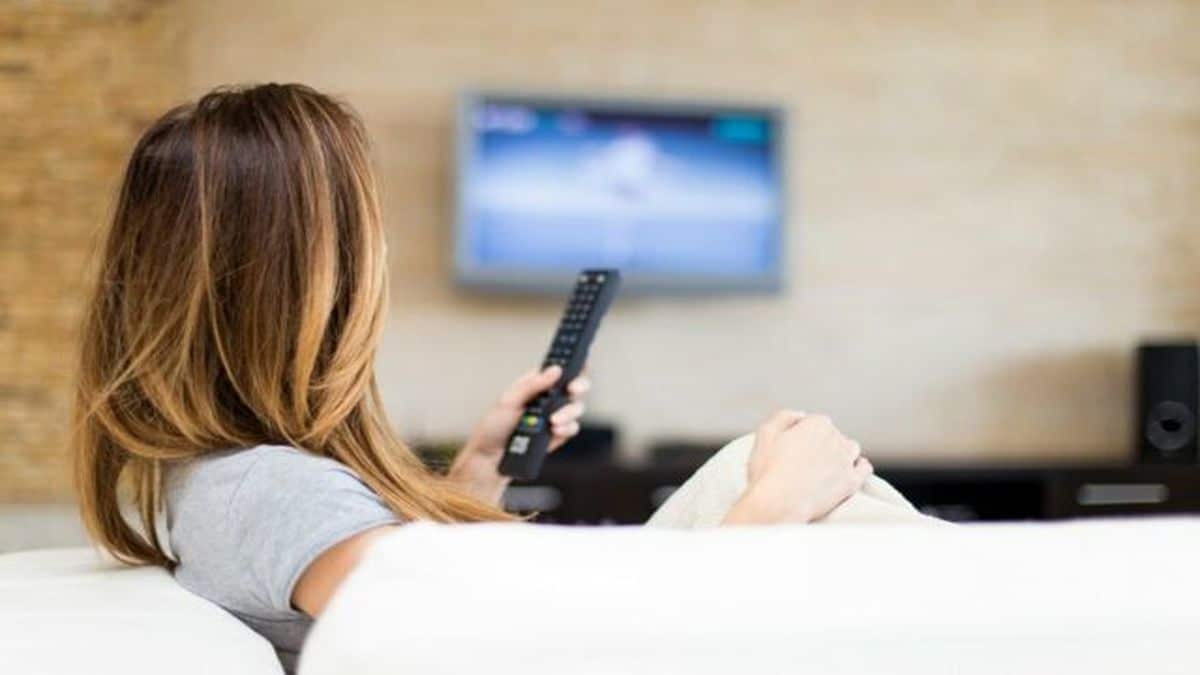 When researching local cable company pricing for this post, I found that most of the cable companies where I live charge $60 per month just for viewing local TV channels.
Bigger packages started at about $75 per month, and that didn't include taxes, fees, installation charges, and monthly equipment rental fees.
As you can see, a cable or satellite TV package can get expensive quickly, even when you just want to have a better quality reception to watch local TV channels.
So, what are your alternatives? Here are some top ideas.
1. Get an HD Antenna
Using an HD antenna takes a bit of money and a bit of knowledge as well. It matters where you place your antenna.
Using this cool website called Antenna Web, I did an address search of our country home to find out how many channels we could get if we hooked up an HD antenna.
When I typed in our address without checking the box stating that the antenna would be installed at least 30 feet above the ground, it said we could get 52 local channels by using an HD antenna.
Bonus, when we install the antenna at least thirty feet above the ground, we could get 55 local channels.
It's not a big difference in the number of channels, depending on what those other three channels broadcasted.
Even without installing the antenna at thirty feet or above, we could view some channels that were 40-plus miles away from our house.
What Type of Antenna?
The answer to that question can vary. One way to determine which type of antenna is best for you is to find out what direction the broadcast stations are in comparison to your house.
If they're all located in a single location from your house, you can use a directional antenna. A directional antenna focuses its power in one direction.
Sale
If the broadcast towers are located in the same general direction but in multiple locations, a multi-directional antenna will likely work the best.
If towers are located in multiple directions that aren't necessarily near one another, an omnidirectional antenna is a good choice.
You can also buy a good directional antenna that has a remote. The remote allows you to change the direction the antenna faces according to which tower you're accessing at a given time.
If you live further out you'll likely need a more powerful antenna. However, if you live within 20 miles of most broadcast stations, you can probably get away with something a little less powerful.
Indoor or Outdoor Antennas?
An indoor antenna should work fine if you live in close proximity (within 20 miles or so) to broadcasting stations.
You'll also need an indoor antenna if you live in an apartment, townhome, or condominium where installing an outdoor antenna is not allowed.
However, if you can get away with installing an outdoor antenna, you'll probably have better reception no matter where you live.
If you live far away from broadcasting stations, an outdoor antenna is a must.
While an antenna is probably the best option for maximizing the number of local channels you can view without having cable TV, there are other options as well.
2. Watch Local Channels Online
You may be able to watch your local channels online from your computer if you have Internet access.
Big local stations such as:
Often offer free online viewing of the shows they air. However, the ability to live stream shows on national networks such as these may or may not be available to you depending on different factors.
For instance, when I tried to watch live shows on ABC from my home computer, the site told me that live streaming wasn't available in my area.
Other sites, such as CBS, offer free viewing of some shows as well as a live streaming service that allows you to watch all local CBS shows from your computer at home.
Paramount+ (previously CBS All Access), for example, offers live streaming of their channel starting at $4.99 per month. However, the service may or may not be available in your area.
3. Get Sling TV
Sling TV is a streaming service similar to Netflix or Hulu as it is accessed via your Internet connection. Unlike similar streaming services, Sling TV specializes in streaming live TV shows instead of on-demand shows.
In that way, Sling is similar to cable or satellite TV companies.
Sling TV offers three packages:
The Orange package for $40 a month (Includes ESPN)
The Blue package for $40 a month (Includes Fox Sports)
The combination Orange/Blue package for $55 a month
While there is some crossover in the types of channels available with the orange and blue packages, there are some channels that are only available in one package or the other.
Also, the orange package is limited to one user at a time while the blue package supports up to 3 devices at a time.
It's important to note as well that a Sling TV package might not contain all of the local channels in your area.
Their website states that channels such as FOX, NBC and ABC are only available in select markets.
Sling TV can be a good alternative to cable TV, but it might not be able to give you access to all of your local channels like an antenna would.
They are currently running a promotion to get SlingTV for $10 for the first month!
4. Download a Mobile App
Many local stations offer mobile apps for watching local TV shows on your smartphone or other mobile devices for free.
CBS, ABC, NBC, Fox and the CW stations all offer mobile apps that allow you to stream local TV shows on your mobile app without the need for a subscription or a cable or satellite hookup.
It's important to note that each app works a bit differently. The CBS app allows viewers to see full episodes of their favorite CBS shows on-demand the day after they air.
However, if you want access to live streaming or to their full archives, you'll have to pay for their Paramount+ package which I talked about earlier.
Paramount+ has packages starting at $4.99 per month.
The ABC App
The ABC app offers archive viewing and live stream viewing for free, however, in some larger markets such as Chicago, Los Angeles and New York City you need to have a cable or satellite provider to do so.
The NBC App
The NBC app offers free viewing of recent episodes of some new shows. They also offer some older episodes and shows from your mobile device.
While live streaming and some recent episodes require mobile viewers to have a satellite or cable provider.
The Fox App
The Fox app allows you to stream most shows the day after the original airing date. However, more selections and live streaming are available with your participating TV provider account.
The CW App
The CW app is probably the least akin to live TV. While they offer to stream for free, they only offer to view the five most recent episodes of each show.
And there's not an option to view more if you have a TV subscription provider.
5. Get Hulu
Hulu is a popular streaming service that helps you watch local channels for as little as $5 per month. With Hulu, you can watch local channels, movie channels, and more.
Local channel prime-time shows and other show episodes are available for streaming the day after they air. Hulu does come with commercials, but you can pay an extra $6 per month and go ad-free.
You can also upgrade to Hulu Live TV for $54.99 per month and watch episodes as they air. Hulu has thousands of movies and TV episodes to choose from.
And all subscriptions come with a free 30-day trial.
There are no hidden fees or equipment rentals, and you can switch plans or cancel anytime.
Learn More: Hulu Vs. Hulu Plus: Which Is Best For You?
6. Watch YouTube TV
YouTube TV is one of the latest additions to the streaming world. With YouTube TV, you can watch local channels, entertainment, sports, news, and more.
When you subscribe to YouTube TV you can add up to six accounts.
Depending on the area you live in, you could have access to 85 channels or more with YouTube TV.
YouTube TV has local channels and many other cable channel favorites too, depending on the area you live in.
The one caveat: YouTube TV is a bit spendy at $64.99 per month. But they do offer a free 7-day trial for new subscribers. And even at $64.99 per month, YouTube TV is cheaper than many cable company subscription packages.
7. Fubo TV
Fubo TV provides access to live sports and TV without cable. With access to 100+ channels, you can access your favorite shows live or on demand. In addition, a Fubo subscription includes access to a cloud DVR.
Fubo has four packages:
Pro ($74.99 per month) – Includes 141 channels
Elite ($84.99 per month) – Includes 205 channels, plus extra News and Fubo channels
Ultimate ($94.99 per month) – Includes 244 channels, plus extra News and Fubo channels, Showtime, and Sports Plus
Latino ($32.99 per month) – 46 channels
All plans include 1,000 hours of DVR space and ten unlimited screens at home, except for the Latino package, which consists of 250 hours of cloud DVR service and two screens at once.
8. Peacock
Peacock is a low-cost way to watch local TV without cable owned by NBC Universal. You can stream on three devices simultaneously and have up to six profiles. You'll get access to their exclusive content, next-day airings of shows on NBC, Bravo, and Telemundo, and live sports.
Peacock subscriptions also include access to daily live news and late-night shows. Peacock is available on most devices, including Apple and Android TV, Roku, Fire TV, Samsung, and Vizio Smart TV.
You can stream it on PCs, mobile devices, and most game consoles.
Peacock has two packages:
Premium ($4.99 per month) – Access to 80,000+ exclusive content, next-day shows from NBC and Bravo, live sports, and 50+ channels
Plus ($9.99 per month) – Includes everything in Premium Plus, and you can download shows to watch offline and won't have ads
9. Puffer
Puffer is a free TV plan backed by the Stanford University research department. Its purpose is to understand and improve video-streaming algorithms to reduce glitches, eliminate stalls, and improve the streaming experience.
By streaming Puffer, you're helping the research department and getting access to free TV. The catch is that you only have access to the free networks NBC, ABC, CBS, Fox, and CW.
Puffer also only works on internet browsers and Android phones. It doesn't work on iPhones or iPads.
10. Paramount+
Paramount+ offers an extensive library of exclusive shows and movies, plus provides access to the hottest channels you'd pay much for to watch on cable, such as Nickelodeon, CBS, Comedy Central, and MTV.
Sports fanatics will love the live sports content on Paramount+, including NFL, UEFA, and NWSL.
Users can stream on up to three devices simultaneously, and everyone can have an individual profile. Most shows stream commercial-free, too, except live TV.
Paramount+ has two packages:
Essential ($4.99 per month) – Access to thousands of exclusive content, NFL and soccer live, 24/7 live news on CBS, and limited ads
Premium ($9.99 per month) – Includes everything from Premium plus no ads, access to your local CBS station live, and you can download shows to watch offline
Summary
Considering the wide variety of ways you can watch local TV without cable or satellite, it's just one more reason to cut the cord and stop paying for expensive cable TV packages.
Using the information above can help you determine which route to watch local channels is the most cost-effective and convenient for you.