Expensive cable packages can put a serious dent in your budget and your financial goals. Thankfully, there are several great streaming services that function as excellent alternatives to cable TV.
Basic packages can be affordable. However, once you start adding in all of the bells and whistles things get costly.
Are you ready to reduce expenses and help your budget by cutting the cord to cable TV? If so, here are ten of the best cable TV alternatives.
Top Alternatives Cable TV
Great channel selection like ESPN, AMC, and much more.
Get packages of 60+ channels for as low as $25/month.
Get all of your favorite Disney-owned shows and movies in one place.
Basic cable in your area might be affordable. However, extras such as movie channels, sports packages, etc., mean costs start to increase.
It's not uncommon to pay $100 a month, $200 a month or more for cable or satellite TV packages.
If you get a good deal on a TV package, you can pay a smaller monthly fee for a while. But, your premiums get doubled or even tripled after the trial period ends.
Also, there are installation fees, rental fees and other charges that can come with cable packages.
There is a wide range of TV shows, local channels and movies you can get without paying for a costly cable or satellite package.
Here are some of the best alternatives to Cable TV if you're ready to cut the cord. Many of these streaming services allow you to have a larger selection of viewing choices than with traditional TV. However, they're a lot more affordable.
Note: You will need to have Internet access to take advantage of some of these cable TV alternatives.
1. Sling TV
In addition, Sling TV is great because you don't need rental equipment and you won't pay installation fees. You can stream shows from your TV, tablet phone or computer.
It is also one of the best live TV streaming services if you want to watch events in real-time.
Another nice thing about Sling TV is that it offers customers several viewing options. For instance, there is the Sling Orange package.
It currently costs $40 a month and offers 30+ channels. The package includes ESPN1, 2 and 3, HGTV and one of my personal favorites: the Food Network.
They also offer the Sling Blue package. It currently provides over 45 channels and costs just $40 a month as well.
Blue offers different channels than the Orange package. Some inclusions are Fox Sports and NBC sports network, Bravo, AMC, the Cartoon Network and the History Channel. However, some channels are the same.
In addition, the company also offers a third option: Sling Orange/Blue. You can get both packages for a total of $55 a month (a $25 discount from regular pricing).
Or you can get one package and choose from some add-on packages. The add-on packages range in price between $5 and $15 per month.
As of this writing, Orange offers 32 channels. Sling Blue offers 47 channels, and the combo package comes a variety of the channels in each package.
The package you choose will probably depend on the channel selections you're most interested in.
Bonus: Bonus Channels!
As mentioned, when you have Sling TV, you can also order "extras."
These add-on packages come with several variations:
The Kids extra, Sports extra or News extra (starting at $5 a month)
Ala Carte premium channels such as HBO, Showtime, Starz and Cinemax
The International extra (viewing options for International shows)
The Comedy extra (comedy channel viewing options)
And more. By being able to customize your viewing choices, you can save money off of cable TV packages.
Sling's a la carte offering puts you more in charge of which channels you are paying for as you watch TV. This is one of the ways it differentiates itself from other streaming services.
Note: Local channels are only available in select markets with Sling TV.
Learn More: Sling TV Review
2. Philo
Philo is a streaming service that gives you over 60 channels for just $25 per month. They also offer unlimited DVR and no contracts.
Some of the channels Philo offers include:
A&E and AMC
BET and Comedy Central
The Hallmark Channel
MTV, MTV Classic and MTV Live
HGTV and The Cooking Channel
And dozens of others. You can add on movie channels like Starz for an additional monthly charge. Plus, this streaming service offers a 7-day free trial, and you can cancel anytime.
If you are evaluating multiple streaming services, Philo's trial can help you determine if this is one of the best alternatives to cable for you.
Learn More: Philo Review
3. Hulu
Hulu is most similar to Netflix (which we'll talk about next) when it comes to streaming service packages. But it also has some cool features that you won't find with Netflix.
Hulu's basic $6.99 per month package gives you the ability to view all the movies in the Hulu library. You can also watch complete episodes of many popular TV shows.
One downfall with Hulu's $6.99 package is that you'll view your shows complete with commercials.
However, if you're willing to pay $12.99 each month you can view TV episodes commercial-free. The smaller package includes current TV shows, classic favorites, kids shows, Hulu originals and more.
However, it comes with a limit of only one streaming device at a time.
Another benefit of Hulu is that most current TV episodes arrive on Hulu the day after they air. With other streaming options such as Netflix, that doesn't happen.
Typically, you often have to wait much longer to view new episodes with other streaming services.
Hulu With Live TV
Hulu also offers its Hulu With Live TV package. This package includes everything Hulu basic includes.
This is one of the live TV streaming services that gives you the ability to stream over 50 of the top live and on-demand TV channels. This package includes sports channels, news and entertainment.
The cost? $69.99 per month. That's getting a little closer to cable TV package prices. However, it offers a lot more than you'd get with a basic cable package.
It includes popular cable channels such as:
The History channel
HGTV
The Golf Channel
ESPN1, 2 and ESPN News
Fox News, and Fox Sports 1 and 2
FX, FMX and FXX
The National Geographic channel
Oxygen
Disney and Disney Junior
There are other channels on Hulu Live as well. In comparison, I checked with one of our main local cable TV suppliers. They were offering 140+ channels for $70 a month. However, this was a limited offer that expired after a mandatory two-year agreement.
So Hulu may not offer all of the cable channels. But it offers many of the popular ones at a fraction of the cost of cable TV packages.
There are some differences between Hulu and Netflix, but both are excellent streaming services.
Bonus: You can purchase HBO, Cinemax and Showtime streaming service with Hulu for an additional monthly fee.
Relevant article: Hulu VS Hulu Plus: Which is Better?
4. Paramount Plus
Paramount Plus is a streaming service that offers over 30,000 TV shows and movies.
You can find selections from popular cable channels such as Comedy Central, Nickelodeon and Nick Jr., Paramount Pictures, exclusive series shows and more.
As of this writing, Paramount Plus offers two plans: The Essential Plan and the Premium Plan.
Essential Plan
The Essential Plan costs $4.99 per month or you can pay annually at $49.99 per year. Note that the Essential Plan does not include any CBS local channels.
However, you can watch NFL football that's aired on CBS via a separate live feed.
Premium Plan
Paramount Plus' Premium Plan costs $9.99 per month or $99.99 per year. This is a commercial free plan that does include CBS local channels.
Note that the Premium plan will air commercials when you're watching a live TV stream.
This streaming service can be viewed on up to three devices at ones and comes with ample sports viewing choices as well.
If you're a Paramount Pictures fan, this ranks among the top streaming services that might end up being one of the best cable alternatives for you.
5. Netflix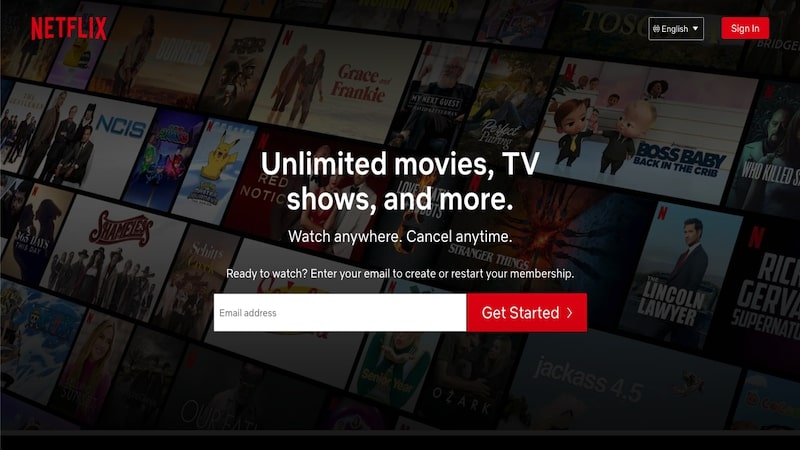 Netflix is one of the more popular streaming services available as an alternative to cable TV. They offer three packages.
The Basic Package
Here are the details behind Netflix's basic package.
$9.99 per month, plus taxes
HD and Ultra HD not available
One streaming device at a time
Unlimited viewing
Viewing on your laptop, desktop, phone, tablet or TV
Cancel any time
The first month free
In addition, you can't stream in high definition with this package. This is an acceptable package if you live alone or in a smaller household. It would also work if you don't watch TV frequently.
The Standard Package
Netflix's standard package costs a bit more but is worth it if there is more than one person in the household. This is the package we currently use at our house.
Here are the features:
$15.49 per month, plus taxes
HD available, but not Ultra
Two streaming devices max
Unlimited viewing
Viewing on your laptop, desktop, phone, tablet or TV
Cancel anytime
The first month is free
The Standard Package is good if you will have more than one person watching at a time. But it does depend on your viewing habits.
We rarely have more than two family members streaming at the same time. Therefore, the Standard package works for us.
The Premium Package
This cable alternative also offers a premium package.
Here are the details:
$19.99 per month, plus taxes
HD and Ultra HD available
Four streaming devices max
Unlimited viewing
Viewing on your laptop, desktop, phone, tablet or TV
Cancel anytime
The first month costs nothing
This package would be a good one for a larger household with many viewers.
Our family of five generally doesn't have more than two people on Netflix at a time. For that reason, we stick with the Standard package.
A Large Selection and Other Features
Netflix is currently offering over 10,000 movies and TV shows to viewers. But, the real draw for many seems to be their Netflix original TV series offerings.
The company boasts of the more popular exclusive TV series, such as House of Cards and Orange Is the New Black.
They're also backing the Mystery Science Theater 3000 reboot that got released this year. We've been subscribing to Netflix for about three years now, and we've been fairly satisfied with our time there.
They've got a decent selection of movies and TV shows in a wide range of genres. So they will keep you entertained if you decide to cut the cable TV cord.
If I had anything negative to say about Netflix, it would be that the movie choices are pretty average. They don't offer a lot of super exciting choices.
6. Peacock
When it comes to cable alternatives, Peacock TV is NBC's answer to the streaming craze. Basic Peacock is free when you sign up with your email. They don't even ask you for a credit card!
With Peacock's streaming service you can get access to stream movies from major Hollywood studios such as DreamWorks and Universal. You can also watch thousands of episodes of current and classic TV shows.
They've got kids shows too, such as Where's Waldo? and Curious George. Sports and News lineups round off your viewing options.
Peacock Premium and Peacock Premium Plus
Peacock Premium is an upgraded plan NBC offers. For $4.99 per month, you get access to even more content and you get limited ads.
Peacock Premium Plus costs an additional $5 per month and allows you to watch ad-free.
7. YouTube TV
You've likely watched hundreds of videos on YouTube absolutely free of charge.
However, YouTube also has YouTube TV, one of the most popular live TV streaming services that gives you access to premium viewing.
YouTube TV is one of the best cable alternatives and offers 85+ channels of sports, entertainment, news and more.
For $64.99 per month you can watch live streaming of channels such as:
NFL Network
Comedy Central
AFC
The Food Network
TNT
BET
Cartoon Network
And dozens more. You can sign up with as many as six account with your subscription, and you can stream on up to three devices at once with YouTube TV.
There's no annual contract for YouTube TV and you get unlimited DVR storage as well, including reward, fast forward and pause capabilities.
In addition, you can choose add-ons such as HBO Max, Showtime and NFL Red Zone.
When you first sign up for YouTube TV you are given a free seven-day trial to see if you enjoy it.
What makes YouTube TV one of the best cable TV alternatives is that you can access it from any smart tv or game console.
Just like cable, YouTube TV allows you to record and save shows for up to nine months for your viewing pleasures.
YouTube TV is very easy to use and access allowing for all members of the family to enjoy.
8. Amazon Instant Video
Amazon Instant Video is a streaming service that is free when you purchase Amazon Prime.
What's better is that Amazon Prime is only $119 a year ($9.92 per month). If you'd rather pay every month, it's $12.99 every month. This a great deal for a cable tv alternatives.
You're probably better off getting the entire Prime package. This is because it comes with a host of benefits such as free two-day shipping.
However, there are some cancel features you might like that come with the month-to-month subscription. See the Amazon Prime website for details.
Amazon Instant Video includes a variety of TV watching options in different categories.
Some categories include:
Popular movies
Various sporting shows
Amazon original shows
Popular TV shows
Documentaries
Kids TV and movies
Classic movies
Exercise and fitness shows and movies
The streaming service also offers other genres such as Faith and Family movies and Award Winning Short Films. The Amazon Instant Video streaming service is currently boasting over 18,000 movies and 2,000 TV shows.
This is according to this recent report from the Video Advertising Bureau.
That's a hefty offering compared to Netflix's combined 10,000 available movies and TV shows. Amazon Prime is one of the best alternatives to cable tv.
Other Amazon Benefits
Bonus: If you take advantage of Amazon Instant Video by purchasing Amazon Prime, you'll get other benefits. For example, you'll get on-demand, ad-free music streaming.
In addition, you have access to the Kindle Owners' Lending Library. This means you can borrow one Kindle book a month for free with no due dates. Also, you'll qualify for free unlimited photo storage and more.
Other benefits to Amazon Prime members include the 5% cash back rewards program that comes with the Prime credit card. Plus, you get a thirty-minute head start on Amazon Lightning Deals.
Amazon Instant Video won't give you access to cable TV goodies. And you won't be able to watch sports channels or popular movie channels.
Still, it will greatly increase the number of shows and movies you have available to watch at a super affordable price.
Note: Amazon Instant Video wasn't compatible with Apple devices for years. This has changed with the recent development of the Amazon Prime Video App for Apple.
Now, Apple users can watch Amazon Instant Video selections on their Apple devices.
9. Disney Plus
With Disney+, you can stream all things Disney, Marvel, Pixar, Star Wars, National Geographic and more. Disney+ has exclusive movies, series and documentaries as well.
It costs $7.99 per month if you want to pay monthly for Disney+. Or you can save a few bucks and pay annually for just $79.99.
One cool thing about Disney+ is that it'll let you download titles and keep them downloaded for as long as you're an active member.
The streaming service also grants unlimited downloads for up to ten devices as long as you've got the space on your devices. And you can stream up to four devices at a time while using Disney+.
Disney+ is compatible with a number of devices, including Apple and Android phones, Amazon Fire TV and Sony PlayStation 4.
Note: As of this writing (Jan 2021), Disney+ has a special where you can get Disney+, Hulu and ESPN for just $12.99 per month. If you're a sports fan and are looking for cable alternatives, this could be a great family package.
10. fuboTV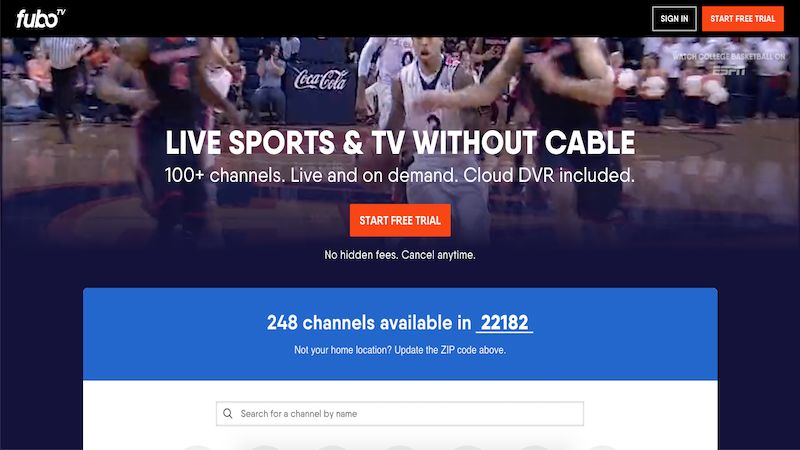 fuboTV offers cable channel options without the cable TV price. The streaming giant calls itself "the perfect mix of sports and entertainment."
fuboTV has three plans to choose from. The fuboTV Pro package offers 124 channels plus hundreds of sporting events and costs just $69.99 per month.
With the Pro package you can watch TV on up to two screens at once. For an extra $5.99 per month you can add a third screen.
The Elite package is just $10 more per month but gives you an extra 50+ channels, 1,000 of cloud DVR, unlimited screens and more. This cloud DVR is an excellent offering.
And the Latino plan offers 43+ channels, hundreds of sporting events and more. This plan costs just $32.99 per month.
11. ESPN+
If you're a sports fan you might want to sign up for ESPN+. EPSN+ offers live sports viewing as well as ESPN originals.
With ESPN+ you can watch football, baseball, golf, basketball, soccer, tennis, combat and more.
ESPN+ is attractively priced at $6.99 per month or $69.99 per year.
Sporadic bundle offerings can get you streaming on Hulu, Disney or other partners for a slightly higher monthly premium.
This is the perfect cable TV alternative for the avid sports fans in your house.
12. DirecTV
DirecTV is a pioneer in satellite TV but now offers streaming services. For $69.99 per month (The Entertainment Package) you can get access to many offerings from DirecTV.
You can choose live viewing of up to 160 channels and choose from over 80,000 streaming titles.
Choose from popular cable channels such as:
A&E
FXM and FXX
Game Show Network
Hallmark Channel
Golf Channel
And a long list of sports channels as well. If you sign up at the right time, you can get discounted prices and cash bonuses.
DirecTV offers three other packages as well which offer you a larger viewing selection, but the prices are steeper and you could pay as much as $150 a month.
13. Apple TV+
Apple TV+ is a cable TV alternative for those who enjoy Apple Originals. The Apple Originals collection of shows is limited to several dozen.
A far cry from Netflix and Hulu's thousands of selections. However, Apple promises new series shows every month.
In its newest venture, Apple TV+ is offering live streaming of Friday night MLB baseball.
And at $4.99 per month ad-free, it's an affordable luxury. You can watch Apple TV+ on any Apple device.
Apple TV+ comes with a free 7-day trial. Look for specials for three-month free trials when you buy a new Apple device.
14. Frndly TV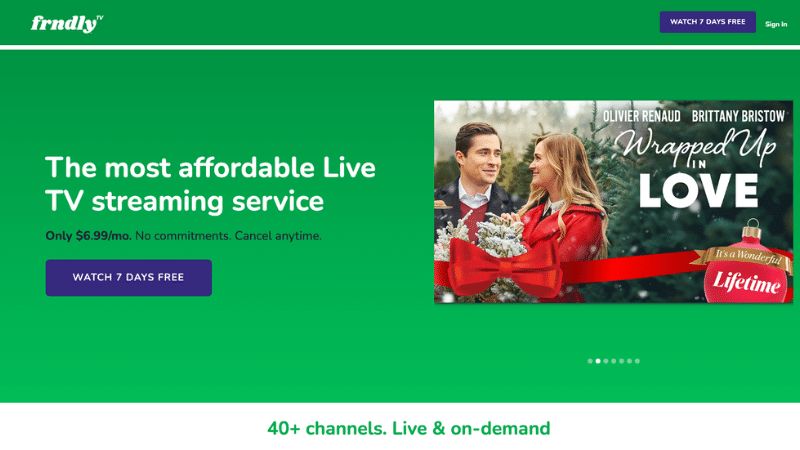 Frndly TV claims they offer some of the most affordable live TV programming, and at only $6.99/month, we can't argue.
Frndly TV offers 40+ LIVE streaming channels and many on-demand services and DVR services. Some of the most popular channels include:
A&E
Hallmark Channel
The HISTORY channel
The Weather Channel
Outdoor channel
Sportsman Channel
QVC
Many more
There are 1,000+ on-demand movies and shows, plus the LIVE streaming options. You can watch Frndly TV on most devices, including FireTV, Roku, Android TV, Apple TV, and IOS mobile apps.
Frndly TV also offers unlimited DVR hours and 72-hour lookback, giving you 72 hours to watch a show after it's aired. With the premium plan, you can keep any shows you record for nine months and multiple movies and shows at once.
Frndly offers three services:
Basic – $6.99/month – Live and on-demand TV and watch on a single TV
Classic – $8.99/month – HD TV, watch on two screens simultaneously, unlimited DVR, recordings stay for three months
Premium – $10.99/month – Watch on four screens at once, have unlimited DVR, and keep recordings for nine months
15. HD Antenna
Along with all of the streaming options mentioned above, there are other alternatives to cable tv.
You might be amazed at how many channels you can view without a cable package by simply hooking up an HD antenna in your home.
Using a site called Antenna Web, I looked up our rural area address. I found out that we could get access to up to 55 channels if we installed an HD antenna at least 30 feet above the ground. For free!
Then I checked an urban zip code in our state. Antenna Web said they could get 73 channels by installing an HD antenna!
Not everyone can install an HD antenna 30 feet above their house or apartment. However, even lower level apartment TV viewers can add several channels to their viewing choices. They can do this by using other types of high-definition antennas.
FAQ
Here are some common questions when it comes to alternatives to cable.
Summary
If you want to watch your favorite shows or movies without having a cable or satellite package, there are many alternatives to cable TV.
Consider checking out your favorite TV stations online at their channel websites or by browsing YouTube. You may find episodes and movies that they broadcast for free or for a small fee online.
Or for a more substantial viewing menu, consider signing up for one of the streaming services mentioned above.
Most of them come with a free trial – anywhere from seven days to thirty days long. And many don't require you sign a contract. You can stop or start the service as you please. Free trials are a great start to find alternatives to cable tv.
We've been using streaming services like Netflix and Hulu for nearly six years now. We find they fit our viewing needs. And we have no desire whatsoever to go back to paying for a cable TV or satellite package.
Are you considering canceling your cable TV subscription to find cheaper ways to watch your favorite shows and movies? If so, there is a good chance that one of the best alternatives to cable tv mentioned above will be right for you.