Switching to a cable TV streaming app is an easy way to save money while continuing to watch your favorite shows and movies. However, some streaming apps can be almost as expensive as your current cable plan.
Luckily, Philo is an affordable way to watch cable channels for only $20 per month. While other services may charge as much as $65 a month for an entry-level package, Philo makes cutting the cord cost-effective.
This review can help you decide if the service is right for you.
Summary
Philo streams more than 60 cable channels and offers unlimited cloud DVR for $20 per month. You won't be able to stream sports or local channels.
Pros
$20 monthly cost
Unlimited DVR
Stream on three screens
Cons
No sports or locals
DVR only last 30 days
No parental controls
What is Philo?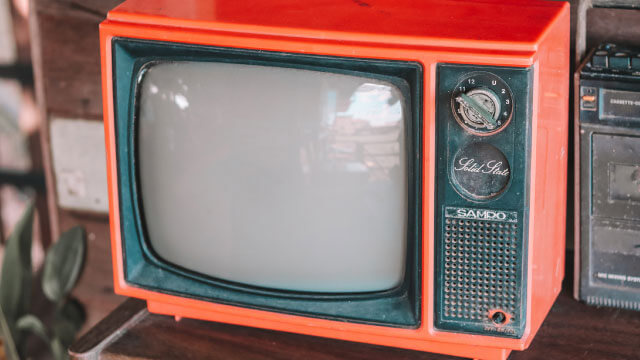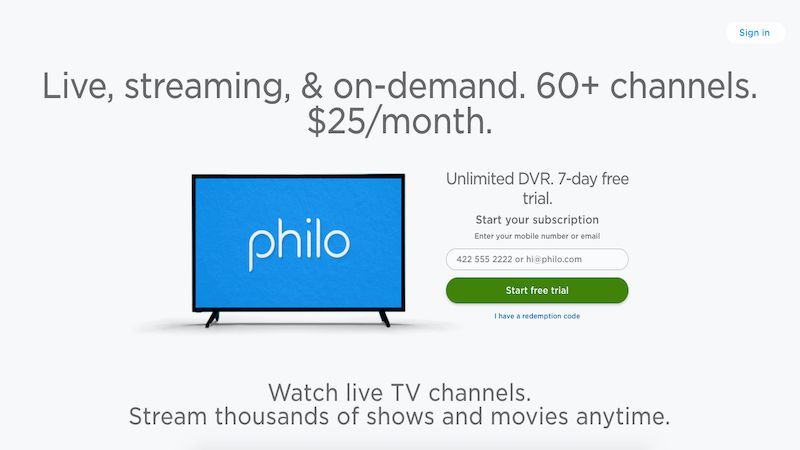 Philo offers over 60 channels for $20 a month, making it one of the cheapest cable streaming apps available.
The service also offers:
Unlimited DVR with 30 days of storage
Watching on up to three devices at a time
Creating up to 10 user profiles
It's important to note that you won't get sports channels or local stations with this service. Not having these channels might be an inconvenience if you're a sports fan or don't have a TV antenna.
That said, Philo is an excellent way to save money if you don't watch sports or local programming.
Who is Philo For?
If you watch lifestyle and entertainment channels, Philo could be a good solution for you. It's a great option for family-friendly channels, and its unlimited cloud DVR is helpful for people with busy schedules.
This platform can also be a good option if you don't want to pay extra for sports programming. Sports packages are one of the main reasons that other cable TV alternatives are significantly more expensive.
For viewers who want to watch sports or local stations, Philo might not be the right cable alternative.
How Much Does Philo Cost?
Philo offers a seven-day free trial and then costs $20 per month.
The streaming service only offers one monthly plan that includes 60+ channels and unlimited DVR. This plan is known as a "skinny bundle" since it only offers some of the most popular cable channels.
With Philo, you don't have to sign a contract. Instead, you pay month-to-month. There are no cancellation fees to pause or stop your subscription.
You can pay for your monthly membership with a credit card, debit card or PayPal account.
Add-Ons
Unlike other cable alternatives, Philo doesn't offer many add-ons.
There are only two available channel add-ons, including:
Epix ($6/month)
Starz ($9/month)
No additional upgrades are available. For example, you can't pay more for the ability to stream on more devices at once or extra cloud DVR storage.
How Does Philo Work?
Philo requires an internet connection and an internet-connected device like a smart TV, laptop or smartphone. Other streaming apps have the same basic requirements.
You can watch channels live with standard commercials. It's also possible to access an on-demand library for many channels and record live programming with the cloud DVR.
Supported Devices
Philo works on many devices, making it easy to watch your favorite shows from nearly anywhere.
It's possible to watch Philo on these devices:
Roku: All current devices
Amazon Fire TV: All current devices
Apple TV: 4th generation or later
Android TV: 5.0 or higher
Chromecast: 2nd generation or later using the Philo Android mobile app
PC: Any supported web browser
Mac: Any supported web browser
Android mobile devices: OS 5.0 or higher
iOS mobile devices: Using the mobile browser or the Philo mobile app
Amazon Fire tablet: OS 5.0 or higher
You can watch Philo on almost any TV or mobile device that connects to the internet. This means you can watch at home, during your commute or while traveling.
Recommended Internet Speeds
Up to three devices can stream on Philo simultaneously. If each device is on the same internet connection, your internet speed influences the video playback quality and buffering frequency.
You may get the following video resolution with these bandwidth speeds:
13+ Mbps: Stream HD video on multiple devices on the same network
7 Mbps: Stream one HD video (multiple devices may buffer or have SD)
3 Mbps: Stream SD video on all devices but may experience buffering
Below 3 Mbps: Reduced video quality that may buffer or load slowly
These recommended internet speeds are similar to other streaming apps.
The video quality is 720p for live content and 1080p for on-demand content. Other streaming apps have similar video quality.
It's worth testing the playback quality for Philo before canceling your TV service to avoid potential cancellation and reconnection fees.
What Channels Does Philo Have?
You can stream over 60 lifestyle, entertainment and news channels to easily watch live TV.
Some of the best channels include:
A&E
AMC
Comedy Central
DIY Network
Hallmark Channel (including Hallmark Drama and Hallmark Movies & Mysteries)
HGTV
History
Nickelodeon
Oprah Winfrey Network (OWN)
Paramount Network
Science Channel
UPtv
Subscribers can watch live programming from the 60+ cable channels for shows and movies.
While family-friendly programming is available, the service currently doesn't offer parental controls.
The live broadcasts use the Eastern time zone content schedule. It's possible to record live shows to watch up to 30 days later thanks to the DVR feature.
Free Channels
Subscribers can also integrate free channels into their Philo membership.
The following options are currently available:
Bloomberg Television
Cheddar
Crackle
Revry
These channels are available directly from the provider. For example, Crackle streams free shows and movies if you're willing to watch commercials.
Premium Channel Add-Ons
There are two premium channel add-ons available that may please movie fans. The Epix and Starz platforms each offer original shows and movies unavailable on other cable channels.
It's also possible to buy these add-ons outside of Philo for the same price. That said, you may have to download a standalone app to watch the channels without this streaming service.
Epix
The Epix add-on offers a free seven-day trial. After the trial ends, it costs $6 per month.
With this add-on, you can watch Epix, Epix Hits and Epix2.
Starz
Similar to Epix, Starz also offers a seven-day free trial. Once the trial expires, Starz costs $9 per month.
This add-on includes Starz, Starz Encore and Starz Kids & Family.
Excluded Channels
Before signing up for Philo, it's important to make sure your favorite channels aren't excluded from the lineup.
Some popular cable channels are missing from Philo include:
CNN
Disney
ESPN
Fox News
Fox Sports Network
Local channels (i.e., ABC, CBS, Fox, NBC and PBS)
SyFy
Instead of watching the news on your local affiliate, CNN or Fox News, there are some alternatives. Two options include BBC America and Newsy.
If channels like Disney and ESPN are important to your family, consider Sling TV. The Sling Orange package costs $40 monthly and includes the Disney, ESPN and CNN channels.
Key Features
Here are some of the best Philo features that come with each subscription.
TV Everywhere
It's possible to stream Philo from almost any TV, computer or mobile device. The service is available in all 50 US states along with the territories and commonwealths if you use the Philo app.
However, you may prefer the convenience of the TV Everywhere app. It partners with most cable networks and streaming apps to live stream channels in your subscription plan.
TV Everywhere can be convenient if you subscribe to multiple live TV services as you only need to install one app instead of an app for each service. You can switch accounts between Philo and other platforms.
One downside of the TV Everywhere app is that not every channel is available for each device. You will need to use the Philo app to watch the 60+ channels on any device.
DVR Capabilities
The service offers unlimited cloud DVR for any show or movie on the streaming schedule. Recordings self-delete after 30 days.
Since not every program offers on-demand playback, the DVR feature can ensure you don't miss your favorite show or movie.
Other streaming platforms limit storage space to a specific number of hours. It may be possible to pay extra for unlimited DVR storage with the competitors, but Philo doesn't offer this option.
You may consider recording live content to fast forward through commercials or when you don't have time to sit down and watch the live broadcast.
On-Demand Library
In addition to the cloud DVR, Philo offers over 60,000 shows and movies available on demand. Most of this content comes directly from the cable channels.
You can watch new and classic productions. It may also be possible to fast forward through commercials for most on-demand content.
72-Hour Rewind
Many shows are available to watch again within 72 hours of airing. These offerings can be different from the on-demand library and convenient if you forget to schedule a DVR recording.
Mobile App Remote
The Philo mobile app for Android and iOS devices streams all channels. It can also double as a remote control when streaming from a TV.
Positives and Negatives
Here are some reasons why you may or may not choose to use Philo.
Pros
Over 60 channels
On-demand shows and movies
Unlimited cloud DVR
Low monthly cost
Stream on three screens at once
Cons
Only one plan option
No sports or local channels
Requires fast internet connection to prevent buffering
DVR recordings delete after 30 days
No parental controls
Frequently Asked Questions
Want to know more about how Philo works? Here are several commonly asked questions.
What customer support options does Philo offer?
Customers can contact Philo by online chat or calling a customer service number to troubleshoot problems. There is also a basic online knowledge library.
Does Philo allow for multiple streams?
Yes, it's possible to stream on up to three devices at the same time. Users can also record live shows and movies with the DVR feature to watch later.
Can I save money on my Philo subscription?
Yes. One way to spend less with Philo is by referring friends to use the app. You and your friend each save $5 on the next bill when using your referral link.

T-Mobile subscribers can also save $10 monthly for the first 12 months of using Philo. Qualified customers can visit the T-Mobile promotions section to activate this offer.
Is it easy to cancel Philo?
Yes. Since you pay for Philo monthly and there's no contract, it's easy to cancel.

To cancel a Philo subscription, go to the account management page, then tap the "Cancel my account" button to complete the cancellation process.

Canceling the subscription will stop the auto-renew feature and won't bill your payment card on the next due date.

The cancellation process is similar for the Epix and Starz add-ons.
Alternatives to Philo
Philo is one of the cheapest streaming apps, but its relatively limited channel lineup may give you a reason to consider another service.
Sling TV
Sling TV is the most affordable Philo alternative with two packages that cost $40 per month or $55 to bundle both. Each package has different channel lineups, but both offer 50 hours of cloud DVR.
Below are the premier channels from each Sling package:
Blue package: FX, FS1, NFL Network and select Fox and NBC local channels
Orange package: Disney, ESPN and Freeform
Hulu
Hulu offers an on-demand plan for $5.99 per month. This lets you watch most shows and movies one day after airing. It also gives you access to the Hulu Originals library.
Paying $64.99 monthly for the Hulu + Live TV plan provides real-time access to local and cable channels. The on-demand library is also standard.
While the live TV plan costs more, you get local and sports channels. You may also be able to stream Hulu for free.
FuboTV
Sports fans can find the best content with fuboTV to watch US and international sports. Many local channels are available as well.
The entry-level Starter plan starts at $74.99 per month and includes:
112 channels
4K video quality
Watching on three screens at once
Up to 250 hours of cloud DVR
YouTube TV
YouTube TV costs $65 per month and offers more than 85 channels, including local channels.
The service also offers unlimited cloud DVR and on-demand content. This streaming plan can be a better option to get sports and local programming.
Is Philo Worth It?
Philo cab be a simple way to save money while watching your favorite channels. Being able to stream on multiple screens and the unlimited DVR storage are also nice perks.
However, other platforms could be better if you want to watch sports or local channels. Be sure to identify the channels you need before choosing a streaming service and cutting the cord.