Switching to a live TV streaming service lets you watch the same channels you watch via cable or satellite for a fraction of the cost.
The only problem is that you have lots of different options to choose from.
Here are the best live TV streaming services to help you save time and begin saving money immediately.
Top Apps For Streaming Live TV
Many of these options have a free trial and are a fraction of the cost of traditional cable TV.
1. Sling TV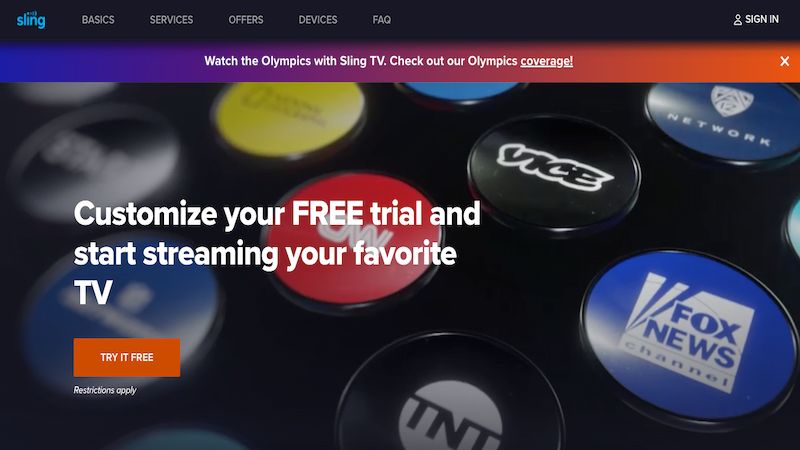 Sling TV is our #1 recommendation as they have low-cost plans.
Their two basic streaming packages start at $40 per month. One includes ESPN and Disney while the other offers the Fox channels and SyFy.
Other streaming services charge as much as $60 to access the same channels.
When you join Sling TV, you choose one of the following basic packages:
Orange ($40 per month)
Blue ($40 per month)
Orange and Blue ($55 per month)
After choosing a basic lineup, you can add themed "skinny bundles" starting at $5 per month. For example, you can add a sports package or news package to watch a few additional channels.
Note: Sling sometimes runs discounts for new customers. You might be able to join for as little as $10 per month and get free cloud DVR.
Sling Orange Package
Monthly Cost: $40
Total Number of Channels: 30+
The Sling Orange package costs $40 a month and is the cheapest live TV streaming option for Disney and ESPN.
In addition to Disney and ESPN (plus ESPN2 and ESPN3), you'll also be able to stream 29 additional channels including AMC, TBS and the History Channel that will delight the entire family.
With Sling Orange, you can only stream on one device at a time. You'll need to choose a different Sling plan to stream Sling on multiple devices simultaneously.
Sling Blue Package
Monthly Cost: $40
Total Number of Channels: 45+
Sling Blue costs the same as Sling Orange but has a different channel lineup. While there is some channel overlap, you won't get any Disney or ESPN channels.
Instead, you'll enjoy some of these channels:
FX
Fox Sports 1 and 2
NFL Network
NBC Sports Network
Regional Fox Sports network
SyFy
The local Fox and NBC affiliates are available in select markets.
With the Sling Blue package, you can also stream on three devices at the same time.
Sling Orange and Blue
Monthly Cost: $55
Total Number of Channels: 55+
What if you can't make your mind up between the Orange or Blue package? You can choose the Orange and Blue combo package for an extra $15 per month.
This combo package gives you all of the channels in both lineups at a 20% discount.
As an added bonus, you can also stream Sling TV on four devices at once.
Sling TV Extras
You might decide to add extra channel packages to any of these three packages starting at $6 a month.
However, premium channels like HBO or Showtime can cost $10 to $15 per month. The Sports Extra starts at $11.
Some of the different extra add-ons you might consider include:
Cloud DVR (up to 200 hours instead of the standard 50 hours)
Sports
Comedy
Kids
News
Lifestyle
Only adding a couple of extras lets your Sling TV bill costs less than your existing cable TV bill. The "Lifestyle Extra" for $6 a month can be exciting if you want to watch the Hallmark Channel.
Monthly Cost: $40 to $55
DVR Available: 50 hours for free
Pros
Low-cost packages
Can add extra channels
50 hours of free cloud DVR
Cons
Few local channels
Orange package only steams on one device at a time
Basic packages offer fewer channels than other apps
2. Hulu with Live TV
Hulu offers a content library and live TV access. Like Netflix and Amazon Prime, Hulu produces original TV series and movies.
You can compare the on-demand TV programming plans to choose the best option for you.
Hulu with Live TV–you may prefer to call it Hulu Plus–has over 55 cable channels for a flat fee of $64.99 (or $70.99 to skip ads on on-demand content).
Your Hulu with Live TV pass gives you access to the entire Hulu on-demand content library. The Hulu library is one of the largest platforms for TV shows and movies.
Choosing Hulu with Live TV means you can cancel your Netflix subscription and save a few extra dollars!
Hulu with Live TV Channel Lineup
This service costs more than Sling TV at $35 or $50 per month. But Hulu Plus can be cheaper if you purchase channel add-ons with other streaming apps.
Here's a sample of the channels you'll have access to:
Disney, Disney Jr., and Disney XD
Universal Kids
ESPN and ESPN 2
FX
FXX
SyFy
HGTV
FYI
National Geographic
Your local TV market may offer local broadcast channels live too.
It's possible to get these local affiliates:
If local channels are not available, you can typically access the national programming the next morning. Another option is installing a TV antenna.
Hulu Plus also lets you add premium movie channels such as Cinemax, HBO and Showtime.
Sports fans can also watch some of these networks:
CBS Sports Network
Big Ten Network
SEC Network
FS1 and FS2
ESPN U
ESPN Goal Line
NBC Sports Network
NBC Golf
Premium Hulu Add-Ons
You already get 50 hours of free cloud DVR storage with your Hulu Live TV subscription. Upgrading to the enhanced cloud DVR for 200 hours of recorded content costs $9.99.
Another add-on–Unlimited Screens— costs $9.99 per month and lets you watch on unlimited devices at home and three mobile devices. Without this add-on, you can watch Hulu Live on up to two devices at once.
Choosing both add-ons costs $14.98 and helps you save a little money.
Are these add-ons worth the extra money? It depends on how and where you plan to watch Hulu. You can always start with a basic subscription and upgrade later.
Lowest Cost Option: $64.99
DVR Available: 50 hours of cloud storage included
Pros
Can stream local channels
Wide selection of sports, news and entertainment channels
Big on-demand library of shows and movies
50 hours of free cloud DVR
Cons
Add-ons can be expensive
Standard Hulu with Live TV Package includes ads on on-demand streaming
Can only stream on two devices without Unlimited Screens add-on
3. YouTube TV
YouTube TV is one of the most popular live TV services as it offers an abundance of channels and features that other apps charge for. A monthly subscription costs $64.99.
You can still watch your funny cat videos and DIY project tutorials for free on the regular YouTube platform.
It's possible to stream on up to three devices at once but you can create up to six accounts. The free DVR capability is unlimited and saves your content for up to nine months.
YouTube TV is currently available to stream on these devices:
Android TV
Xbox
Samsung and LG Smart TVs
Apple TV
Roku
Chromecast
Airplay
Fire TV
You will need to download the YouTube TV mobile app to watch on your mobile devices.
YouTube TV Channel Lineup
What are the 85+ channels you receive for $65 a month?
The cable TV cornerstones include:
Disney, Disney Jr., and Disney XD
ESPN, ESPN 2, and ESPN U
AMC
SyFy
CNN
Fox News and Fox Business
FX and FXX
If you like to watch college football, then you will also enjoy plenty of extra sub-channels. Some include the Big Ten Network, SEC Network, FS1 and FS2.
Professional sports networks include MLB TV and NBA TV. Sports and entertainment add-on packages are available.
The local channel offerings is better than most platforms too:
ABC
CBS
Fox
NBC
PBS
Telemundo
Other apps may not offer PBS or Spanish programming. A TV antenna may pick up more channels in your market, but this service is a good alternative.
Add-Ons
It's possible to add-on several premium channels to your standard subscription:
Premium channels: Acorn, AMC+, Cinemax, HBO, Starz, etc.
Sports Plus: Fox Soccer Plus, NFL RedZone, Stadium, GOLTV
The monthly price varies by package.
Lowest Cost Option: $64.99
DVR Available: Unlimited
Pros
Many cable and local channels are available
Unlimited cloud DVR
Can stream on three devices at once
Cons
Can be expensive
No add-on for unlimited screens
DVR deletes after nine months
4. FuboTV
Soccer fans should look no further than fuboTV. Other sports fans will enjoy fuboTV too, unles you want ESPN.
You must subscribe to the $35 Sling TV Orange package if you want ESPN and still save money. Sports–especially soccer–is the best reason to use fuboTV.
However, fuboTV has an extensive lineup of non-sports programming too. In all, you can watch more than 110 channels for $64.99 a month with the basic Starter Plan.
The Elite Plan costs $79.99 monthly and includes over 150 channel.
The service offers the most sports and lifestyle channels and costs the same as competing services. If you're comfortable paying $65 a month for cable, fuboTV can be one of the best options.
Cloud DVR
Both plans include 30 hours of free cloud DVR.
But it's possible to add additional storage:
250 hours ($9.99/month)
1,000 hours ($16.99/month)
Multiple Streams
Either plan lets two devices stream at once, but additional add-ons let you stream on up to 10 devices.
Family Share: Stream on three devices for $5.99 monthly
Unlimited Screens: Up to 10 screens for $9.99 monthly
New subscriptions may include enhanced DVR and streaming upgrades for a limited time.
Supported Devices
FuboTV can be watched on the following devices:
Roku
AppleTV
Amazon fireTV
Android TV
Chromecast
You can also watch fuboTV on-the-go with your Android or Apple mobile device.
Sports Channels
Some of the standard sports channels in the Starter Plan include:
ESPN
FS1 and FS2
Big Ten Network
SEC Sports Network
Bein Sports
Fubo Sports Network
Premium sports add-ons can include:
Pac-12 Network
NFL RedZone
NBA Network
NHL Network
The sports add-on package costs $10.99 monthly.
Non-Sports Channels Available on fuboTV
You'll also enjoy these lifestyle and news channels:
Hallmark
Hallmark Movies and Mysteries
FX
HGTV
USA
SyFy
CNBC
Fox News
Nat Geo Wild
Newsmax
FuboTV also lets you add the Showtime channel package for $10.99 a month too.
Like Sling TV, package themes are available starting at $4.99 per month.
The fubo Extra can be the best overall add-on and costs $7.99 monthly:
ACC Network
DIY Network
BBC International
Newsy
NBA TV
NHL Network
Science Channel
Sony Movie Channel
AMC Premier, Showtime and Starz are some of the premium movie channels available as add-ons.
Monthly Cost: $54.99 or $79.99 per month
DVR Available: 30 hours for free and add-ons up to 1000 hours
Pros
Many lifestyle and sports channels
Can watch local channels
International channels are available
Cons
Only stream on two devices at once for free
Only get 30 hours of free cloud DVR
High monthly cost
5. DIRECTVstream
DIRECTVstream is a prepaid TV streaming service and doesn't require a contract. However, it's the most expensive streaming option.
This streaming app is arguably the most similar to a traditional cable or satellite TV subscription because you get so many channels. Of course, your monthly cost can be a little higher than others.
You can also stream on three devices at once on all plans outside of home. At home, you can watch on up to 20 screens at once.
Twenty hours of DVR storage is free. But you can purchase the unlimited cloud storage for $10 months with a 90-day storage limit.
Entertainment Package
Monthly Cost: $69.99
Total Number of Channels: 65+
The basic entertainment package has over 65 channels for $69.99 a month.
You can watch these national channels:
Disney
ESPN and ESPN2
FX
Hallmark Channel
Hallmark Movies and Mysteries
HGTV
FS1
It's also possible to watch your local channels from the four national networks.
Choice Package
Monthly Cost: $84.99
Total Number of Channels: 90+
Choose the Max Package if you want to stream over 90 national and local channels. You can also watch HBO Max for free for one year.
This package doesn't offer Hallmark Movies and Mysteries channel, but you can stream:
Big Ten Network
Cooking Channel
GSN
ESPNU
GSN
SEC Network
Travel Channel
Other apps may offer these channels for less, but DIRECTVstream can give you more channels for a standard fee.
Other Packages
You can choose from two other packages offering over 100 channels but the monthly cost is high. Your current cable bill might be similar to the cost of these two premium plans.
Ultimate ($94.99/month): Over 130 channels including Starz and Encore
Premier ($139.99/month): Over 140 channels including HBO Max and Showtime
Consider these two packages if you want to watch premium movie channels.
However, it can be cheaper to choose a different app and buy a standalone subscription to HBO Max, Showtime or your favorite movie network.
Monthly Cost: $69.99 to $139.99 per month
DVR Available: 20 hours for free and unlimited storage for $10 per month
Pros
Unlimited DVR is available
Wide channel lineup, including locals
Can watch on up to 20 devices at home
Cons
Most expensive monthly packages
Only 20 hours of free cloud DVR
DVR storage deletes after 90 days
6. Philo
Philo is a "no-frills" TV streaming platform but you'll be surprised at how much they offer for the price. This app is so cheap as you don't get sports or local channels.
However, Philo is a good option for family and lifestyle content.
While you won't get the most-watched cable news networks, you can watch BBC and Newsy to catch the latest happenings.
If you're okay with these limitations, Philo can be worth the lower cost. The DVR storage and multi-device streaming add value.
You get unlimited 30-day DVR storage and on-demand access for recent programs. Up to three devices can use Philo at once.
Philo can also be a good complement to the Sling TV package as you can watch the sub-channels for less than $60 a month.
Philo Channel Lineup
There is currently one package option with 63 channels.
Some of the unique options include:
American Heroes Channel
Animal Planet
BET Her
Cooking Channel
Crime and Investigation
Discovery Family
DIY Network
Hallmark Channel
Hallmark Movies and Mysteries
Science Channel
UPtv
Philo doesn't offer Disney but you can enjoy the family-friendly UPtv instead.
Add-Ons
Two premium add-ons available are for movie networks:
Epix ($6/month)
Starz ($9/month)
Each premium add-on includes a seven-day free trial.
Monthly Cost: $20
DVR Available: Unlimited (programs save for 30 days)
Pros
Only costs $20 per month
Unlimited DVR storage
Can stream on three devices at once
Cons
No local channels or sports networks
DVR storage only lasts 30 days
Platform has fewer features than other apps
Learn More: Philo Review
7. Frndly TV
Frndly TV isn't as widely known, but it's one of the most affordable and family-friendly streaming services available, with plans starting at $6.99 per month.
You can get your fill of classics, including old sitcoms to more recent primetime dramas. There's always programming available for any taste.
With the basic plan, you can only stream one device at a time, but if you upgrade (still affordable), you can stream up to four screens simultaneously.
You can stream Frndly TV on the following devices:
Roku
Amazon Fire TV
Apple TV
Android TV
iOS devices
Chromecast
Frndly TV Channel Lineup:
A&E
Hallmark Channel
History Channel
Lifetime
Game Show Network
The Weather Channel
Outdoor Channel
Dove Kids
QVC
MeTV
Many more
Frndly TV Upgrades
If you want more than the basic package, which includes live TV and on-demand, SD video quality, and the chance to watch on one screen, you can upgrade to the following:
Classic ($8.99/month) – HD TV quality, watch on two screens at once, unlimited DVR recordings that you can keep for up to three months
Premium ($10.99/month) – HD TV quality, watch on four screens at once, unlimited DVR recordings you can keep for nine months and 72 hours to watch live shows
Pros
Large selection of shows and channels for the entire family
Low-cost option
Unlimited DVR service in the Classic and Premium plan
Cons
No local channels
The Basic package doesn't include DVR service or the option to watch on more than one screen
Why Are Live TV Streaming Services So Cheap?
It's possible to stream live cable TV for only $20 a month! Your current cable company may charge $20 just to access your local channels.
The average cable TV bill is right around $217 a month, according to DecisionData, so think how much money you can save.
Cable companies charge more than streaming services because of more operating expenses. Examples include the cable lines or the technicians that can come to your house at 3 AM to fix a cable outage.
Live TV streaming apps only have to send the cable TV signal over your internet line. While you need to pay for internet without cable, your combined costs can be lower.
You can watch from your computer, TV or phone. They pass on the savings by charging less per month.
Don't start feeling sorry for the cable TV companies yet. You see, satellite TV providers own some of the streaming apps. So, you can get the same service and pay less money.
Besides the lower monthly fee, you're not locked into a TV contract. You pay month-by-month and can cancel or restart without paying a penalty.
If you have a busy month ahead of you, you can pause your subscription.
And as of March 17, 2020, Justwatch.com captured these statistics on streaming increases due to the pandemic:
| | |
| --- | --- |
| Streaming service | +% increase since March 17th |
| Netflix | +332% |
| Disney+ | +290% |
| Amazon Prime Video | +266% |
| Hulu | +259% |
Summary
Switching to a live TV streaming service can save you a mountain of cash every month. Live TV streaming is better since internet bandwidth speeds continue to increase.
You only need a Roku, Smart TV, computer or a mobile device. It's possible to truly watch TV anywhere–live or on-demand.
It may not make sense for you to cancel your cable TV subscription yet. Perhaps your internet speed is too slow or you won't save money.