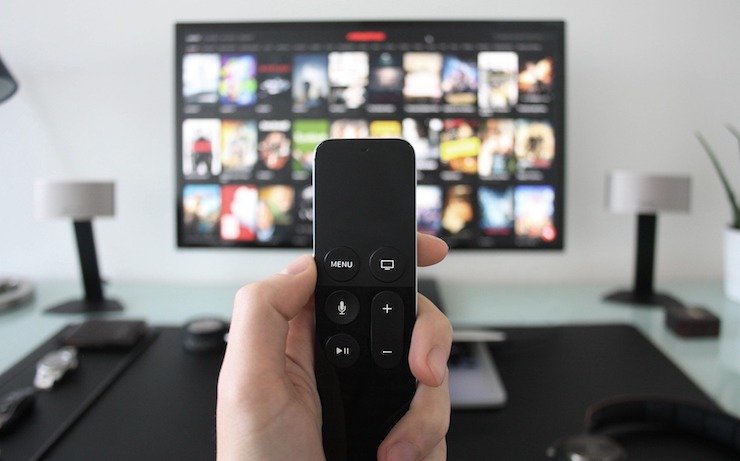 One of the first steps you can take to increase your disposable income is "cutting the cord". Then you can switch to one of the live TV streaming services that offer the same channels you watch via cable or satellite for a fraction of the cost.
The only problem is that you have lots of different options to choose from.
You're here at Well Kept Wallet because you want to save money and have more cash at the end of every month! To help save you time, we've analyzed the best live TV streaming services so you can painlessly make the switch to begin saving money immediately.
What's The Best Live TV Cable Streaming Service For You?
One reason why traditional cable tv is so expensive is that you have so few options. Either you signup for cable with this company or you go without. As long as you have a home internet connection of at least 5 MBPS, you will most likely have success with one of the streaming services we recommend.
While you might prefer one service more than the others, all of them can be good options if you can save money watching the same channels you already watch.
With all of these recommendations, your first week is a free trial period to see if the live TV streaming app provides the same level of service as your current cable tv subscription.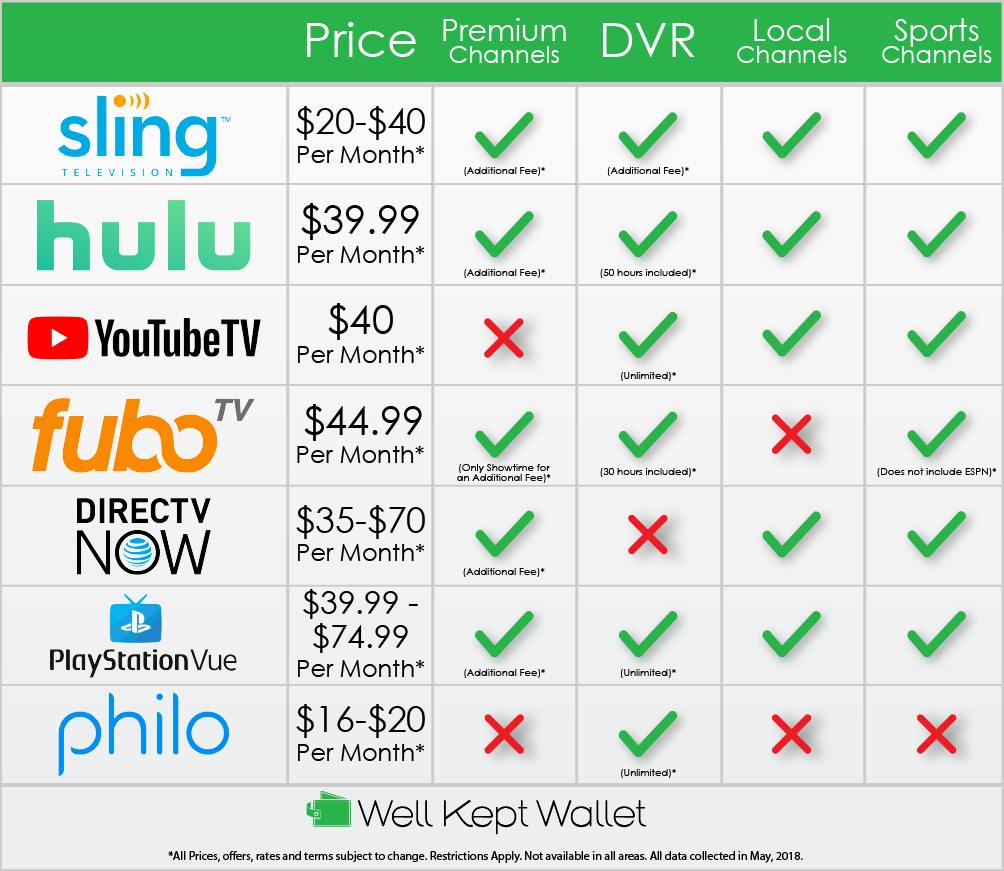 1. Sling TV
Pros: Most affordable live TV platform, Add-on packages start at $5
Cons: Minimal local tv options, Not always the best option for sports fans
Monthly Cost: $20 to $40
DVR Available: $5 per month extra
Sling TV is our #1 recommendation because it's the most affordable service with their basic streaming package starting at $20 per month where you can stream ESPN and Disney. Other streaming services charge $35 to $40 to access these channels.
When you join Sling TV, you choose one of the following basic packages:
Orange ($20 per month)
Blue ($25 per month)
Orange and Blue ($40 per month)
After choosing a basic lineup, you can add additional themed "skinny bundles" starting at $5 per month. For example, you can add a sports package or news package to access a few additional channels.
You can read our full Sling TV review to find more information.
Sling Orange Package
Monthly Cost: $20
Total Number of Channels: 30
The Sling Orange package costs $20 a month and is the cheapest live TV streaming option for Disney and ESPN. In addition to Disney and ESPN (plus ESPN2 and ESPN3), you'll also be able to stream 27 additional channels including AMC, TBS, and the History Channel that will also delight the entire family.
With Sling Orange, you can only stream on one device at a time. To stream Sling on multiple devices simultaneously, you'll have to upgrade to the Sling Blue or the Orange and Blue combination package.
Sling Blue Package
Monthly Cost: $25
Total Number of Channels: 48
Sling Blue costs an extra $5 a month but comes with a different channel lineup. While there is some channel overlap, you won't get Disney or any of the ESPN channels.
Instead, you'll enjoy some of these channels instead:
FX
Fox Sports 1 and 2
NFL Network
NBC Sports Network
Regional Fox Sports network
SyFy
With the Sling Blue package, you can also stream on three devices at the same time.
Sling Orange and Blue
Monthly Cost: $40
Total Number of Channels:55+
If you can't make your mind up between the Orange or Blue package, you can always go with the Orange and Blue combo package. You will get all of the channels in both lineups. As an added bonus, you can also stream Sling TV on four devices at once.
Sling TV Extras
You might also decide to add extra channel packages to any of these three packages for $5 a month, although premium channels like HBO or Showtime might cost $10 to $15 per month.
Some of the different extra add-ons you might consider include:
Cloud DVR
Sports
Comedy
Kids
News
Lifestyle
As long as you only add a couple extras, your Sling TV bill can still be less than your existing cable TV bill. One extra you might consider adding is the "Lifestyle Extra" for $5 a month to watch the Hallmark Channel.
2. Hulu with Live TV
Pros: Unlimited Hulu content library access
Cons: Not available in every market yet, Cannot add premium movie channels like HBO
Monthly Cost: $44.99
DVR Available: 50 hours of cloud storage included
You're probably already family with the on-demand TV programming that Hulu offers for most TV networks. Like Netflix and Amazon Prime, Hulu also has original programming you won't find anywhere else like The Handmaid's Tale.
Hulu with Live TV–you may prefer to call it Hulu Plus–lets you watch over 55 cable channels for a flat-fee of $44.99.
You might prefer Hulu because you have access to the entire Hulu content library to watch TV shows and movies on-demand. The other streaming platforms also offer on-demand access for past and present shows, but Hulu is clearly going to be more extensive.
Choosing Hulu with Live TV means you can cancel your Netflix subscription and save a few extra dollars!
Hulu with Live TV Channel Lineup
The $40 per month price point seems to be the sweet spot for most streaming services at the moment. Even though the basic Sling TV bundle costs $20 a month, you have to pay $40 to get the full channel lineup.
Here's a sample of the channels you'll have access to with a Hulu TV subscription:
Disney, Disney Jr., and Disney XD
Universal Kids
ESPN and ESPN 2
FX
FXX
SyFy
HGTV
FYI
National Geographic
Depending on your local tv market, you should also be able to stream at least one of your local broadcast channels live too. If not, you can typically access the national programming the next morning.
If you like premium movie channels, you can also add Cinemax, HBO, and Showtime for an additional monthly fee.
Sports fans will also like Hulu's sports channel availability as you can watch some of these networks:
CBS Sports Network
Big Ten Network
SEC Network
FS1 and FS2
ESPN U
ESPN Goal Line
NBC Sports Network
NBC Golf
Premium Hulu Add-Ons
You already get 50 hours of free cloud DVR storage with your Hulu Live TV subscription, but you can also upgrade to get enhanced cloud DVR for 200 hours of recorded content costs $14.99.
For $14.99, you can also enjoy the Unlimited Screens add-on too that lets you watch on unlimited devices at home and three mobile devices. Without this add-on, you can watch Hulu Live on up to two devices at once.
Are these add-ons worth the extra $15 each? It depends on how and where you plan to watch Hulu. You can always start with a basic subscription and upgrade at any time if you decide that you need more DVR storage or screen-watching capability.
3. YouTube TV
Pros: Free DVR and six household accounts
Cons: Not available in every market yet, Cannot add premium movie channels like HBO
Monthly Cost: $40
DVR Available: Included
A recent addition that's quickly gaining popularity–and market share–is YouTube TV. You can still watch your funny cat videos and DIY project tutorials for free, but you can also watch your favorite cable TV channels for $40 a month. The primary downside is that YouTube TV isn't available in every TV market yet so you might be put on a waiting list.
You can watch YouTube TV on up to six devices at once and DVR capability that saves your recorded content for up to nine months is complimentary.
YouTube TV is currently available to stream on these devices:
Android TV
Xbox
Samsung and LG Smart TVs
Apple TV
Roku
Chromecast
Airplay
You will need to download the YouTube TV mobile app to watch on your mobile devices.
YouTube TV Channel Lineup
What are the 60 channels you receive for $40 a month?
In addition to your local channel affiliates, you will enjoy these cable TV cornerstones:
Disney, Disney Jr., and Disney XD
ESPN, ESPN 2, and ESPN U
AMC
SyFy
CNN
Fox News and Fox Business
FX and FXX
If you like to watch college football, then you will also enjoy these additional sub-channels including like the Big Ten Network, SEC Network, FS1, FS2, plus the professional sports networks including MLB TV and NBA TV.
4. FuboTV
Pros: The ULTIMATE sports streaming package (especially for soccer!)
Cons: ESPN isn't available
Monthly Cost: $44.99 ($19.99 the first month)
DVR Available: 30 hours included
Soccer fans should look no further than fuboTV. Other sports fans will enjoy fuboTV too, but you'll have to also subscribe to a $20 Sling TV Orange package if you want ESPN. Sports–especially soccer–might be fuboTV's bread and butter, but they also have an extensive lineup of non-sports programming too. In all, you can watch more than 75 channels for $44.99 a month.
FuboTV can be watched on the following devices:
Roku
AppleTV
Amazon fireTV
Android TV
Chromecast
You can also watch fuboTV on-the-go with your Android or Apple mobile device.
FuboTV can be watched on two separate devices simultaneously. For $5.99 per month, you can add third screen viewing.
Sports Channels
Let's cover the sports channel lineup first since that's the main reason to use fuboTV. You won't get any of the ESPN channels, but you will get several channels that the other TV streaming services don't offer:
Pac-12 Network
Eleven Sports
Bein Sports
Football Report TV
You will also have access to the mainstream sports channels like FS1, FS2, Big Ten Network, NBA TV, NFL Network, and the CBS Sports Network in the standard fuboTV Premiere package
For an additional monthly fee, you can purchase add-on packages that start at $4.99 per month to access premium sports channels like:
ChelseaTV
Fox Soccer Plus
Fox Deports
GolTV
Fight Network
NFL Redzone
Non-Sports Channels Available on fuboTV
Since you will want to take a breather from sports, you'll enjoy these entertainment and news channels for no additional fee:
Hallmark
Hallmark Movies and Mysteries
FX
HGTV
USA
SyFy
CNBC
Fox News
Nat Geo Wild
FuboTV also lets you add the Showtime channel package for $10.99 a month too. Showtime is the only premium movie channel currently available through fuboTV.
5. DirectTV Now
Pros: Most available channels
Cons: No DVR capability, Some users report regular service outages
Monthly Cost: $35 to $70 per month
DVR Available: Not yet, but some channels offer 72-hours rewind
If you have AT&T Uverse or DirecTV satellite, a DirecTV Now subscription can help you save a few dollars. The most visible selling point for DirecTV Now is the large number of channels you get for a low price.
While most people only watch 15 to 20 of their 150 available cable channels, you might be one of those few cable viewers that watch a little bit of everything.
DirecTV Now is arguably the most similar streaming service to a traditional cable or satellite TV subscription because you get so many channels. That's not the only reason to consider DirectTV, but it's a good reason if you don't prefer paying a little more to get a wider selection.
You can also stream on two devices at once. DVR storage isn't available yet, but some channels offer 72-hour rewind and almost every channel offers on-demand programming for shows and movies which can be almost as good.
Live a Little Package
Monthly Cost: $35
Total Number of Channels: 60+
DirecTV Now's basic package has a whopping 60 channels for only $35 a month. You will get access to Disney, ESPN, and ESPN2 plus many of the other national entertainment channels like FX, Hallmark Channel, Hallmark Movies and Mysteries, and FS1.
This can be a good alternative if you want to stay below the $40 price point as you'll get many of the same channels at a slightly lower rate.
Just Right Package
Monthly Cost: $50
Total Number of Channels: 80+
Just like Sling TV holds a few channels for the Orange package that you can't get in the slightly more expensive Blue package, it's the same case with the "Just Right" package that comes with more channels for a slightly higher fee. You won't get the Hallmark Movies and Mysteries channel, but you will be able to stream:
Big Ten Network
Cooking Channel
GSN
ESPNU
GSN
SEC Network
Travel Channel
You can find some of these channels for less on other streaming services, but you pay more per month for the wider channel selection.
Go Big Package
Monthly Cost: $60
Total Number of Channels: 100+
With the "Go Big" package you get 100 channels for only $60. Some of the additional channels you'll receive include NBA TV, FX Movie Channel, CBS Sports Network, plus all the channels in the first two packages.
Sixty dollars a month isn't necessarily a bad deal for what you get, but YouTube TV and fuboTV might be a better option as they offer many of these special channels that you won't find at the same price point with Sling or Hulu.
Gotta Have It Package
Monthly Cost: $70
Total Number of Channels: 120+
It gets a little harder to justify cutting the cord when you're streaming plan costs $70, but it still might be cheaper than your current cable TV subscription.
The primary reason to get this flagship package is for the Starz Encore movie package, Univision Deportes, and Boomerang. Once again, if you not going to watch most of the 120 channels in this package, you can switch to Sling TV for $20 a month and buy the necessary add-ons for $5 a month and the Starz package only costs $9 a month.
6. PlayStation VUE
Pros: Works on PlayStation devices and other streaming devices
Cons: Name is misleading for Playstation-only
Monthly Cost: $39.99 to $74.99
DVR Available: Unlimited (programs saved for 28 days)
Despite its name, PlayStation VUE is available for PlayStation and non-PlayStation devices. You don't need to own a PlayStation to subscribe to this streaming service either.
Sony competitively prices their streaming plans and you get unlimited DVR storage, but all recordings expire after 28 days.
You also have four different monthly plans to choose from that range in price from $39.99 to $74.99 per month. All plans also let you watch VUE on up to five devices at once which is also very robust.
Access ($34.99 per month)
The Access plan costs $34.99 per month and offers 50 channels. Some of the notable channels include:
Disney
ESPN
FX
FXX
Fox Business
Investigation Discovery
SyFy
Core ($44.99 per month)
Sports fans should strongly consider the Core Plan for $44.99 per month if you want to watch:
MLB Network
NBA TV
NFL Network
SEC Network
CBS Sports Network
Big Ten Network
Fox Sports Network
Some of the non-sports channels include the Cooking Channel, DIY, Hallmark Channel, and Turner Classic Movies.
For an extra $10 a month, you can purchase the Sports Extra package to get the Longhorn Network, ESPN Classic, Bases Loaded, and NFL RedZone.
Elite ($54.99 Per Month)
If you prefer the sub-channels compared to the flagship channels–Net Geo Wild vs. National Geographic–you can consider the Elite package for $54.99 per month. You will get access to most of the subchannels that you only get with a top-tier cable plan that costs close to $100 a month.
A few of the ones you might enjoy include:
Discovery Family
Hallmark Drama
ESPN Deportes
FXM
MGM-HD
Universal Kids
Ultra ($74.99 per month)
PlayStation VUE lets you purchase standalone premium movie channels, but you can include them all for $74.99 per month. These premium networks include:
You will still need to pay extra if you want Cinemax which costs $15 per month.
7. Philo
Pros: Best option for lifestyle and entertainment channels
Cons: No local, sports, or news programming
Monthly Cost: $16 or $20
DVR Available: Unlimited (programs saved for 30 days)
Philo is a "no-frills" TV streaming platform but you'll be surprised at how much they offer for the price. Perhaps one reason they offer so much is that their advertising is primarily word of mouth; lower advertising costs mean less overhead expenses which translate into potentially lower subscription costs.
You get unlimited 30-day DVR storage, on-demand access, and streaming on three devices at once with Philo.
Because Philo offers zero sports, national news, or local channels, you will only want to consider Philo if you just watch cable TV for lifestyle content.
It can also be a good complement to the Sling TV package as you can watch the sub-channels that are only available for $60+ a month with the other streaming platforms. If you're okay with these limitations, Philo can be worth the lower cost.
Philo Channel Lineup
For $16 a month, you get 37 channels that include:
AMC
Comedy Central
HGTV
Lifetime
Lifetime Movies
Nickelodeon
Travel Channel
TV Land
If you want to 46 channels for $20, you get these additional channels:
American Heroes Channel
BET Her
Cooking Channel
Destination America
Discovery Family
Discovery Life
Logo
MTV Live
Nicktoons
Neither package offers more-desired channels like Disney or Hallmark.
Why Are Live TV Streaming Services So Cheap?
It's possible to stream live cable TV for only $20 a month! With your current cable company, you might pay $20 just to access your local channels like ABC, CBS, Fox, NBC, and PBS if you can't pick up the over-the-air broadcast signals with an HDTV antenna. Considering the average cable TV bill is right around $100 a month, there's a good chance your current bill is higher than $20 a month.
Cable companies charge more than streaming services because they have more infrastructure to maintain. This includes things like the cable lines that tie into your house from their distribution center, or the technicians that can come to your house at 3 AM when a cable outage occurs. Live TV streaming services only have to send the cable TV signal over your internet line. Then you can watch TV from your computer, tv, or smartphone.
Before you start feeling sorry for the cable TV companies, just remember that two of the streaming platforms are owned by satellite TV providers. So, you can get the same service through their "over-the-top" streaming platform for less money.
Besides the lower monthly fee, you're not locked into a contract with any of these streaming services. You pay month-by-month and can cancel or restart your service as desired. If you have a busy month ahead of you and won't be watching TV, you can pause your subscription to save a few dollars too.
Summary
Switching to one of these live TV streaming services can save you a mountain of cash every month. Live TV streaming has come a long way in the past few years as internet bandwidth speeds continue to increase. As long as you have a Roku, Smart TV, computer, or another mobile device you can truly watch TV anywhere–live or on-demand–with these seven stellar platforms.
If it doesn't make financial sense for you to cancel your cable TV subscription yet, maybe your internet speed is too slow or it's bundled with your home internet package–you might still be able to negotiate a lower price with Trim, a free bot that compares your current cable TV subscription price to the current cable TV promotions and reduces your monthly payment whenever possible.
Are you ready to start saving more money each month?
Have you tried any of these live TV streaming services yet? If so, what is your experience with them?