When you are looking for advice on how to reduce your monthly spending, one of the first suggestions you will hear is canceling your cable TV subscription. Living without cable might seem impossible but it's easier than you think.
Sling TV allows you to watch your favorite channels for a fraction of your current cable TV bill, starting at $40 a month. At that price, it can be worth cutting the cord as many cable bills can easily exceed $100 per month.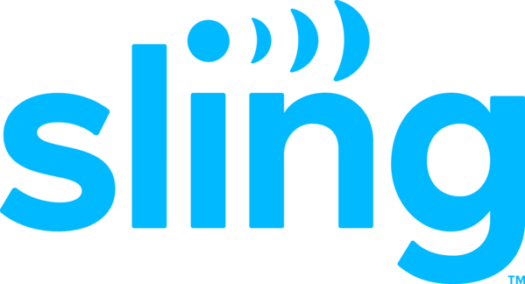 Summary
If you are looking for a cheaper way to watch cable TV, Sling TV can be a great option. But, be sure it's the right fit for you before you sign up.
Multiple device streaming

4.5
Pros
Free trial
A la carte pricing
Multiple device streaming
Cons
On-demand limited
Fast internet required
Local channel limitations
What is Sling TV?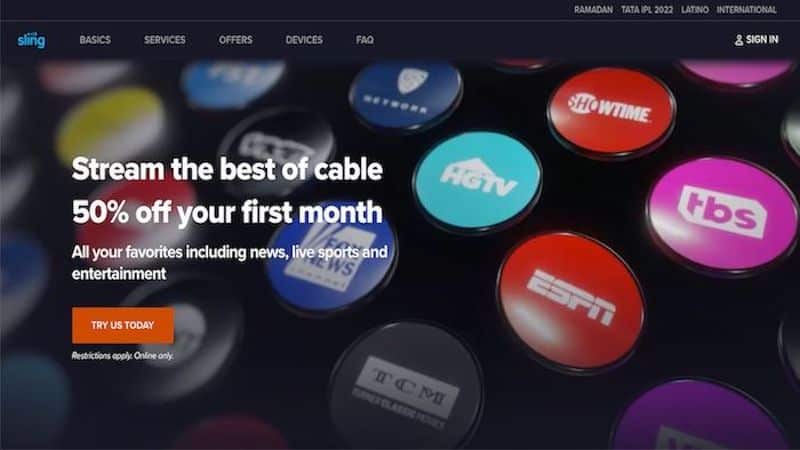 Sling TV launched in 2015 and is the first subscription-based streaming service that lets you watch cable TV channels from your Wi-Fi enabled flat screen, computer, or mobile device. All you need is an internet connection and no cable box or satellite dish is required.
If you were to put two televisions next to each other and one was connected to Sling TV and the other to your cable or satellite box, the video quality can look identical! The only difference is how much you pay for the monthly subscription.
While you can easily perceive Sling TV to be "the Netflix of cable TV streaming," it is different in several aspects.
How Does Sling TV Work?
First of all, Sling TV is an online alternative to your existing cable or satellite TV provider. Sling TV lets you watch live TV and also offers on-demand programming and Cloud DVR capability to watch shows later. This convenience is similar to Netflix or Hulu.
Another reason to consider Sling TV is that they don't have all the hidden fees and contract commitments of a traditional cable or satellite TV provider. You can cancel at any time and there are no activation fees or teaser rates.
As a bit of irony, Sling TV is a subsidiary of Dish Network. Essentially you are getting the same channels for a lot cheaper and without the contracts.
What's in a Sling TV Package?
Sling TV only costs $40 a month and offers two core channel packages. You will need to either choose the Orange or Blue package. Both packages include ten hours of free cloud DVR but offer different types of channels.
The Orange package has 30 channels including ESPN, Disney and HGTV. This package is best for sports and family programming.
The 45-channel Blue package also costs $40 a month that doesn't have ESPN or Disney, but includes more premium channels such as FX, Fox Sports, NBC Sports Network, and your local Fox and NBC channels.
If you want both packages, you can subscribe to both packages for $55 a month. While you spend more than only choosing one package, the Sling Orange and Blue bundle is cheaper than most cable TV bills.
Sling TV realizes that most people only watch the same 20 channels, even if they subscribe to more than 150. Only subscribing to the channels you watch most often is an easy way to save money.
In addition to the core Blue or Orange package, you can also buy add-on packages starting at $5 per month. These themed packages specialize in sports, comedy, news, kids or premium movie programming as a few of the options.
Let's take a look at the various channel lineups and see can be a good option for you.
What Channels Do You Get?
Sling Orange
Monthly Cost: $40
Number of Channels: 33
Simultaneous Streams: 1
Free Cloud DVR: 10 hours
Sling Orange can be the best option if you're looking for the cheapest way to stream ESPN and Disney. You will be able to watch other cable news, movie and lifestyle channels too. However, you won't get access to the various Fox channels or specialty sports networks like the NFL Network.
These are a few notable channels you can enjoy:
ESPN
ESPN2
Disney Channel
AMC
Comedy Central
HGTV
History Channel
TNT
TBS
Many cable companies reserve ESPN for the more expensive packages. as it is one of the go-to channels for watching your favorite sporting events. This means you automatically have to spend more money than their initial advertised rate. You are going to be hard-pressed to stream ESPN and Disney for $40 a month anywhere else.
Also, Sling Orange doesn't offer any local channels. You will need to choose the Sling Blue or the Blue and Orange bundle to stream your local Fox and NBC affiliates. Most viewers will need to use a standalone antenna to watch the local channels.
Sling Blue
Monthly Cost: $40
Number of Channels: 45
Simultaneous Streams: 3
Free Cloud DVR: 10 hours
If you want more premium channels, you will need to opt for the Sling Blue package. While you get 45 channels, you won't be able to watch ESPN or Disney. The lack of these two channels is the largest downside of Sling Blue, but, it can still be considered a fair tradeoff since you get 45 channels for $40.
You might consider Sling Blue for the following channels:
FX
FXX
Fox Sports 1
Fox Sports 2
NBC Sports Network
NFL Network
Nick Jr.
Tru TV
Univision
Local Fox and NBC channels (in select markets)
Despite the inability to view ESPN for sports, you can still view several of the other leading sports networks. And, you have more non-sports TV programming as well.
For instance, you can watch Discover, E!, Nick Jr., SyFy and TruTV. These channels can be engaging for children and adults.
You might also consider Sling Blue if you have multiple family members that want to watch TV at the same time. Sling Blue supports three multiple streaming devices at once. The Sling Orange package can only be streamed on one device at a time.
Sling Orange and Sling Blue
Monthly Cost: $55
Number of Channels: 49
Simultaneous Streams: 4
Free Cloud DVR: 10 hours
You might decide that you want both packages because you watch ESPN or Disney and also some of the additional channels only available with Sling Blue. By bundling both packages, you save $15 a month and only pay $55 each month.
It's possible to stream on four devices at once but there are some restrictions. Only one device can stream Sling Orange channels at once. So, only a single person can watch ESPN or Disney. The other three devices can stream Sling Blue channels.
Sling TV Add-On Packages
If the Sling TV Orange or Blue packages don't offer enough packages, you can also purchase themed packages that usually cost $5 a month. These add-ons are also very reasonable and keep your monthly entertainment costs low.
In all, there are seven different add-on channel packages to choose from that match your current cable lineup. Most packages come with at least six channels.
Premium movie channel, Latino TV and sports along with programming in 23 different languages are available.
These are some of the more popular add-ons you can purchase.
Sports Extra
Monthly Cost: $10
Sports Extra is one package that costs $10 per month and comes with over ten channels. Some of the notable channels include NBA TV, NFL Redzone, NHL Network and NBC Golf. You can also get your international sports fix with the beIN Sports.
College sports fans will also enjoy the regional sports networks including the SEC Network and Pac-12 Network.
This package is more expensive than many of the other packages, but, it's a bargain for most sports fans.
Comedy Extra
Monthly Cost: $5
The name of the add-on might be slightly misleading once you see the channel lineup. The Comedy Extra lets you watch channels including MTV, TV Land, CMT and GSN.
Kids Extra
Monthly Cost: $5
Children of all ages will enjoy this package as you can watch the latest children's shows on NickToons, TeenNick and Ducktv. Or, you can watch cartoon classics from yesteryear on Boomerang.
News Extra
Monthly Cost: $5
News junkies can rejoice with this package. With the Orange and Blue plans, you will get access to CNN and BBC America. Sling Blue offers Fox News but sometimes that isn't enough when you want specialty news channels.
The News Extra package lets you watch 12 different news networks including HLN, MSNBC, CNBC, BBC World News, Euronews, and Newsmax.
It's possible to watch the world news from almost any pocket of the world.
Lifestyle Extra
Monthly Cost: $5
Grown-ups will enjoy the Lifestyle Extra package as you can watch E!, VH1, Oxygen, Hallmark Channel, Lifetime Movies and the DIY Network to name a few of the 13 available channels.
This is one of the larger channel lineups and does a good job of adding a diverse set of channels. You can enjoy reality shows, made-for-TV movies or DIY shows for cooking and home improvement.
4 Extras Deal
Monthly Cost: $12
If you plan on purchasing at least two of the following packages, you can save money by purchasing this bundle add-on.
Comedy Extra
Kids Extra
Lifestyle Extra
News Extra
This is another way Sling TV can help you save money while offering your channels at a significantly lower cost. With the 4 Extras Deal, you get 38 channels for $12.
Even if you buy the Orange and Blue combo package, you are still only paying less than $60 a month for cable TV.
Total TV Deal
Monthly Cost: $20
The Total TV Deal costs $20 per month and includes all of the standard channel extras and Cloud DVR Plus for 50 hours of storage. This bundle doesn't offer any premium movie channels or foreign language programming.
Premium Movie Channels
Another reason why you might be hanging onto your cable TV subscription is for the premium movie channels. Oftentimes, you might have to choose the most expensive plan to access these channels. With Sling, you can only pay for the movie network you want.
With Sling TV, you can stream the following premium movie networks:
Starz
Showtime
Epix
AcornTV
Dove Channel
Hallmark Movies Now
Sony Live TV
UP Faith and Family
These packages start at $3 per month. Sling TV currently doesn't offer HBO or Cinemax programming (as of December 2020).
Starz
Monthly Cost: $9, yet offers a free trial
For this you get the following six channels:
Starz
Starz West
Starz Comedy
Starz Kids & Family
Starz Encore
Starz Edge
The Starz add-on is one of the more generous add-on offerings in terms of channel quantity.
Showtime
Monthly Cost: $10
Showtime also has a wide channel lineup as you can watch nine of the Showtime channels including Showtime, Showtime 2, and Showtime Family.
Epix
Monthly Cost: $5
If you enjoy the Epix movie network, you can stream Epix, Epix 2, and Epix Hits. This is the most affordable of the premium movie add-on packages.
Is Sling TV Available in Other Languages?
Yes, Sling TV is available in Spanish and 23 different languages. There are add-on packages to access international programming for a specific language.
International Extras
In addition to offering the best American cable TV channels, you can also purchase add-ons to watch your favorite international channels too.
These add-ons are broken down into specific countries and languages and contain a variety of channels from one country or a region.
Below are the different international extras you can add to your Sling Blue or Sling Orange package.
Spanish Extras
Best of Spanish TV
Mexico
Caribe
Sudamerica
Espana
Each package only costs $10 per month. If you were to only choose one, the Best of Spanish TV has more than 20 channels including Azteca, NBC Universo and History en Espanol plus a few movie channels.
Global Add-Ons
It's possible to add international TV and sports programming as well. Packages are available in 23 different languages. Entry-level packages start at $5. However, packages for certain countries and larger channel lineups can cost as much as $50 per month.
Where Can You Watch Sling TV?
You can watch Sling TV with many different devices and tools that allow you to watch from almost anywhere.
Cloud DVR
Sling TV offer ten hours of free cloud DVR for all subscribers. Upgrading to Cloud DVR Plus costs $5 per month and offers 50 hours of storage.
Cloud DVR will work on most channels to record live content. But a few channels prohibit live recording including Local Now, ESPN3, ACC Network Extra and SEC Network+.
Here's what you get with the Sling TV Cloud DVR Plus package:
Store up to 50 hours of video from your favorite shows, movies, and live events
Record multiple programs at once
Can pause, fast-forward, and rewind recorded content
DVR is supported by most devices
Also, Cloud DVR is compatible with the following types of devices:
Amazon
Android
Android TV
Apple TV
Chromebook
Chromecast
Google Chrome browser
iOS
Microsoft Edge browser
Oculus Go
Roku
Safari browser
Windows 10
Xbox One
Xfinity Flex
On-Demand Programs
In addition to having the ability to DVR programs that you can watch at a later and more convenient hour, you can also take advantage of on-demand programming.
Cable and satellite companies also offer on-demand for select movies and tv shows. If your streaming device is DVR-incompatible or you forget to record it, you might be able to watch your show on-demand.
As Sling TV primarily caters to the live TV crowd, its on-demand options can be somewhat limited compared to other streaming platforms. But, they are still worth checking out.
You can watch recently run shows and movies from many channels in your Sling packages.
How to Watch Sling TV
It's very easy to watch Sling TV. For the most part, if you have a reliable internet connection and a fairly new electronic device, you qualify for Sling TV.
Here is a list of most supported devices that allow you to watch Sling TV.
TVs and Video Players
Apple TV (4th Generation)
Amazon Fire TV Players (All generations)
Roku (Roku LT and Higher)
Chromecast
Android TV
LG TV webOS 3.0 (most devices)
Samsung (2016-2019 smart TVs)
Tivo Stream 4K
If your current TV can connect to the internet, it will most likely stream Sling TV. It might even already have the app pre-installed. Or, you can always download it from your device app store.
Phones and Tablets
iOS (11.0 and higher)
Android (5.0 and higher)
Amazon Fire (Android OS 5.0 and higher)
Gaming Consoles
Xbox One (includes Xbox One S and Xbox One X)
Laptops and Computers
Google Chromebook (Betaplayer)
Apple (Lion 10.7 and Higher)
Windows 10
Sling TV Promotions
If you currently do not have a supported Sling TV device, you can actually get one for free when you prepay for several months of service. Offers are continually changing, but, you can check out the latest promotions.
You might be able to get a Roku Streaming Stick for free. Sling TV will also offer discounts on more luxurious streaming devices.
Internet Speed Required for Sling TV
Having a device that is capable of streaming Sling TV is the first of two steps required. The second step is making sure your internet connection is fast enough to reliably stream Sling TV.
Sling TV recommends different internet speeds depending on what type of device and how many devices you plan to stream.
Here is the minimum recommended bandwidth based on the type of device you plan to use:
Tablets and Phones: 3.0 Megabits per second
Single stream on TV, PC, or Mac: 5.0 Megabits per second
Households with Multiple Streams: 25.0 Megabits per second
The quicker your bandwidth, the better the performance. Even if you do not plan on watching multiple Sling channels at the same time, other members of your household still might be using the Internet for other activities like playing video games. All these online activities chip away at the bandwidth required to view your video streams lag-free.
Sling TV might not be the best option if you have a slow or inconsistent internet connection. You might have to limit your viewing to only one device, even if you have the Blue package or Orange and Blue package that allow you to stream from three or four devices simultaneously.
It also goes without saying, but, other streaming services have the same bandwidth requirements as Sling TV. If your internet connection is questionable, Sling TV does offer a three-day free trial for all new users.
If you are streaming from a device with limited data such as satellite internet or your cell phone, you can also adjust the bandwidth controls within the Sling TV app. Lower bandwidth will result in a grainier picture, but, it can prevent lagging and data overages.
Is Sling TV Worth $40 Per Month?
Here are a few reasons why Sling TV is a good option and definitely worth the$40 (or more) per month.
A La Carte Channel Lineups
Sling TV pioneered the live TV streaming movement in 2015 because of the "a la carte pricing" that essentially allows you to only pay for the channels you truly watch, not for all the other 100 channels you gloss over when browsing TV guide listings.
While you still have to choose a bundle that will include several channels you will most likely never watch, the Sling Orange and Sling Blue packages have the most popular channels and are bound to have most channel you watch on a regular basis.
For $40 a month, you can still easily afford an additional add-on pack and still pay a third of the average cable bill. If you currently pay more than $100 a month for cable, your monthly bill with Sling should easily be less than $50.
For many, Sling TV provides the best value for the money for streaming live TV. Other streaming sites charge more for the similar channel lineups or do not offer some channels like ESPN.
Numerous Add-Ons
In addition to the standard Sling Orange and Sling Blue channel lineups, you can also subscribe to specialty channels too. Most themed packages cost $5 and no more than $15. There are extras for children, sports fans, news junkies, movie buffs, and the internationally-savvy.
These add-on packages make it possible to combine a basic package with premium sports and movie channels. And, it's still entirely possible to pay less than $50 a month for these combinations!
Straightforward Pricing
You pay what you see with Sling TV. There are no activation or cancellation fees. If you only want to use Sling TV to watch college and NFL football, you can subscribe during those months and cancel it for rest of the year.
There also aren't any introductory rates that require you to call customer service every year to maintain the low introductory rate before the price jumps at the end of your current contract. You might decide to switch just for this reason alone.
DVR Capability
Ten hours of free DVR capability is a huge plus for Sling TV. Even though it costs an additional $5 a month, upgrading to Cloud DVR Plus unlocks a total of 50 hours of storage.
Being able to record your favorite programs makes it a lot easier to ditch the cable company if you cannot sit down and watch your favorite show or game in real-time. The on-demand programming is worth looking at to conserve your DVR storage space.
Stream on Four Devices Simultaneously
If you opt for the Blue and Orange bundle plan, you can stream Sling TV on four devices at once. One device can stream an Orange-only plan and the other three devices can stream on the Sling Blue package. Other live streaming platforms might only allow you to stream on two devices at once.
When the $55 Blue and Orange combo plan is still too expensive, you can stream on three devices with the Sling Blue Plan for $40 a month.
Three-Day Free Trial
You get three days to try Sling for free. This should be enough time to determine if you like streaming live TV and your internet bandwidth is up to par.
Cons of Sling TV
Sometimes, Sling TV isn't a perfect option. Here are a few of Sling TVs weaknesses.
No Local Channels
You can only watch your local ABC station if you live in one of eight metro areas in the U.S. There is also no CBS access at all, even for the premium sports channels. If you want to watch your local channels, you will need to use an antenna.
Sling TV will also broadcast your local NBC or Fox affiliate in select markets too, but only for sports.
Sling Orange Only Allows One Streaming Session
The Sling Orange channel lineup is awesome because you get ESPN and Disney. The downside is that you can only watch on one device.
If you plan on having multiple streaming sessions, you either need to upgrade to the Sling Blue ($40) or the Orange and Blue combo ($55) to have this capability. However, only one device can stream the Orange-only channels like ESPN or Disney.
Fast Internet Required for Multiple Streaming Sessions
Sling TV also recommends having a continuous internet bandwidth of at least 25 Megabits per second if you plan on streaming multiple devices at once.
Video can be very resource intensive and you will experience lagging and buffering if you are trying to stream on a network with too many users or a very slow connection.
Not Available on Every Console
While Sling TV is available on most consoles, it isn't available on every electronic device.
You can't watch it on a PlayStation video game console for instance. And, you also need to have one of the more current operating systems if you plan to stream from your phone, tablet, or laptop.
Programs Still Have Commercials
Since Sling TV streams live TV, you are still going to have the normal commercial breaks as you will with regular cable TV broadcasts.
Even though you can fast-forward through commercials using the cloud DVR, there isn't a way to pay for an add-on that allows you to view programs without commercials.
On-Demand Programming Is Limited
Each Sling TV channel determines what is available to stream on-demand.
While the available options might be similar to other streaming websites, and there are over 30,000 on-demand titles to choose from, not having exclusive partnerships that allow Sling TV to curate the content can sometimes mean you miss out if you don't watch it live.
This problem can be mostly avoided by using cloud DVR storage. Although some channel networks like ESPN3 and the SEC Network don't allow DVR functionality at this time.
Summary
If you are looking for a cheaper way to watch cable TV, Sling TV can be a great option.
With the ability to have multiple streaming devices, cloud DVR, and additional channel packages priced at $5 per month, Sling TV has a very similar look and feel as your current cable TV provider for a lower monthly fee and without the contracts.