Think about it, almost everything you buy online arrives in a cardboard box. Most businesses restock their shelves with items packed in a cardboard box. Are you starting to see a trend?
Selling cardboard for cash might be one of the easiest ways to make money because of its vast abundance. Cardboard is a daily part of life, and with your efforts, a box's next destination doesn't have to be the landfill never to be used again.
We'll show you all the ways you can collect and sell cardboard for cash. And, help the environment in the process.
Where to Find Unwanted Cardboard Boxes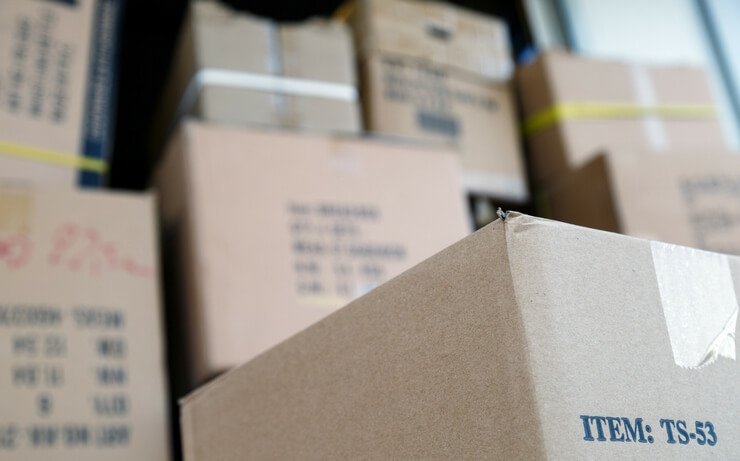 Let's first start with where you can find old cardboard boxes. After all, you can't make any money until you build an inventory.
Keep in mind that the more boxes you can sell at one time, the more you can make per box with specific buyers.
Depending on how you plan on selling your boxes, keep an eye out for thicker boxes that are sturdier and protect what's inside better.
Liquor stores tend to be an excellent source of these thick boxes in varying size because of the fragile glass bottles packed inside each box.
Also, larger boxes tend to be more valuable than smaller boxes because of their thickness and relatively limited supply. Gaylord boxes, which are the largest cardboard boxes, are the most valuable, but also the hardest to find.
Where to Sell Cardboard Boxes
Now that we know where to find cardboard, let's look at where we can sell it and make money!
For the most common box sizes, you can expect to make between 50 cents and $1.50 per box. Gaylord boxes can sell for at least $4 per box and even higher depending on its dimensions and current market demand.
Selling to people that reuse the cardboard instead of a cardboard recycler will be more profitable. If a box is too damaged, you might only be able to sell them to a recycler. Even so, cash for recycled boxes is still better than no cash at all.
1. Craigslist
Selling locally on Craigslist or a Craigslist alternative can be your best option because you collect the cardboard and the buyer might come to your house or place of business to pick up the boxes.
In addition to selling on Craigslist, some local businesses that buy cardboard and used pallets will also list their buying services. Instead of waiting for them to call you, give them a call and see what their offer is.
2. BoxCycle
BoxCycle lets you sell the following packaging materials:
Moving boxes
Regular boxes
File boxes
Narrow boxes
Electronics boxes
Mailers
Wine Boxes
Bulk cargo boxes (Gaylord boxes)
Box kits
Pallets
Sheets and pads
Packing supplies
BoxCycle is one of the most diverse cardboard selling platforms. After listing your boxes for sale, BoxCycle will communicate with all potential buyers to sell your boxes. You get paid once the buyer picks up the boxes.
There's even a "Wanted" tab that finds any current cardboard buying needs near you. One listing by me is a standing order for 500 C48 boxes every month.
If you can routinely acquire 500 boxes a month to fulfill this order, that can be easy money!
3. U-Haul Box Exchange
Sell your old moving boxes on the U-Haul Box Exchange to other families that will be moving soon. You can also use the exchange to look for free boxes as some sellers will give their boxes away for free.
4. eBay
Many people are selling their used cardboard boxes on eBay. Whether you have used Amazon boxes, moving boxes, brand new boxes to sell, they can all list on eBay.
Be sure to take seller fees and shipping charges into account when determining your selling price.
If you have a large lot that's too expensive to ship, you can also opt for eBay's local pickup option too.
5. Container Exchanger
Container Exchanger lets you sell used Gaylord boxes that you might pick up from a local factory. You will need to be able to sell at least 200 boxes at one time. Depending on the size and condition of the box, each box can be worth $35.
There are two different ways to sell your Gaylord boxes through Container Exchanger. One way is to list your inventory with their "Sale Ads" feature. The second selling option is to comb the "Want Ads" to compare your inventory to the wants of a prospective buyer.
When you're ready to sell, contact Container Exchanger to list your boxes for free. The Container Exchanger support team will contact you by phone when they receive a serious offer, so you don't have to waste your time with buyers that are only "kicking the tires."
When your boxes sell, you ship them using a designated carrier and payment is sent your way!
6. UsedCardboardBoxes.com
You can sell shipping boxes and Gaylord totes at UsedCardboardBoxes.com. They even accept some boxes that are damaged!
To start the selling process, submit the size and quantity of your most common box size along with a picture of your inventory.
UCB can be an attractive option because they do not require you to bale your boxes in order to sell. You also won't pay any pickup or delivery fees either.
7. Duffy Box
Duffy Box has been buying and selling used cardboard boxes since 1930!
Today, they own more than 200 trailers that can quickly get your used cardboard to a buyer and make you money while keeping our landfills empty!
Contact Duffy Box to get a price quote.
8. Quincy Recycle
Quincy Recycle specializes in buying and reselling Gaylord boxes across the nation. They also offer B2B (business to business) corrugated cardboard and paper recycling as well if you live near one of their Midwestern recycling facilities.
You will need to have a full truckload or less-than-truckload inventory to sell to Quincy.
9. Rebox
Rebox buys a variety of boxes from American and Canadian sellers.
It appears that Rebox is more oriented to buying directly from companies that have a high amount of cardboard scrap, over-run, and job lot boxes that individual sellers do not have.
To get a quote, leave a comment that includes all the necessary information about your inventory in addition to your personal contact information.
10. Sadlers
If you live in the UK, Sadlers can be your #1 option as they have been buying cardboard since 1952. They buy used and new cardboard boxes for the most common sizes.
You may still have to recycle your odd-sized boxes, and you can find out exactly how much you can make by getting a free quote.
Sell Your Cardboard to Be Recycled
Ideally, all the cardboard you sell can be reused at least once more before the box reaches its maximum lifespan. When your cardboard isn't salvageable, you can still sell it for cash to a recycler. You won't earn as much, but it's still money in your pocket.
Scrap cardboard prices can vary widely, but you can expect to earn between 50 cents ($1,000 per ton) and $1 per pound ($2,000 per ton). Another critical thing to remember is that loose price will frequently be less than the baled price.
If you have access to a baler, taking the time to bale can double your profit.
11. Recycler Finder
If you cannot find a buyer to reuse your boxes, you can always find a local cardboard recycler that will then sell your cardboard to a paper mill to be made into a new cardboard box.
Recycler Finder is a free database that lists your local cardboard and paper product facilities within 50 miles of your zip code.
You can also use Recycle Finder to sell your old refrigerator and your old appliances for cash as well.
12. Look for a Local Recycling Center
You can also perform a Google search with the keyword "Recycling Centers Near Me" to find a local recycling center. Call them and ask their price on cardboard.
If there is more than one recycling center that buys used cardboard, visit the center with the highest buying price.
13. Recycler's World
Recycler's World is an online classified website that lets you list loose and baled cardboard. You can even find local buyers from the website as well that list their current in-demand items.
14. RecycleINMe
RecycleINMe is a free service that connects you with local scrap cardboard recyclers all over the world.
You can also post a sell offer to see if you can make a little extra money or save a little time by not calling each individual recycler.
15. Padnos
Padnos offers local, regional, national, and international buying opportunities as you can sell your cardboard directly to a paper mill. Your cardboard can sell at the spot or contractual price depending on the current market demand.
To sell to Padnos, you will need a large stock of cardboard ready to sell.
Summary
Cardboard is the most commonly recycled item. Many people and businesses are either recycling or throwing away their cardboard and not getting paid for it.
This is the perfect opportunity to help you make some extra cash while reducing the amount of cardboard waste in your local community.