Sweatcoin is a health app that pays you to walk. Or so the company says. But can you really earn money just for walking? And does Sweatcoin count as a legitimate side hustle?
Find out whether or not you can use Sweatcoin as a way to get paid for losing weight – or for merely motivating you to increase your fitness level.

Summary
While Sweatcoin won't pay you in cash, it could be a great way for you to earn coins toward prizes, vouchers and offers. It's free, easy to install, and works with both Android and Apple. If you're looking for a way to get motivated to exercise, Sweatcoin could be for you.
Pros
Free and easy to use
Extra income
Get paid to walk
Cons
Limited rewards
Not full-time income
Is Sweatcoin Legit?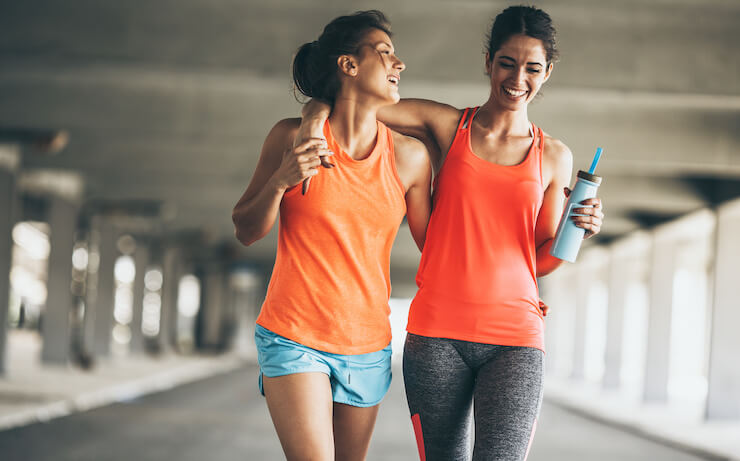 Sweatcoin is a legit app where you can get paid to walk.
They have a 4.5 out of 5 stars on the Google Play Store and 4.6 out of 5 on the Apple App Store with hundreds of thousands of reviews on each platform.
What is Sweatcoin?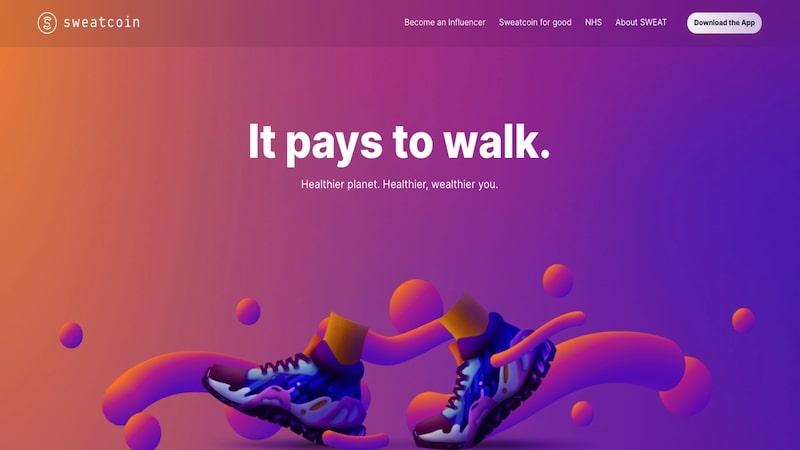 Sweatcoin is a free app that pays you to walk. It's not so much a cryptocurrency as it is a rewards system.
It was founded in 2014 by a team in the U.K. and has tracked over 5 billion steps to date. The goal of the Sweatcoin team is to help you get healthier.
In fact, it's the number one fitness app in the United States, and in the U.K.
The Sweatcoin app is available in over 50 countries, including:
Germany
Norway
Singapore
Spain
Italy
France
Greece
Iceland
Canada
Ireland
How Does Sweatcoin Work?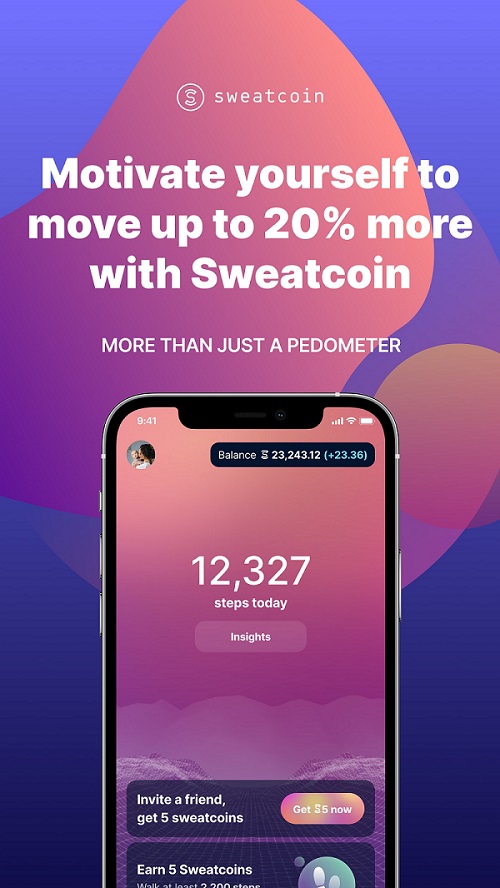 Using Sweatcoin is pretty easy. You start by downloading the Sweatcoin app on your phone. Sweatcoin is compatible with both Apple and Android.
Sweatcoin tracks your steps by using a GPS navigation – this means it only works when you walk outside. The company is working on making Sweatcoin trackable for inside walkers too, but for now, you use it solely for outside walking.
When you open the app at the beginning of your day, Sweatcoin will use GPS to track every single one of your outside steps. As long as the app is open on your phone, your outdoor steps will get tracked.
As you earn your Sweatcoins, you can use them to get prizes. You get paid to lose weight in a way.
Note that the app will work even if you don't have data. Since it works via GPS, you can have it running in non-wifi zones. It won't record your steps in real-time; however, the app will "catch up" once you enter a wifi zone.
And on that note, Sweatcoin doesn't use much data either. You see, the app uses latitude/longitude numbers instead of visual maps to track your steps.
Therefore, it uses a lot less data than say, Pokemon Go. So you don't have to worry about out using your earnings via data usage.
How Much Does Sweatcoin Cost?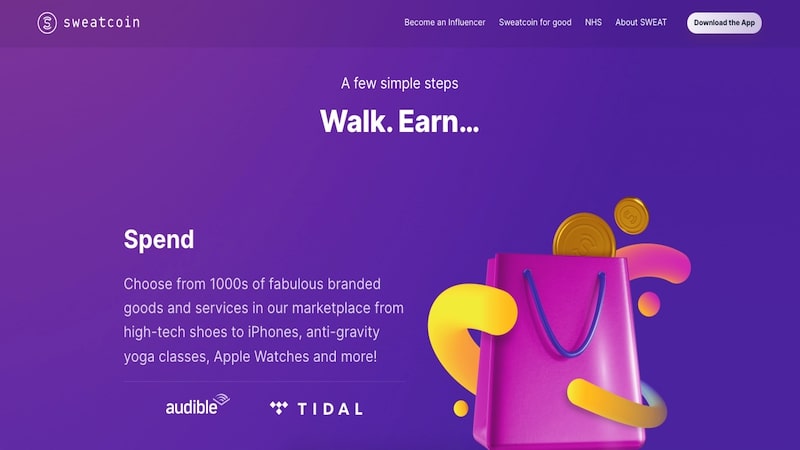 As I mentioned above, the app is free to install. However, Sweatcoin does have more membership levels than just the free level. Luckily, the "paid" levels don't cost you cash; you'll pay in Sweatcoins.
Here's some information on each membership option.
Mover
The Mover level is totally free. However, it has a maximum available earned Sweatcoins of 150 per month.
Shaker
The Shaker level costs 4.75 Sweatcoins a month, and you can earn up to 300 Sweatcoins per month when you use it.
Quaker
The Quaker level costs 20 Sweatcoins per month and allows you to earn up to 450 Sweatcoins per month.
Breaker
The Breaker level costs 30 Sweatcoins per month and allows you to earn up to 600 Sweatcoins per month.
Note that with each level, there are daily earning limits as well as monthly earning limits. For example, with the free level, you can earn 150 Sweatcoins per month, but you can only earn a max of five Sweatcoins per day.
If you have one of the paid membership levels, you can earn more than five Sweatcoins per day.
Are There Other Ways to Earn with Sweatcoin?
So, you already know Sweatcoin will pay you to walk outside. However, there are other ways you can earn with Sweatcoin too.
You can earn Sweatcoins by watching ads within the app. The ad-watching opportunities are called Daily Rewards, and you'll get one chance daily to watch an ad. Each ad you watch will earn you one Sweatcoin.
Also, you can earn Sweatcoins by referring friends and family members to join. Sweatcoin helps you spread the news about the app with your own custom referral code.
You can share your referral code via the contacts in your phone, Facebook Connect or by posting your referral code on social media outlets.
For every friend who joins using your referral code, you'll earn five Sweatcoins.
Note: The Sweatcoin website says you may be able to use Sweatcoin while riding a bike too. However, users report it works best for biking if you have your phone in your pants pocket.
How Much Can You Earn with Sweatcoin?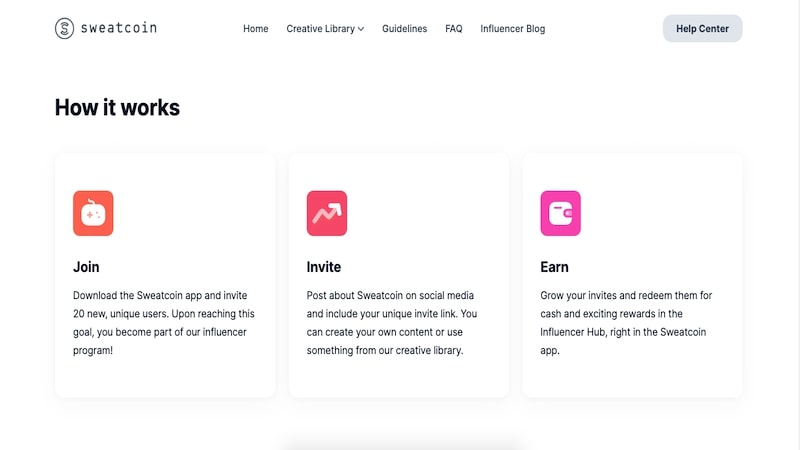 Sweatcoin will pay you 0.95 Sweatcoins for every 1,000 steps you walk. You might be wondering why they just don't pay you one whole Sweatcoin. The 0.05 Sweatcoin is a commission that the company uses to pay expenses.
You can earn as much as you want to with Sweatcoin, provided you stay within the daily and monthly earning limits of your membership level.
The types of offers you can get with your Sweatcoins varies based on several factors.
So, from a dollars and sense standpoint, it's hard to determine how much each Sweatcoin is worth. We'll go over what you can do with your Sweatcoins next.
What Can You Do with Sweatcoin Currency?
Once you've earned your Sweatcoins, you've got a lot of options. Well, technically, there are only two options, but there are a lot of options within those two options.
Sweatcoin shares what are called Daily Offers and Marathon Offers with their members. The company works with over 160 brands to get you offers for things you can buy with the Sweatcoins you've earned.
The company's 300+ partners work together to bring you brands and offers you like and want to use.
Daily Offers
The Daily Offers on Sweatcoin consist of a variety of products. For example, you might find an offer for a restaurant voucher. Or you might find a deal on products such as jewelry, personal products or clothing.

You might find a voucher for an Amazon credit or a PayPal credit. With so many partners, Sweatcoin can offer you hundreds of Daily Offers so you can use your Sweatcoins.
Marathon Offers
Sweatcoin's Marathon Offers are more difficult to earn; they're also much more lucrative. For instance, you might find a Marathon Offer for $1,000 in cash.
Or you might find a Marathon Offer for a big-ticket product such as a new smartphone.
To summarize in a personal finance relatable way, Daily Offers are short-term savings goals, and Marathon Offers are long-term savings goals.
As you save up your coins, keep an eye out for the offers and decide what you'll work for. There are offers that cost just a few Sweatcoins and offers that cost hundreds of Sweatcoins, so you've got a lot to choose from.
Bonus: You can transfer Sweatcoins to and from your friends' accounts. This means you and a friend can combine your Sweatcoins to earn the bigger Marathon Offers faster.
In order to redeem your Sweatcoins, click on the "Marketplace" icon along the bottom of the app. Once you see an offer you like, you can click on it for more information.
If you still like what you see and want to take advantage of the offer, click on the "Buy" button. The app will use the required number of Sweatcoins to complete your purchase. Then you'll receive a receipt.
The receipt has instructions on how to finalize your purchase. FYI, finalization of your purchase is typically done directly on the partner website.
Note: Keep an eye on the offers you see on your screen to decide what you want to buy with your Sweatcoin, as the offers change regularly.
Note: Some of the offers you can get with your Sweatcoin might require out-of-pocket expenses. Read the fine print for details.
Can You Earn Cash for your Sweatcoins?
Sweatcoin doesn't have the ability to payout via PayPal or bank transfer – yet. But it does partner with PayPal, meaning you could see offers for PayPal gift cards or other items such as vouchers.
Sweatcoin is considering adding a cash option at some point, but it's not available as of this writing.
How Does Sweatcoin Make Money?
Sweatcoin partners with retail brand companies, insurance companies and healthcare companies. They also work with local and national governments to help improve fitness levels all over the world.
Sweatcoin forms affiliate relationships with their brand partners, with insurance agencies and other companies. And the money made from the affiliates is used to run the business.
Can You Purchase Sweatcoins?
Sweatcoin doesn't allow the outright purchase of the coins. After all, the goal is for you to earn them by moving more. However, as mentioned earlier, you can combine your Sweatcoins with another member's coins in order to earn rewards faster.
Positives and Negatives
The good and the bad of Sweatcoin.
Pros
Sweatcoin can be very motivating
If you have trouble getting motivated to exercise, or if you want to step up your outdoor activity, this could be a great way to do it.
A report in the British Journal of Sports Medicine showed that using Sweatcoin does cause a sustained uplift in physical activity.
Sweatcoin is easy to use
Just install the app and have it running throughout the day to track your outdoor steps.
The app has a free membership level, but even the "paid" membership levels will only cost you in Sweatcoins. You'll never pay actual cash to use the app or earn Sweatcoins.
The Sweatcoins you earn will never expire
There are a lot of offers to choose from in the Sweatcoin Marketplace, both big and small. You're sure to find something you like and can afford. If not, simply earn more Sweatcoins until you do.
Cons
Limited compatibility
Sweatcoin is only operable on iPhones, Android smartphones and Apple Watch. It doesn't work with other devices such as Fitbit because many of these devices don't have GPS capabilities.
Low payouts
You're not going to get rich using Sweatcoin. With the limits on how many coins you can earn per day, you'll only earn a little bit (but at least it's something).
Usage limitations
Sweatcoin doesn't work indoors. This is especially disappointing if you live in states with harsh weather, but the company is working on making the Sweatcoin app indoor compatible.
What Else Do I Need to Know About Sweatcoin?
So, what else is there to know? Well, one great thing is that Sweatcoin will never share or sell your information to a third party company. They have strict privacy policies in place.
Also, Sweatcoin is easy on your battery, especially if you're using an iPhone or Android phone. Battery drain may be an issue on some other devices; however, the company is working on that.
Plus, there's a battery saver icon on the left of your main progress bar that you can tap to help reduce the app's battery usage.
Sweatcoin will need your phone's location to function. This verification algorithm is in place to help your Sweatcoins keep their value and to prevent cheating on the site. The feature benefits everyone so that their earned coins hold their value.
Related Post: Legit Ways to Get Paid to Walk
Summary
Some fitness apps – like the Achievement app – will pay you in cash to get healthier. While Sweatcoin won't pay you in cash, it could be a great way for you to earn coins toward prizes, vouchers and offers.
It's free, easy to install, and works with both Android and Apple. If you're looking for a way to get motivated to exercise, Sweatcoin could be for you. And, if you're already walking, why not earn some rewards for doing so?