When it comes to budgeting and finding ways to spend less money, this is a chore no one likes to do.
One way to lessen your burden is to lower your cable, internet and phone bills using an app called Trim.
Trim is free to use, but if the service ends up saving you money, it will take a percentage of the annual savings it has created for you.

Summary
Overall, I think Trim is a great way to get your unwanted subscriptions removed and bills negotiated for a lower rate.
Pros
Get bills lowered
Free features
Easy to use
Cons
No tools for investors
Not for financial planning
What is Trim?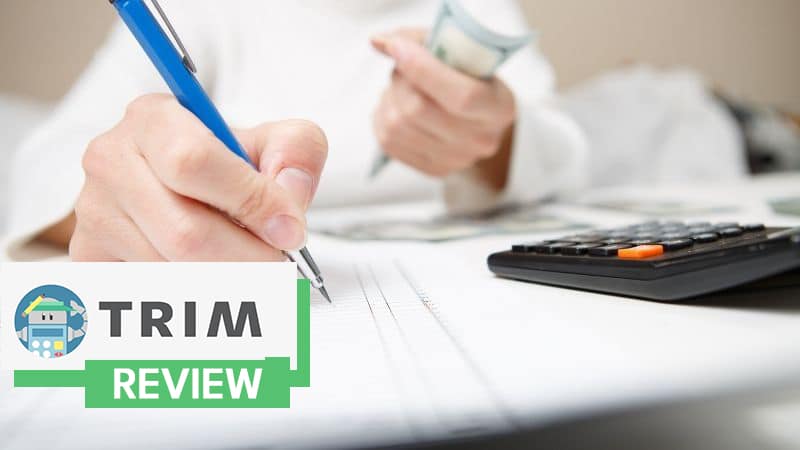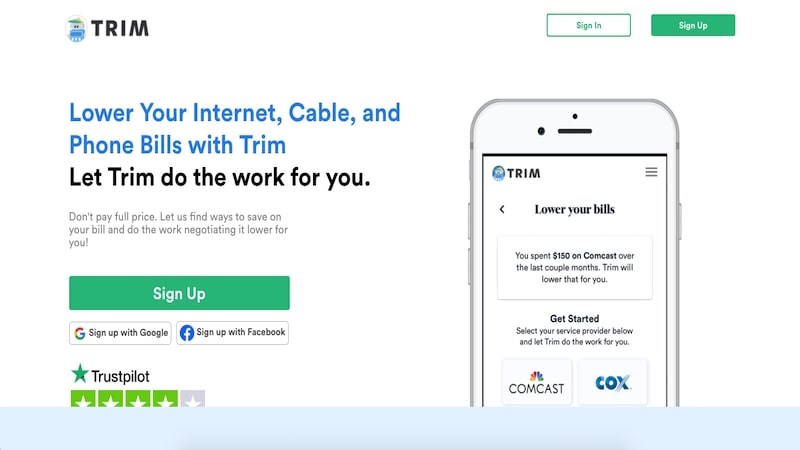 Trim is sort of the like the personal assistant you've always wanted but could never afford. It's an automated service that looks through your bills and receipts and then helps you negotiate and save money.
It scans your emails for receipts and can check for things like recurring subscriptions you don't need or want anymore.
Trim wants to help streamline your finances by helping you cancel unwanted subscriptions you may have signed up for or forgotten about. Or maybe you didn't even know you signed up. Which brings us to…
Trim Helps With Unclear and Unwanted Subscriptions
You might be thinking, how could you not know if you signed up for a subscription?
There is a variety of reasons this may happen — sneaky marketing tactics from companies that make you click a button to not opt in, your own forgetfulness, or pure laziness that keeps you from double checking which subscriptions you signed up for.
This happens to even the smartest and most budget-savvy of us. I've been guilty of this not once, but twice.
The first time was years ago (way before free credit scores were easy to get) when I had signed up to get a free credit score and didn't realize I had opted in to a $19.99 monthly subscription.
Yes, $19.99! I believe this was to cover the costs of credit monitoring and to get my credit report.
I didn't realize this was even happening until I checked my credit card statement and realized I was getting a mysterious charge from an obscure financial company.
I quickly called to cancel the subscription and vowed to never let it happen again.
I Wasted $240 on Another Subscription
The second time this happened was very recently. I'm embarrassed to admit this, but I signed up for a free trial for an audiobook subscription (separate from the paid Audible subscription I already had).
Once the free trial period ended, they started charging me $20 a month. For some reason, I thought I was being charged by Audible, but this was in fact a different company charging me for a different subscription.
This went on for almost a year before I caught the error.
So, what were the lessons here? One is to never sign up for free trials that ask for your credit card number. And two, always check your credit card statements and know what subscriptions you have.
I didn't even use that audiobook app and paid $240 for nothing. I did not get my money back.
Had I signed up for Trim at the time, I might've noticed that subscription alongside my actual Audible subscription and realized they were not the same a lot sooner.
To prevent this from ever happening again, I use Trim and created a simple Google Excel spreadsheet that lists all of my recurring monthly subscriptions.
The list includes the monthly fee and the credit card linked to that subscription. I look through this list every few months to see if there's anything I want to cancel.
Trim Fights Gray Charges
Have you ever heard of something called gray charges?
These are fees that you pay on your credit card or debit card for unwanted services that are automatically renewed or converted from a free trial to a paid subscription. They also include hidden fees.
Forbes reports that gray charges are costing U.S. consumers $200 to $300 a month!
You may receive gray charges from things like magazine subscriptions, automatic renewals, or free services that switched to paid without your knowledge.
Other gray charges include:
Ghost subscriptions: These are subscriptions you signed up for while checking out for a different purchase.
Nuisance charges: Charges you once canceled but that somehow end up back on your credit card.
Freemium model: This is when the free version of a trial ends and you're charged an automatic fee each month.
Cost creep: When the original cost of a product or service goes up without you knowing.
The Story Behind Trim
The founders of Trim, longtime friends Thomas Smyth and Daniel Petkevich, compared their credit card statements and both realized they were subscribed to various services they no longer used.
A Wall Street Journal subscription and a renters insurance policy were examples of a few unwanted items they shouldn't have been paying for but somehow were.
Given Smyth's experience in investing in fintech companies such as NerdWallet, CoverHound, and Ripple, the two decided to start Trim. They wanted to automate saving consumers money.
Using the chat feature that companies like Comcast use to help with customer service issues, Smyth was able to save his mom almost $40 a month.
What Bills Are Negotiable?
Trim can negotiate your bills for you as well as:
Lower cable, internet and phone bills by up to 30%
Analyze your spending so you can easily understand where your money goes
Flag recurring charges to find out if you have any unwanted subscriptions you forgot about
Provide personalized recommendations for various financial products
Trim reports a 70 percent success rate at lowering customers' bills.
Here is a list of cable companies that Trim could negotiate with:
AT&T
CenturyLink
Comcast
Cox
DirectTV
Dish Network
T-Mobile
Verizon
Time Warner
Sprint
Google Fiber
Trim Saved Me $25 Almost Immediately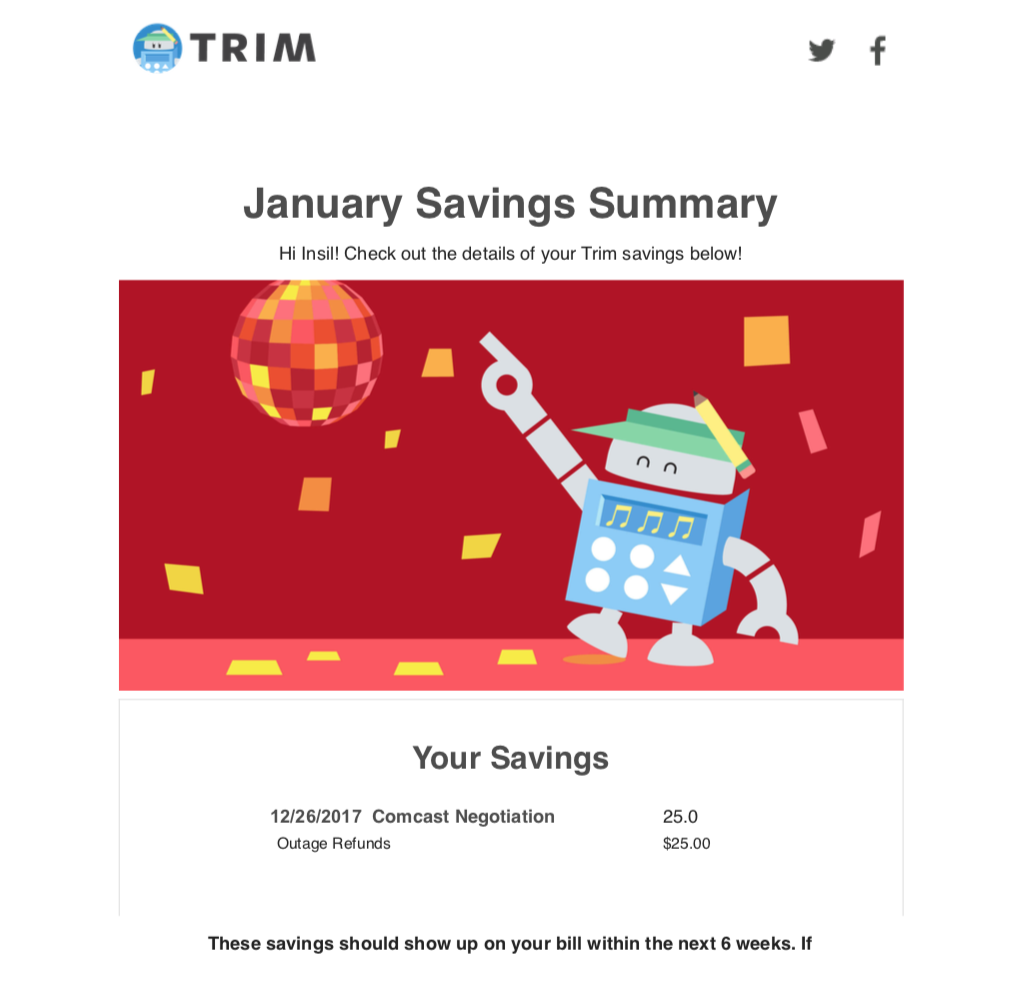 I first learned of Trim in 2017 and decided to sign up for it because it was free and I'd heard good things about it from colleagues and friends.
I signed up in Dec. 2017 and have used it ever since.
Within a few weeks of me signing up, much to my surprise and delight I received a text from Trim saying it was able to negotiate a one-time discount of $25 on my Comcast cable bill!
Sign Up Process
When you first sign up, Trim asks for your bank accounts so it knows what to scan and can see your purchases.
This took a few minutes to set up. It also scans your receipts and emails to assess what you're paying for on a monthly basis. The service uses encryption to keep your data safe.
You'll need to give your phone number so Trim can contact you via text whenever it needs your permission to cancel an unwanted subscription.
Trim uses an algorithm to identify recurring charges and then sends you a text or direct message on Facebook Messenger. If you reply cancel, Trim will cancel it for you automatically! It doesn't charge a fee for this.
Trim's Features
If you'd like bills negotiated on your behalf, all you need to do is provide Trim with the bill after logging in. Once Trim has that information, it may notify the biller on your behalf.
What's the catch? If Trim is successful at negotiating a lower bill for you, it takes 33% of your total yearly savings. So, if it saves you $10 a month for 12 months, it will take $40.
Besides bill negotiation, Trim offers a number of other ways to help you save money. Here are more features from Trim.
1. Set Up Text Alerts with Trim
You can use Trim to set up text alerts that prompt you whenever you have a low balance, similar to services offered by some banks.
For example, maybe you want to know when your account has less than $500.
Setting up an alert may not directly save you money, but it may help you avoid late fees and overdraft charges by letting you know how much money you have in your accounts.
2. Save on Energy Bills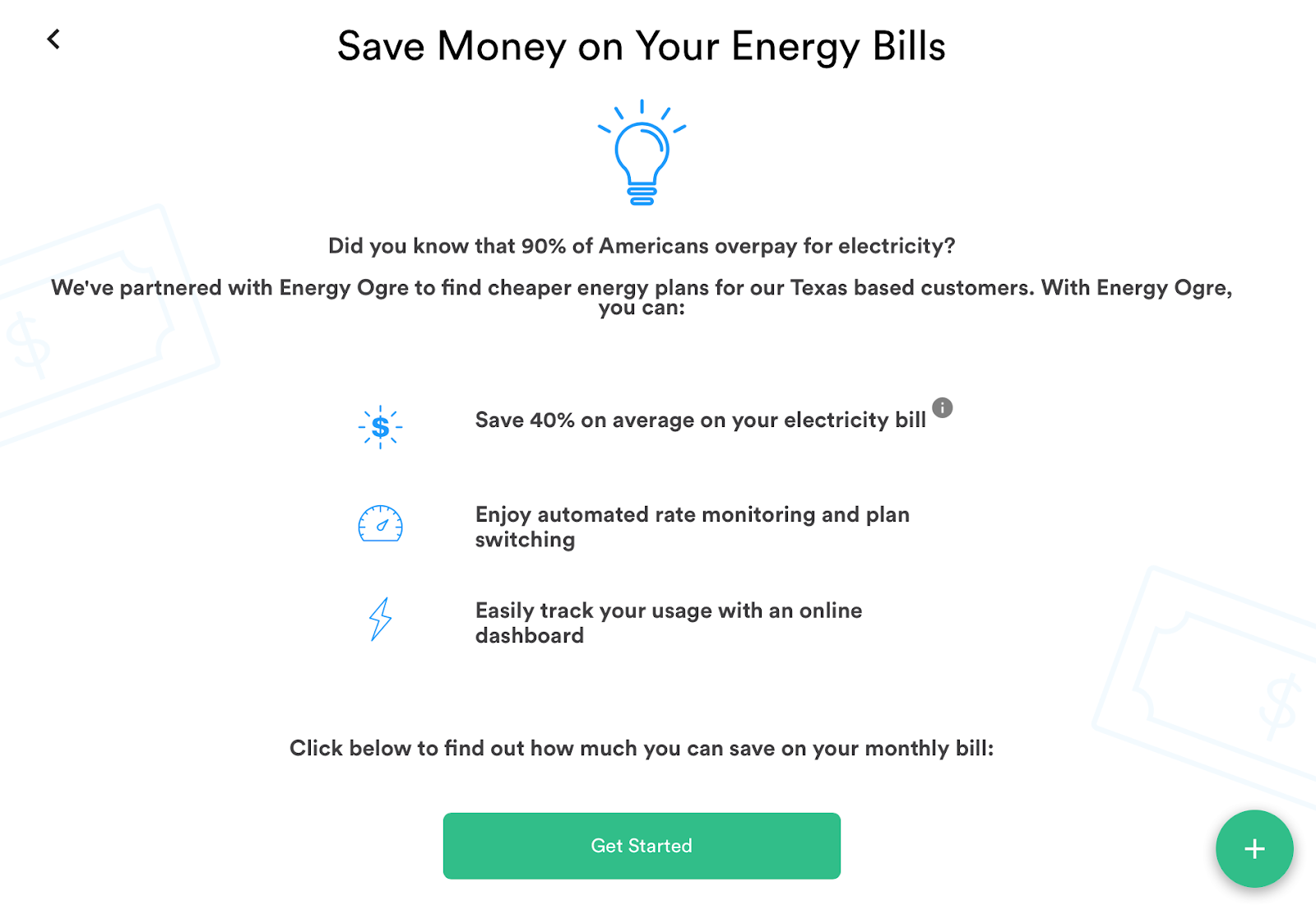 When you log into your dashboard in Trim, you can scroll through a number of ways to connect your bank accounts and find out ways to save money.
For instance, Trim offered me a way for you to save money on my energy bills — on average, 40 percent, it claims.
Trim has partnered with Energy Ogre for this promotion. However, when I clicked on the "Get Started" button, it gave me an "error" message.
3. Car Insurance
There is also a car insurance optimizer, which would ideally save you money on insurance, but currently, there is a waitlist.
4. Trim Concierge: Pay What You Think is Fair
You can chat with a financial coach to get the most out of your money. It asks you a series of personal questions to help get an idea of what your financial situation looks like.
There were many demographic questions such as questions about your age, where you live, and how much you earn. It also asks if you need any subscriptions or bills renegotiated.
At the end of the series of questions, it creates an assessment of your responses. Then it asks you to pay what you think is fair to chat with a human financial coach.
They offer a 30-day money back guarantee and you can cancel at any time. If your bank account is linked, it takes the fees from that account.
5. You Can Sign Up for a Savings Account With a Bonus
Trim also offers an automated savings account called Trim Simple Savings. It makes automated weekly transfers from your checking account.
You choose how much you want to be transferred. The best part is, it pays you an annual 1.5% bonus on your savings.
Downsides of Trim
Trim negotiates with companies to save you money, but it's definitely not perfect. You may need to do some work on your own (like calling the companies yourself if they don't accept Trim's negotiation).
Trim supports more than 15,000 U.S. financial institutions, but if it doesn't support your bank, you won't be able to use Trim.
Alternatives to Trim
There is one other company that is very similar to Trim which is called Rocket Money. They state that the average member saves $180 per year using their service.
One great thing about Rocket Money is that you only pay a fee if they successfully lower one of your bills.
Summary
Overall, I think Trim is a great way to get your unwanted subscriptions removed and bills negotiated for a lower rate.
It still needs to work out some kinks — getting an error message was a bit disappointing.
I think its best feature is bill negotiation. Getting that $25 discount on my Comcast bill has me convinced. For me, Trim is definitely a financial app that's worth having.