I've been on both sides of the Airbnb coin as a guest and host. As a guest, I look for great photos, lots of positive reviews, and fast response times from hosts. As a host, I focus on those three elements to attract more guests.
I first started using Airbnb over 10 years ago, and since then, I've collected quite the colorful experiences mostly as a guest. These experiences have shaped how I list my own space.
Related Post: 17 Best Vacation Rental Sites
Airbnb Checklist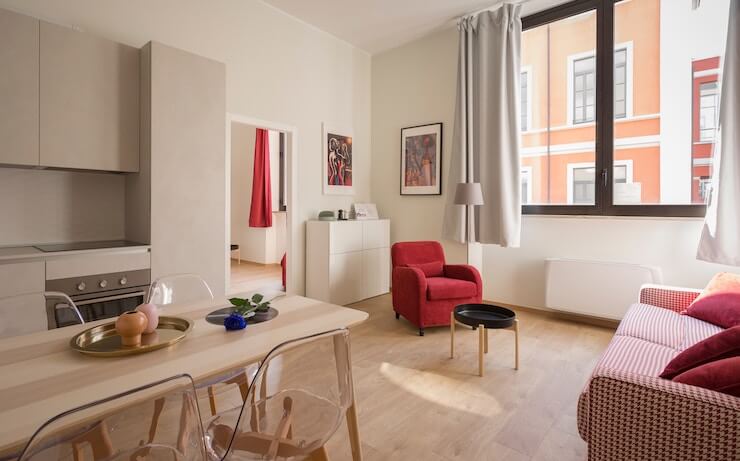 Listing a room or my entire place on Airbnb is hands down, the easiest way I've ever made side income.
Last year, I listed my studio apartment on Airbnb and was surprised to have it booked almost 100 percent of the time. This has been an excellent source of passive income.
All you have to do is be mindful of a few things, and follow these steps to get more bookings.
If you're thinking about listing an extra room or your entire place on Airbnb, here's the ultimate checklist to get more bookings and increase your profits.
Follow this checklist and get more bookings.
1. Make It Easy for Guests to Reach You
When you check into a hotel you never need to worry about how you'll get in or where to park the car (if you have one).
Knowing that the host was easily reachable gave me peace of mind, and when you're traveling and exhausted, nothing is more crucial.
The thing I've come to appreciate the most about booking a place to stay has nothing to do with the kind of shampoo or decor of the space — although those are great perks too.
When I think back on my best Airbnb experiences, the most important thing was communication from the host. Whether this was chatting through the Airbnb app or reading through a detailed guidebook or house rules the host provided — having hosts who communicate well is key.
As a host, take this into consideration when you list your place.
Are your responding quickly to questions or concerns from guests?
Are check-in and check-out instructions laid out clearly?
Having clear and fast communication with the host always made it a good experience whenever I traveled.
2. Clean, Scrub, and Remove Clutter
The first thing you need to do is clean. Make sure your place is spotless!
Guests have high expectations and want cleanliness that's comparable to a five-star hotel.
Hot Tip: Use Decluttr to get rid of your unwanted CDs, DVDs, and electronics and make money.
If your place isn't clean, guests will warn others in their reviews. Ending up with negative reviews may hurt your chances of getting booked more often.
Remove all clutter from your place, and if you hate cleaning, hire a maid. A maid might be an extra cost, but it'll be worth it once you get more bookings.
3. Take Clear, Concise Photos
Never underestimate the power of photos. This, coupled with reviews, are probably the two most compelling ways that will convince guests to book your space.
As a guest, I've encountered some really low-quality photos. These are the listings I'd quickly skip. If I can't see the space clearly laid out, I'll move on.
Two Kinds of Photos
There are the hosts who don't take good photos of the space and I've been pleasantly surprised to find out the space is actually nicer in person than it is in their photos.
Then, there's the opposite, where hosts are manipulating the photos with a certain lens or filter. Sometimes hosts use a fish-eye lens to make the space appear larger, when it's really not that size at all. Other times a subtle filter on the photo makes the space appear more dramatic than it really is.
I've found that keeping it simple and taking photos that accurately represent the space is the best method. That way, guests aren't surprised when they walk in.
Here's a checklist for how to take accurate photos:
1. Make sure images are clear, not blurry.
2. The space should be brightly lit from the sun, so make sure to take photos during the day. Open up all the windows, blinds, and curtains to bring in as much light as possible.
If you live in an area where it's not the sunniest, make sure to turn on all the indoor lights so you can accurately see the space.
3. Max out the amount of photos Airbnb allows you to take.
4. Add captions to your photos.
5. Don't use fisheye lenses or Instagram-like filters. Try to show the place as it looks in real life.
4. Answer queries within 24 hours
Airbnb gives hosts a "response time" percentage, so try to respond quickly to questions from potential guests. You should aim for a 100 percent response time.
Tip: Download Airbnb's app and turn on notifications.
A lot of questions will most likely revolve around booking times (especially if you don't turn on the "Instant Book" feature), so make sure the booking calendar is always up to date.
5. Turn on Instant Book
If you can, use Instant Book so you can skip the step of having guests contact you before they book. This doesn't work for every host, since you may need extra time to get your place prepared for guests.
When I listed my apartment, I turned on this feature and received a lot of last-minute bookings, which really increased the amount I was earning.
6. Price Competitively
When you list your space, Airbnb asks if you want to turn on Smart Pricing, which helps you understand how to competitively list the nightly rate for your place. Smart Pricing deals with a few factors, including location, and whether guests are booking during the weekday or weekend. Of course, weekend prices tend to be slightly higher.
Pricing can be a tricky process, but using Smart Pricing to your advantage can get you more bookings, especially if you live in a highly desirable area. If you price your place a little less than other hosts in the area, it will grab more attention.
Once your place is successfully listed online, prepare your home so your guest has the best experience.
This will help you make your guest's stay more pleasant so you can ultimately get more reviews and even repeat bookings (for business travelers).
7. Make It Easy for Guests to Enter Your Space
The best Airbnb hosts make it really easy to get the key to enter the space. The last thing a weary traveler wants is to go through a complicated process to find the key or lockbox.
When leaving the key, make it a self-serve process where they guest can easily find the key. If you plan on listing your place on Airbnb frequently, consider switching the lock to one that has a pin pad. I love those!
My Worst Airbnb Key-Finding Experience
Years ago, I had quite the Airbnb nightmare experience after arriving to the apartment building. The guy was nice, but he was not an Airbnb host who had a lot of experience hosting.
I had to go through a mini-scavenger hunt to find the key. His instructions were not clear. Not only was it a case of lost in "texlation" — he texted me the instructions when I was standing outside of his building. This was after I messaged him several times in the cab about arriving and please tell me how to get into your unit!
It took me several tries to get into the building because the buzzer was tied to the host's cell phone and he didn't answer the first three times. It would've been helpful if he was actually there to let me in, but unfortunately he wasn't around.
For reference, the building was a 100-year-old warehouse that was converted into an apartment complex in Brooklyn. There were a lot of scary, dark halls without any signs or elevators.
When I was finally buzzed into the building, he texted that the key was above a specific window frame near the laundry room. I had no idea where the laundry room even was!
Not only was the structure old and weird, the windows were so tall, I literally could not reach the top to grab the key! There was no chair to stand on and nothing I could use as an extender to reach the top of the window frame.
It was nearly 2 a.m., my brain was fried, and I was exhausted from my flight. I stood there for a moment and wondered if I would have to sleep in the laundry room.
Then, I decided to stand on my hard-case luggage, and thankfully the Airbnb gods were on my side. Miraculously, I was barely able to retrieve the key.
The moral of this story is to make it easy for the guest to get the key!
8. Leave Instructions for Anything and Everything
Once the guest is inside, make sure you leave printed instructions for how to navigate through the space. Leave the printed instructions where it is easily found, either on the coffee table or taped to the fridge.
Even if you have an entire guidebook about your place on your Airbnb listing, chances are, guests won't read it in its entirety.
Besides the bulleted list below, remember to include information about weird things about your space that would be important to convey to guests. For example, does the front door lock tend to get sticky when you turn it a certain way? Is there a special way to open the window?
Make sure guests know ahead of time so they are not left trying to figure out the problem themselves, or worse, break something by accident.
Make sure you have the following clearly on your printed checklist:
WiFi network name and password
How to turn on lights, TV, heat, air
Where to throw out the trash and recyclables
Thermostat instructions
Reminders for turning off the heat before they leave
Where to leave the key after they lock up
9. Write a Quick Reference Guide for the Neighborhood
Extend your knowledge of the neighborhood and all the insider info you can.
As a guest, I always appreciated whenever hosts would leave a brief guidebook that listed the best restaurants, grocery stores, cafes, and bakeries that were within walking distance or a short drive away.
Sure, guests can look through Yelp or Google, but having the guidebook right there saves them the trouble.
10. Room Checklist
Be sure to have the following laid out easily, so the guest doesn't have any questions.
Fresh towels on the bed (2)
Extra blankets and pillows
Hangers in the closet
Space in the dressers for their things
11. Bathroom Checklist
I have to reiterate that bathrooms should be super clean.
To help save costs, consider buying refillable empty plastic bottles so you can fill them with soap and shampoo. If you have a label maker you can clearly label them so the guest knows what it is.
Make sure you have the following:
Extra toilet paper that is easily visible
Instead of buying bars of soap (which can be wasteful if the guest is only staying a few nights), consider buying body wash instead
Shampoo
Conditioner
Toothpaste
Hairdryer
Body lotion
12. Kitchen Checklist
For those of us who like to cook while we're traveling, there's nothing worse than an empty kitchen. One of the nicest perks of staying in an Airbnb is the fact that there is usually a kitchen so you can cook and save on eating out.
I once stayed in an Airbnb without a knife, utensils, or coffee maker. There was literally one bowl in the cabinet.
Note: If you also use Airbnb as a guest, message the host before you book and find out how stocked the kitchen is.
If you're hosting, make sure to have the following so your guest doesn't need to go out and buy them, or worse, leave you a negative review because your kitchen was so bare.
Pots and pans
Kettle
Utensils
Knives
Plates, cups, bowls
Cutting board
Kitchen Supplies Checklist
Sponge for washing dishes
Dish soap
Paper towels or fresh hand towels
Extra trash bags
Recycle bins
13. Condiment/Food Checklist
At a bare minimum, providing these items always makes the guest's stay more comfortable.
Teas
Olive oil
Salt and pepper
Coffee
Half and half
Extras
Bottle of wine
Chocolate or sweets
14. Appliance Checklist
The following appliances also make travel easier on guests:
Microwave
Toaster
Coffee maker
Small fan
Space heater
Bottom Line
Always put yourself in your guests' shoes and imagine what you'd want at an Airbnb in order to make your stay more pleasant. Have a clean and tidy space and pair it with great photos.
The goal is to get as many five-star reviews as possible.
Once they stay with you, make sure their stay is an easy and relaxing one. Check in with them after you know they've checked into your space.
Send them a brief text that asks if they got in OK and if they need anything.
It's a nice touch that your guest may remember when they are writing up that fantastic, positive review of your lovely Airbnb listing!