Are you in the know when it comes to the best vacation rental sites? Accommodations are often the most expensive part of a vacation budget.
One way to cut that bill is to stay in a vacation rental rather than a hotel.
Vacation rentals are houses, apartments, or rooms in homes that you can rent by the night, or sometimes even weeks or months at a time.
Some resorts also list accommodations on vacation rental sites.
Vacation rentals have grown in popularity not only because they're often cheaper, but because they offer a different experience.
Many people find that staying in someone's home provides a peek into the local culture they couldn't get at a hotel.
We did the research and will show you the best vacation rental sites and why you might consider each site.
Top Vacation Rental Websites
There are many options for booking vacation rentals. Look through this list and find the one that is best for you and your vacation dreams.
1. Airbnb
The Airbnb name has become nearly synonymous with vacation rentals.
The site lists apartments, homes, condos, rooms for rent, you name it! It even lets you book activities and experiences. Furthermore, Airbnb is a great way to earn side income.
The company has a critical mass of both renters and listers. It has 12+ million listings worldwide in 191+ countries. And, it boasts 150+ million active users.
2. Booking.com
Priceline's entry into the vacation home rental market comes in the form of Booking.com Apartments and Booking.com Vacation Rentals.
Booking.com may not be the first site that comes to mind when you think of vacation rentals, but it now features 5 million homes and apartment listings (i.e timeshare, service apartments, etc).
That makes it the largest platform for vacation rental listings.
You can find listings at either of the specialty URLs above, or simply go to Booking.com and filter for apartments or vacation rentals.
3. Expedia
The competitor to TripAdvisor is Expedia and its family of vacation rental companies.
These include VRBO, Homelidays, and VacationRentals.com. In total, this portfolio of sites holds over 1 million property listings in 190 countries.
You can access these properties through the Expedia Vacation Rentals site. But let's also take a closer look at the sites it owns:
4. VRBO
The acronym stands for Vacation Rental By Owner and it's a powerful name in the vacation rental industry.
VRBO has more than 2 million listings, focusing on entire homes and apartments. The site has been around for ages, having been founded in 1996.
5. TripAdvisor and Its Family of Sites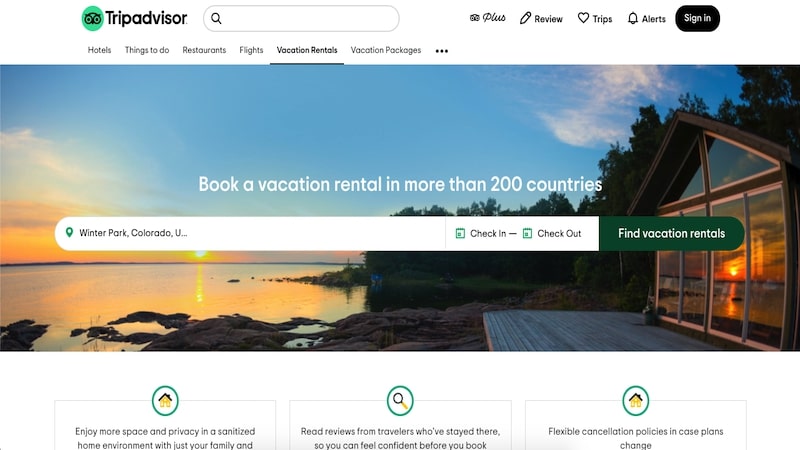 While many users may be familiar with TripAdvisor for its hotel and attraction reviews, not many know of its entire family of websites.
Many of them are vacation rental sites, including FlipKey, HolidayLettings and HouseTrip.
Collectively, TripAdvisor Rentals includes 830,000 properties in over 200 countries and averages 390 million unique monthly visitors, according to the website.
You could access the main TripAdvisor rental website, but let's take a deeper dive into its specialty sites.
6. FlipKey
FlipKey has 300,000 properties around the world, but some are only bookable directly with the owner offline.
The site gets 19 million visitors per month.
7. HouseTrip
Similar to Holiday Lettings, HouseTrip features 130,000 active European vacation home listings.
Today, the site's language indicates a focus on European rentals, but you can access the entire database of TripAdvisor properties here.
8. Couchsurfing
Moving outside the realms of Expedia and TripAdvisor, Couchsurfing provides a twist on vacation rental sites in that the situations listed are free!
The site connects travelers with hosts who have a free couch to let others crash on. Sometimes you even get your own room.
Many fans of Couchsurfing like the idea that they get to build relationships with locals and see how they live.
You'll have to pay a $60 lifetime verification fee to join the platform. But the site has over 14 million users and 400,000 active hosts, so you're sure to find somewhere you want to stay, as long as you don't mind sharing your space.
9. Home Exchange
Home Exchange is a platform that allows you to exchange your home for someone else's in another part of the country or the world.
Rather than paying to stay in these homes, you do a straight-up home swap. Home Exchange lists more than 450,000 homes in 159 countries.
To join the site, you will have to pay $175 a year, though.
10. Wimdu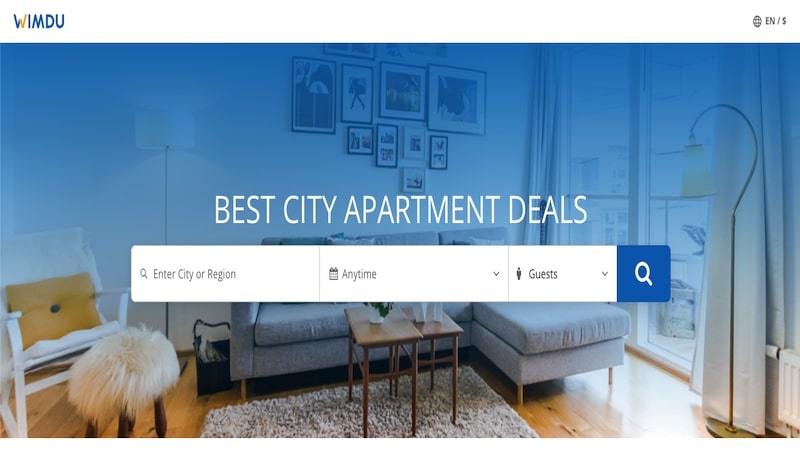 Founded in Berlin, Germany, Wimdu is a global vacation rental platform with 350,000 property listings in 150 countries. Think of it as the European version of Airbnb. You get worldwide listings from a European rental broker.
Vacation Rental Basics
There are two types of vacation rentals on the market. You can rent a whole home or rent a room in someone's home.
If you're renting a home outright, you're getting a unique experience. Whether it's with a group of friends or a large family, you can have the space to get everyone under one roof.
These homes could be condos, cottages, apartments, or single family houses.
If you choose to rent a room inside someone's home, you'll typically be staying with a host.
The benefit of that is you can get great insights, suggestions, and travel advice on how to visit like a local.
Of course, expertise varies. But more often than not, you're getting a jump start on understanding the local culture from a live-in host.
Understanding the difference between these two options will help you to figure out what type of vacation rental will suit you best.
Summary
Whether it's a house, condo, apartment, or cottage, renting a vacation home can lead to a once in a lifetime experience.
Not only are you staying in a unique setting, the location could lend itself to more impactful cultural experiences than you would have staying in a regular hotel.
Just remember to follow the steps above to protect yourself from unscrupulous landlords and take the time to research the best places to find a vacation rental.