There are a number of places where you can buy tires easily. Convenience can cost a pretty penny, though, and you'll want to make sure the tires are of good quality.
There's no way I would skimp on quality when it comes to tires.
So, where should you go for the best prices, sweetest deals and best track record?
Consumer Reports polled over 50,000 subscribers who purchased tires and came up with a list of 33 retailers who had the best and worst tire change services.
After looking at that, we've created a list that only includes the best places to buy tires at an affordable cost.
Best Places To Buy Tires Near You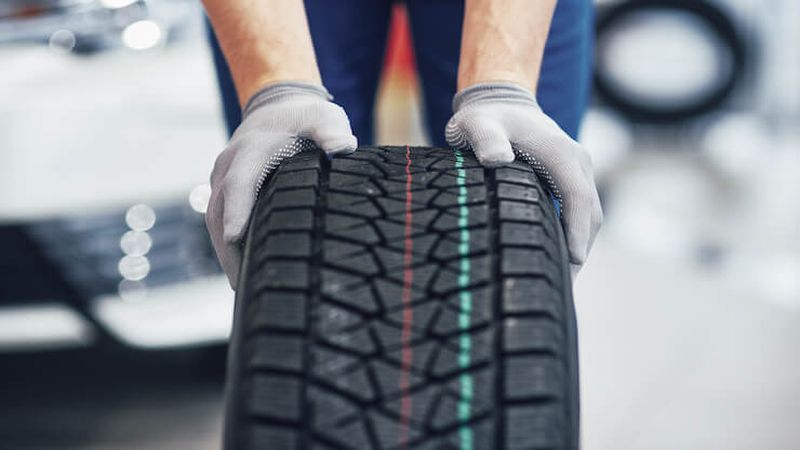 Discount Tire, Goodyear, and Costco top the list for the best places to buy tires and have tires installed. They carry a large inventory of tire brands and tire sizes.
Even if your tires just have low tire pressure, most of these places will fill your tires for free.
1. Discount Tire
Discount Tire gets high marks from users for its fair prices and easy payment plans. It has free Wi-Fi while you wait, too. Customer service, however, was ranked lower.
Still, according to reviewers on ConsumerAffairs.com, many have experienced the best bang for their buck with Discount Tires.
That's not to say that their tires are not expensive, though. The average cost for a brand new set of four tires comes in at $500+.
Within the past 18 months, Discount Tire has initiated a payment plan for those who need a little extra time to pay for their brand new wheels.
2. Goodyear
Goodyear has been in the tire business since 1898; 60 years after Charles Goodyear discovered a process manufacturing rubber suitable for intense use.
If you're a football fan, you've surely seen the famous Goodyear blimp flying over games. But Goodyear's main claim to fame is selling quality tires.
The average price per good year tire comes in at $178. However, much of the reason for higher average tire prices lies in the fact that Goodyear offers a lot more choice.
They've got a lot more higher end and performance tires for auto needs of all kinds.
You can find Goodyear tires at Goodyear stores or at a variety of other tire retailers such as Walmart.
3. Big O Tires
Big O Tires is the second largest tire retailer in the country. It's helped millions of Americans since 1962 and has some of the most affordable options for tires.
The average cost is $168 per tire. Most tire sets purchased with Big O Tires have allowed users to get up to 60,000 miles of wear and tear.
Similar to Discount Tire, Big O Tires offers a payment plan for buyers who need more time to pay for tires.
According to WalletHub, it's not a terrible deal, especially if your credit score is lower than the average American's. You need only a fair credit score in order to qualify.
But don't let that excite you too much. Late fees are set at $38 a pop and the average interest rate is 16%. Ouch.
4. Sam's Club
Shopping at warehouse clubs can save you big money. And Sam's Club offers great deals for tires for your car.
The average price per tire hovers around $155 dollars. Note that you have to be a Sam's Club member to shop for tires here.
All Sam's Club tire installations include 24/7 roadside service for tire issues, tire waste disposal, and lifetime balance, rotation, and flat repair.
5. Costco
Affordability is the most common concern for Costco shoppers.
The average price per tire comes in at around $160, bringing Costco's total in at $600+ for a new set of tires, according to Consumer Reports.
For the average shopper, this is a bit steep. But in return, you get the convenience of dropping your car off while you shop for bulk grocery items.
Top Places to Buy Tires Online
Many larger franchise tire centers and retailers offer monthly deals. These deals typically involve purchasing three tires and getting the fourth free.
Look for %-off discounts around various holidays, too.
The best time generally to purchase new tires is between April and October, especially during the summer months. The year-end holidays are another time to look for specials.
Here are some retailers and franchisees who have the best deals running throughout the year.
6. TireRack
Tire Rack operates much like TireBuyer.com. The difference here is that the rebate deals are offered directly by tire manufacturers such as Goodyear and Michelin, as well as some smaller shop franchises like Firestone.
These rebates require you to mail in your information instead of filling it out online.
Mailing in your rebate means it may take longer for your "money saved" to truly feel like it's been saved. This doesn't mean it isn't worth it, however.
Tire Rack also has some deals where you can get a Visa gift card with your purchase.
7. Priority Tire
Priority Tire works a bit differently than some of the other tire companies listed here. They sell brand name tires directly to you at prices of up to 55% off retail.
The tires ship directly to your house, then you can bring them to your favorite tire shop to have them installed.
Priority Tire sells top brands such as Goodyear, Firestone, BF Goodrich, Bridgestone, and more.
The company ships all orders to the contiguous 48 U.S. states for free. They provide a 90-day return policy for unused and unmounted tires as well.
If you live in Allentown, Pennsylvania, or Dallas, Texas, you may be able to pick your tires up on the same day you order.
However, there is no discount for pick up as opposed to having them shipped.
8. SimpleTire.com
SimpleTire is an online tire retailer that was born out of years of experience in Josh and Andy Chalofski's family tire installation business.
The brothers knew that their family's brick-and-mortar business could grow exponentially in the e-commerce world, so they founded SimpleTire.
SimpleTire carries over 300 brands of tires. You can browse by brand, by tire size, or browse SimpleTire's coupons and deals section.
SimpleTire is easy to use: Find your tires using the SimpleTire link above. Schedule your install at a partner service center near you–or have the tires shipped to your home.
SimpleTire offers flexible payment options to help any budget. Non-mounted tires can be returned within 30 days of purchase.
9. TireBuyer.com
Like Discount Tire, this online retailer has a search tool that lets you set specific parameters around the kind of tires you're looking for, including an average price based on your make and model.
Where Tire Buyer differs is that besides delivering a full set of results that you can choose from, it also offers a limited set of recommended tires.
It says it chooses these recommendations based on 120 different characteristics, including best sellers in your area, customer reviews, performance characteristics, mileage warranty information and value.
Bonus: They are currently offering 10% off on any set of 4 tires through this link!
10. Amazon Tires
Amazon sells pretty much everything under the sun these days, including tires. You can purchase any type of tire imaginable from its online inventory.
Amazon Prime customers, in particular, can score some fantastic deals. The lowest price for a tire is $26 — talk about a deal!
The biggest downside to purchasing tires through Amazon is the amount of searching you'll have to do.
The parameters to help you narrow down results are nowhere nearly as detailed as they are on other tire retailer websites.
Regardless of this, Amazon offers big money-saving opportunities.
Tire Installation Costs
Tires are only part of the cost when you take steps to replace your current tires.
It's important to keep in mind, too, that mechanics will charge to align the tires, dispose of the original tires, and put your car back together if the seats were taken down.
Whether you pay a mechanic or have a shop install the tires for you, it's best to remember that you'll be spending more on the entire process than just buying the tires.
Related Post: 15 Ways to Sell Old Car Batteries for Cash
How Do These Tire Companies Compare
| Company | Trustpilot (Out of 5 Stars) |
| --- | --- |
| Discount Tire | 3.6 |
| Goodyear | 2.1 |
| Big O Tires | 1.9 |
| Sam's Club | 1.6 |
| Costco | 1.5 |
| TireRack | 4.8 |
| Priority Tire | 4.5 |
| SimpleTire.com | 4.1 |
| TireBuyer.com | 3.2 |
| Amazon Tires | 1.9 |
Frequently Asked Questions
Summary
The price of car tires and installation has changed over recent years as tires have become more complicated. Tires now expire in six years.
While it's not illegal to keep older tires, many shops will refuse to repair them if they're damaged.
There's no way around it: Good tires are expensive.
Discovering new ways to save on big-ticket items like new tires is valuable for those on a tight budget or anyone who just doesn't want to spend a lot on tires.
Some of the best ways to save money on your new set of tires are to time your tire purchases between April and October.
Then look for retailers offering installation deals, speak to your local shop mechanic when that doesn't work, and do your research before you buy tires for your vehicle.
Sources: Consumer Reports