What's one thing that cars, semi trucks, and buses all have in common? They all have tires that need to be regularly replaced.
Instead of hauling your tires off to the landfill, you might be able to recycle used tires for cash. In addition to not filling up your local landfill as quickly, you also become a little richer.
Recycling used tires might not be a side hustle you've ever thought about before. Whether you're looking to sell the old tires from your vehicle or you want to launch a new business, these tips can help.
Who Can Recycle Used Tires?
Anybody can recycle used tires but there are a few tidbits you must be aware of:
Many states require a special license if you recycle at least five tires per year
Every state charges a tire disposal fee
You will need to factor these potential costs into your profit margins if you plan on recycling tires for others. If you only plan on recycling tires from your own car, you don't have to worry about getting a special permit.
You will also need a truck or trailer to haul the tires away. To maximize your profit, you will need to haul as many as possible to earn the best recycling rate and to maximize your time.
Where to Recycle Used Tires for Cash
The classic slogan for recycling is "reduce, reuse, recycle." As you will see, recycling used tires can take many different twists as turns for how they will be used in their next life.
Not every recycling option involves taking the tires to a processing plant to be reshaped into a new product. If the tire has sufficient tread or the rubber is in good condition, another person can use it for their vehicle.
1. Sell Locally on Craigslist
The easiest way for anybody to recycle used tires is to sell your tires locally on Craigslist and these Craigslist alternatives. Single tires can sell for between $30 and $75 each on Craigslist.
This can be a good option if your tires still have some tread remaining as the buyer may not be able to afford brand new tires.
If the tire is still installed on the metal rim, you might be able to earn more.
Additionally, consider listing on Facebook Marketplace which can also have a wide reach. In particular, this platform can be more effective in rural communties that may not have their own board. It's free to list and you can offer porch pickup.
2. List Your Tires on a Specialized Tire Classified Site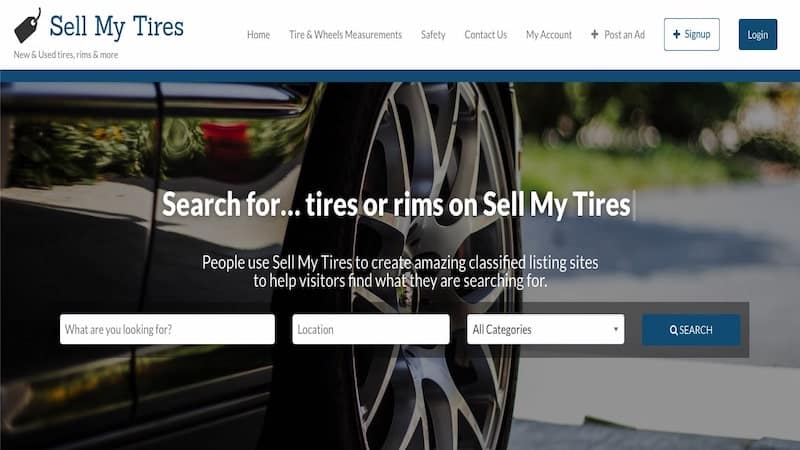 You can list your tires on a specialty site like Sell My Tires. This is a good option if the tires can still be safely used by the next buyer. You earn some extra cash and the buyer saves money, it's a win-win solution for both parties.
It's possible to fetch more income if you also sell the rims with the tires attached. Be sure to note as many details about the rims as possible. For example, they might have tire pressure sensors equipped or are a custom design.
Listing your used tires on as many platforms as possible also increases the chances of making a sale sooner rather than later.
Specialized platforms can be a more trustworthy way to sell less common tires for sports cars and trucks than local buy and sell apps. Be sure to use clear descriptions, include many pictures and also mention the payment options to attract more buyers.
3. Sell Used Tires to Your Local Tire Shop
If a tire store near you sells used tires, they might buy your used tires from you. The tires will still need to have sufficient tread life remaining.
Since the tire shop still needs to make a profit, you probably won't earn as much per tire as selling them yourself to a private buyer. However, it's still more money than you had before.
You may have the most success by trying local tire shops that specifically advertise selling used tires. They may also have a sign stating "We buy tires and rims" just like places to sell gold locally.
If you just bought a new vehicle and are swapping the wheels out, you can also ask your preferred tire shop if the tires are still in "like new" condition. The shop might make an exception as they know the tire history and can probably sell them quickly.
Unfortunately, "big box" tire stores are highly unlikely to buy tires from individuals. However, you can try asking their staff for recommendations and potential leads.
4. Haul Away Used Tires from Local Tire Stores
If you don't have a collection of used tires already but have access to a truck or trailer, you can get paid to haul used tires away from local tire dealers.
Tire shops can't throw old tires away in the dumpster that their regular garbage goes into. They must either haul the tires to the landfill or hire somebody to do it for them.
In most cases, it's more cost-effective to hire somebody to recycle their used tires for them.
You can ask your local tire shop how much they currently pay to dispose of their unwanted tires. If you can haul them away for a more affordable rate, you can create a steady stream of recurring income.
If you plan on taking tires to your local landfill, you will have to pay a disposal fee for each one. Municipal landfills charge fees because they must pay another company to haul the tires to a large-scale recycling center.
This could be a good option if you want to reuse the tires for an outdoor project like a playground, tire swing or flower planters.
5. Sell Your Tires to a Retread Facility
This option is especially popular with truck tires used for 18-wheelers. The tire and rim will still need to be repairable to make money from this option. If your tires meet the retread facility's criteria, you're in luck.
Some of the largest tire retread companies include:
In addition to these three companies, you can also find a local retread buyer using the Retread Tire Buyer's Guide.
You can expect to get paid up to $40 per accepted tire. How much you get paid depends on the overall quality of the tire remaining. Some retread facilities might even accept non-repairable tires and pay you money.
6. Visit a Tire Recycling Center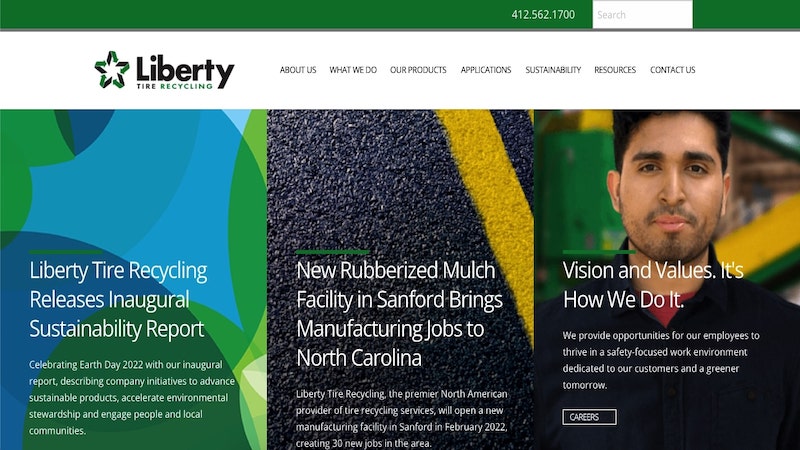 Whether you have one tire or one hundred tires, your local tire recycling center is where you can take them to begin the recycling process. This is the best option for unusable tires because you'll still get paid for each tire.
Liberty Tire Center is the largest tire recycling center in the United States. You can also find a local tire recycling center by typing "tire recycling centers near me" into your favorite search engine to find more possibilities.
Not every recycling center pays cash, so call ahead to find out if one of your local centers does.
If a recycling center isn't nearby, you can also consider taking them to your local landfill or tire shop which has a relationship with tire recyclers. However, you may need to pay the disposal fee that the recycler charges them.
7. Recycle Used Tire Rims For Cash
If your local tire recycling center doesn't pay you to recycle used tires, don't forget you can still make money by selling your used tire rims for cash. This is because you can still make money by recycling aluminum.
In case you didn't know, aluminum is the most common metal used to manufacture tire rims.
Head to your local scrapyard and your payment depends on the rim weight and current scrap prices. If you're not in a hurry to sell, you may wait for scrap prices to be on the higher side of average and you have more time to accumulate more metal.
8. Retread Your Old Tires
Although you probably won't make money from this suggestion, you can save money by retreading your current tires. Retread tires are cheaper than buying new tires and you can also help out the environment by reducing landfill waste.
If you own semi trucks or heavy equipment with tires that can be retreaded, this can be an easy way to reduce operating expenses and boost your bottom line.
This strategy usually isn't worth it for standard passenger vehicle tires as the potential savings are not worth the effort.
After all, you are not required to make as much money if you spend less each month. As Ben Franklin would say, "A penny saved is a penny earned."
9. Sell Tires to a Business That Repurposes Tires
If your tire can no longer be used by a vehicle, you may want to look into selling it to a company that needs tires for other purposes. Depending on the business, they may even pick them up from your location.
Some companies use tires to make athletic shoes, playground mulch, tar and much more. The possibilities are endless.
If you live in a rural area, farmers might be willing to buy your tires as they may use them around the property as weights or bump guards.
You might only be able to receive "scrap value" for your tires which can only be $3 per passenger tire. Despite the reduced income potential, you're giving them a second life.
10. Create Arts and Crafts from Used Tires
If you're artistic, you might be able to repurpose used automobile and bicycle tires for handmade arts and crafts. The options can be limitless.
For example, the Alchemy Goods Belltown wallet is made from upcycled bicycle inner tubes and is now the best-selling minimalist wallet.
You can sell your creations locally or online. Maybe you've driven by someone's house and seen a tire used for lawn art or a children's tire swing. The person may have made the item themselves or bought it from an artisan.
Some of the grander ideas can include:
Outdoor furniture
Garden planters
Dog beds
Trash bins
Wreaths
Because of the weight, you will only be able to sell your creations locally as shipping costs will be astronomical for large items. However, crafts made from lightweight bike tires can be an excellent thing to sell on Etsy and similar online platforms.
FAQs
These are some of the most common questions about recycling used tires for cash.
Is It Legal to Recycle Used Tires for Cash?
Yes, but you should check your local regulations to see if you must acquire a business license or special permits to recycle used tires.
What's the Most Profitable Way to Recycle Used Tires for Cash?
The most profitable way to recycle used tires depends on the quality of your tires and the local demand. You will make the most money if you have tires that can be used "as is."
Does Every Tire Recycling Center Pay Cash for Used Tires?
No. In fact, you may have to pay the tire recycling center to recycle your used tires. You're less likely to pay if you have specialty tires or truck tires in good condition.
Can I Recycle Used Tire Rims for Cash?
Yes, in addition to making money by recycling your used tires, recycling the tire rims is another income stream.
When is the Best Time to Recycle Used Tires?
In general, August and September are the two highest-paying months if you want to sell your tires to a recapping facility.
Can I Start My Own Tire Recycling Business?
Anybody can start their own tire recycling business. It's a great side hustle if you own a truck or have a warehouse to store used tires until you have enough to make the trip to a recycling center worth the drive.
Can You Recycle Tires for Free?
In many cases, you or somebody else has to pay a fee to recycle tires. This disposal fee is a state-mandated fee that funds the tire recycling process for local and state governments.
Summary
Most people don't think you can recycle used tires for cash. Recycling used tires in usable condition or can be recapped make the most money.
Regardless of how many tires you plan on recycling at once, explore all of these options to make the most money per tire.