Looking for the best places to buy a used cell phone? Look no further.
Nowadays, a shiny, new flagship phone can burn a hole in your wallet.
Look at the iPhone 13 Pro Max and the Samsung Galaxy S21 – you're paying over $1000 for all the features packed inside each phone.
Not to mention the cost of the on-going cell phone plan. However, gently used phones are sold at a more affordable price.
Fortunately, there are plenty of sites that will sell you a used phone at a budget-friendly (or friendlier, at the very least) price.
Top Sites to Buy a Used Cell Phone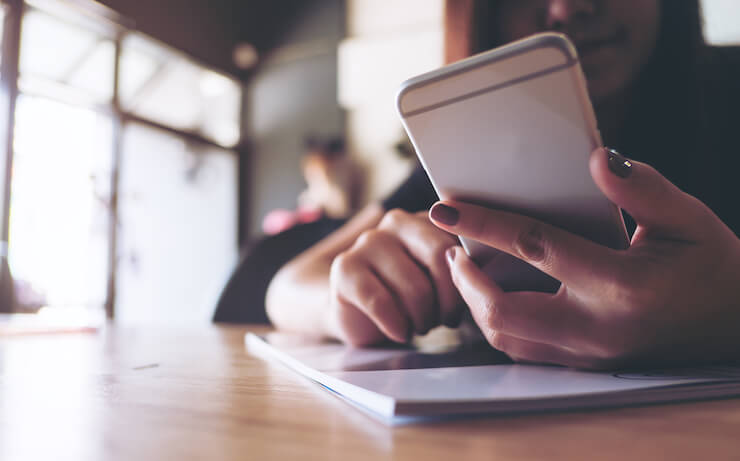 Below are the top most-trusted sites for purchasing a used cell phone.
Read on to discover which one is right for you.
1. SellCell
Want to compare all sellers in one place? SellCell compares sites like Amazon, DeCluttr, Gazelle, and more.
SellCell is known for selling your phone but is also a place you can purchase a phone.
In addition, SellCell provides a Trust Pilot or Better Business Bureau review with each seller. They also offer financing.
In the example below, we looked for an Iphone 11 and found the following
2. OCBuyBack
OCBuyBack has a great customer service rating. However, you may not find the expansive range of used cell phones to choose from that you might find with other sites.
You can find both Apple and Android phones for sale on OCBuyBack. Some phones are locked and some are unlocked.
All phones sold on OCBuyBack come with a 6-month warranty. Warranties include product defects or malfunctions independent of your use.
See the OCBuyBack website for full details on the guarantees.
OCBuyBack has a 30-day return policy as long as the phone is not damaged.
You'll find that prices for used phones on OCBuyBack are mid-range compared with other sites.
3. Decluttr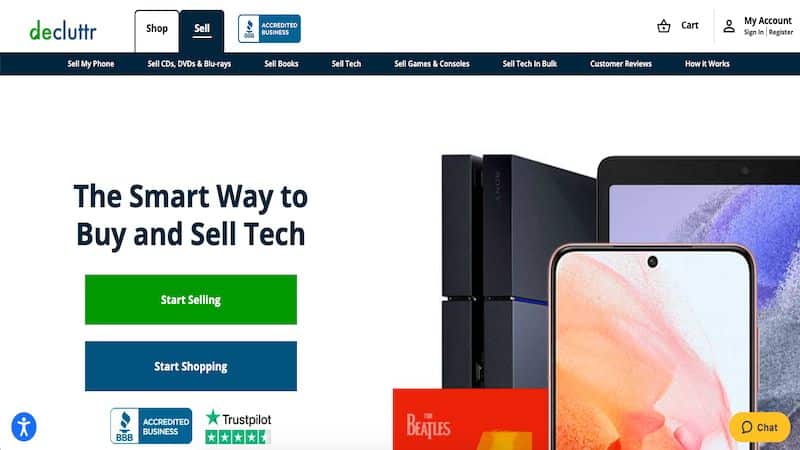 Decluttr is a site that will happily sell you its used phone inventory.
The used phone selection at Decluttr is far more affordable than what you'd pay for a new phone.
However, the prices you pay on Decluttr are a tad higher compared to the used phone prices offered by eBay or Amazon.
However, what you are getting out of Decluttr is free tracked shipping on all technology as well as 14-day returns.
You also get guaranteed refurbished quality devices, and 12 months limited warranty on tech.
4. Swappa
Swappa is a user-to-user marketplace that ensures only gently-used technology is sold to buyers.
Not only will you be able to find more affordable prices by cutting out the middleman.
Furthermore, there are no selling fees, though buyers will have to pay a small fee that comes attached with the sale price.
5. BuyBack World
BuyBack World sells both Android and Apple cell phones. The condition of the phone is listed on the website listing: Average, Good, or Excellent.
Phones are extensively tested and certified, and function details are included with each listing. Some phones are unlocked, and some are locked.
BuyBack World offers a 30-day no questions asked return guarantee on Certified, Pre-owned devices.
If the phone you purchase is new, sealed, and in the box, you'll pay a 15% restocking fee.
6. Amazon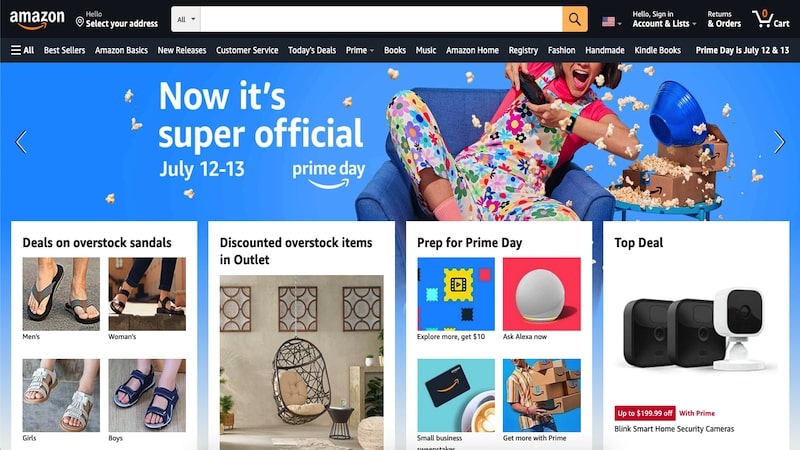 Amazon allows you to purchase used phones directly from manufacturers such as Samsung, Motorola, Apple, Huawei, or any local sellers.
Keep in mind that phones sold by Amazon are certified and backed by a 90-day warranty.
That means that if you find that the product doesn't fit the description or it encounters some type of failure, then you'll be able to replace the product.
However, the warranty only applies to Amazon certified refurbished phones, and warranties on other phones will vary by the manufacturer or seller.
7. Gazelle
Gazelle is one of the leading "reCommerce" sites around. The company purchases used smartphones and tablets from sellers.
Then they're inspected, certified, and sold to consumers at a more affordable price.
Products also receive Gazelle certification, meaning no contracts or strings attached.
Furthermore, each item has passed a 30-point quality inspection, and as the cherry on top, buyers have access to a 30-day risk-free return policy.
Special Offer: $25 off your first purchase of $250 with Gazelle.com
8. Walmart
Walmart sells a wide variety of used cell phones. All phones include Walmart's 30-day return guarantee.
Some phones are unlocked, and some are locked. You can get the Walmart Protection Plan for phones when you pay an additional fee.
Financing with Affirm is available on many used cell phones.
One nice thing about buying a used cell phone through Walmart is that they've got a wide variety of phones to choose from.
Note that some phones may be sold by third-party sellers. If that's the case, guarantee details may change.
9. Best Buy
Best Buy sells an expansive selection of used cell phones, both Android and Apple. Some are locked, most are unlocked.
Some are certified refurbished, some are not. Best Buy offers a 14-return period on used cell phone purchases.
Best Buy has a "Compare" feature that lets you compare more than one cell phone if you want a good look at available phones fitting your desired specifications.
Choose from available used phones at Best Buy store locations near you, or get your phone shipped. Shipping may be free if the purchase qualifies.
Best Buy's wide selection and competitive prices make it a smart place to look for used cell phones.
10. eBay
With eBay, you can purchase (or bid, if you'd like) with peace of mind if you follow the general guidelines and read valid reviews.
Always check the seller listing of the used phone for an uploaded, genuine photo of the phone, as well as an authentic, detailed description.
Benefits of Purchasing a Used Cell Phone
There are plenty of advantages to buying a used cell phone, including:
Saving Money
This is the most important point of buying a used cell phone. You can purchase a used cell phone for less than the price of a new phone.
For example, a Samsung Galaxy S7 edge with 32GB of storage can be purchased for $250 on Swappa used, when a new one would be priced at a little over $600.
The same goes for the following iPhones for example:
iPhone 12: $720 used, $829 new
iPhone 11: $395 used, $549 new
An iPhone X: $310 used , $499 new
Note: Price examples can change. Check with each site for best prices.
Environmentally Friendly
If a phone can be used, why toss it out?
According to the EPA back in 2014, approximately 416,000 mobile phones are disposed of each day, totaling to more than 151 million phones per year.
Purchasing a phone and then discarding it is harmful to the environment, so opt for a used phone.
Less Stress
This is more dependent on the person, but when a used phone isn't nearly as expensive as a new phone, you're less likely to experience anxiety when damaging the phone.
In fact, a used phone is a great option for a child, as the most predominant age children receive their first cell phone is 10 years.
What to Consider when Purchasing a Used Cell Phone
There are several points to consider when purchasing a used cell phone, such as the:
Condition
What is the condition of the phone? Is it in poor, fair, very good, or like-new condition?
Be sure to review photos, description, and any certification closely to make sure you know what you'll be getting.
Price
Compare prices of the specified used phone among various sites to make sure you're saving the maximum amount possible.
Warranty
Without question, a used phone should have a warranty. Make sure to investigate the details of the manufacturer's or store's warranty.
For example, a refurbished iPhone purchased directly from Apple will come with a one-year warranty.
Activation
Is the phone locked or unlocked? If you purchase the phone locked, you may have to do some additional legwork to unlock the phone.
We recommend selecting an unlocked phone, which provides you with optimal flexibility and allows you to save more by switching to a low-cost carrier like Mint SIM or US Mobile.
Some carriers may even offer free cell service. Make sure to read the fine details to get the best deals.
Frequently Asked Questions
Summary
While all these sites are great to use during your hunt for a used phone, to save time and money, we'd recommend using SellCell
There, you'll be able to compare prices on popularly used phones, which typically allow you to save an extra $50 on your purchase.
Furthermore, for maximum frugality, once you're finished with your old device, you can sell your old phone for cash online.
Rob Webber has contributed this article. He is the Founder of MoneySavingPro.com and a Forbes contributor. He has 10 years experience helping consumers save money on their cell phone, TV & internet bills.