According to FRED (Federal Reserve Economic Data), the total amount of student loan debt continues to rise every year. This reality can be discouraging to students and their parents.
But what if there was a way to speed up the process of repaying your student loans using your spare change?
This is the exact solution that ChangEd offers. If you want to know if this app can help you pay off your student loans faster, our ChangEd review can help.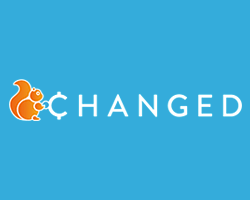 Summary
ChangEd is an app that helps you pay down student loan debt faster by rounding up purchases and providing other effortless ways to put more money toward your student loan balances.
Rewards earning options

4.2
Pros
"Set it and forget it" concept
Adjustable settings for almost every budget
Works for nearly all types of student loans
ChangEd funds are FDIC insured
Cons
Auto-roundups could cause budget hindrances
Small monthly fee to use the app
No other advisory features
What is ChangEd?
The ChangEd app is a tool that allows you to round up your spare change and apply it towards student loans. ChangEd is on a mission to make student loan debt payoff faster, more effective and pain-free by using your everyday spending habits.
The app made its debut on season nine of Shark Tank and was backed by Mark Cuban. To date, this app has helped members pay an additional $23 million in early student loan payments.
In fact, ChangEd reports that the average user can reduce their loan repayment time by four to five years and save as much as 30% in interest.
Anyone with a bank account and a student loan can use ChangEd. There are no qualifications, like credit or income, that members have to meet besides having a loan to pay down and a bank account to link.
In addition, ChangEd supports any federal or private student loan, including loans in collections and loans in deferment.
The ChangEd app is available in the Apple App Store and the Google Play store.
Keep in mind that ChangEd only supports student loans as of this writing. However, the company is actively working to support the payoff of all loans and debts in the near future.
How Does ChangEd Work?
With ChangEd, you can securely and effortlessly save extra money that will be used to pay off your student loans early.
ChangEd's concept is brilliantly simple:
Link your loans and checking accounts to the app
Spend as you normally would
ChangEd rounds up purchases to the next dollar
All roundup monies are applied as extra payments to your loans
Your $3.55 purchases will be rounded up to $4.00. Or, your $9.01 purchase will be rounded up to $10.00. Each purchase will help you save money toward eliminating your student loan debt faster.
Plus, ChangEd automatically sends the money you accumulate from your roundups directly to your student loan provider for you in the form of extra payments.
How Much Does ChangEd Cost?
ChangEd charges a small monthly fee of $3 for each account. The monthly fee comes right out of your ChangEd balance. This means that you don't have to worry about keeping track of another bill.
The fees that ChangEd charges cover the costs to transfer the money to your ChangEd account and pay for ChangEd's operating costs.
There are no other fees associated with ChangEd.
Key Features
ChangEd has a number of perks that make it easy for you to pay down your student loan debt faster. Here are the details on some of ChangEd's most popular features.
User-Friendly Interface
The ChangEd app is user-friendly and has the option to be completely automated.
The "set it and forget it" interface allows you to link student loan accounts and bank accounts, then let the app do the rest. This can include transferring money into your ChangEd account to make those extra payments.
Additionally, you can easily see your current ChangEd balance, your transfer progress and how much you're saving with each extra payment the app sends to your student loan servicer.
Adjusting the features on your ChangEd account is easy as well. User-friendly prompts can help you set up your account in the way that's most beneficial to you.
Optional Extra Payments
Along with the automatic roundups on purchases that ChangEd saves for extra student loan payments, ChangEd features a feature called "BOOST."
With BOOST, you can make an additional transfer to your ChangEd account at any time. You can make one-time transfers with BOOST or set up automatic BOOST transfers.
Automatic BOOST transfers can be set up to occur daily, weekly, monthly or to coordinate with your pay periods.
All funds transferred via the BOOST feature go directly into your ChangEd account to make extra payments on your loan.
Affordable Maximum Transfer Amount
One nice feature ChangEd has is that it will never transfer more than $10 per day with the automated transfer feature.
This affordable limit means you won't have to worry about excessive amounts of money leaving your bank account or sending more money than you're comfortable sending to ChangEd.
PERKS Rewards Program
ChangEd's PERKS rewards program can help you to earn extra money to put toward your student loan debt.
You earn points in the PERKS program when you refer family members and friends who open ChangEd accounts.
You can also earn points when you reach milestones during your debt repayment journey.
The points that you earn never expire, and they give you entries into ChangEd's weekly raffle drawing.
All weekly raffle drawing winners get a free loan payment on behalf of ChangEd.
Credit Card Linking
Another great feature of ChangEd is that, along with linking your debit accounts, you can link your credit card accounts.
ChangEd keeps track of and rounds up purchases made on the credit cards you link. The roundup amounts are then credited to your ChangEd account for extra loan payments.
The only difference is that the roundup amounts aren't added to your linked credit card balance.
Instead, ChangEd tracks the total and then takes the roundup total out of the bank account you have linked to your ChangEd account.
By taking the roundup amounts out of your linked bank account instead of adding the balances to your linked credit card, ChangEd helps you avoid accumulating more debt.
Savings Speed Adjustments
ChangEd has a feature called Savings Speed. Savings Speed allows users to choose from three different speeds of saving toward extra student loan payments.
These speeds include:
Budget mode
Standard mode
"All" mode
Each mode has different savings options that will determine how much money is withdrawn from your linked bank account.
Standard mode is the default. However, you can change your savings speed at any time. If you'd like to save more, simply switch to "all."
If you want less money drawn out of your bank account, switch to "budget" mode. You're in control, which means you can make the app work for any budget.
You can switch back and forth between the three speeds to help you accommodate for when you have a month that sees larger or smaller expenses.
Family & Loved Ones Can Participate
What's especially unique about ChangEd is that the loved ones you refer to ChangEd have two choices with the roundup money they collect using their ChangEd account.
They can put the money toward their own student loans, or they can have their roundup money go toward another ChangEd member's student loans.
For example, let's say mom, dad, grandma or Uncle Joe open a ChangEd account.
If they don't have student loans of their own, they can have their roundup money go toward your student loan balance.
This feature provides a great way for loved ones to help you or others reduce their student loan balances with minimal impact on their own finances.
Securely Links Accounts
ChangEd uses SSL technology to encrypt your information as well as Plaid to directly and securely link your bank accounts to your ChangEd account.
Also, the funds that are held in your ChangEd account are FDIC insured.
ChangeEd Reviews
When deciding if a service is right for you, knowing what other users have to say can be beneficial.
Here's how ChangEd ranks among the various rating websites:
Here are a few reviews about ChangEd from current and former users:
"The concept is great, and it's already helped me to easily and seamlessly make extra payments to my student loans just by rounding up spare change on my transactions." – Bronwyn Wright-Rivera
"It's a bit overly complicated when you could easily set up a Roundup account at most banks and dedicate a savings account to your student loans." – Talon F.
"This is a really great app. The way it shows you how much time saving the change from everyday purchases can shave off your student loan is really awesome." – Kim Singletary
"The app is ambitious, and I do believe it to be a great concept, however I have to constantly re-link my bank every week almost." – Christopher Thompson
Alternatives to ChangEd
If you aren't entirely sure about using ChangEd, there are other options to consider. Here's some information about two popular ChangEd alternatives.
Chipper App
The Chipper App helps you "chip" away at your student loan balances. The app does this by offering three different benefits for student loan holders.
First, after you've uploaded your student loan information to the app, it starts by helping you determine if you qualify for any student loan forgiveness programs.
Second, Chipper will help you discover the right student loan repayment plan for your budget.
These two features are how the Chipper app differs from ChangEd. However, Chipper also has a roundup feature that works much like ChangEd does.
You simply connect your credit and debit card accounts along with your student loan accounts to the Chipper app.
Chipper will round up every debit card purchase from your linked account and transfer the funds to your Chipper account.
From there, Chipper will make extra loan payments on your student loans. As of this writing, there are no fees associated with Chipper.
GradJoy
GradJoy lets you organize and pay all of your student loans using one simple app. Like Chipper, GradJoy helps you discover the right student loan repayment plan for your situation.
The app will also help you determine if you qualify for any student loan forgiveness programs.
However, there is no roundup feature with GradJoy.
As far as costs go, the site isn't clear about how much it will cost you to use GradJoy.
FAQ
If you still have questions about ChangEd, these answers might be able to help.
When is money transferred from my bank account to my ChangEd account?
Your roundup funds are transferred from your bank account to your ChangEd account whenever the balance reaches at least $5.
When is money transferred from my ChangEd account to my student loan account?
Once your ChangEd balance reaches at least $50, the money will be transferred to your student loan account as an additional payment.
How long will it take for the extra payment to show up on my student loan account?
ChangEd works to ensure extra payments are applied to your student loan balance as soon as possible. However, it can take up to 10 business days before you see the additional payment on your student loan account.
What happens to my money if I close my ChangEd account?
The money deposited to your ChangEd account is held in an FDIC-insured bank account. If you choose to close your ChangEd account, all of the money held in your account at the time of closing goes back to you.
Summary
ChangEd is an app that can help you save money on interest and reduce the amount of time it takes you to pay off your student loan balances.
By using a simple concept of rounding up your debit and credit card purchases, ChangEd helps you put more money toward student loans and pay them off earlier.
If you are looking for a way to expedite your student loan repayments and save money in the process, ChangEd is worth considering.​​