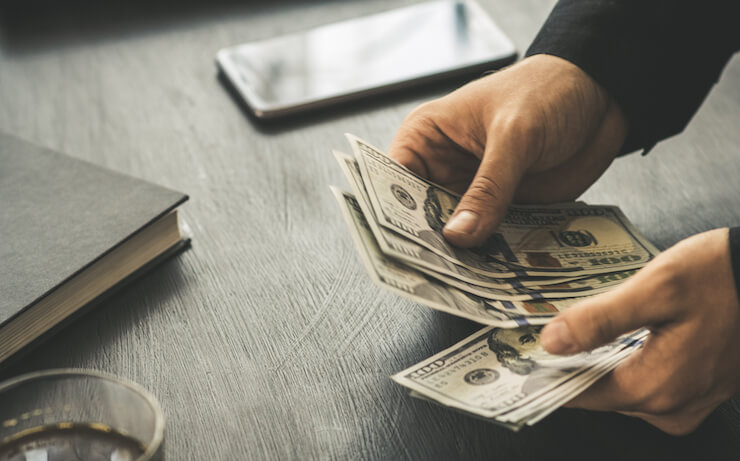 One of the ways we like to save money in our family is by using a Mason jar and throwing spare change into it. Anytime we pay cash for something, the resulting change gets thrown into the jar. Since the change is just a few cents here and there or the occasional dollar bill here and there, we don't miss it in terms of having money to spend, and we all like seeing the Mason jar grow fuller and fuller. Actually seeing the cash build up in the jar can motivate the whole family to add more to the jar.
There's something about seeing actual cash stack up in a jar that is incredibly motivating, much more than watching numbers on your online bank account screen. And it doesn't take long for the money to add up to big bucks when we use our secret savings weapon.
How to Save $1000 in a Year
The first things we do to motivate ourselves to save money in our jar is to make a goal for the money we save.
Some of our goals for our Mason jar savings have been:
Taking a smallish vacation
Buying something new that we all want
Paying off debt
Each person or family will have a different list of goals for their change jar savings. We find it important to write down what we plan to do with the money each year as it really helps motivate us to save more. Keeping our goal in mind, we find ourselves doing things like using bigger bills such as tens and twenties so that we will have more one dollar bills to add to the jar.
That spare change can easily add up to a few hundred dollars a year, but then we give some extra "oomph" to our Mason jar by using it to do the 52-week savings challenge as well.
The 52-week Savings Challenge
It's easy, really. During week one you put $1 into savings, week 2 = $2 into savings, week 3 = $3 into savings, and so on and so forth. By the end of the year, you'll have saved $1377 dollars, not including any extra spare change you add into the jar. That's crazy!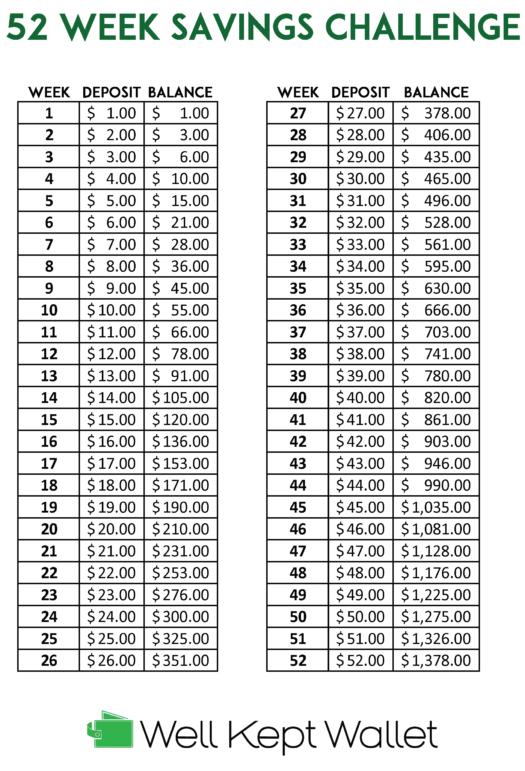 What if I Can't Save the Bigger Amounts Each Month?
This has been a problem for us too. In the last four weeks of the 52-week challenge, you'll need to put $202 into savings. Since our DTI is pretty high as we work to pay off our debt, saving $200 a month just isn't feasible for us sometimes.
So we get around that by making a chart listing each dollar amount that needs to be saved. We don't always go in order with our weekly savings amounts, but instead, we base our weekly savings amounts on what our expenses are during the month.
For instance, let's say we're on weeks 5, 6, 7 and 8. The total dollar amount to be saved that month would be $26. If it's a good month for us with not a lot of extra expenses, we might use the $52 week in place of the $5 week. That way the total monthly savings amount is manageable and we've got one of the bigger weeks out of the way. We also have the $5 savings week ready and available to save for a month when money is tighter.
It doesn't really matter so much that you go in numerical order when you save; what matters is that you're meeting each of the weekly savings amounts at some point during the year. The discipline is still there; you're just working the chart in a way that fits in with your particular budget needs.
How Can I Get Extra Money to Save if Things are Tight?
If money is super tight, you might need to look into some ways to bring more money into the house in order to meet the savings goals. You can find this extra money one of two ways:
Cut Expenses
Are there line items in your budget that can be reduced or eliminated so that you have more money to put into savings? Here are some ideas.
Cancel cable or satellite TV
Cut out the daily latte'
Lunch at work – can you brown bag it a few days a week?
Cut back on entertainment expenses by doing cheap or free stuff
Cancel magazine subscriptions
Ladies, do your manicures and pedicures at home
Decrease alcohol purchases
Cut back on clothing purchases
Shop around for lower life insurance rates with Policy Genius
Work to save money on groceries
Most people can find at least one or two areas in which they can cut expenses in order to have more cash to complete the savings challenge.
Increase Earnings
You can also increase your income in order to find more money to save for the challenge. Here are some ideas.
Ask for more hours at work if you're paid hourly
Get a second job for a short time
Sell stuff you have around the house that you don't use anymore
Pick up a side hustle or start your own business doing something you love
Take surveys online with Survey Junkie
Check out this post on 80 plus ways to make money for more ideas on how you can increase your income.
Summary
If you're looking for a way to really ramp up your savings, consider giving the Mason Jar Challenge a try. Although looking at the total dollar amount you'll save might seem daunting at first, the truth of the matter is that most people easily waste $1300 a year on little stuff and so as you put that money into savings instead, you'll likely hardly notice the missing cash.
And what's even cooler is at the end of the years you'll have several hundred dollars or more to do something really fun with.
So start dreaming big as you save small amounts. Picture that vacation to the Bahamas. Or that credit card finally being paid off for good. Or that emergency fund growing to epic proportions. Then set that Mason jar in a prominent place and start saving.
Have you ever used a spare change jar to boost your savings? What was the result?