If you're one of 80% of Americans who shop online, you know how great the prices can be. But life is busy. Without time to scour the internet for the best shopping websites, you might miss a low price.

Here to help is a list of discount websites where you can find the biggest deals.
Top Discount Shopping Sites
Who doesn't love a great deal? With so many ways to save money shopping online, never pay full price. Let's dive in!
1. SlickDeals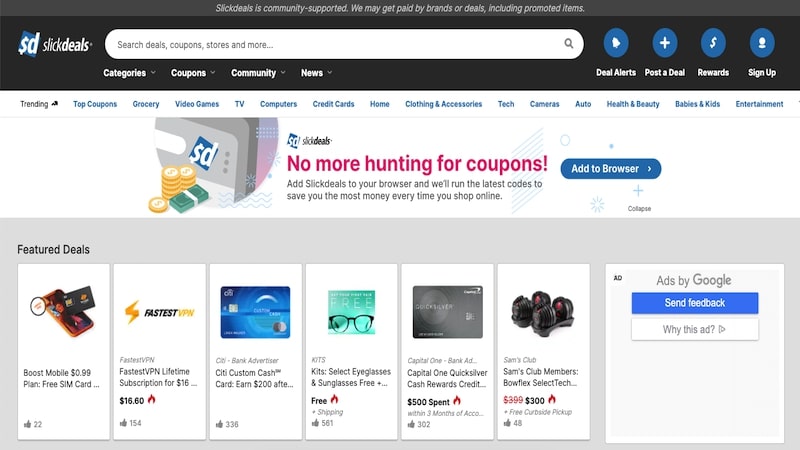 SlickDeals is an active community that shares deals from all over the web. They're also one of the best places to get coupons.
Members can add feedback and vote on their favorites. Then, a team of behind-the-scenes experts organize the offers and showcase them on the Frontpage.

Because the site reviews each opportunity, you know the offers are reputable. Plus, seeing the price alongside the product description and a link to read the reviews helps you find what you're looking for.

The downside is it isn't the most user-friendly shopping site out there. The Frontpage gives you a rundown of the biggest deals according to the community and deal experts, but it isn't intuitive.

A mobile app makes it easy to shop on the go. Whether you're in the comfort of your own home, watching your kid's baseball game, or on your daily commute, SlickDeals helps you get better prices on discounted products.
2. Ben's Bargains
If you love stores like Macy's, Old Navy, Best Buy, Gap, The Home Depot, and more, Bens Bargains is your go-to place. It receives multiple updates throughout the day, so you'll want to check back often.
Bookmarking a link to the site or signing up for their free Daily Deals email makes it easy to know what the latest deals are.
The main page lists the latest in deals, sales and coupons. In the sidebar, you'll find a list of categories and stores. Plus, the blog is full of money-saving ideas, product reviews, and tips to find the best prices on products.

Recognized as one of the Top 10 Websites by TIME Magazine, and by PCMag as a top 10 coupon site, it has quite a reputation.

The only negative is that it doesn't have a mobile app. Though shopping from your mobile web browser can remedy that.
3. Groupon
Groupon has discounts for services, entertainment, desks, sheets, travel, makeup, and more. Whatever you're looking for, chances are you'll find it at a lower price with Groupon.

The Deals of the Day section gives you a 24-hour opportunity to save even more on certain items. Keep in mind discounts change all the time, and they limit the quantities.

As one of the best coupon apps to save money, buying is a simple process. The layout of the site flows well, and finding things to do, spa deals, and travel getaways is a breeze.

It's easy to get swept up in the rush of money-saving madness. With so many awesome prices on everything under the sun, make sure it's something you'll use before you buy it.

Also, don't forget to read the fine print. For instance, some travel deals are only available on specific dates and product coupons might expire in a short amount of time.
4. Gazelle
To get used cell phones and electronics, you don't have to take a risk. Instead of wondering if it will work once you get it, shopping at Gazelle can give you peace of mind.

It has awesome prices on the latest gadgets. Whether you're looking for an iPhone, Samsung Galaxy, Google phone, iPad, MacBook or iMac, Gazelle simplifies it for you.
Shopping by price or device is possible and helps you find the best deal fast.

The electronics are given a rating according to what condition they're in. Even though you should know what you're buying before you spend your hard-earned cash, Gazelle has a 30-day guarantee.

If you want to return the item, call them or contact them through an online form within 30 days. You might have to pay a $15 restocking fee, but at least it offers protection.
5. Cashbackbase.com
Cashbackbase collects deals on Amazon products to help you save money. And who doesn't love saving money shopping at Amazon?

With Cashbackbase, you claim a deal and purchase it through Amazon. After that, you submit your order details to request a refund of the price difference with Cashbackbase.

The thing to remember is that any deal you claim disappears in just 30 minutes. Act fast or the offer will expire, and you'll miss out on the savings.

Cashbackbase also has a points system. Some purchases require you to exchange points to qualify for the advertised discount. If you refer friends and family to use the site, you earn points.

Getting paid is easy. They send any money you earn through PayPal. Payout isn't instant, and you might have to wait a few days before you see the money arrive in your account.
6. Brad's Deals
Brad's Deals is an excellent site to find big discounts and coupons on things you'd buy, anyway. If you're looking for big-ticket purchases like TVs, laptops, or lawn furniture, you can find it here.
But you'll also have access to clothing, handbags, accessories, shoes, charging cables, video games, and so much more.
Since they only curate great prices, they can't keep track of inventory. That's the only drawback to shopping here: sometimes stores sell out.
Signing up for the email will send the daily finds straight to your inbox. And if you check the site often enough, you may never miss a sale again.
7. Deal Spotr
Dealspotr features a central spot for social shopping. They claim to have a collection of over 10 million codes for 100,000 different stores to save you money online.
On the main page, you'll find quick links to the top codes of the day and exclusive deals you won't find on other online discount sites. If you're shopping for something specific, the search feature can help you find it faster.
Members of this site can post deals, coupons and promo codes. Once they're out there, the community verifies, filters and edits the ones you can see.
Watch for the fine print. Some codes are difficult to use and come with rules, exceptions or exclusions.
You can also opt to earn money by posting and validating deals for accuracy. Plus, referring new members can help you make money, too.
8. Offers.com
Offers.com is a no-brainer decision for online discount shopping. Their goal is to deliver promotions, coupons and codes to save you time and money.
Their site claims the average savings is $34 per transaction. That's more than just chump change.
With over 217,000 offers, the Offers.com team of experts makes sure each one of them work before sharing them with you.
All those deals means there's something for everyone. If you prefer to shop by category, seeking price cuts in their top categories, like automotive, baby and toddler, clothing, beauty and electronics is simple.
Deals by store are also available from places like Amazon, Groupon, Hotwire, Kohl's, Target and Motel 6, to name a few.
And the Holiday Savings Center aggregates top selections for Mother's Day, Black Friday, Cyber Monday, and other major holidays.
9. Hot UK Deals
Full of deals, vouchers and tips, hotukdeals brings genuine people together for honest advice and stories about products.
The main deals page shows you what's hot at the moment. Using the drop-down menu, exploring deals by department or retailer becomes an option.
Members vote on deals so you can know at a glance how great it is. When higher the temperature gauge, the hotter the deal.
Plus, the social aspect lets members add comments to each deal, letting you know if they've tried it and how it worked out for them.

This is a great site for those in and around the UK to find household treats, tools for the garden, gaming consoles and laptops, or to unlock the perfect gift for that perfect someone.

And that brings us to the only downside: It's a UK-based site which makes it hard for buyers in the U.S. to save big money with the site.
10. DealsPlus
Known as an "online community of bargain hunters," DealsPlus pools together top coupons and deals from over 15,000 stores.

The site goes beyond online shopping and lists significant in-store deals, too.

It adds in the ability to discuss the discounts you find with others, making it a place to share the best deals and coupons.

For an even more magnificent shopping experience the site lets you customize the shopping deals you see.

By following a user, your front page will show more deals they post. This way, you won't waste time tracking down their page to see what great offers they're sharing with the community.

Subscribing to your favorite stores will also curate them to your front page. But if you're more of an email person, signing up for their daily newsletter will send big deals to your inbox.
11. Woot
After looking at multiple daily-deal sites, Woot is one of the best. You might not know it's owned by Amazon. That means grabbing new deals is as easy as logging in with your Amazon account.
Though they once offered a deep discount on just one product per day, Woot now has several daily deals to pick from. But that's not all. You'll often find short-term sales to score big deals across their other categories of products, too.
Amazon Prime members get an extra perk of free shipping. If you're not a Prime member, your 30-day free trial includes all the privileges of Prime, and you'll get free shipping at Woot.
Speaking of 30-days, returning most purchases within that time will get you a full refund.
Shipping isn't the greatest. The wait isn't terrible, with most items shipping within two to three days after ordering. But without an expedited shipping option, you're stuck waiting for the item.
12. Hip2Save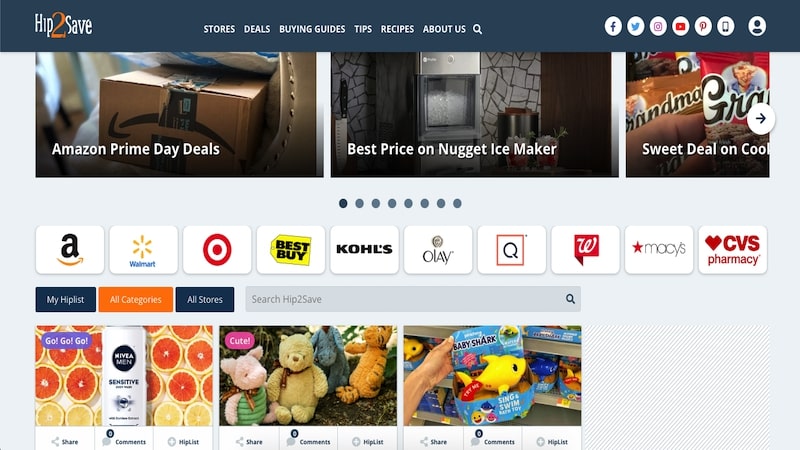 If you have a favorite place to shop, Hip2Save can help you rack up even more savings. With the ability to customize the bargains you see by category or store, it's easy to find hand-picked discounts on just what you need.
The site can feel a little overwhelming because they add frequent updates. There are thousands to sort through.
You can view the offers in list form or grid view to simplify your search. Using the grid layout appears to be the preferred option since it gives you a better overview of all the posts.
Advertisements are few, and that helps the site load without delay.
The freebies section is a great way to cash in without upfront spending. It alerts you to kid's events like free Marvel Avengers cinch bags at JC Penney and sweet treats like a free Ben & Jerry's ice cream cone.
13. TechBargains
TechBargains wants to help you get the best deals on everything. From the name of the site, you'd think the savings would center on tech products. But there's so much more.
From the hottest products to the latest gadgets, and even home goods, small business, and automotive products thrown in, they'll help you stay on budget whatever you're shopping for.
The team of experts behind the savings are called BargainMeisters. Each one works to make sure you never miss a thing. With their eye on coupons, price drops and new releases, they help you make smarter shopping decisions.
TechBargains has excellent customer service and encourages you to reach out. If you need a guide to pick out the best product for you, or have questions at all, a contact email is available for you to drop them a note.
14. DealNews
DealNews is a great place to start no matter what kind of discount you're after. They have everything from computers, TVs and GPS systems to clothing, groceries, and home and garden.
Each of the over 400 offers added each weekday is hand-picked by the team, so it's a legit deal.
When you find a deal and click through to see the details, you're met with everything you need to know if it's right for you. From the store where you can find it, brand and model number, and more information specific to each item.
On each page is a listing of deals similar to the one you're looking at. This is a way to discover other options available to make sure it's the best discount.
If you see something you want, waiting might mean you miss out. Deals that expire are hidden. That means if you go back to find what you were looking at, it might already be gone.
15. DansDeals
With credit card and shopping deals along with cheap tickets to your favorite destinations, DansDeals has what you need.
It's a big name in the world of discount online shopping.
Dan and JJ, the team working around the clock to bring you the best deals, post the best offers they find every day.
For instance, if you're looking for a hotel, their Hilton bonus will get you a great price plus additional points for even more savings.
Scoring a deep discount on the latest iPad Pro model can keep more money in your pocket, too.
For all the great shopping discounts, the one thing they're missing is an FAQ. Integrated forums to let you interact with other bargain hungers and reach out for help. But they don't dedicate a specific area to finding that information.

To stay in the loop, following DansDeals on Facebook, Twitter, or other social media will deliver instant deal alerts. There's also a daily email digest for a recap of everything posted in the past 24 hours.
16. DealCatcher
To cash in on offers at CVS, Best Buy, Groupon, eBay, or any of the over 3,500 retailers, DealCatcher can help.
As soon as you open the site, you can see the "Catch of the Day" and the most popular deals to help you save money right away.
One of the nicest options about this site when you're looking for an online sale is to search by store. And if you're looking for printable coupons to save in-store, DealCatcher has that, too.
Want a Vornado fan, Apple Watch, Robox 3D printer, M&M's candy, baking dishes or Xbox Live Gold membership? You'll find it and more at DealCatcher.
17. GottaDeal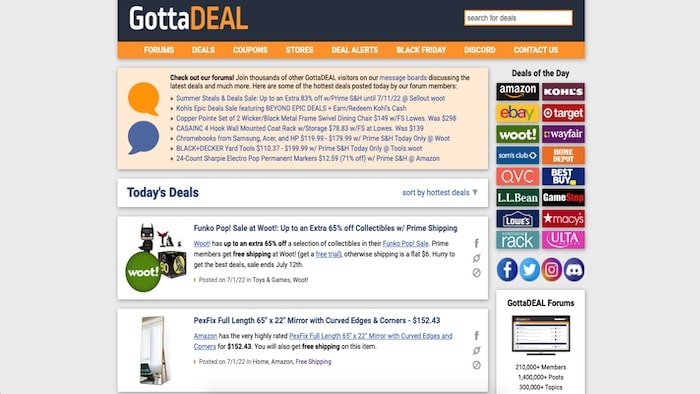 One of the most popular sites for deals and coupons, GottaDeal has been around the block and knows what you're after.
As a well-respected source of major discounts, their motto is "Why Pay Retail?" And it rings true. The category options are endless, allowing you to choose from clothing to patio furniture and beyond.
It doesn't end with promo codes. GottaDeal has quite a reputation for their coverage of Black Friday. The ads you wait for are sometimes available months in advance.

The layout of the website is easy to navigate and the mobile app makes browsing deals wherever you are a piece of cake.
Summary
It isn't always easy to narrow down the best price. Sometimes you stumble across a discount you can't pass up. Other times, it can take more time than you have to find a great deal.
These top discount sites can you save time and money. Keep this list handy – it's full of bargain sites you don't want to miss.