One challenge that often besets small business owners is finding the best email service. Some business email services are too large and costly for small business owners.
Others may not provide all of the features and benefits small business owners need. However, that has changed in recent years.
Top Email Services
Today there is a nice variety of email services geared specifically toward small businesses.
The providers here have different features that can help various kinds of small businesses.
Peruse the list below and see if one of these email services might work for your business.
1. ConvertKit
ConvertKit email service was created specifically for online business owners.
This company aims to help you grow your business using your email list. It uses forms, trackable data and email marketing automation.
The services ConvertKit offers are great for:
And other creative business owners. There are four ConvertKit email packages to choose from, and they're based on the size of your online business.
ConvertKit was founded by a blogger and course creator who couldn't find exactly what he wanted in an email service. So he built ConvertKit to help make business email more helpful for small business owners.
Here is a list of the various plans ConvertKit offers to small business owners.
Free Plan
If you have between 0 and 1,000 subscribers you qualify for this free package.
You'll get a lot for your money, including:
Email broadcasts
Unlimited landing pages and forms
Sell digital products and subscriptions
Community support
Do you want other features or have a bigger audience? ConvertKit has additional packages to fit larger small businesses.
Creator Plan
This package offers the same benefits as the smaller free package. However, it is made for up to 500k subscribers and offers additional benefits such as:
Free migration
Automated funnels and sequences
Live chat and support
You'll pay a varying amount for this plan depending on how many subscribers you have. But on the high end, you'll pay $15 per month for up to 300 subscribers.
Creator Pro Plan
The Creator Pro Plan costs $29 per month for up to 300 subscribers and goes down in cost from there. This plan includes additional benefits such as:
Subscriber scoring
Advanced reporting
Newsletter referral system
Facebook custom audiences
And more. As you can see, ConvertKit is affordable and comes with different package options depending on your email service needs.
Best For: Creative business owners and bloggers
2. Constant Contact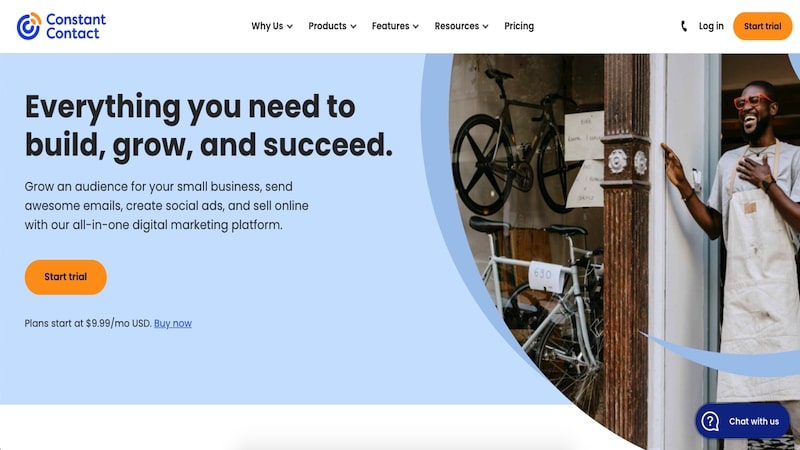 Constant Contact is a popular email service that aims to make its service simple for even the non-techy business owner to use.
Its mobile-optimized templates and drag-and-drop editor can help you create emails that engage your customers, no matter which device they're reading on.
Constant Contact has several benefits worth looking at:
A free 60-day trial membership for new customers
No contract commitments
Special discounts and plans geared toward specific businesses
A money-back guarantee
Here is a quick summary of some of the plans and pricing Constant Contact offers.
Core Email
Constant Contact's Core email service is ideal when you're just getting started. Prices for this program start at $9.99 per month.
Features:
Email marketing
300+ email templates
Contact management tools
Tracking and reporting
Award winning support
And more. The Core package is designed for one user who manages the company's email and marketing. Plan prices vary depending on the number of subscribers you have.
Email Plus
Constant Contact also has an upgraded plan called Email Plus that starts at $45 per month.
Features:
Additional list growth tools
Auto-generated segments
Email automation
Conversion and sales reporting
And more. The Email Plus plan is your full-service email plan. It will help you integrate nearly any type of email marketing idea you can think off.
Like Constant Contact's basic email plan, Email Plus is affordable and sets rates based on the number of subscribers you have.
Note that both Constant Contact plans have discounts for prepaying your plan, as well.
Best For: Small businesses that want an email marketing focus
3. Bluehost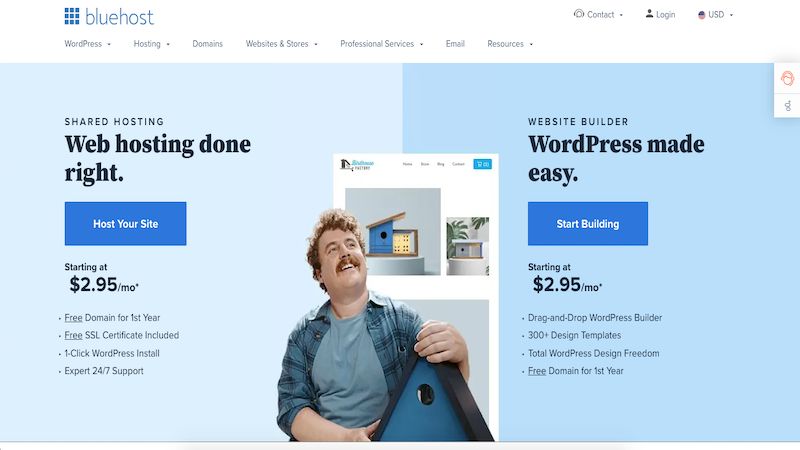 When you host your website using Bluehost, you get free email with any shared hosting plan.
This is a great feature because it helps your business to appear more professional.
So, for example, instead of yourbusinessnamehere@gmail.com, your email address would say laurie@yourbusinessnamehere.com.
For no additional charge at all you can have one or more professional email addresses tied to your Bluehost hosting account.
And Bluehost makes it really easy to set up a blog, even for newbies. In fact, with Bluehost you can start a blog in just 10 minutes.
The organizational piece is nice too; you can access your work email and your blog dashboard all in one place.
And Bluehost's email server integrates with Gmail and other popular email providers as well.
4. Google Workspace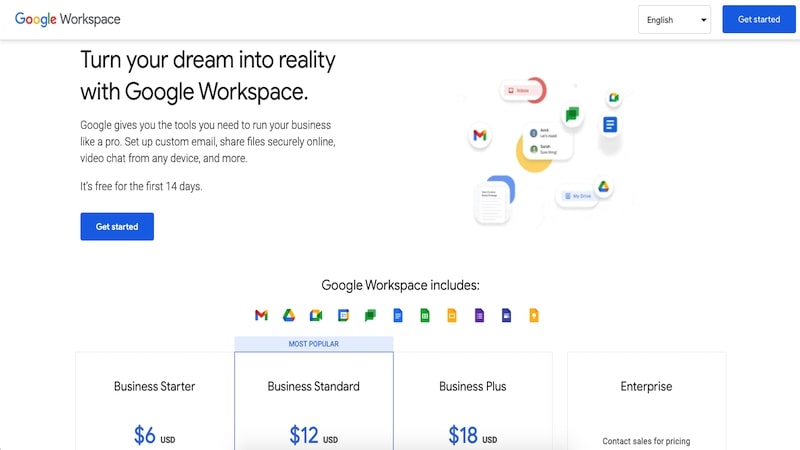 You or someone you know might have a Gmail account for personal email. In that case, you might want to take advantage of Google Workspace (formerly G Suite) mail for business use.
Google Workspace has three package options for small business owners:
Business Starter
The Workspace Business Starter package costs just $6 a month per user.
Features:
30 GB of cloud storage per user
100 participants video meetings and recordings
Security and management controls
Standard support
This package is perfect for sole proprietor businesses.
Business Standard
The Business Standard package is $12 per month per user. This package includes all that Business Starter offers plus these additional features.
Additional Features:
150 participant video meetings and recordings
2 TB cloud storage per user
And other features.
If you have employees and want a few more important features at an affordable price, the Business Standard package could be right for you.
Business Plus
The Business Plus plan costs $18 per month per user. The package includes all that Business Standard has and more, including:
5 TB Cloud Storage per user
500 participant video meetings and recordings
Enhanced security controls
Business Plus services are designed more for traditional businesses that want to be able to effectively communicate with their employees.
Interested? You can try it for free for 14 days.
Best For: Businesses that want to integrate email with other Google services
Related article: 8 Best LLC Formation Services
5. Zoho Mail
Zoho Mail's website boasts "unparalleled security and privacy." The site also claims a 99.9% uptime.
The company has three main plans you can choose from, and all come with a free 15-day trial.
Mail Lite costs $1 per month, per user and is billed annually. Some features include:
5 GB of storage (get 10 GB for $1.25 per month, per user)
Email hosting for multiple domains
Domain aliases
Email routing
Email folder sharing
And more. It also comes with calendars, mobile access and offline access.
Mail Premium costs $4 per month per user when billed annually. It comes with everything Mail Lite comes with, along with:
Attachments up to 1 GB in size
Email backup and restoration
Archival and discovery
And other features. See the Zoho website for more information.
Workplace by Zoho comes with all of the features you need to successfully run your business.
This plan starts at just $3 per month per user, and comes with full access to online word processors and spreadsheets, presentation software and much more.
6. Aweber
Aweber was founded back in 1998 and currently serves over 100,000+ small businesses and entrepreneurs.
You can try Aweber for free for 30 days. After that, plans range from $16.15 per month to $146.15 per month, depending on the number of subscribers you have on your list.
If you have over 25,000 email subscribers, you can request a custom quote for a larger Aweber plan.
Aweber syncs with GoToWebinar, WordPress, PayPal, Facebook and more to help you automate your business as much as possible.
Best For: Businesses who want the best in support features, both live and online
7. Amazon WorkMail
According to its website, Amazon WorkMail works on a pay-as-you-go approach. And pricing starts at just $4 per user, per month.
Workmail offers over 120 different cloud services, and you only pay for the services you need and use.
Some of the services it offers include:
Networking and delivery content services
Database migration services
A variety of developer and management tools
Mobile services
Desktop and app streaming
Game development
The site contains calculators to help you understand the monthly price for email service based on the services you need for your business.
Bonus: You can get a free 30-day trial of Amazon WorkMail for up to 25 users.
Best For: Businesses using or interested in using AWS CloudTrail
8. Verizon Small Business Essentials
Verizon Small Business Essentials email can help you set up a professional email address for as little as $1.19 a month. Choose from four different plans:
One Mailbox
Are you a sole proprietor who just wants to be able to communicate with clients in a business manner? You can get one mailbox from Verizon Small Business Essentials mail for as little as $3.19 a month.
5 Mailboxes
Do you run your business using a small team? Verizon's plan for 5 to 10 mailboxes costs as little as $1.59 per mailbox per month.
10 Mailboxes
If your business is a bit larger, you can choose Verizon's plan for 10 to 20 mailboxes. You'll pay as little as $1.19 per month per mailbox for this plan.
20+ Mailboxes
Is your small business a bit on the larger side? Verizon Small Business Essentials can create a customized email plan for you and your business. Simply call their customer service line for price quotes.
Some of the features of Verizon's Small Business Essentials mail include:
1 TB of free storage for each mailbox
The option to use email aliases
Forwarding services
Free Yahoo mail app
Best For: Businesses that want a variety of email features at an affordable price
9. Microsoft Exchange Online
Microsoft has its own business email plan called Microsoft Exchange Online.
You can use Microsoft's business email as a standalone product or in combination with an Office 365 business plan.
There are three different Exchange Online packages available.
Exchange Online Plan 1
The Plan 1 package costs just $4.00 per user per month. Each user has a limit of 50 GB per month.
Exchange Online Plan 2
The Plan 2 package costs just $8.00 per user per month. In addition to the Plan 1 features, Plan 2 users will receive:
Unlimited storage
Hosted voicemail
Data loss prevention
Microsoft 365 Business Standard
This plan costs $15 per month per user. You can get a discount and pay $12.50 per month per user if you pay on an annual basis instead of monthly.
The Office 365 Business Premium plan includes all of the features of Plan 1, plus:
Fully installed Microsoft Office
1 TB file storage and sharing
Video conferencing
Contact Microsoft directly for more information regarding its small business email plans.
Best For: Businesses focused on data and statistics collection
10. Rackspace Email
Rackspace Email services for businesses has been around since 2001. For as little as $2.99 per user per month, you can get business email features such as:
Outlook, webmail and mobile access
Free migration service as you switch from your current email provider
A 100% uptime guarantee
25 GB mailboxes
Unlimited aliases, group lists and forwarding
Email archiving and file storage
The 24/7 live support ensures there's always someone to talk to if you need help with your email service.
You get a 14-day free trial to give Rackspace Email a try and see if it's right for your business.
Best For: Businesses who want a 100% uptime guarantee
Which Email Service is Right for Your Small Business?
As you can see, you have many choices as far as email services go. Here are some questions you can ask yourself to determine which one might be right for you.
What Type of Business Do I Run?
The type of business you run makes a difference in the email service you'll need.
For instance, Constant Contact and ConvertKit are geared more toward creative business owners that do email marketing to their clients regularly.
A big goal of these types of businesses is to engage customers to discover and potentially purchase new products and services.
Whether it's a new personal finance product, selling products online, or a newly-launched course, creators need to be able to effectively get the word out to customers about new opportunities.
Conversely, other email services are geared more toward traditional businesses that don't regularly communicate with customers via email.
Instead, these businesses might be more interested in a service that helps them communicate efficiently with employees.
Knowing what you need from your email service will help you better determine which company will best suit your email needs.
And don't forget about the good old fashion phone call. Setting up an 800 number may be something to look into.
How Much to Spend on Email Service?
Another consideration for deciding on an email service can be found in your business's budget.
Ask yourself what your business can afford – or what you want to spend – for monthly email service.
What your small business needs and what it wants in an email service can be two different things. It's up to you how you manage your accounting department internally.
If you outsource, you will still need to decide how much you should spend in this area.
Summary
The email services listed here have a wide variety of services and prices.
There's likely at least one service available that will help you manage your business's email effectively at an affordable price.