Running a small business is hard, and it only gets more difficult as you begin to add employees.
When you hire workers, it brings challenges in the form of payroll, benefits, human resources issues and legal concerns.
However, the arrival of cloud-based software is offering ways for small businesses to grow with fewer hassles and without breaking the bank.
Gusto might be the solution you are seeking for your small business, so let's analyze what it has to offer.
Summary
Gusto offers payroll and other HR tasks in a cloud-based platform for small businesses. It takes care of most major issues a small business may encounter. And it offers four pricing tiers starting as low as $0 and $6 per employee per month.
Pros
Affordable Options
Cloud-based
Tiered offerings
What is Gusto?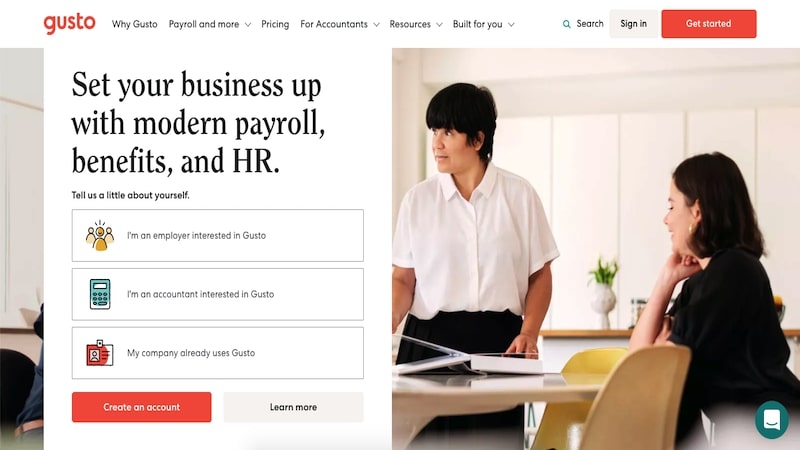 Gusto is an online platform for small companies that need help with payroll, benefits and other HR needs.
Gusto was founded in 2012, originally as ZenPayroll. Joshua Reeves, the company's founder and CEO, is a graduate of Stanford University.
The company claims that more than 60,000 businesses use its platform. And Gusto employs more than 500 people in major offices in San Francisco and Denver.
Gusto is privately held but has raised more than $300 million from investors. This amount consists of $140 million in late-stage Series C funding last year.
Major investors include T. Rowe Price and its new Horizons Fund, Dragoneer Investment Group, Emergence Capital and executives.
Other investors include the founders of many high-profile companies including Dropbox, Facebook, PayPal, and Instagram, as well as actor Jared Leto.
How Much is Gusto?
For as little as $40 a month plus $6 per employee, you can get help to manage your company.
This assistance might otherwise require a full-time worker or costly outsourcing. They also offer Contractor plan starting at $0 month plus $6 per employee.
Related: How To Run Payroll If You Are Self Employed
Products
Gusto has four pricing tiers, giving you options based on your current budget and HR needs.
Here's a look at each tier and what you get for your money.
Contractor
The offering starts at $0 a month plus $6 per user. This tier focuses mainly on how to pay your 1099 contractors.
Core
For the "Core" level offering, it starts at $40 a month plus $6 per user. This tier is appropriate for companies with a single office with basic payroll and HR needs. Companies registered as an S corp (with 100 or fewer shareholders) may be satisfied with a core plan.
This tier includes:
Payroll administration – Make sure your employees get paid. Process the paychecks for contractors, freelancers and full-time workers (W2 and 1099 tax forms.)
Unlimited support via chat, phone and email – Get help when you need it.
Paid-time-off policies and tracking – You can't offer vacation time if you cannot track when workers take days off. Gusto lets you create your own custom PTO policy. Also, they will assist you in ensuring you are complying with state and federal laws regarding sick time.
Employee self-service – Workers will have the ability to view pay stubs and adjust tax withholding online. New workers can access onboarding instructions.
Tax filing and payments – Arguably the most crucial thing a business can do is pay its taxes and be in the good graces of the IRS.
Time tracking – Utilize tools to set up time sheets.
Wage garnishments – If you have workers who need wages removed to pay court settlements or debts.
State and federal unemployment insurance – As a business, you may not want to think about this. But you need to set up a system to temporarily compensate workers if they get laid off.
Direct deposit – Send worker pay directly to bank accounts instead of handing out paper checks.
Downloadable compliance posters – What companies are required to post on walls to ensure they comply with various federal, state and local regulations. Gusto provides links to government websites where you can get these posters for free.
Complete
The next tier, costing $80 per month plus $12 per user. This tier is for companies that may be growing, hiring new employees, and that are considering offering benefits they do not already.
This tier includes all of the above, plus:
New hire onboarding (including offer letters and e-sign documents)
Customizable admin. permissions
Creation of an employee directory
Handling of holiday pay
Anonymous employee surveys
Time off requests
Calendar syncing
Concierge
The most thorough offering, costing $149 per month, plus $12 per user. The concierge tier is appropriate for companies that operate in multiple states. Or if you have sizable teams that work remotely. Companies with compliance risks may benefit from the services offered through this tier.
This level comes with everything in the "complete" tier along with the following services:
Unlimited sessions with an HR pro
Dedicated support
Custom employee handbook
HR guides and templates
Harassment prevention training
Assistance with compliance
Customizing Plans
Gusto allows you to add benefits and insurance to any plan. You can choose a package that meets your company's needs. These packages include things like retirement plans and other savings plans. To point out, many larger employers offer these plans.
Paying the extra money for these services may allow a smaller employer to be more competitive in the marketplace.
401k Plans
Do you want to offer a retirement plan for your employees? You can offer them a 401k plan through Guideline. This plan allows them to contribute and invest with contributions deducted from their taxable income.
This plan costs $500 to set up and requires a $40 per month minimum, plus $8 per participant, per month.
Flexible spending accounts
Through Gusto, you can offer various savings accounts to help employees cover certain costs they may encounter, such as medical expenses or commuting. Money placed in these accounts is deducted from pre-tax income so that workers can save money on taxes.
Gusto offers a single $200 annual service that includes accounts for health savings, commuter benefits and a general flexible spending account (FSA).
If you prefer to offer one of these accounts separately, the health savings account (HSA) is $2.50 per month, per participant with no minimum. The FSA and commuter accounts are $4 per month per participant with a $20 minimum.
529 College Savings Plan
If you want to make it easier for your workers to save for college costs, you can arrange for a 529 savings plan benefit. Gusto has partnered with Gradvisor on the plans.
529 contributions sync with payroll, so you save time with automatic deductions from worker paychecks. Plus, if you want to set up additional contributions from the company, you can.
This add-on requires an $18 per month minimum, plus a $6 per month fee per participant.
Health Insurance
At a certain point, you will want to begin offering health benefits to your employees. This benefit is potentially burdensome in terms of cost and effort, but it may be necessary to remain competitive.
There are no administrative fees, and you pay only for premiums. Gusto offers access to thousands of possible plans, through Gusto's insurance brokers.
However, brokers only operate in about half of the U.S. states. For a complete list of the states where health benefits are available, see their FAQs page.
Gusto states they are working hard to expand coverage to other states soon.
Workers Comp Insurance
Depending on the business you are running, it may be wise to purchase workers compensation insurance to protect the firm if something bad happens on the job.
Gusto offers several pay-as-you-go workers comp insurance options with no fee.
You pay only the premiums. Workers comp insurance is administered through AP Intego and integrates with your payroll.
Tools
Gusto offers a variety of online tools to help you with various aspects of running the business.
These include:

California Paycheck Calculator – For both hourly and salaried employees. This calculator can help you determine the proper take-home pay for these workers.
Payroll Tax Calculator – A handy tool to help you determine the taxes to be taken out of each paycheck. It also calculates the contributions to Medicare and Social Security.
New Hire Checklist – This checklist will help you understand what you need to do before bringing a new worker on board. Gusto offers a guide explaining what information you need from the worker (Social Security number, address, signed tax forms, bank account information). And it lets you know what you need to do (check references, perform background checks, ensure EEOC compliance, etc.).
Burn rate calculator – When are you going to run out of cash? This is a helpful Microsoft Excel template to track how quickly you are blowing through the money on hand.
Salary comparison tool – Are you paying your workers competitively? Check what the going rate for workers is in your state and nationwide.
Resource blog – Gusto publishes a wide variety of blog posts and articles on topics that may be relevant to you as you run your business. The "Talk Shop" blog features pieces such as "The Definitive Guide to Starting a Business," "How to Hire and Manage a 100% Remote Team."
Switching to Gusto Payroll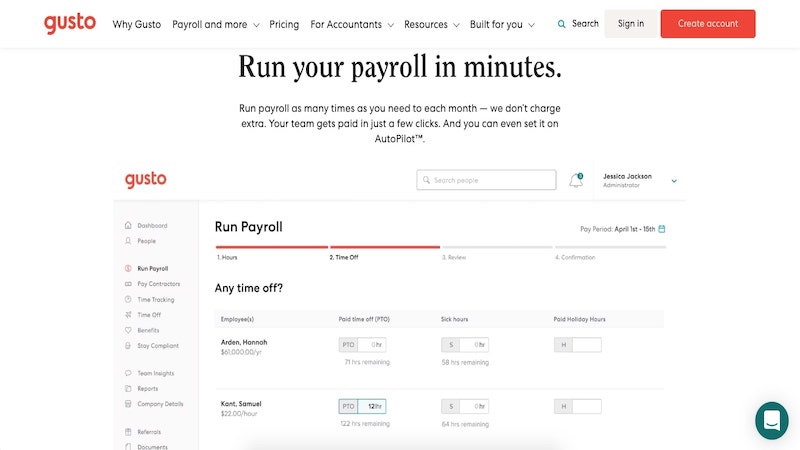 If you already have a payroll or HR provider, you can change to Gusto in a few steps. First, you begin by opening a Gusto account. Then enter your company details, including some specific financial information.
Next, you enter the email addresses of all your employees so that they can complete self-onboarding.
This step saves you from having to add their personal info. Gusto will let you know anything else you may need from your old provider.
When you're done setting up your company's details, you can close your previous account. Gusto recommends switching providers at the beginning of fiscal quarters.
In other words, the months of January, April, July or October.
Competitors
Gusto is not the first company to offer payroll, benefits and HR tasks in an online software solution. In fact, it has several payroll competitors in the marketplace.
These competitors include:
Zenefits – Huge software as a service HR provider, with similar pricing and the same number of tiers. The payroll option is an add-on.
ADP – Arguably the leader among payroll and HR software solutions. A better option for those companies that may grow beyond 100 employees.
Paychex – Another provider offering payroll processing and other services. They are generally for larger companies.
Quickbooks – From the makers of Quicken and TurboTax. A cloud-based software offering accounting help, some HR help and payroll. It offers four tiers, including a low $10 per month option.
Software Integrations
You may already have software solutions handling many of your business' administrative tasks. That's okay because Gusto can play nicely with many of them.
Gusto integrates with the following solutions:
Accounting
Xero
Quickbooks and Quickbooks Online
Aplos
Time Tracking
Homebase
TSheets
When I Work
Deputy
Ximbr
Boomer
eBillity Time Tracker
Point of Sale
Practice Management
Kinderlime
Trainual
Veryfi
Expense Management
Banking
CapitalOne Spark Business
Pros
Gusto has a lot to offer, so let's go over some reasons why it may be a good fit for your business.
Broad offering of services
401k and 529 college savings plan options
Competitive pricing
Flexibility. With four tiers, you may be able to avoid paying for things you don't need.
A variety of free tools
Choice of offering spending accounts (HSA, FSA, etc.) individually or as a group with a single payment
Cons
Before you decide to sign up, here are some reasons why you may choose to go with a competing service.
Or you might decide to manage your HR and payroll needs on your own.
Many potential "must-have" services for employees are only available as add-ons.
Assistance from actual HR professionals is only available on the most expensive tier.
Health insurance only offered in 24 states so far.
Other service providers, such as ADP, may be more appropriate for companies with more than 100 workers.
No choice in 401k or 529 providers.
Alternatives to Gusto
ADP is probably the biggest competitor to Gusto as they are one of the largest payroll service providers. Although they have a A+ rating with the BBB, they have a 1.05/5 on customer reviews.
Summary
Gusto is a robust, low-cost solution for any company seeking support in the area of payroll, benefits and other HR services. It can take care of many vital business tasks.
The services offered include payroll processing, compliance with regulations and even setting up an employee directory.
Its costs are reasonable but could add up as your company gets larger and if you add many a la carte services.
Some small businesses may benefit by having an HR administrator or department, but for those with tight budgets, outsourcing to Gusto may save you money.