When I first started my business, I used my cell phone number as the primary phone number for my business.
The problem was that I was having people call my cell phone and I did not know how to answer it.
If it were a potential client, I would want to greet them professionally. If it were a personal call, I would want to be more casual.
The challenge was, I had no way of knowing which it was, especially since I own more than one business.
This is where Grasshopper comes in.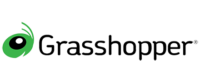 Summary
If you need a business line, whether it be an 800 number or a local number, I personally have found Grasshopper to be one of the best solutions out there.
Pros
Great for a business
Affordable plans
Multiple features
What is Grasshopper?
Grasshopper is a company that was founded in 2003 and offers virtual phone systems and toll-free numbers for business owners.
The company has served over 350,000 businesses and continues to grow and expand.
It's designed to work with your current phone system and is not a standalone phone system.
With Grasshopper, you can connect to your business phone numbers via your home phone line, business line, mobile phone or VoIP phone line.
Since it works with an app, you don't have to worry about having multiple phones or phone lines installed.
Instead, each business owner or employee accesses their own number from the app. You can receive calls with your Grasshopper number and make calls from the number.
That means you can use your personal cell phone to make business calls, however, clients and potential clients will see your business number on their screen.
How Does Grasshopper Work?
Grasshopper connects you with clients via a Virtual Private Branch Exchange (PBX).
When a client or potential client calls your Grasshopper-issued phone number, you'll see that number on your phone.
That way you know how to answer your phone because you know if you're receiving a business call or a personal call.
And if you can't answer your phone, Grasshopper will direct your clients to the right avenue, whether that's another employee/owner or to your voicemail system.
Grasshopper has a host of features that can help your business appear professional, no matter how small or large that business is.
You can customize those features any way you choose to help streamline your business and your service.
The Grasshopper Mobile App
Grasshopper has a very intuitive app that is available for Android and iPhones.
It stores all of your calls so that you can go back and see the history of people who just called your business line. It can also store and retrieve your voicemails.
Depending on the package you get, you can send and receive text messages from a Grasshopper local number.
This includes an SMS function to group text clients, employees, and team members.
Here's an example of how Grasshopper helped me manage my business.
How a Phone Number from Grasshopper Helped my Business
At first, I decided to get a toll free 800 number from Grasshopper as I wanted to have a national appeal.
After a while, I was getting calls from people that I could not serve and realized that I would be better off with a local number.
So I made the switch, and now my personal line and business line are separate.
Why does this matter?
Whether we like to admit it or not, first impressions do count for something.
When people call me, I can now differentiate whether it is a business or a personal call.
This is huge because when it is a business prospect, I can answer in a professional way and feel like I have a better chance of closing that business.
Grasshopper lets me choose a custom greeting for my business as well.
Using Grasshopper also means that my personal cell phone number is not plastered all over the internet.
This is great because I enjoy my privacy and don't want that published so that anyone can reach me.
Especially those robo calls. Those can be especially annoying…
In addition to having a separate line, there are several other features that are helpful as well. We'll talk about those shortly.
But first, check out this video explanation of how Grasshopper works.
Video Review of Grasshopper
How Much Does Grasshopper Cost?
Another great thing about Grasshopper is that they have multiple plans for you to choose from. And the plans include options that are affordable for smaller businesses.
So whether you are just starting out or running multiple businesses, Grasshopper has a plan to suit your needs.
Even if you are on a strict budget, they have a plan as low as $28 per month if you pay annually.
Grasshopper pricing breakdown:
Solo: $31 per month – 1 number, 3 Extensions
Partner: $51 per month – 3 numbers, 6 extensions
Small Business: $89 per month – 5 numbers, unlimited extensions
Once you activate your plan, you can purchase additional numbers for $10 per month each. Oh yeah, and there is FREE activation no matter what plan you choose.
And there is no contracts required with Grasshopper. You can choose an annual payment plan and contract, or simply buy month-to-month.
Click here to sign up for Grasshopper to save up to $75 on your annual plan!
Key Features Of Grasshopper
Grasshopper has a number of features that might benefit your business.
Call Forwarding
If you go out of town and want your virtual assistant or someone else to answer the business line, this is a great feature.
Extensions
Do you have multiple people that work for you? If so, you can give them an extension so that you don't have to buy multiple phone numbers.
The cool thing is that you can have an unlimited number of extensions so that you can add more as you grow.
Portability
I have a landline for another business I own, but the challenge with that is that I can't carry that in my pocket anywhere I go.
With a local number from grasshopper, I can have access to my business phone 24/7 on my smartphone.
Not that I want to get calls at all hours of the night, but I do like to check voicemails after hours in case there is anything urgent.
Hold Music
If you want to come across as an INC 500 company and be even more professional, this is a nice touch.
Grasshopper gives you multiple choices for hold music which can set you apart from the competition.
You can upload your own hold music as well.
Vanity Numbers
Have you ever wanted a number that is easy to remember and that tells people what you do?
For instance, 1-800-SEO-GURU. This is called a vanity number and is a feature that Grasshopper offers if you want it.
Voicemails Transcribed
If you are on the go and don't have time to answer a call, you can let it go to voicemail and Grasshopper will email you the voicemail in a text format.
This way you can read your voicemails and determine whether or not you have the time to call that person back.
PDF & Fax Capabilities
One of the most unique features is the ability to fax documents into your account, creating a library of documents that callers can request via fax instantly, 24 hours a day, 7 days a week.
This can include order forms, product sheets, onboarding forms, service agreements, and more ready to deploy in seconds.
Other Grasshopper features including add-ons are shown below.
Grasshopper Reviews
Grasshopper has a 1.7 rating on Trustpilot. However, there are only 22 reviews listed. Negative reviews consisted mostly of billing and customer service issues.
For instance, reviewers mentioned being billed incorrectly or billed after they sent in a cancellation notice.
Here are a couple of actual reviews from customers:
The service itself isn't bad. Trying to cancel the account was a nightmare. I couldn't do it online and was on the phone for more than 30 minutes getting shuffled from one person to another.

– Joanne O'Conner
Grasshopper was amazing to me, great customer service and was able to deliver as promised.

Alan S.
There is no Better Business Bureau listing for Grasshopper as of this writing.
Alternatives To Grasshopper
Here are some Grasshopper alternatives to consider if you're searching for other options for business phone numbers.
Google Voice
Google Voice has three plans for 800 phone numbers, starting at $10 per month, per user.
All plans include free calling to the U.S. from any country. If you choose the Premier plan, you can have access to international outgoing calls.
Google Voice has many of the same features as Grasshopper, including voicemail transcription, call forwarding, and unlimited SMS.
Google Voice can be integrated with other Google features such as Meet and Calendar.
Ring Central
Ring Central works similarly to Grasshopper. You get business phone numbers, unlimited calling and forwarding, text messaging, and more.
You can choose a local number for your business or an 800 number. Note that you will pay a one-time $30 fee if you choose to get an 800 number.
Plans and pricing aren't listed on the Ring Central website. You need to call customer service to get specific information based on what you want.
FAQs
Can I use Grasshopper to make and receive international calls?

You can use Grasshopper for international calls, however, there are additional charges to do so. Basic plans only apply to U.S. and Canadian calls.
Can I use Grasshopper solely for voicemail services?

Yes, you can use your Grasshopper number to direct your customers to voicemail. Voicemail is included with all Grasshopper plans.
Do I have to record my own voicemail greeting?

You can record your own voicemail greeting with Grasshopper. Or you can use Grasshopper's voicemail talent services to record a greeting. Cost: $75.
How can I tell the difference between a Grasshopper number call and a personal call?

When you receive a call to your Grasshopper number, the Grasshopper number will show up on your phone.
Summary
If you need a business line, whether it be an 800 number or a local number, I personally have found Grasshopper to be one of the best solutions out there.
In my experience, they have great customer service, and the prices are very affordable.
Have you ever used Grasshopper or another business phone service provider?
If so, what was your experience? Do you prefer having a separate business phone number for your small business?