Looking for the top sites like Netflix?
With over 10,000 TV shows and movies to choose from, Netflix is one of the most popular streaming services out there today.
However, it's not your only streaming choice – not by a long shot. There are several alternatives to Netflix – both free and paid – that can increase your movie and TV show choices profoundly.
Top Paid Sites Like Netflix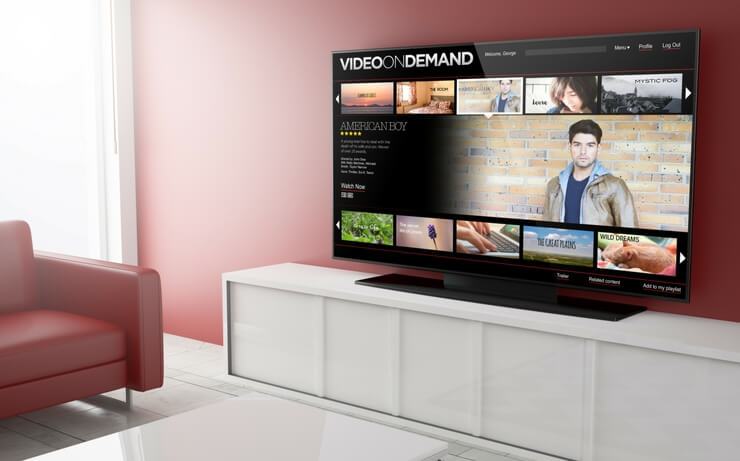 One of the reasons people love Netflix is because of its price. At under $15 a month, it offers one of the largest selections of movies, TV and more for frugal viewers.
However, there are many Netflix alternatives that can give you the same great benefit (thousands of shows and movies) for a similar price. Some options are even available for free.
Here are the top streaming sites like Netflix that can help you find an easy way to save big money on your monthly television bill.
1. Hulu
Hulu is one of the most popular sites like Netflix. It offers thousands of TV shows and movies for the low price of $6.99 per month.
However, Hulu shows do come complete with commercials. For the upgraded price of $12.99 per month, you can view their shows and movies without commercials.
One bonus to Hulu's offerings is that they do air most current season TV shows the day after they play on prime-time TV, whereas Netflix usually only airs previous season episodes.
Hulu offers basic TV shows and movies, kids' shows, sports shows and more, however, they are limited to one streaming device at a time.
Hulu With Live TV
They also offer another upgrade package called Hulu With Live TV. This package is more expensive at $44.99 a month.
The Live TV package features everything the basic Hulu package features, including the ability to live stream over 50 of the top live and on-demand channels including a variety of sports channels, news channels and more.
2. Amazon Prime Video
If you're an Amazon Prime Member, you can get access to Amazon Prime Video absolutely free. But if you're not, it's still a great deal at only $8.99 a month.
Personally, I'd recommend joining Amazon Prime and getting the free Amazon Prime Video option for the sole reason that if you are an Amazon Prime member you get free two-day shipping on all orders.
However, even if you just want the Amazon Prime Video solo membership it's a great deal for TV viewing.
The site offers a wide variety of shows and movies including:
Popular TV shows and movies
Amazon original shows
Exercise and workout videos
Kids TV shows and movies
Documentaries
A wide variety of sports shows
And other options as well. One great thing about Amazon Prime compared to Netflix is that it offers a lot more shows and movies: roughly 18,000 compared to Netflix's approximately 10,000.
Amazon Prime Video is worth a try, especially if you're a frequent Amazon store shopper.
3. Sling TV
Sling TV is kind of like a cable alternative that allows you to choose a package of cable channels at a more affordable price.
It offers three packages: The Orange Package, the Blue Package and the Combination Orange/Blue package. Here are the details on each.
Orange Package
The Sling Orange package is only $40 a month and offers roughly 28 channels including The Food Network, HGTV, ESPN 1, 2 and 3 (for you sports fans) and more.
Blue Package
Sling's Blue Package costs $40 a month and offers 44 channels. The channels on Sling Blue are different from the channels on Sling Orange.
Some of the Sling Blue offerings include the History Channel, Cartoon Network, Fox Sports, NBC Sports, Bravo and AMC.
You can also get a combination of the two packages for $55 a month; a $25 discount from the regular purchase prices.
One of the other nice things about Sling TV is that there are no installation fees or rental fees. You can simply stream from your TV, tablet or computer.
Sling is definitely an up-and-coming player in the streaming alternative market with their attractive cable channel packages.
4. Pureflix
Pureflix offers a different selection of movies that focuses on "family-friendly and wholesome entertainment for all ages".
The company shares mostly Christian-based movies and TV shows and provides access to over 2,000 titles currently.
For their subscription price ($10.99 per month or $99 annually – new viewers get the first month free) you can view Pureflix movies and TV shows on up to six devices at a time.
They allow access on all of the usual devices; TVs, computers, mobile devices, etc. and are working on being gaming console compatible.
5. Paramount+ (Formerly CBS All Access)
Paramount+ allows you to stream CBS shows and CBS-hosted sporting events – both current episodes as well as back episodes.
Their current offer starts at $4.99 a month.
Signing up for the annual plan will save you a few bucks no matter if you choose the commercial plan or the no-commercial plan.
This could be a good streaming alternative for you if you like a lot of CBS shows such as NCIS, Big Bang Theory, CSI, Survivor and others.
Current and back episodes are available for all shows, although they may have only certain seasons of certain shows available at any given time.
Plus you now get more than just CBS shows; you get Nickelodeon, MTV, Smithsonian and more.
6. Showtime
Premium cable channels are now offering the ability to live stream their shows and movies independently of cable companies.
Showtime, for instance, allows you to subscribe to Showtime movies and TV for only $10.99 per month. For this price, you get access to all current and past episodes of Showtime original series as well as some sports offerings.
You can watch on your TV, computer or tablet and it's all commercial-free viewing. The list of supported devices is long enough to fit almost any viewer as well.
7. HBO Max
Are you a fan of HBO favorites such as Game of Thrones or VEEP? If so, HBO Max might be a good streaming option for you.
For only $14.99 a month (they do offer a student discount package for $9.99 per month) you can watch all current and past episodes of your favorite HBO movies and original shows as well.
HBO Maax is supported by a wide variety of phones, tablets, and TVs and by Mac and Windows 7 or later computers as well.
8. Hallmark Movies Now
Formerly called "Feeln", Hallmark Movies Now focuses on offering streaming movies and TV series shows that are family-friendly.
Along with the classic Hallmark movies, the streaming company also offers successful family friendly TV series such as Last Man Standing, The Golden Girls, Home Improvement, Frasier and The Middle.
The company's "lighter side of suspense and mystery" movies are also available with their streaming package.
For just $5.99 per month or $59.99 per year, you can get access to Hallmark Movies Now on a variety of phone, tablet, computer and TV devices.
9. Fandor
Fandor calls itself a bridge between "cult and mainstream" films and media. The streaming company, which was founded in 2011 and features roughly 6,000 titles, has a variety of genre films for true movie buffs.
As I searched through the offerings, I found a fun variety of films I'd never heard of as well as old-time classics such as Marriage Italian Style with Sophia Loren.
The company features a wide range of genres such as Cult, Comedy, Drama, Documentaries and more.
However, within each genre subtitle, you'll find a host of films you've probably never heard of unless you're a serious movie buff.
The cost? Ten dollars per month or ninety dollars per year if you buy an annual subscription.
10. MUBI
The tagline on the MUBI streaming site is "Cult, classic, independent and award winning films from around the world."
MUBI runs a bit differently than many streaming sites. The cost is only $5.99 per month, but they rotate out a selection of 30 movies each day. "A hand-picked selection of the best films", they call it.
So, each day one film will rotate out and a new one will be added, with films being available for thirty days.
If you're into cult classics and indie films (they offer both new films and old classics) this could be a fun site for you.
MUBI is available on most of the regular streaming devices: MAC and PC, iPhone and iPad, Android phones and tablets, and on most smart TVs.
11. Acorn TV
Acorn TV is a streaming service featuring shows from Britain and other parts of the world. For just $4.99 a month, you can have streaming access to a whole host of British TV series episodes, movies and documentaries.
Some of the shows they are featuring currently include Doc Martin, Vera, A Place to Call Home and Loch Ness.
If you're a big British TV fan, a subscription to Acorn TV could be just what you need to get your fix of quirky British humor and captivating drama.
12. Vimeo On Demand
Vimeo On Demand is one of the newer plans to join the vast array of film streaming options. They offer films, stand-up comedies, Vimeo originals and more.
You can purchase the items to watch one time or download them to watch more often. Each film or show collection has a different price, starting at $2.
While Vimeo does have an unusual variety of films and TV series choices available, you may find you get more for your money with other options.
13. Disney Plus
Do you love kid movies? Do you love Star Wars? How about Marvel movies? Well, if you do Disney Plus is the best way to get all of those movies and tv shows all in one place.
The best part is that it is only $6.99 per month or $69.99 per year if you pay annually.
Free Sites Like Netflix
As I was doing research for this article I was pleasantly surprised at the number of free sites like Netflix that are available for streaming.
Here we share nine of the most popular free streaming alternatives that might be available to you and your family.
14. Popcorn Flix
Popcorn Flix seems to be one of the most popular free streaming sites like Netflix out there. They have a wide variety of genres, including comedy, drama, documentaries and family/kids' movies.
Browsing through the family/kids section (the primary genre of choice at our house) I didn't find much to be impressed about. They seemed to have a lot of choices, but most of them were cartoons we'd never heard of.
Note: The site does have a nice variety of films in each genre, however, Popcorn Flix has an abundance of "mature audience" films, even in its documentaries section. I definitely would hinder kids' access to the site if you can figure out a way to do so.
15. YouTube
YouTube still has some of the best streaming around and you can find a pretty big variety of films in all genres that are available legally.
However, when searching YouTube to stream films, it's important to be aware of the vast number of illegally posted films on the site.
Although the powers-that-be at YouTube work hard to find and remove illegally streamed films on the site, you can still find plenty of films available legally on YouTube.
Bonus: There's also a large selection of legally available films on the site that allow you to purchase a one-time stream for a small fee, usually $2 each.
16. Pluto TV
Pluto TV offers free live streaming of over 75 channels. With genres such as News, Comedy, Geek & Gaming, Entertainment, Music & Radio and more, you'll likely never be bored on Pluto.
The company is synched to work with a variety of different devices such as MAC and Windows PC computers, Android, Apple devices and several types of smart TVs.
I was pleasantly surprised to find fun channels on Pluto such as the MST3K channel, the Classic TV channel, and the Classic Toons Channel. Pluto has its own Pluto Movies channel as well.
I have to say this was the free streaming option that seemed to offer the most variety to me.
17. ConTV
ConTV is another free streaming option – with a bonus that you don't have to register to watch. Just click on a movie title and you're in.
The site has a great variety of genres including:
Classic movies
Anime
Sci-fi
Action
Adventure
Documentaries
Thriller
War
Western
And other categories, including Korean dramas. One of the things I really enjoyed about Viewster was the host of old comedy classics it offered, such as Abbott and Costello and Laurel and Hardy.
The quality is fair, but not what you would find with Netflix or other paid-for streaming services. And since the company is based in Switzerland, you'll probably find a lot of movies you've never heard of.
However, ConTV is yet one more choice that allows you to stream movies legally without having to pay for them.
18. Classic Cinema Online
Classic Cinema Online is a great source for free movies if you like those old time shows. As I searched through their offerings, I found old classes such as the 1954 20,000 Leagues Under the Sea along with a host of films I hadn't heard of.
Whatever your classic movie genre taste is; action, adventure, drama, war, western – this site has something for everyone.
They even have a "family" section featuring old films such as the 1940 version of Pinocchio and musicals such as the 1936 classic "Let's Sing Again".
The quality of the viewings varied from film to film, but most of the films I checked out on the site were pretty good quality.
You won't find high-definition viewing by any means given the time period of the films they show, but most were bearable and without a lot of the grain and other issues you can see with free movie offerings.
19. Tubi TV
While Tubi TV is free, you do have to register to watch movies and shows on the site.
The browsing setup reminded me of Netflix: they have sections such as Most Popular, New Arrivals, Leaving Soon, and Not on Netflix, which was fun to see.
The site featured some old classics such as A Fish Called Wanda and Robocop, and some newer movies such as Empire State.
It was nice to see an Indie section as well as a Comic Con section on the site too. Bottom line: lots of choices and a great way to have a Netflix-like option for free.
Tubi TV supports all of the usual viewing options such as certain smart TVs, Android devices, PlayStation, Xbox and Roku.
20. Crackle
Crackle is a free streaming site that requires that you register to watch free movies and shows too, but they've got an awesome selection to choose from.
They feature old television series offerings such as:
All in the Family
227
Who's the Boss and
Malcolm and Eddie
Seinfeld
Walker Texas Ranger
Their movie selection is also impressive with options such as Mission Impossible III, So I Married an Axe Murderer and Crouching Tiger, Hidden Dragon.
While their selection of TV shows and movies isn't massive, what they do offer is fairly good. Again, when it's free you can't complain too much.
Summary
Netflix is a great site for increasing your television viewing options, and at approximately ten dollars a month, it's a much more affordable option than cable TV. However, Netflix isn't your only option for streaming your favorite shows and movies.
If you're looking to pad your wallet by spending less on television viewing, consider one of the many sites like Netflix out there.
Both the free streaming sites like Netflix listed here and the pay streaming options listed here can open up your TV viewing selection without bankrupting your savings account.
Watch more, spend less and save money with the many streaming websites out there for your viewing pleasure.