Poshmark is one of the most popular apps people use to sell clothes online. And luckily, there are other apps like Poshmark where you can also list your clothes for sale.
In this article, we're sharing information about Poshmark's fiercest competitors for selling your gently used clothing. Which one will help you make the most extra cash?
Most Popular Apps Like Poshmark
Poshmark is an online marketplace that helps you buy and sell gently used clothing. Founded in 2011, Poshmark charges a commission when you sell an item that you list on Poshmark.
In exchange for the commission you pay (between $2.95 and 20% of the sale price, whichever is greater), you'll get a free shipping label.
Poshmark will also absorb any credit card transaction fees. You can withdraw your earnings via PayPal, Direct Deposit, or other options.
The other apps like Poshmark that we've listed here also help you sell clothing online. However, the fee structure and other details may be different.
1. Craigslist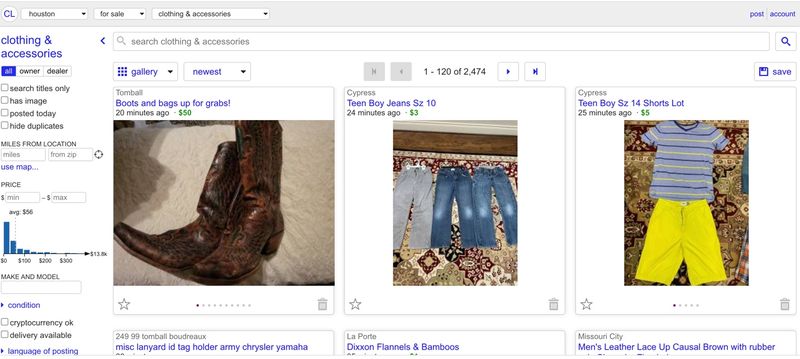 Craigslist was one of the first sites like Poshmark for buying and selling your stuff online. It was founded in 1995 and remains a (mostly) free platform to this day.
Yes, you can sell your clothes for free on Craigslist instead of paying a commission. However, keep in mind that selling on Craigslist is an entirely independent endeavor.
You've got to cover your own shipping and collect payment on your own. And that works great for many people.
Another benefit of selling on Craigslist is that you'll likely be working mostly with local buyers. This can make for quick and easy transactions.
As with any selling app, there are things you need to know to sell stuff extremely fast on Craigslist.
And as with any buy/sell transaction where you're negotiating with strangers, keep safety as the top priority: Meet in a public place, tell someone you know where you're going, and only take cash for payment.
2. Crossroads Trading
Crossroads Trading was founded as a brick-and-mortar store back in 1991. Today, the retailer has evolved into the online resale clothing world.
You can sell your contemporary, on-trend, vintage, and designer clothes and accessories with Crossroads Trading.
Crossroads Trading offers four ways to sell your clothing: consignment, in-store, drop–off and mail.
When you sell in-store, you'll get between 50% and 70% of the sale price, depending on the sale price.
When you sell in-store, Crossroads Trading will buy your items on the spot. You'll get 30% of what they will price your items to sell for if you take cash.
If you take a store credit, you'll get 50% of what they price your items to sell for in the store.
You can also drop off your items at a store, and they'll get back to you with your trade or cash amount within 72 hours.
In addition, you can choose to mail your items to Crossroads Trading. If you do, they'll send you a bag for your clothes, as well as a prepaid shipping label.
3. Depop
Depop was founded in 2011 and helps you resell (and buy) used clothing in order to minimize waste and preserve the environment.
You can sell pretty much any type of men's or women's clothing on Depop. Selling on Depop is easy:
Take up to four photos of the item you're selling
Describe what you're selling
Determine your selling price
Get paid when you're item sells
Ship your item
When you describe your item, you'll need to use a condition, i.e good, excellent, etc.
You'll be charged a 10% fee when you sell an item on Depop. In addition, you'll pay a transaction fee to get your money: 3.3% plus $0.45.
When it comes to shipping, you can pay Depop to send you a bag and a shipping label. Or you can charge buyers for shipping.
Lastly, you can choose to use your own shipping system for selling clothing on Depop.
4. eBay
eBay is an online auction site with its main advantage over Poshmark is that it has over 150 million users.
Its 28-year history provides a platform for selling not just clothes, but household goods, auto parts, vintage items, toys, music, and more. It's like having your own online store.
You'll pay fees for selling on Etsy, just like you do with Poshmark. While you won't pay an insertion (listing) fee in most cases when selling clothing, you will pay "final valuation" fees.
In a nutshell, final valuation fees are selling fees, and they are based on a percentage of the final sale of your clothing piece or other items and include an additional $0.30 charge.
You'll be charged 15% (plus the $0.30) for clothing items that sell for under $2,000. If you have an individual clothing item or accessory that sells for over $2,000 you'll pay a 9% final valuation fee plus the $0.30.
5. Etsy
Like Poshmark, Etsy helps you to sell (and buy) clothes online. However, Etsy only allows listings for vintage clothing or handmade clothing for sale.
With Etsy, vintage clothing is clothing that is 20 years or older. However, you can sell any age clothing if you design it on your own or modify its original design.
As with Poshmark, you'll pay fees for selling on Etsy:
$0.20 listing fee for all listings
6.5% transaction fee on the sale of an item
3.00% plus a $0.25 payment processing fee once an item sells
Note that listings are good for four months or until an item sells, whichever comes first. If a listing expires without selling after four months, you're welcome to relist for an additional $0.20.
6. Facebook Marketplace
Like Craigslist, Facebook Marketplace will let you list and sell clothing for free online. Facebook has nearly 3 billion users worldwide at any given time.
This means that you can advertise your clothing and other items for sale and have an expansive audience at your fingertips.
Note that Facebook Marketplace doesn't charge a fee when you sell clothing and many other items.
And you can sell locally to people in your area or you can sell out of your area and ship the items you're selling.
7. Grailed
Grailed was founded in 2013 and sells both new and used clothing for men and women. The site focuses on selling designer and emerging designer clothes and accessories.
If you want to sell items on Grailed, you won't pay any listing fees. However, you will pay a 9% commission fee when your item sells.
As you get known on Grailed as a buyer or seller, you'll be awarded badges such as "Quick Responder", "Trusted Seller" and more.
Note that you need to sign up with your Facebook, Apple or Google account in order to sell on Grailed.
If you have higher-end designer clothing to sell, Grailed could be an app like Poshmark for you. It is worth noting that it has a low 1/5 rating on the Google Play store.
8. Mercari
Mercari is an online marketplace that helps you sell just about any brand of clothing and accessories. You can find clothing for men, women, and children of all ages on Mercari.
As with Grailed, Mercari has badges for sellers. Buyers also rate sellers on the site, and vice versa.
You won't pay any listing fees selling clothes with Mercari. However, you will pay a 10% transaction fee when you sell an item.
In addition, you'll get charged payment processing fees of 2.9% plus $0.50. Mercari also offers shipping options for sellers. See the website for more details.
9. OfferUp
Founded in 2011, OfferUp works a lot like Craigslist in that it's free to list most items and it focuses on connecting sellers with local buyers.
However, OfferUp has a leg up on Craigslist in a few ways. First, requires all users to create user profiles.
And users have to confirm their identity with Facebook, IDs, and more. OfferUp says that this extra step makes for safer buying and selling.
Profiles also have ratings, which helps you to see how past transactions have been handled by a user.
In addition, OfferUp has an in-app messaging system. You can use the messaging system to negotiate prices, decide on meet-up locations and more.
Lastly, OfferUp doesn't charge any fees when you buy and sell clothing locally. See the site's fee chart for items you may pay a fee for, such as upgraded listings.
10. Rebag
Rebag was founded in 2014 and helps you sell designer bags, watches and more. When using Rebag, you sell directly to the company. Then they sell your item online.
You can do this by stopping in at a Rebag store or shipping your item directly to Rebag. Once the company has received and analyzed your item, they'll send you a purchase quote.
If you decide to accept the quote to purchase your item, you can get paid via an ACH deposit to your bank account. Or you can ask Rebag to mail you a check.
You may not get as much cash for your item when selling it to Rebag. However, you'll make a quick and easy sale.
11. The RealReal
The RealReal is a consignor of luxury clothing and accessories. When you sell your items on The RealReal, you ship your item, drop it off, or have it picked up and sent to The RealReal.
After the company receives your consignment item, they'll suggest a resale price. If you agree, they'll list the item for sale on their website.
Once the item sells, you'll receive up to 70% of the sale price, depending on how much the item is sold for. The higher the selling price, the larger your commission.
One thing to note about selling clothes on The RealReal is that the site has the option to lower the sale price of your item by up to 20% if the item doesn't sell quickly.
12. thredUP
thredUP is a 100% consignment website that you can use to resell your clothes. You start by getting a thredUP kit and shipping the items you want to sell to thredUP.
You can sell any brand of clothing on thredUP as long as it has a tag on it.
Once thredUP receives your bag, they'll analyze the items, price them and list them for sale. After your item sells, you'll get a commission of between 3% and 80%, depending on the sale price.
The lower the sale price of your item, the lower your commission payout will be. You can use PayPal or Stripe to get your earnings after your items sell.
13. Vestiaire Collective
Vestiaire Collective helps you sell men's, women's and kid's clothing and accessories. You'll start by sending a description and photos of your item to the site.
Your item will be listed at the sale price you choose. After it sells, you'll take home up to 85% of the sale price, depending on the listing price of the item.
Vestiaire Collective provides you with a free prepaid shipping label to send your item to its buyer.
All sales are final, which means you don't have to worry about your item being returned.
14. Vinted
Vinted helps you sell vintage men's, women's and children's clothing and accessories. However, you can sell any clothing item on the site.
You are responsible for creating your listing, adding photos and interacting with potential buyers.
When you sell, you ship the item using a shipping label provided by Vinted.
Interestingly, sellers don't pay fees for listing or selling on Vinted. Instead, the buyer pays a $5 plus $0.70 buyer protection fee.
You can get the money you earn through Vinted by requesting a payout to your bank account.
15. Worthy
Worthy specializes in helping people sell fine jewelry. The site is an online auction site. You send your item to Worthy where they clean it and prep it for sale.
Once your item is ready for auction, you can set the reserve price. However, Worthy will help you to do that.
The item is listed for auction, and then you receive the sale amount minus Worthy's fee once the item is sold.
Worthy's fee to sell jewelry is between 10% and 18% depending on how much the item sells for.
After your item sells, it takes about 5-7 business days for Worthy to receive payment for the item.
From there, Worthy sends you your payment via bank deposit, PayPal or check.
Why Sell on Poshmark and Apps Like it?
You might wonder why you should consider selling on Poshmark and apps like it. There are a few reasons why Poshmark and other apps are good for selling used clothing and other items.
First, they provide an expanded platform than what you'd find in your own community. Second, you can earn some extra cash when you sell items you no longer use.
And lastly, sending items you don't use to others who will use them helps both you and the buyer. You'll get less clutter and more cash, your buyer will get new clothing at a discounted price.
Tips for Selling on Poshmark
There are tips for selling on apps like Poshmark that can make your sale happen faster.
First, be sure to take clear and accurate photos of the items you're selling. Second, be honest about the condition of the items you're selling.
Make note of any stains or tears, and be accurate when listing the item as "good", "excellent", "fair" or whatever the condition is.
Third, be willing to negotiate on your price. You may want to post your original listing price a bit higher than what you'd like to get for the item so that there's room for negotiation.
And lastly, provide great service. Ship your item or find a meetup place quickly. Be clear about your terms and provide service with a smile.
Which App Like Poshmark Will You Use?
When selling your used, vintage or handmade clothing, apps like Poshmark can help you get your items sold quickly and for top dollar.
What will you do with the extra money you earn by selling on Poshmark and similar apps?