This year I made a conscious effort to live with only what I need and let go of what I no longer used. I not only got rid of 40 percent of my things and moved into a smaller apartment, I thoroughly enjoyed the process and the outcome.
I partly did it because I was tired of looking at my always-full closet and partly because I wanted to ensure I could fit everything into my new, smaller apartment.
Mostly, I donated and sold furniture, kitchenware, and clothing. It was a process that took about a month.
Summary
Overall, I was pretty happy with my experience using thredUP. I was not expecting to make a ton of money, so being able to donate the rest of my clothes through thredUP made my life easier.
Pros
Top brands
Earn cash
Minimize clutter
What is thredUp?
thredUP is essentially an online consignment shop. The site allows you to sell your gently used, name brand clothing by mail. They accept clothing for both women and children.
How Does thredUp Work?
The way it works is to first request a Clean Out Bag from their site. Then you put your unwanted clothing, shoes, and accessories and mail it to them with the prepaid label.
In short, you have to pay thredUP to process your clothing and pay you. Sounds odd, but the pros are that you have the chance to earn some money on the gently worn designer items in your closet.
It's a risk, but it's an easy process to order a bag and mail it back. The clothing that's rejected can be donated or you can opt to have them send it back to you.
Some clothing may be purchased, and depending on how much you sell (or don't), you have the option of having thredUP donate the items they don't buy.
If you can't bear to let go of your items, you have the option of having thredUP return the items to you for $10.99. You must select this option before you send in your bag.
If you've ordered a bag from thredUP.com, it's already "activated" and associated with your account.
As of this writing, it takes up to five weeks for a buyer to process your clothing. If you want your clothes processed faster, you need to pay a $10.99 fee. This fee will be deducted from your payout.
Who is thredUP for?
If you use thredUP with the proper expectations, it can be worth your time to use it.
The way I view thredUP is for anyone who wants to get rid of their unworn clothing through the mail. It's for people who don't want to bother with the hassle of driving to their local consignment store or spend time posting each item on eBay or Poshmark.
thredUP might also be great for you if you don't happen to live near a Salvation Army or Goodwill and think it might be worth a try to make a few extra bucks by mailing your clothes in.
In my opinion, paying the $10.99 shipping fee to have your clothes mailed back to you is not worth it.
If you choose this option, it means you care about the items you sent in. If this is the case, consider selling them individually on eBay or Poshmark. Or make a trip to your local consignment store instead. At least it would save you $11.
Clean Out Bag Details and Shipping
If you received a bag from a source outside of thredUP.com (such as from a family member or friend), you must activate it on their site.
In order to activate it, you need to register on their site with an email address and the details provided on the prepaid shipping label.
Then you ship it off in their bag that is pre-labeled so you don't need to worry about paying for shipping. You can also schedule a pickup for your bag from USPS if you want to save yourself a trip to the post office.
What to Understand About thredUP
I've read a lot of negative reviews about thredUP from the comments section on bloggers who have used thredUP. Many of the reviews are from disappointed customers who mailed in a giant bag of their most awesome clothes, only to make a couple of bucks.
Many of the complaints seem to stem from the fact that an item they sold was sold on the site for 10 times the amount.
You need to understand that thredUP is a business. Just like any other company, they need to turn a profit in order to survive.
So you need to be OK with the fact that you won't get a large payout unless you have a very high-end designer item. (We'll get to that in a minute!)
I like to look at thredUP as an easy way to get rid of my stuff through the mail. It's another option besides the local ways to donate and sell.
What You Can You Earn
Just like physical consignment shops, thredUP uses similar guidelines when assessing whether they want to buy your clothing. They take the following into consideration:
How new the item is
The seasonality of items
Age of item
Quality
Style
Current situation of existing inventory
This is pretty much on par with how Buffalo Exchange and Crossroads Trading examines clothing they purchase.
If you're experienced at selling to consignment stores, you'll find that every now and then, pricey designer items won't be purchased because they already have too many in the store.
It's one of the downfalls of trying to sell something that's very trendy.
The Best Way to Make Money with thredUP
Consignment stores care a lot about designer clothes, and thredUP is no different. If you want to make more than a few bucks and happen to have lots of high-end designer labels, listen up.
thredUP calls these LUXE-brand items, you can actually earn a decent amount! They currently accept 600+ LUXE brand items.
Here is a screen grab of their pricing for LUXE-brand items. You'll see the LUXE-brand payout percentage on the very right column.
Let's say you have a Louis Vuitton bag that they list for $899 — you can receive 90 percent of that price, $809!
Take it from someone who's sold many a Louis Vuitton bag on eBay — it takes time and effort to post something on eBay and wait for it to sell. If you can save time by selling to thredUP instead, it's worth it.
My Experience with thredUP
I had a positive experience using thredUP, but that's because I knew what to expect and wasn't surprised or insulted when I only made $15 from my items.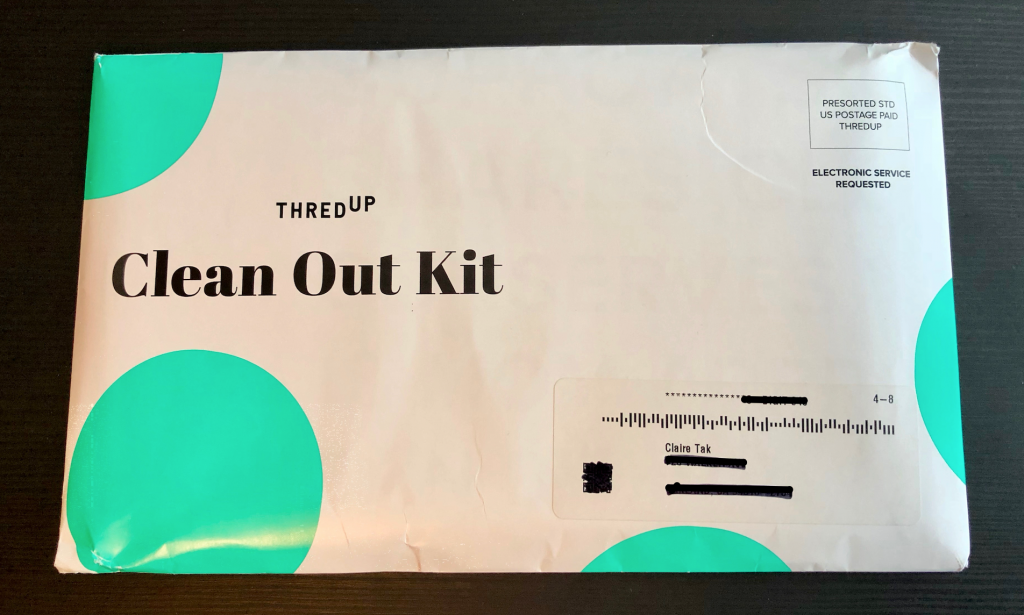 I went on thredUP and ordered the Clean Out Bag. It arrived about a week and a half later. I filled it with a handful of shirts, jeans, and a few accessories. They were mostly popular brands, but more on the low-end such as Gap, Old Navy, and H&M.
I mailed it in and about a month later, I received a whole $15 on the items I sold. I had them donate the rest. There's no way I wanted to pay the fee to have them mail back the stuff I didn't want in the first place. Plus, I would've only made $4 if I decided to go that route.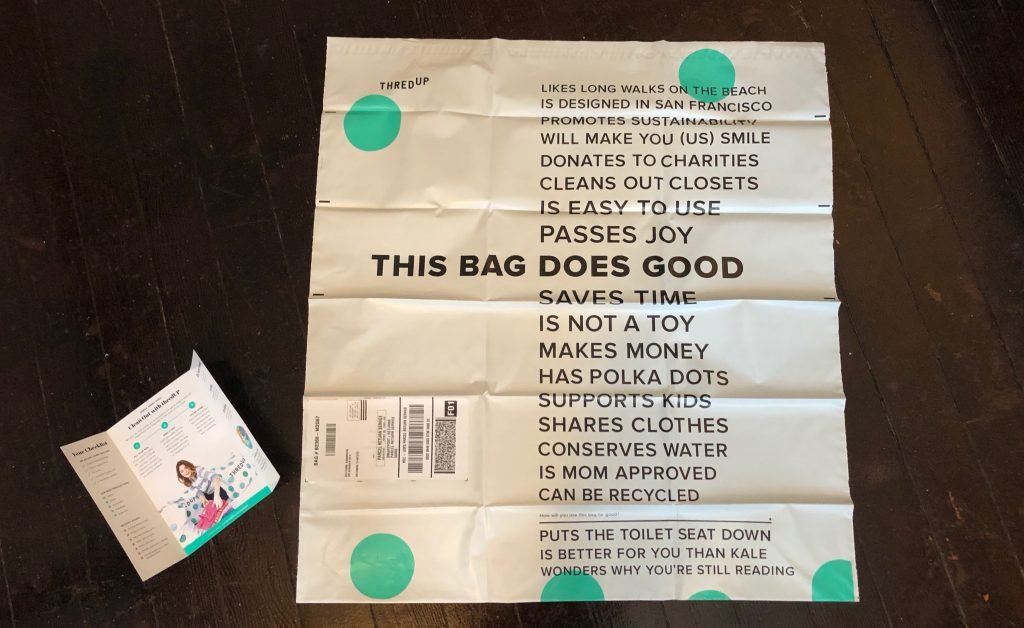 Tips to Help You Decide if You Want to Use thredUP
Here's a quick checklist to help you determine whether it would be worth your time to use thredUP. If you can answer "yes" to the following questions, thredUP may not be the best option for you.
Do you need to have your items mailed back to you?
Do you care believe the items you have are worth more than what you can probably earn from thredUP?
Are you in a hurry to receive payment?
If you have a lot of older, out-of-date, or well-worn items, those are best left for donation.
Want to Make More Than a Few Bucks?
When your expectations aren't met, you may get upset when thredUP gives you just a few bucks for the whole bag that you sent in. The way to look at sites like thredUP is for convenience and making a few bucks and expecting nothing more.
You're putting in minimal effort and time into throwing your clothing into the bag (besides sorting the items you want to get rid of).
If you want to go the eBay or Poshmark route, keep in mind that selling online takes time. You'll have to take photos, write a description, measure the items, and then answer customer questions.
I used to have my own consignment store on eBay and I used to get lots of questions from customers asking me about the color, condition, measurements, and of course, the low ballers requesting a huge discount.
It was a big time suck and after I sold my last item, I closed it.
How to Sell Your Items on thredUP
If you have a lot of items you need to get rid of, my advice is to stay as organized as possible so you don't get overwhelmed.
Create three piles and sort out your items according to:
Expensive brand name items
Lower brand name items
Donate
When you're in the sorting stage, be sure to note the condition of the items as well. If it's worn out and old, it should go in the donate pile.
The same goes for expensive, name brand clothes. Even if it has a designer label but it's not in good shape, it's better to donate it.
What Designer Items Should You Sell
Check out thredUP's site to see what kind of clothing they sell and what brands are in high demand.
They accept 35,000 brands and just like consignments shops and customers who shop on eBay and Poshmark, designer goods are usually worth more.
So once you've made your three piles, look out for the following brands:
High-end Brand Name Clothing
In my experience, brand name clothing that almost always gets accepted from consignment shops like Buffalo Exchange and Crossroads Trading include the following.
thredUP breaks down their brands into certain categories, including top brands, designer, and premium.
Designer brands include:
Gucci
Burberry
Giorgio Armani
Max Mara
Diane von Furstenberg
Theory
Vince
Armani
Tory Birch
Popular top premium brands include:
BCBG Max Azria
Free People
Coach
Vince
Kate Spade New York
Rebecca Minkoff
J Brand
7 For All Mankind
Michael Kors
These are their top brands:
J.Crew
Ann Taylor LOFT
Banana Republic
BCBG Max Azria
Lululemon Athletica
Talbots
Free People
Lilly Pulitzer
Madewelll
I used thredUP's Payout Estimator, which tells you how much you would earn if you sold a designer item. For example, a Lululemon dress would earn you roughly $9 to $12. A trendy Alexander Wang dress has the potential to earn $197. That's a big difference.
Low-end Brand Name Clothing
Unless your low-end brand name items are in mint condition, I'd recommend throwing them in the donate pile.
It doesn't necessarily matter if your items still have tags on them or are in really good condition — if it is a lower end item such as Old Navy or Target, you probably won't get much for them.
Using thredUP's Payout Estimator, I typed in H&M dress and the results showed a number of dresses from payouts that ranged from $0.65 to $9.
Here are some low-end brand names they accept:
Old Navy
H&M
Forever 21
Gap
How to Determine What to Donate
Remember, thredUP is buying from you in the hopes of selling, so if it's old and in poor condition, they won't take it.
If you aren't sure whether an item is in good condition or not, it's probably safe to throw it in the donate pile.
Clothing that has any of the following should be tossed in your donate bag:
T-shirts that are pilling
Colors that have faded
Small rips, tears, stains, or holes
If the fabric has stretched out and lost shape
5 Tips Before You Send in Your Bag
While it's tempting to just throw everything you don't wear anymore into the Clean Out Bag, take your time and be mindful of your items. Here are a few tips to help you:
1. Send in seasonally appropriate items
If you send in your bag at the tail end of a season, consider adding items that are appropriate for next season too. In other words, if it's mid-August, put in fall items as well. After all, the processing time takes up to five weeks!
2. Choose items in great condition
The reason I stress this so much is because I've had buyers at consignment shops turn away expensive brand name duds because there was a teeny tiny flaw. Maybe it was a speck of dirt or tiny stain on the sleeve.
Many times it was so small I didn't even know it existed until it was inspected.
Consignment shops train their buyers to have an extremely detailed eye for flaws, and I expect thredUP is no different.
thredUP makes it very clear on their site that merchandisers looking through your items will scrutinize everything and will catch the tiniest flaw.
3. Check thredUP's site
It helps to see what thredUP is selling on their site. Get familiar with their popular brands and what style of clothing they sell.
4. Understand their payout structure
thredUP has a helpful table that shows you the percentage of what you would get paid for various listing prices.
This is what their payout structure looks like: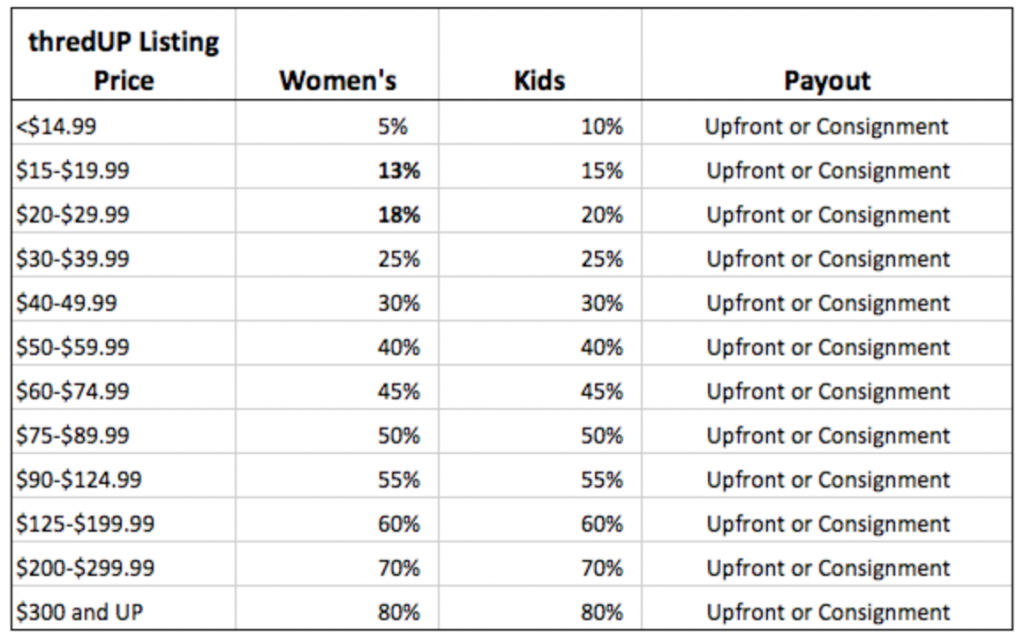 5. Use their Payout calculator
This tool was actually really handy because it gives you an idea of whether it's even worth putting that item in the bag. That way, if I received a payout estimate of $0.50, for example, it would automatically go into the donate pile.
Processing Time
It took about a month for my clothing to be processed. According to the website, thredUP will process your kit up to five weeks after it's received.
If you pay $10.99, you can expedite your bag to be processed within a week. The fee will be deducted from your earnings.
Even if you fill up the entire bag, thredUP will only accept 40 percent of your items. You can choose to have your items returned to you for $10.99 or have thredUP recycle them.
After they receive your bag it takes about one to three weeks for your Clean Out Bag to be sorted and listed online.
How to Get Paid
There are a number of ways you can receive payment from thredUP.
If you've successfully sold items and have some money coming to you from thredUP, you need to wait at least 14 days.
This 14-day delay is due to the nature of thredUP's business.
The website explains, "As thredUP has grown, we've learned more about the costs to continue delivering great value to our customers. We absorb a cost in acquiring inventory, a cost to process that inventory, and then we make revenue on re-selling that inventory. The nature of this timing is that we have to spend a lot of money upfront (item costs + labor) in order to make the wide selection of products we have available."
After the 14-day window has passed, you can cash out the money into your PayPal account or through a thredUP Visa Prepaid Card.
How to Cash Out to PayPal
In order to actually receive the money in your bank account from thredUP involves a few steps.
First, you need to log into your thredUP account.
Go to your Account page or My Selling History page. From there you will see your cashout balance and have the option to transfer it to your PayPal. The transfer is pretty much instant and only takes a few minutes.
One important thing to note is that you will get charged a 2 percent fee of the cashout amount from PayPal.
Step two is to log into your PayPal account.
After you log into PayPal, you should see the money sitting in there. You can then transfer it to your checking account.
Other Options to Sell Your Clothing
If you actually want to earn more than a few bucks from your clothes and believe it's worth the time and effort, try the following options to sell.
My favorite place to sell is on Poshmark because it's mostly app-based, so you can post and sell your stuff directly from your phone. I wrote a review about Poshmark that explains how to use it and what to expect.
eBay
Poshmark
LetGo
OfferUp
Consignment stores
Buffalo Exchange
Crossroads Trading
Summary
Overall, I was pretty happy with my experience using thredUP. I used it mostly out of convenience and because I like the idea of consignment and recycling your clothes.
I was not expecting to make a ton of money, so being able to donate the rest of my clothes through thredUP made my life easier.
The best way to take advantage of thredUP is if you have a lot of high-end or top-selling brands.
If you don't have too many popular brand names or designer names in your closet but want to make more than a few bucks, you might be better off selling on eBay or Poshmark.
Also, if you're in a hurry to get rid of your items and turn a profit, thredUP might not be worth it, unless you're OK with selling out the fee to rush processing.