It can be difficult to stay organized financially. You may have multiple bank accounts, credit cards and individual retirement accounts to monitor.
If you're searching for a great personal finance app to help keep track of your accounts, Empower or Mint by Intuit are excellent options.
While both platforms have useful features, our Empower versus Mint comparison can help you determine which one is best for your financial management needs.
The Basics of Mint vs Empower
On the surface, Mint and Empower are very similar in what they do. Both allow you to access their platform through a website or smartphone app.
You can view the account information and balances of your bank accounts, loans, credit card accounts, investment accounts and more.
It's also easy to view transactions, set up budgets and get a full picture of your financial situation in a single dashboard on both.
Better yet, these account aggregation services are free.
However, there are some important differences between the two products that might make you choose one over the other.
What is Empower?
Empower describes itself as a company that is committed to transforming financial lives through technology and people.
While its main purpose lies in wealth management, Empower also offers a personal finance software tool that has become a fast favorite among personal finance aficionados.
The finance software is free to use whether you are a wealth management client with Empower or not. This is one of Empower's main attractions.
Empower is its own company, but it makes its money through a paid investment service that has more than $20 billion worth of assets under management.
It is registered with the Securities and Exchange Commission as an investment adviser. This is a critical distinction, as it means that customers over a certain net worth may be contacted by the company's sales team.
However, the comprehensive tools offered in Empower's finance software are another reason over three million people use the system.
What is Mint?
Mint offers a widely used budgeting app. Instead of providing wealth management services, the platform focuses solely on personal finance management tools.
While Aaron Patzer originally launched Mint, Intuit later purchased it and made it part of a financial management tools family that includes QuickBooks and TurboTax.
Mint claims to have over 20 million users, making it one of the most popular personal finance management tools on the market.
How Does Mint Compare To Empower?
Here are some of the key considerations in the Empower vs. Mint comparison.
| | | |
| --- | --- | --- |
| | Mint | Empower |
| Cashflow Analyzer | X | X |
| Budgeting | X | X |
| Net Worth Tracker | X | X |
| Investment Tracker | X | X |
| Investment Fee Analyzer | X | X |
| Retirement Planner | | X |
| Bill Tracker | X | |
| Education Planner | | X |
| Credit Score Monitoring | X | |
How Are Empower And Mint Similar?
Empower and Mint have many similarities, which can make it difficult to choose between the two.
Both tools are account aggregators that allow you to compile up-to-date information about all of your financial accounts in one place.
This information includes your bank accounts, credit cards, loans and your investment accounts. Transactions are automatically uploaded to both platforms.
Additionally, both have budgeting features that allow you to create customizable budgets based on your household's personal expenses. Each tool even allows you to track your net worth.
Furthermore, both Empower and Mint will help you identify the investment fees you're paying so that you can make smarter decisions about where you invest.
When it comes to the organization of your money and smart budgeting tools, you'll really benefit whether you use Empower or Mint.
How Are Empower And Mint Different?
The main difference between Mint and Empower is what each option focuses on.
Mint's primary focus is money management. Consequently, Mint's budgeting tools are more comprehensive than what Empower offers.
With Mint, you'll get a bill tracker and credit score monitoring. You'll also get integrations with other Intuit products such as QuickBooks, TurboTax and Credit Karma.
Empower's primary focus is investment management. As a result, it has excellent features like retirement and education planning tools.
Additionally, some people prefer Empower because of its state-of-the-art dashboard. It's attractive, easy to read and well put together.
Mint vs. Empower Features Comparison
When deciding between Mint and Empower, understanding the features offered by each platform can be beneficial. Here's what you need to know about each option.
Budgeting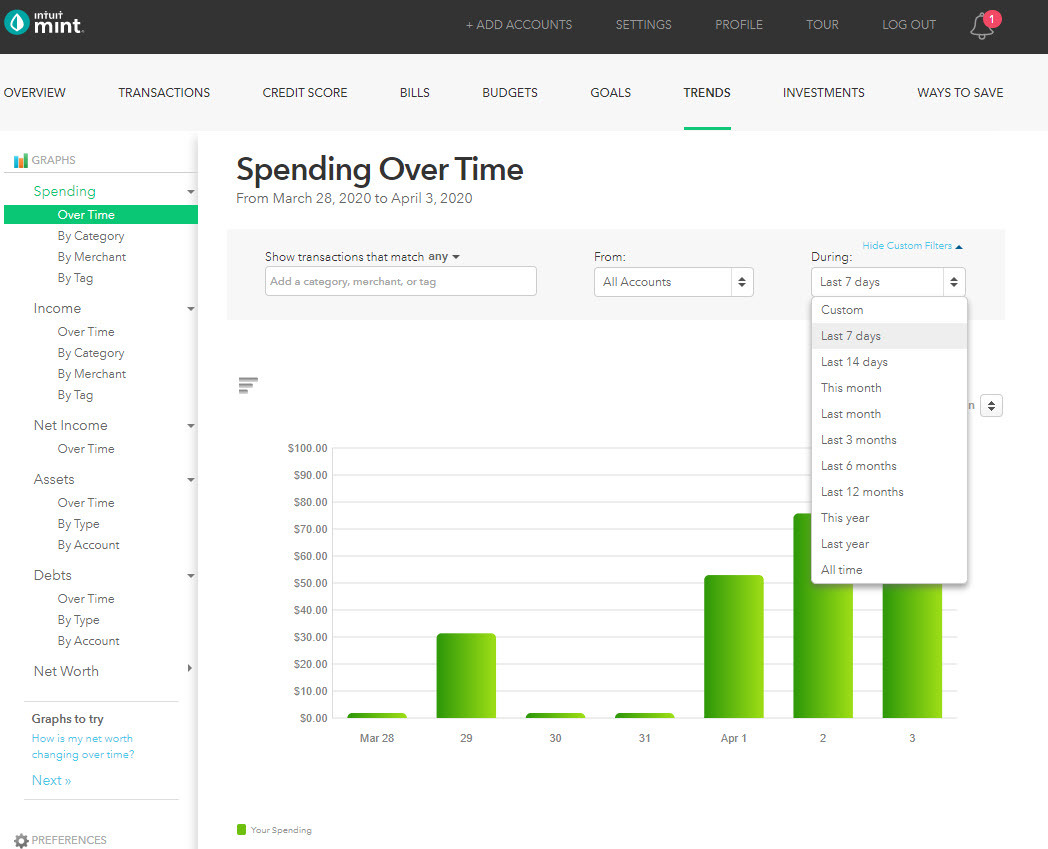 Perhaps the most important feature of Mint and Empower is the ability to see every financial transaction you make (with the exception of cash transactions).
You can do this as long as you sync all of your bank, investment and credit card accounts with whichever software you choose.
The budgeting tools of the two software programs allow you to get a nearly complete view of your spending.
All transactions are categorized and labeled, and the log is customizable based on what you want to see.
For the most part, this aspect of Empower and Mint is nearly identical.
Empower's interface is a bit cleaner, but I found Mint to be smarter when it came to categorizing transactions accurately.
Using this transaction information, both services offer budgeting tools. These allow you to see how much you spent on specific categories.
For example, you can view a pie chart outlining your spending on entertainment and fast food over the previous six months.
One of my favorite features of each tool is the ability to see how much you spent in specific categories during one time period as compared to another.
If you want to see where you may be able to cut expenses, this feature can help.
When comparing these two software options, this is one area where I believe Mint excels. Its budgeting charts are more comprehensive and easier to follow than the ones offered by Empower.
Moreover, Mint allows you to enter very specific spending goals (like saving for a car or other large purchases) and will update you on your progress over time.
Mint even offers access to your credit score for free, which is a nice feature not available on Empower.
Winner: Mint
Bill Alerts
Do you want to be alerted when a bill is due? Or do you want to receive a summary of your transactions via email?
This is an area where Mint shines. The platform offers customized email alerts for a wide variety of things.
You can get an alert when your bank account balance drops below a certain level, you exceed your budget in a certain spending category or your credit score changes.
Empower doesn't have any of these features.
With Empower, there are no individualized email alerts. However, you can subscribe to receive general articles and advice.
Winner: Mint
Retirement Planning
This is one area where Empower shines. While Mint will help you track your retirement investments, it doesn't have a retirement planner.
Empower goes the distance when it comes to helping you see if you're on track to meet your retirement savings goals.
The Retirement Planner will not only help you view what you've saved for retirement, but it will also help you determine your estimated post-retirement income.
Additionally, it will help you set your retirement goals and tell you how much you need to save in order to reach those goals. You'll be able to see your chances of reaching your goal and get tips as well.
While Mint can track your investments and analyze fees, you'll only get planning and goals tools with Empower.
Winner: Empower
Investment Analysis
Both Empower and Mint allow you to access your investment accounts.
By clicking on the individual accounts, you can see the performance of entire portfolios and the list of individual holdings.
This includes investments in your 401k, Roth IRA and other retirement accounts.
When it comes to Mint, charts show the performance of your entire portfolio over seven different time frames. That said, it won't show the performance of the individual stocks.
On the other hand, Empower will not only show charts of the performance of accounts and your entire portfolio over time, but it will also display the individual investments themselves.
It has helpful charts comparing them against benchmarks as well as the breakdown of how your investments are allocated to the 11 key stock market sectors.
Because Empower makes its money from a separate robo-advising service, it is clearly designed with investors in mind.
The interface is clean and bright, the navigation is simpler and the information is comprehensive.
Meanwhile, the investment information on Mint is limited and does not have the same slick design.
For users who are most interested in checking their investments regularly, Empower is the better option. It's a helpful tool for beginner investors as well as investors who are more advanced.
Winner: Empower
Synchronization
One of the challenges that account aggregators face is ensuring that all of your accounts update and link without a hitch.
It's not uncommon to log in to one of these services and find that a bank or brokerage account didn't sync properly.
This is especially true if you haven't logged in for a while. Getting things fully linked up may require you to re-enter the login and passwords for some accounts.
From my experience, Empower does a better job of keeping accounts linked. It uses Yoodlee to sync accounts, while Intuit uses an in-house solution that is inferior, in my opinion.
Winner: Empower
Security
It's understandable why many people shy away from using these types of services. No platform can offer a 100% guarantee that your data is safe.
That said, Empower and Mint use strong security that's on par with or better than most financial institutions.
Mint uses 256-bit encryption for your login information, and the data exchanged with Mint is encrypted with 128-bit encryption.
This makes it essentially impenetrable from a brute force attack. It also uses Verisign for security scanning and partners with BugCrowd on security audits.
Empower uses 256-bit encryption on all sides, which gives it a slight edge. The site got an A+ rating for its encryption from Qualys SSL Labs.
It's notable that Empower's Bill Harris also once led Passmark Security, a leader in web authentication technology.
With Empower, you can even sign up for a daily transaction monitor via email, making it easier to spot any suspicious transactions.
In addition, it requires validation from a second device any time you try to access an account from a new machine.
Mint and Empower each use a four-number PIN for access to apps on Android and iOS smartphones, as well as the option for Touch ID or Face ID. Two-factor authentication is available on both services.
Both platforms have high levels of security, and neither has been victimized by a major data breach. But Empower has more robust encryption and some other nice features.
That said, the security of your accounts comes down to you. Don't use easy-to-guess passwords, share your login information with others or leave the websites open on public computers.
Winner: Empower
Mobile Apps
Both Mint and Empower offer free mobile apps for the iOS and Android platforms, along with web access.
For the most part, the apps offer the same functionality as the web platforms. Neither service excels over the other in this department.
Winner: Tie
Customer Service
Every once in a while, you may encounter a problem when logging in to your Empower or Mint accounts. This is where it helps to have access to customer service.
Empower has a Frequently Asked Questions section and a help section powered by Zendesk.
You can also send your customer service question through a webform, but it's not easy to find on the Empower website.
Mint's customer service is managed similarly through NanoRep.
Neither site appears to offer a direct phone number for customer service, though Empower has a number to reach a financial adviser.
Winner: Tie
What Others Are Saying
From an independent review standpoint on Trustpilot, Empower is a clear winner.
Empower: 3.8 out of 5 stars
Mint: 2.3 out of 5 stars
Most of the Empower complaints on Trustpilot revolved around connectivity issues. Conversely, Mint complaints ran the gamut from customer service to data backups.
When it comes to BBB, Empower also takes the lead.
Empower: A-
Mint (Intuit): B
Interestingly, Intuit (there are no BBB ratings for Mint specifically) had over 2,000 complaints, a little less than half of which were classified as resolved.
Empower had just five complaints on BBB, two of which were considered resolved.
Winner: Empower
What Else Should You Know
Account aggregators like Mint and Empower let you get a full view of your financial situation, but they can't do everything.
Even if you have all of your accounts linked and up to date with the aggregator, you will still likely need to log in to the individual accounts to perform certain tasks.
Here are some additional things to keep in mind as you consider Empower vs. Mint.
You Can't Make Transactions
These platforms are great for monitoring your finances, but you can't actually take action.
For example, you can check the movement of your investments, but you won't be able to trade stocks.
Similarly, while you can see the balance of your credit card bill, you won't be able to send a payment.

Labeling of Transactions is Imperfect
Account aggregators allow you to see all of your monetary transactions in a single view and will help you budget by labeling transactions based on what they are.
For example, a purchase of movie tickets might be labeled "entertainment."
Neither Mint nor Empower pulls this information from the originating institution and is only as perfect as the bank or credit card company. Some institutions do a better job of this than others.
If you really want a complete look at the breakdown of your transactions, you need to do a lot of manual editing, which can take time.
The good news is that both allow for customized labeling of any transaction.

Some Accounts Will Never Link Due to Security
Most account aggregators will link to outside accounts simply by saving the login and password information.
But this becomes hard or even impossible if the outside account has an enhanced security procedure, such as two-factor authentication.
With two-factor authentication, the account requires the user to enter the username once and then receive a password on a separate device.
Account aggregators struggle with this and may not link the account if two-factor authentication is activated.
You might be able to get around this by disabling two-factor authentication on the account, but then you lose the benefit of enhanced security.
Furthermore, some accounts make two-factor authentication mandatory.
Empower vs Mint: The Verdict
Should you sign up for Mint or Empower? Which is better overall?
In short, Empower gears itself to users who want to track and manage their investments, while Mint is better as an overall budgeting and personal finance tool.
Empower edged out Mint by just a bit in our analysis, potentially making it the better solution if you want to track investments.
Nevertheless, Mint may be a better option if you are more interested in simply tracking spending.
Keep in mind that there's no downside to trying both services. You may find that you will settle into using one more than another over time, or you may end up using both.