Did you know that there are legit ways you can get paid to read emails? While you probably won't get rich by doing this, you can earn a little extra money.
If you are interested in padding your bank account a bit, we've found the most popular ways to get paid to read emails and do other simple tasks.
How to Get Paid to Read Emails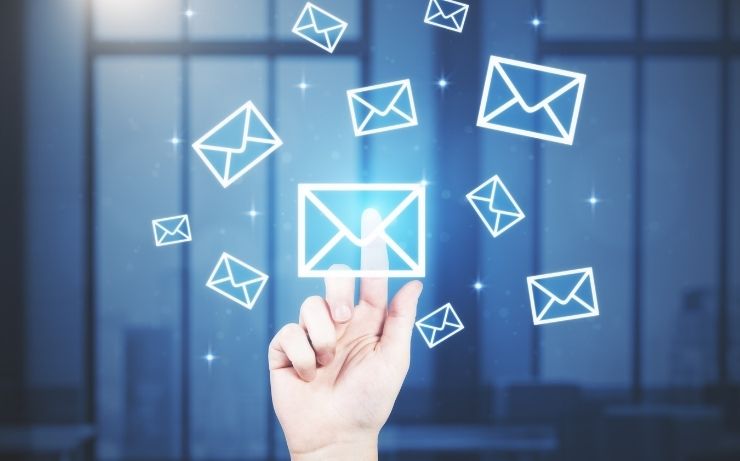 The most popular way to get paid to read emails is to use GPT (get paid to) websites. These types of websites will pay you for completing a variety of activities in your spare time.
In order of Trustpilot score, here are the top ways to make money by reading emails.
1. MyPoints
MyPoints helps you earn points for a variety of activities. Reading emails is just one of the opportunities to earn extra cash.
Other activities include:
Completing surveys
Shopping online
Taking advantage of offers
Referring friends
Each activity will earn you a specified amount of points that are credited to your MyPoints account.
For example, you can shop at over 2,000 popular retailers through MyPoints and earn up to 40% cash back on purchases.
You can then use those points to get free gift cards to popular retailers, or you can transfer the cash equivalent to your PayPal account.
MyPoints sends you alerts in your browser so you can make sure that you don't miss out on opportunities to earn points.
It's free to become a member of MyPoints, and you might get a cash bonus for signing up if you join at the right time.
2. Swagbucks
Swagbucks is one of the longest-running GPT sites. You'll earn points for reading emails from Swagbucks.
Keep in mind that you won't earn a lot of points for reading emails. However, with Swagbucks, there are additional ways you can earn points.
These include:
Taking surveys
Shopping online
Searching the internet
Playing games online
Scanning receipts
Watching videos
And other activities. For instance, you can get cash back when you dine out at specified local restaurants.
You can use the app to get the best deals on prescription meds as well.
Similar to MyPoints, you can use the points you earn to get gift cards to popular retailers or PayPal cash.
Retailers you can get gift cards to with Swagbucks points include Amazon, Walmart, Starbucks and more.
3. InboxDollars
InboxDollars is another GPT site that pays you to read email offers from its partner retailers. You don't even have to take advantage of the offers. Simply read the emails to see what they're about.
The company has paid out $80 million to members so far.
InboxDollars will also pay you for doing other activities such as:
Taking surveys
Watching videos
Playing games
Using coupons
You can earn cash back when you shop online through the InboxDollars portal as well. New offers are posted regularly.
Note that with InboxDollars, you'll earn actual cash instead of points. The minimum cashout with InboxDollars is $30.
Once you've accumulated $30 in your account, you can request a transfer to PayPal. Alternately, you can choose to get a gift card from a popular retailer.
Gift card retailers include Amazon, Starbucks, Target and more. You can also request payment via a mailed check. However, there is a $3 fee for each mailed check.
4. QuickRewards
QuickRewards doesn't focus solely on having you read emails. Like other companies here, you'll earn more by completing a variety of activities.
You can get paid to complete activities within an email. However, along with getting paid to read emails, you can earn money in other ways.
These include:
Playing games
Watching videos
Taking surveys
Shopping online
Completing offers
The minimum required to redeem earnings at QuickRewards is just $0.01. The company has paid out over $7 million to members since it launched.
You can cash out your earnings from QuickRewards to PayPal. Or, you can get gift cards to retailers such as Amazon, Walmart, Target, Home Depot, Domino's Pizza and more.
QuickRewards also issues tokens to its users. Tokens are a separate reward, and they can be used to get prizes such as movie tickets or magazine subscriptions.
5. Quick Pay Survey
Quick Pay Survey pays you for reading emails and completing other activities. You'll get paid $0.05 for every email you read and confirm.
Along with reading emails, you can get paid for doing activities such as:
Taking surveys
Completing offers
Referring friends
When you complete activities, you earn points called GPE. Note that you cannot get paid to read emails with Quick Pay Survey if you have zero GPE.
You must have at least some GPE, and you can earn GPE by doing surveys or completing other activities.
Payouts can be requested once you've reached a minimum balance of $15. They are processed within three business days of your request.
Your first payment with Quick Pay Survey will take longer to receive. There is a minimum 15-day waiting period before payout in order to help combat fraud.
Also, you are not paid directly by Quick Pay Survey for activities such as offers and surveys.
Those activities are paid for by advertising companies that Quick Pay Survey partners with.
6. Points2Shop
Points2Shop pays you for reading emails, but surveys are their main focus.
The Points2Shop website says they are better than many survey companies at finding the right surveys you can qualify for.
Whether it's reading emails, taking surveys or completing other tasks, Points2Shop pays out via PayPal and other popular options, such as retail gift cards.
Points2Shop also has a refer-a-friend program. Once your referral completes their profile and completes at least one survey, you'll get a $1.00 bonus.
Participating in the referral program with Points2Shop can be a great way to increase your income in addition to reading emails and completing surveys.
7. Paid to Read Email
Paid to Read Email works exactly like it sounds. It pays you to read emails. The company rewards both cash and points.
Your cash can be converted to points, and points can be used to get more paid emails. You can also use your points to get retailer gift cards.
You can request a payout of your cash balance via PayPal. The minimum payout amount is $15.
Note that your first payout will take longer to receive than subsequent payouts. This longer wait time on the first payment is to help verify your PayPal account.
Paid to Read Email also has other options for earning cash, such as taking surveys or referring friends. So, if you get bored with reading emails, you can take advantage of other money-making opportunities.
8. FusionCash
FusionCash will pay you to read emails and complete other activities after you sign up for a free FusionCash account.
Keep in mind that FusionCash often offers cash bonuses upon signup, so visit the website to get current signup bonus information.
In addition to reading emails, FusionCash will pay you to complete activities like:
Watching videos
Completing tasks
Downloading mobile apps
Playing games
Taking surveys
There's not a lot of detailed information on the site about the types of activities they pay you to complete. You have to sign up to get more information about how to get paid to do short tasks online.
There is a minimum payout of $25 with FusionCash. The company prefers to distribute payments via PayPal, but it does have other options.
9. InboxPays
InboxPays will reward you with up to $25 per payout just for reading emails. Keep in mind that with this company, you'll have to complete other activities along with reading emails.
Other offered activities include taking surveys and completing offers. Note that the minimum payout is $50.
Since the minimum payout with InboxPays is so high, you'll have to earn some money using the other opportunities.
Payment is made via PayPal, and payments are issued in increments of $50. That means if you've earned $55 and want to be paid, you'll get $50.
The additional $5 will be held in your InboxPays account until you've accumulated another $45. At that point, you can again request payment.
10. Become a Virtual Assistant
Did you know you can get paid to read emails by becoming a virtual assistant? Virtual assistants are hired to complete a variety of tasks for business and blog owners.
As a virtual assistant (VA), you might find yourself reading and answering emails, managing blogs, coordinating schedules and more.
You could be hired to do other tasks such as:
Manage social media accounts
Make phone calls
Handle invoices and billing
Light graphic design work
Customer service
Data entry
And so on. Each VA job is different, which helps to ensure you never get bored while on the job.
You can find VA jobs online or start your own VA business in order to maximize your income potential.
You'll likely earn somewhere between $12 and $20 per hour working as a W-2 VA for another company.
However, you can earn much more than that if you choose to work as an independent contractor in the position.
Frequently Asked Questions
Before you start getting paid to read emails, these frequently asked questions can help you determine if it's the right opportunity for you.
Is getting paid to read emails a legit way to make money?
Yes, getting paid to read emails is a legit way to make money. However, you'll want to ensure you're signing up with reputable sites.

There are some scam sites out there, so reading reviews on sites such as Trustpilot is helpful when trying to avoid scams.
How much can I make reading emails?
Generally speaking, you're not going to get rich by reading emails. Each website pays a different amount for reading emails.

Most sites pay just a few cents for each email you read. Fortunately, reading emails using GPT sites is something you can do in your spare time to earn a few extra bucks.

However, if you become a VA, the opportunity to make a decent amount of money is a bit more realistic.
What is the best way to get paid to read emails?
The best way to get paid to read emails depends on your unique situation.

If you are just looking to earn a little extra money in your spare time, legitimate GPT sites are a good choice.

But, if you have a decent amount of time to put into reading emails, looking into VA jobs that pay more can be a good idea.
How can I avoid scams when getting paid to read emails?
You can avoid scams by doing your research.

Also, check the Better Business Bureau website, Trustpilot and other reputable review sites to find information on companies that offer to pay to read emails.

We suggest sticking with companies that have a well-known history of being ethical, such as Swagbucks.
Summary
While you're probably not going to get rich, there are plenty of legit ways to get paid to read emails. It is an easy way to make money from home in your spare time.
One suggestion is to sign up to get paid to read emails, then take full advantage of the other money-making opportunities on these sites.
Alternately, if you have more time on your hands, becoming a part-time VA can help you earn even more money by reading emails.