Do you like taking pictures? It can be fun to look at the world through a camera lens, whether you're traveling, hanging out with friends, or just snapping pix of interesting things in your neighborhood.
Did you know there are ways for you to get paid to take pictures? And not all of them involve starting a photography business.
Several companies might want your photos for different reasons. In addition, individuals might want your photos. And many may be willing to pay for them.
Check out the many ways below that you can get paid to take pictures. See which ones are right for you.
With some time and effort, you might just end up with enough income to replace your current job.
How to Make Money Taking Pictures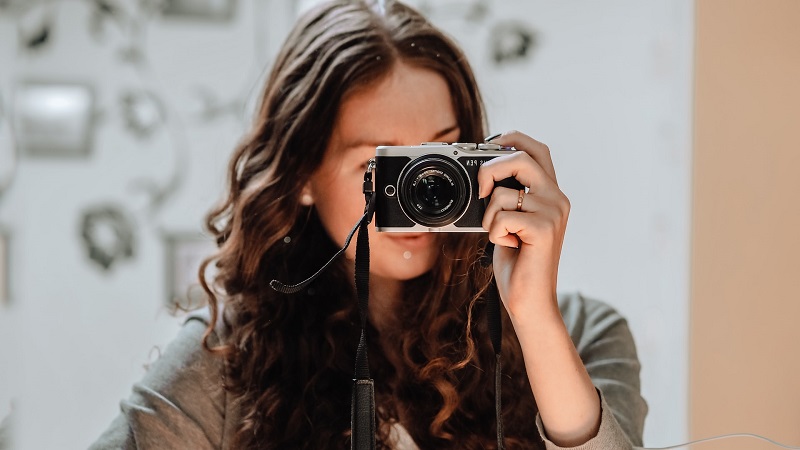 The ways to get paid to take pictures span a variety of choices. With some options you can earn money right away. Other options require you to work now and get paid later.
Some options will earn you some extra walking around money. Others have the potential to bring in hundreds of dollars per month.
Read on for some options and choose one or more that you think might be best for you.
1. Become a Stock Photographer
One way you could get paid to take pictures is to publish your photos on stock photo sites. Stock photo sites sell photos to people and businesses.
Those people and businesses use them for blogs, websites and advertising.
Here's how it works:
You take great photos with your camera or phone
Then you upload them to a stock photo site
People buy the rights to use your photo
You get paid a small commission for each sale
When selling stock photos, it's important to review the submission guidelines for the site.
Each stock photo site has specific guidelines about the size and quality of the pictures you can submit.
Here is some information about a couple of the more well-known stock photo companies.
Shutterstock
Shutterstock has paid out more than $500 million to photo contributors in its 15 years in business. When you become a Shutterstock contributor, you'll get your own personalized photo page.
People can shop from your personalized page, or they can search the site with keywords. Every time someone downloads one of your photos from Shutterstock, you get paid.
Bonus: As your earnings rise with Shutterstock, so does your commission percentage. The more you earn with Shutterstock, the more per-photo commission you'll get paid.
In addition, Shutterstock has a referral program. If you refer a new photographer, you can earn commissions when their work is sold, too.
When you first sign up to work with Shutterstock, you will have to submit photos for their review. Once you're approved, you can start earning money.
iStock Photos by Getty Images
iStock works largely the same way Shutterstock does. Like Shutterstock, iStock requires you to apply before you're accepted as a photographer.
Once you're approved, you can begin earning royalties on the photos you sell via the site. Royalty rates with iStock start at 15%.
Selling photos on stock photo websites is a real source of passive income. Once you've uploaded your photo onto a site, your work is done.
2. Sell Your Pictures Using an App
These days, there are lots of money-making apps, some of which will pay you to use your smartphone to take pictures.
Here's some information on two of them.
EyeEm
EyeEm will pay you a 50% commission every time you sell a photo you've uploaded with the app.
It partners with big companies like Getty Images to help your pictures be seen by more people looking for stock photos.
Bonus: You get to keep the copyright on the photos you upload to EyeEm. The EyeEm app is available for both iOS and Android devices.
Foap
Foap is a stock photo app that works similar to EyeEm. You'll get paid a 50% commission on the photos people buy from you on Foap. And, you'll retain the rights to the photos.
The Foap app is available for both Android and iOS devices.
Note: You will have to have a high quality camera on your phone to make money this way. See each site's photo guidelines for more information.
3. Take Pictures for Family and Friends
Do you like taking pictures of people? You could make money by starting a small photography business. Maybe you could take pictures for family and friends.
Start by offering your services at a highly discounted price. Or, you could take some pictures for free in order to build a website portfolio that leads to paid gigs.
Spread the word about your photography business on social media accounts such as Facebook, Pinterest and Instagram. Share your work so people can see your great photography skills.
Choose venues for taking photos. You could set up a small studio in a spare bedroom in your home. Or, you could choose to take photos at your client's home.
Outdoor venues such as parks are another option, and you'll have the benefit of being able to use natural light.
Experiment with different poses and facial expressions. And, don't be afraid to take lots of pictures as you practice.
When I took my oldest daughter's senior pictures myself, I didn't have any previous photography experience. I took over 300 pictures in order to get 30 that were of usable quality.
But it was worth it. We got some great shots and I didn't have to pay a photographer to take her pictures.
4. Work as a Real Estate Photographer
Another way you could make money taking pictures is by offering your services as to real estate agents.
As a Realtor, I always want the photos on my listings to look attractive. I've seen plenty of home listings with dismal photos, and I'm sure you have too.
Great photos are a part of what helps a home sell. However, I'm not a pro at figuring out lighting and angles for getting the best property photos.
As such, I hire a local guy who takes stellar photos of the houses I list. The property looks its best on real estate websites, and my clients are happy that their homes look great in the pictures.
In order to start your business, practice taking photos of your own home. Experiment with different angles. Work on lighting techniques.
Try taking several different photos of a room to see which angle presents the room in its best light.
After you've perfected your skill, reach out to area real estate agencies. Share your sample photos so they can see your work.
5. Sell Your Photos as Art
Another way you could make some true passive income is to sell your photos as downloadable art. You would start by creating an account on a site like Etsy.
Next, upload your great landscape and other photos for people to download and get printed and framed. Selling your photos as a downloadable product means less work for you.
You won't have to print, frame or ship the item. Instead, the client brings the file to a local print shop and has it do the printing. The client frames the photo themself or brings it to a store to get framed.
The money you earn on each download sale will be less than if you printed and shipped the photo yourself.
However, you wouldn't have to do any work. Once you've uploaded the file to your Etsy site, everything else is automated.
6. Start a Photography Blog
You could make money taking pictures by starting a photography blog. For instance, you could write about your journey from beginner to expert photographer.
Or you could share photography tips on your website. Blogs make money when readers click on ads placed within the blog or when they buy from links placed in blog articles.
Worried that you don't have any tech experience? That starting a blog will be difficult? Guess what: We can show you how to start a blog in 10 minutes or less.
With our blogging resources, it's easy — even for newbies — to start a blog. And our tutorial on how to make money blogging as a beginner will show you potential income sources for your blog.
As a non-techie person myself, I can attest to the ease in setting up a blog for the first time. We'll walk you through every step and show you how to get started.
From there you can learn as you go, perfecting your own blog and getting tips from blog experts. As your blog readership grows, your potential to earn income from it increases, too.
If you're providing valuable content and marketing your blog well, it could grow to earn thousands of dollars per month.
How do you know if starting a photography blog is right for you?
Ask yourself a few questions:
Do I have decent writing skills?
Do I enjoy teaching people or sharing tips with them?
Can I set aside 10 hours a week or so to write weekly articles?
Am I willing to hone my photography skills and share what I learn?
If you answered "yes" to these questions, you might really enjoy having a photography blog. And over time, you could start making serious money in the process.
7. Freelance Photography
You can freelance your photography skills and make money in your free time. Companies request freelance photography services on sites like Indeed and Craigslist, or they may look at sites like Fiverr.
As a freelancer, you can take photographs in many modalities, such as pictures of a restaurant's menu for its website, images for a company's social media page, or headshots for a company that wants to revamp its website.
There's no limit on how you can earn money in freelance photography, and it may give you the most opportunities to gain experience in different industries.
8. Take Event Photos
Many events require the services of a photographer, such as weddings, graduations, anniversary parties, and retirement parties. For example, a bride and groom might hire you to take posed or candid photos at their wedding. The type of photos you'll take will depend on the
For example, some people hire a photographer to take photos with a backdrop while hiring another to walk around the event and capture the fun going on at the event.
You can charge by the hour or a flat fee per event, depending on the amount of work required.
9. Teach Photography Classes
If you're great at taking pictures and don't mind sharing your knowledge, you can make money teaching others online how to take pictures. You can teach classes about cameras, taking photos, backdrops, and any other factors.
The nice thing about teaching photography classes online is you can create them once and sell them multiple times.
10. Take Portraits
Portraits are another service that's always in demand. You can take photographs at schools, for sports teams, and for business headshots as a few ideas. You may also take portraits for advertising purposes.
Make Money With No Photography Skills
Maybe you've got a decent phone camera but don't want to be a photographer. Or you just lack the eye to take great photos.
There are still a couple of ways you can make money taking pictures.
11. Take Pictures of Help Wanted Signs
This is a super easy way to make money by taking pictures. Have you heard of Indeed, the jobs website? Indeed has an app called Job Spotter.
When you download the Job Spotter app, you can start taking pictures of "help wanted" signs you see. Then send them to Job Spotter.
Once the photos are approved, Job Spotter will credit your Job Spotter wallet. You can use the money in your Job Spotter wallet to get free gift cards to your favorite retailers.
The Job Spotter app is available for both Android and iOS devices.
12. Create a Photography Book
Create a photography book if you have a collection of photos you've taken through the years. You can create a book with a single theme or a collection of photos from multiple themes.
Some good platforms to create photo books include Blurb and Lulu. Both self-publishing platforms make it easy to create and sell your books.
Or perhaps you have a family member who an incredible story of being in the war, a major travel experience and more. You can use their photos (with permission of course) to create a story photography book.
To increase your sales, you can advertise your book on social media.
13. Turn Photos into Merch
If you're great at taking pictures, consider turning your photos into merch, such as t-shirts, mugs, and calendars.
You can sell your merch on sites like Etsy, Amazon, and even Facebook Marketplace to gain a larger audience.
If you like to design t-shirts, this is a great way to make some cash. Your unique photos can easily be uploaded to make t-shirts and other merchandise. Sites like Custom Ink are easy to use.
14. Take Pictures in Stores
Market research companies and brands pay people to take pictures of their displays and products inside stores.
This is their 'insider information' to ensure stores follow their branding requirements and aren't hurting a brand's reputation by displaying the products incorrectly.
Research the company you might want to work for. See if they have a position available or create a portfolio then pitch it to them as an option.
15. Take Pictures of Your Receipts
This is possibly one of the simplest and fastest ways to make money taking pictures. There are a couple of companies out there that will pay you to take pictures of your store receipts.
Here are two of my favorites:
Ibotta
I've been using Ibotta for nearly a year now, and it's a really easy way to earn cash with your phone's camera.
Here's how it works:
You start by downloading the free Ibotta app to your smartphone.
Next, you search Ibotta for cash back offers on products you buy.
After that, you go to the store and buy the products you've selected offers for.
Lastly, you take a picture of your receipt while in your Ibotta app.
Ibotta will credit you for all of the cash back offers you took advantage of while you shopped. You can have your earnings transferred to your PayPal account.
P.S. Ibotta will give you a $10 bonus just for signing up — and you don't even have to take a picture to get it!
Fetch Rewards
Fetch Rewards will credit you cash for your purchases if you've bought one of the brands in the program.
The amount of cash you earn depends on the current deals Fetch Rewards has with companies you bought from.
There's no clipping coupons or signing up for deals with Fetch Rewards. Just take your pictures and wait for any available refund.
Taking pictures of receipts is a fast and easy way to earn some extra cash. You won't get rich doing it, but you can earn a few extra dollars each month.
Frequently Asked Questions
When it comes to figuring out which way is the best to get paid to take pictures, you have options. Here's a look at some of the more common questions.
How can I get paid to take pictures?
There are several ways to get paid for your photography skills. From taking pictures of receipts to taking portrait photos.

You can sell your photos as stock images on platforms like Shutterstock or Adobe Stock, work as a freelance photographer for clients, sell prints of your photographs, or even participate in photography contests with cash prize.

The options are endless. You just need to get creative.
Do I need professional equipment to get paid for my pictures?
While professional equipment can enhance the quality of your photographs, it's not always necessary.

Many smartphone cameras are capable of capturing stunning images, and there is a growing demand for high-quality smartphone photography.

Focus on developing your skills and capturing compelling photos regardless of the equipment you have.
How much money can I make by taking pictures?
The amount you can earn from your photographs varies greatly. It depending on various factors such as the quality of your work, the demand for specific types of images, and the platforms you use.

Some photographers earn a significant income, while others make more modest earnings. It's important to continuously improve your skills, build a portfolio, and explore different avenues to maximize your earning potential.

Additionally, it depends on your goals. If you want to make a few bucks or earn Amazon Rewards to help lower the cost of your shopping, then scanning receipts may work. If you are thinking about a career, then professional photography might be the gig for you.
Summary
As you can see, there are several ways you can get paid to take pictures. Some are more lucrative than others.
However, they can all help you earn some cash for whatever your financial goals are.