If you have a car sitting in your driveway that you use infrequently, HyreCar can help you rent it out for cash.
HyreCar is one of a few companies that will pay you to rent your car to other drivers. However, it differs from other car rental services since your vehicle gets rented to gig economy workers.
Our HyreCar review will tell you how much you can earn, what happens if your car is damaged and if it's worth it to use the platform.
Summary
HyreCar is a car sharing company that helps you rent your car out to ride share drivers and others. It's a potential passive income source, but not without its risks.
Pros
Potential passive income source
Flexible schedule that fits your availability
Attractive pay
Cons
Questionable customer service center
risk for car damage
High insurance deductibles
What is HyreCar?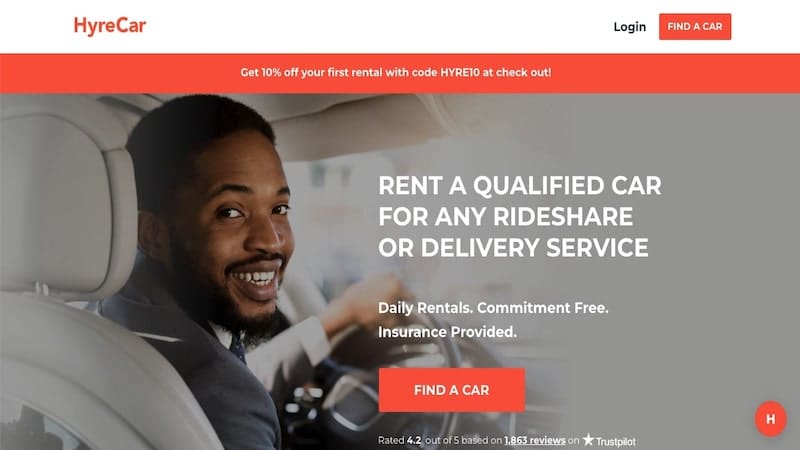 HyreCar is a car rental service that allows you to rent your vehicle.
The platform is different from some of the other car rental sites since you're not renting your vehicle to people who need a car for personal use.
Instead, HyreCar rents cars to people who need a vehicle in their work as drivers for Uber, Lyft or other gig economy companies.
HyreCar claims that their concept means you can expect your car to be rented out more often. In turn, this means more money in your pocket.
Renting out your car can be one of many great ways to earn money quickly.
Right now they have a promotion for renters to get 10% off your first HyreCar rental with code HYRE10 at check out!
How Does HyreCar Work?
HyreCar works similarly to Airbnb and other personal car rental companies such as Turo.
The company has created a system in which the car you have available for rent is advertised to delivery drivers in your area.
If you are looking for an easy money making idea, here's how HyreCar works.
List Your Vehicle
You start by listing your car on the HyreCar website. HyreCar accepts different types of vehicles depending on the state you live in.
Your vehicle must be in good working order and somewhat cosmetically pleasing to meet HyreCar's state-specific requirements.
Hyrecar Vehicle Requirements
Here are some basic Hyrecar car requirements:
Must have 4 doors and comfortably seat a minimum of 4 passengers
Your car must be a 2005 model or newer. Some cities won't allow any vehicle more than 10 years old to be used
Your car must have in-state car insurance, registration and plates
Contact HyreCar directly to find out specific vehicle requirements for your state.
Keep in mind that your vehicle may need an inspection in order to be listed on the platform.
After your car is approved, it's time to create your listing. HyreCar says it's important to make your listing appealing.
When creating your listing, be sure to:
Take clear photos of both the inside and outside of your car
Write a short but accurate description of your vehicle
Note that HyreCar has a 19-point inspection that you'll need to complete as well. You have to upload the completed inspection form along with copies of your driver's license, registration and proof of insurance.
Next, you'll want to peruse the HyreCar listings in your area to get an idea of what you should charge drivers to rent your car. You set your own rental rate, but HyreCar may offer suggestions.
The more competitive of a rental rate you choose, the more likely you are to attract renters.
Select Your Protection Plan
You'll want to select the right insurance protection plan from HyreCar. There are three plans to choose from, including Basic, Standard and Premium.
Insurance for rentals is generated roughly 24 hours before pick up. The deductibles for these required insurance plans are high and cost up to $3,000.
It's important to note that HyreCar's insurance plans don't cover:
Stains
Rips and tears (interior)
Scratches, punctures, dents, window cracks and dings under six inches
Tire damage
HyreCar calls these types of damages "normal wear and tear," but some drivers may see these exclusions as risky since they typically don't happen without some level of negligence.
Based on the terms listed on HyreCar's website, don't expect much for insurance reimbursement unless damage to your car is significant.
Rent Your Car
Once your listing is live, your car is on the radar of local Uber, Lyft and other gig economy drivers. You can expect to start fielding calls and accepting reservations if the price is right and your car is a good fit.
HyreCar requires that you respond to rental inquiries within 24 hours. Otherwise, the driver's application will expire.
It's also advisable to respond to requests quickly so that you don't miss a rental opportunity.
You can rent your car out anywhere from two days up to 14 days. Discuss terms with the drivers who contact you and be sure they know what you expect.
After you approve a rental application, make sure to:
Check that your registration is current
Verify that your vehicle inspection documents are up to date
Check with HyreCar to make sure your insurance is active
Verify that all other HyreCar documentation is current
Give the Keys to Your Renter
Once all your documentation is in order, it's time to give your car keys to your renter. Arrange a day, time and place to meet the renter to hand over your keys.
Before giving them your keys:
Verify their insurance
Check the mileage and fuel levels on your car
Do a final inspection of your vehicle for damage
Car Returns and Payment
After your renter has completed their term, they'll meet with you to return the car. At that point, you'll want to inspect the car to ensure its condition is acceptable.
Cars that are rented are expected to be returned clean and with a full tank of gas.
If you have an issue with the driver, you are expected to handle it directly with the driver. However, HyreCar's customer support center is available if you're not getting a proper resolution.
HyreCar will pay you directly approximately two to three days after the driver is charged for the rental. The site doesn't specify how you are paid.
How Much Can You Make With HyreCar?
If you want to make money on the side, you might be wondering how much can you expect to make with HyreCar. According to various sources, most car owners make between $30 and $40 per day when renting out their car.
Of course, your earnings can vary based on the type of car you drive, where you live and other factors.
The condition of your car matters as well. High-end vehicles in excellent condition will make more money, while lower-end vehicles will likely earn less.
FAQs
You may have several questions about HyreCar, especially if you're considering it as a viable side hustle option.
Here are some answers that can help you decide if the platform is right for you.
Is HyreCar safe?
HyreCar does take measures to ensure the safety of cars they rent out. They screen drivers and provide insurance coverage.

However, review sites such as Trustpilot do share stories of damaged or stolen cars. Additionally, the covered incidents via HyreCar's protection plan are limited and deductibles are high.

For those reasons, understand that you are taking some risks if you choose to rent your car out with HyreCar.
Does HyreCar charge fees?
You will pay a commission of 15% every time you rent your car out with HyreCar.

The average $30-$40 people make a day with HyreCar is before commissions are deducted. This means that you can expect a net average pay of $25.50 to $34 per day.

The website also talks about "other" fees, although it doesn't specify what those are. See your contract for details, and read it carefully.
What customer service support does HyreCar offer?
Although HyreCar does have a customer support center, contact details and available hours are hard to track down.

In addition, many of the reviews regarding customer support are not favorable. There are multiple online stories regarding not being able to talk with customer support or having minimal help once they were reached.
Is HyreCar worth it?
That's a question only you can answer. You'll need to take into account the possible income you'll earn and weigh it with potential risks to your car.
Hyrecar Reviews
HyreCar earned 3.5 out of 5 stars on Trustpilot. While most reviews are positive, there are some concerning stories shared by users.
Here are a few reviews left by car owners who use HyreCar on Trustpilot.
"Victor was extremely helpful and got my car listed tonight. I could not have asked for better customer service." – Chris J.

"Bad sets of policies that does little to nothing to protect car owners. Horrible customer service – they purposely keep you on hold, never return your calls or more than half the time don't answer calls. When they do, they don't help with your problem even when they lie that they will." – Jay

"I'm really impressed with the greatly improved customer service at HyreCar! There has been a 100% improvement in wait times and quality of service. Daniel O. Is a great example of this turnaround, he was professional, resolved my listing issues. Daniel O. then gave a return call to confirm that everything was resolved." – Darin W.

"​​Getting paid is never an issue. However, accident and incident claims are almost impossible to get filed and taken care of. I'm out of at least 2K out of pocket for damages and not one claims adjuster has reached out to me in over a month." – Write my wrong
HyreCar Alternatives
If HyreCar doesn't sound like the right fit for you but you are still interested in earning cash by renting out your car, you can consider HyreCar alternatives.
There are other companies that will help you rent your car out, and you may find that the risk level is not as high.
| | | | |
| --- | --- | --- | --- |
| Company | Rent To | Potential Earnings | Trustpilot Score |
| HyreCar | Gig economy drivers | $30-$40 per day | 3.5 out of 5 stars |
| Turo | Non-business drivers | $31-$87 per day | 4.6 out of 5 stars |
| GetAround | Business or non-business drivers | $6-$10 per hour | 3.9 out of 5 stars |
| Avail | Non-business drivers | $20-$25 per day | N/A |
Turo
Turo lets you rent your vehicle to casual, non-business drivers. Typically, you'll be renting to travelers who are not in the rideshare business.
In order to rent your car out on Turo it needs to:
Be under 12 years old
Have under 130,000 miles on it
Stay properly maintained
Have a clean title (not salvaged or declared a total loss)
Meet all legal vehicle requirements for your area
See the Turo website for more information on acceptable vehicles.
One nice thing about Turo is that the protection plan packages are more attractive. You'll see deductibles ranging from $0 to $2,500 depending on the plan you choose.
Vehicles on Turo can be rented out for up to 30 days or longer, and you can set your own prices. You'll earn about 60-90% of the price depending on the protection plan you've signed up for.
However, there are "some" fees to take into account as well, according to the Turo website.
If you provide your own commercial or rental liability insurance policy, you can keep 92.5% of the rental price (in the U.S.) minus fees.
Turo makes payment via PayPal or Stripe within a week after the rental has ended. Long-term rentals release payments on a weekly basis.
Related: 9 Apps And Sites Like Turo
GetAround
GetAround will help you list your car for rent, either for personal use or to rideshare drivers whose car is out of commission.
Car requirements for listing on GetAround include:
Being a 2007 or newer vehicle
Having less than 200,000 miles
Annual inspections required for older/high mileage vehicles
If you look at the listings on GetAround, most cars go for around $6 to $10 per hour. Note that you'll pay a 40% commission to GetAround on each rental. This helps cover insurance.
When you use the platform, you'll have to have GetAround Connect installed in your vehicle. This anti-theft tracking device costs $99 for installation and $20 per month.
That's an extra expense you'll want to include when deciding if GetAround is right for you.
Also, GetAround is a newer company that is operating in a limited number of cities as of this writing. Some cities of operation include Boston, Los Angeles and Seattle. See the website for additional available cities.
GetAround pays car owners once per month, around the middle of the month, via PayPal.
Avail
Avail is a car-sharing company that helps you earn between $20 and $25 per day by renting your car out.
One nice thing about Avail is that they handle all of the customer service. You don't work with renters. Instead, simply drop your clean car off, and they'll do the rest.
When you rent your car to someone through Avail, you'll get paid at the end of the trip.
In order to rent your car out with Avail, it needs to:
Be 2011 or newer
Have under 125,000 miles
Be free of interior and exterior damage
While Avail does pay less than some other car-sharing companies, you might find the price reduction worth it since you don't have to interact with customers.
Is Hyrecar Worth It?
You can make money by renting out your car with HyreCar or any of the platform's competitors.
However, the amount of money you make can vary based on where you live and other factors. Additionally, the risk level of renting your car out using HyreCar can be high.
If you don't drive your car a lot, renting your car out might help you earn some money. Just be sure you're reading the fine print before signing up with any car-sharing company.