Deciding to forgo car ownership can save you money when it comes to recurring expenses like gas, insurance, oil changes and more. However, you're still likely to find yourself in situations where a car is necessary.
In the past, renting a car meant going to a rental location and using rental car companies like Enterprise or Avis. Unfortunately, opting for rental cars often resulted in paying exorbitant rental prices and hidden fees.
Luckily, Turo can help you rent a car at an affordable rate. This Turo review will discuss how the platform works, how much it costs, its key features and more.

Summary
Turo is a peer-to-peer car rental marketplace that allows customers to rent vehicles directly from owners rather than car rental companies. It's quick and easy to use for both hosts and drivers, allowing hosts to earn extra money while drivers can either save money on rentals or find unique vehicles they may not find elsewhere.
Pros
User-friendly website and app
Earn to pay off car payment
Prices cheaper than most
Multiple pickup/dropoff locations
Ability to rent under 25 years old
Cons
Complex host payout in tiers
No one-way rentals
Limited in rural areas
Protection plans don't cover everything
What is Turo?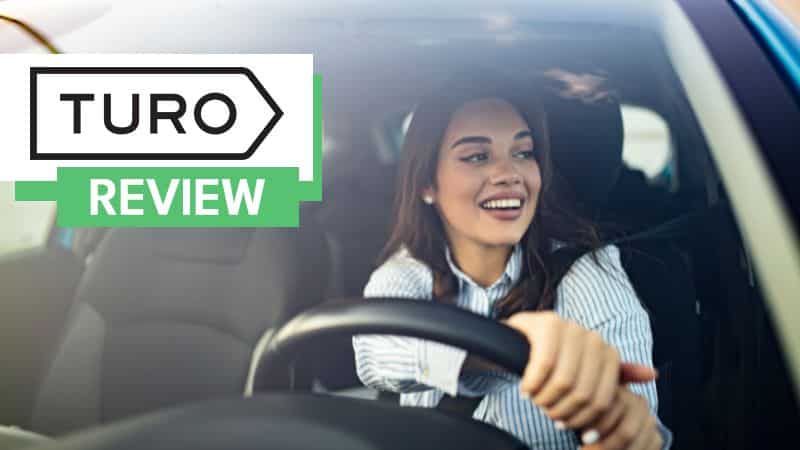 Turo car rental is a peer-to-peer vehicle rental service with headquarters in San Francisco. Basically, you can think of it as Airbnb for cars.
The company allows someone who has a car they aren't using to rent it out to someone who needs a vehicle. This service presents an opportunity for both car owners and drivers.
First, people who are paying for a car they don't use frequently have the opportunity to rent it out for extra cash. This can be a way for them to earn passive income.
On the other hand, someone who needs a car for occasional use while traveling or doesn't want the responsibility of owning a car can easily rent a vehicle when they need one.
Better yet, renting vehicles through Turo can be more affordable since local car owners tend to not charge as much as major rental companies.
Whether you need a replacement vehicle, vacation rental or a car for your next business trip, Turo offers excellent car rental options.
Is Turo Legit?
Yes, Turo is the world's largest car sharing service. With an excellent near 5 star app rating with over 300k reviews between Google Play and Apple App downloads, they have set themselves apart from any competition. Turo offers an in-depth terms of service outlining their use policy, eligibility, requirements, legal matters and more.
You can book any car you want, wherever you want it, from a vibrant community of trusted hosts across the US, Canada, and the UK. They are in over 7,500 cities.
Additionally, they have a vested interest in the sustainability of the environment. Turo offsets 100% of our estimated global carbon emissions by investing in greenhouse gas-reducing projects,
How Does Turo Work?
Turo is a peer-to-peer service, meaning customers rent vehicles directly from a car owner with the help of an app. This lets them bypass using a traditional car rental service.
For Car Owners
For people who own cars, Turo presents an opportunity to make money by renting their vehicles out to customers. Essentially, it's a passive income stream.
Turo can generate a bit of extra cash for people who aren't using their vehicles regularly. Other business-minded people may see Turo as an entrepreneurial venture, buying vehicles for the sole purpose of making money by renting them out on Turo.
To list your vehicle on Turo, it must be no more than 12 years old unless it qualifies for an exception as a specialty vehicle. It must also have fewer than 130,000 miles and be well-maintained.
When you're ready to list your vehicle, you'll have to verify your identity with Turo.
To list your vehicle, you'll have to provide your:
License plate number
Vehicle make, model and year
Vehicle identification number
Description of your vehicle
Photos of your vehicle
When you list your vehicle, Turo will use automatic pricing to set your rate based on your location as well as changes in supply and demand. Drivers can turn off automatic pricing and set their own flat prices within a minimum and maximum threshold.
You can offer discounts for long trips and early-bird booking, but you don't have to.
Once customers start renting your car, you'll start getting paid. Payment will be sent within three hours of the end of your first booking.
For extended bookings, you'll receive weekly partial payments until the end of the trip.
For Drivers
Turo car rental is an opportunity for drivers to rent cars directly from owners rather than going through a vehicle rental company.
Before you can rent a car on the Turo app, you'll have to be approved as a driver. To do so, you'll share a profile photo, your contact information and your driver's license.
You can usually be approved immediately, but it can take as much as 24 to 48 hours if your account is missing information.
To rent a car, you must be at least 21 years old. However, for certain vehicles, you must be 25 or 30.
For trips with peer-to-peer hosts, you may be able to rent at as young as 18 years old.
You'll also need:
A valid driver's license
Proof you've been driving at least two years if you're under 25
An auto insurance score that meets certain benchmarks
The booking process is fairly straightforward. Once your account has been approved, you can start browsing vehicles and book a trip. Rates start at just $25 per day but will be higher for newer or premium vehicles.
You can cancel your trip for a full refund up to 24 hours in advance. This makes Turo an excellent option for flexible car rentals.
When it's time to start your trip, you can pick up your vehicle directly from your host or have it delivered to you.
How Much Does Turo Cost?
Both vehicle owners and drivers will be subject to certain costs and rental fees when they use Turo.
For Car Owners
Turo can be a great opportunity to earn some extra money, but you'll also have to split some of your earnings with the car sharing company.
The host take rate is the percentage of each trip that you earn as the host. Your take rate depends on the protection plan you choose, with rates ranging from 60%-90% of the total trip price.
A host take rate doesn't just include the daily cost. It also includes fees for additional distances or usage or fees for late returns.
Ultimately, Turo ends up taking anywhere from 10%-40% of your earnings.
For Drivers
Renting a car starts at just $25 per day. Drivers are able to search based on daily rates so they can find a rental fee that fits their budget.
While older and more basic vehicles might be priced in a lower range, others can cost hundreds of dollars per day.
For example, someone in Chicago can rent a 2021 Tesla Model S for more than $400 per day, but a decade-old Honda or Ford sedan could rent for less than $40.
In addition to the rental cost, you'll also be subject to a trip fee. This is a percentage of the trip price.
Your trip fee is calculated at checkout and depends on the vehicle's value, how far in advance you booked, the length of your trip and more.
Another cost that drivers may be subject to is the protection plan they choose. You can decline protection altogether.
But, if you do choose to purchase insurance coverage, it will cost between 18% and 65% of the trip price, with a minimum daily charge ranging from $10 to $14 per day.
The final fee that drivers may have to pay is a young driver fee. For drivers between the ages of 18-20, the young driver fee starts at $50 per day. If you're 21-25, the fee will be a minimum of $30 per day.
Key Features
Turo has plenty of exciting features that make it a great option for both car owners and drivers.
Turo Carculator
The Turo Carculator is a tool built into Turo's website. It allows vehicle owners to determine how much they might be able to earn by renting their car out on the Turo website.
You can filter results by region and vehicle budget range. From there, you'll see vehicles priced in that range, the expected annual loan payments and the average annual earnings.
Finally, the Carculator will show you your estimated annual return on your investment.
Any prospective drivers can use the Carculator to determine their expected earnings. However, it's primarily geared towards people who want to set this up as a more substantial passive income stream.
Host Tools
Turo offers a variety of tools and resources to help automobile owners boost their earnings on the website.
Getting Started Guide
The Getting Started Guide teaches car owners everything they need to know about creating their listings, optimizing their schedule and more.
Photography Guide
Pictures are everything. To help increase the odds a vehicle owner will have their listings noticed, Turo offers a photography guide that teaches best practices.
Cleaning & Disinfecting Guide
To help protect the health and safety of both drivers and owners, this guide teaches owners about best practices for cleaning their vehicles.
Contactless Check-In Guide
This guide teaches hosts how to maintain physical distance from their renters by checking in their guests remotely.
Vehicle Protection Guide
This guide helps hosts navigate the different protection plans available and choose the best one for them.
Deals & Discounts
Turo hosts have access to a variety of discounts on services like Jiffy Lube, Meineke, YourMechanic and more.
Turo Talk
All Turo hosts can join Turo Talk, which is a moderated Facebook group to discuss everything related to renting out a car on Turo.
Turo Incident Info Card
Turo provides every host with an incident information card to keep in their vehicle glove box along with their personal insurance card.
Insurance and Protection
Turo offers third-party liability insurance through Travelers to help hosts protect their vehicles and finances. Each protection plan comes with $750,000 in liability protection.
Every host can choose their own level of comprehensive and collision coverage car insurance. This pays for damages that happen during a rental trip.
There are five different protection plans available for Turo hosts:
| | | | | | |
| --- | --- | --- | --- | --- | --- |
| | 60 plan | 75 plan | 80 plan | 85 plan | 90 plan |
| Host take rate | 60% | 75% | 80% | 85% | 90% |
| Third-party liability coverage | $750,000 | $750,000 | $750,000 | $750,000 | $750,000 |
| Deductible | $0 | $250 | $750 | $1,625 | $2,500 |
| % coverage above deductible | 100% | 100% | 100% | 100% | 100% |
| Replacement cost | $50 per day | $30 per day | X | X | X |
| Includes exterior wear and tear reimbursement | ✓ | X | X | X | X |
| Includes loss of hosting income during repair | ✓ | X | X | X | X |
With many plans to choose from, you'll have no problem selecting one that meets your needs and budget.
Sustainability
Turo became the first car-sharing marketplace to become carbon-neutral, meaning it offsets 100% of its estimated global carbon emissions.
To meet this commitment, Turo buys carbon offsets by investing in emission reduction projects through the carbon offset developer Bluesource.
The money goes toward projects that fight climate change and reduce carbon emissions through forestry and improving commercial trucking efficiencies.
Turo Shop
The Turo Shop offers a couple of resources for vehicle owners.
First, it has a Spiffy Complete disinfectant kit that includes:
A bottle of disinfectant cleaner
Microfiber towels
A cleaning checklist that drivers can hang in the window
The other product Turo sells in its shop is a no-smoking sign that hosts can hang in the vehicles as a reminder to customers not to smoke. The sign also reminds customers that smoking in the vehicle will result in a fine and a ban from Turo.
Turo Car Rental Reviews
Before using any service, it can be helpful to know what other customers have to say to ensure it's legit.
Here's how Turo stacks up across the various rating websites:
These are a few of the Turo reviews from customers:
"Using Turo was fantastic. The host was wonderful, the car was perfect for us and so easy to find and return." – Bron L
"Terrible. This app allows scammers to work freely and openly with no regards for the customer." – Jon M
"Everything was simple and seamless! I will certainly use Turo again." – Amanda G
"After having the worst rental experience of my life I looked at my bank this morning and realized you guys charged me an extra fee…. I'm so disappointed in your business ethics. Definitely appears like you do not value your guests!" – Augustine
Alternatives to Turo
If you aren't sure that Turo is the best option for you, there are plenty of other platforms out there to consider. Here are a few alternatives to Turo.
Getaround
Getaround offers peer-to-peer car rentals. Like Turo, it operates both in the U.S. and internationally. The process of using Getaround is quite similar to Turo, but it has some important differences.
First, Getaround has a feature designed to allow customers to rent cars for the specific purpose of driving for Uber. In fact, the two apps connect seamlessly to one another.
Additionally, rather than taking a cut of the profits, Getaround charges drivers to list their vehicles. Hosts will pay $100 for each car listing, as well as $20 per month.
Getaround encourages hosts to use the service as a business opportunity and provides tools for managing fleets. It also offers an account manager for hosts with two or more cars.
HyreCar
HyreCar is specifically designed to connect drivers with vehicles to use for rideshare and delivery services.
People who own a car can earn extra money by listing their vehicles on HyreCar, while drivers earn extra money with their side hustle.
HyreCar can connect with any major rideshare or delivery platform. It's easy and flexible to rent a car when you need to and even extend your rental while you're out doing your side hustle.
Get 10% off your first HyreCar rental with code HYRE10 at check out!
ZipCar
ZipCar is a platform that allows you to rent a car by the hour or day depending on your needs. It operates in the U.S., Canada and more. Unfortunately, it doesn't cater to people who want to earn extra income using their car.
It's easy to sign up for the service, drive on demand and then return the car.
Rates vary by the type of car, how long you need to use the vehicle and how far you plan on driving. You'll pay anywhere from $11 per hour to $133 per day to rent a car with ZipCar.
FAQ
Before you sign up for Turo car rental, these frequently asked questions can help you determine if the platform is right for you.
Is Turo safe to use?
Yes, Turo is safe to use. Since there is insurance in place, people who rent their own car out on the platform don't have to worry about financial loss if someone damages their car.

Turo also makes it easy for hosts and drivers to interact while maintaining a safe social distance.
How much money can I make renting my car out on Turo?
According to Turo, the average income from listing one car on Turo is $10,516 per year. Your potential income increases with the number of vehicles you have listed.

Of course, the amount you can earn depends on whether you have your car listed only during certain times or whether it's always available to rent.
How much money can I save by renting a car on Turo?
Rental cars from traditional car rental companies can be expensive. Luckily, vehicles on Turo start at just $25 per day and don't come with many of the added fees that rental companies charge.

The exact amount you can save depends on many factors, including where you live, the type of car you're renting, the distance you're driving and more.
What customer service options does Turo offer?
Turo has a couple of different ways for users to get in touch with a Turo customer service representative. The website has a chat feature where you can speak with someone online.

Additionally, Turo has a customer service phone number that's available 24/7 in the United States.
Summary
Turo brings together those who need vehicles with those who have them, allowing individuals to bypass traditional rental companies and rent vehicles directly from one another.
It can be an earning opportunity for hosts, whether you're just listing a vehicle you don't use often or are starting a full-fledged business. Alternately, drivers can rent vehicles just to get around for the day or for a long road trip.

Whether you are looking for a way to earn money renting out a car or save money on a rental, Turo is worth checking out.