Lots of products we use every day can be brought to recycling centers. While some recycling centers charge money for dropping things off, others will pay you cash for doing so.
I'm sure you know someone who collects aluminum cans for recycling. Or you've seen the ads on Craigslist offering to pick up your scrap metal for free.
Running a recycling business can bring in some nice extra cash, especially if you're recycling scrap metal or aluminum. Some companies will also pay you to bring in paper products for recycling.
Now, you're not going to get rich by recycling paper. In fact, the average pay for paper recycling equals out to $50 to $75 per ton.
Getting a steady income from recycling paper is probably not going to happen. If you're looking for a steady income, you might want to try recycling wood pallets instead.
Why Should I Try to Make Money Recycling Paper?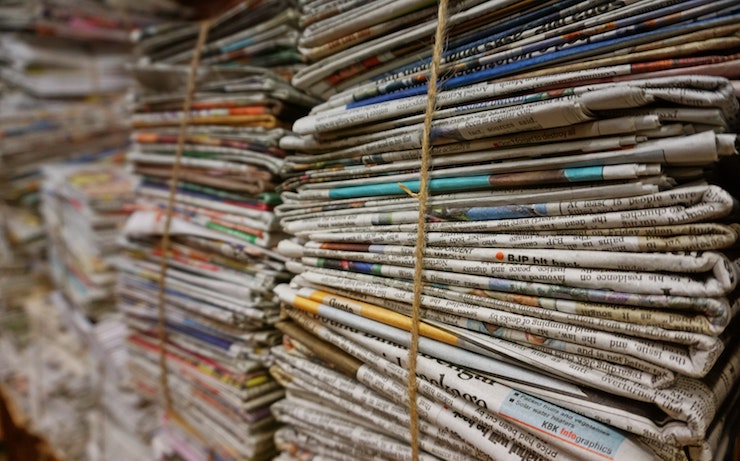 So if you're not going to make very much money recycling paper, what's the motive? While the extra cash may be nice, you may have another motive for recycling paper.
The thought of the help you'll provide to the environment might be a great motivator for you.
According to the EPA, paper products were responsible for over a quarter of the U.S.'s annual waste in 2014. By the numbers, we're talking about over 67 million tons of paper potentially heading to landfills (before recycling).
Do you love going outside and viewing the trees, walking in the woods or having wood products at home? If so, you can help regenerate and preserve those trees by helping more paper products get recycled.
Recycled paper is used to make more paper products. This means that fewer trees have to be destroyed to get the paper and cardboard products we need. So, while the money may be an added bonus, you might find other motivators for helping more paper get recycled.
How to Make Money Recycling Paper
If you're interested in recycling paper, whether for cash or for the environment, here are four steps to doing so.
1. Find Recycling Centers Near You
The first step to making money by recycling paper is to find recycling centers near you that pay for paper. It's often easy to find recycling centers that pay for aluminum or let you recycle glass bottles for cash.
Finding a recycling center that will pay you cash to recycle paper might take a little more leg work. Start by doing an Internet search like "recycle paper near me". You should be able to populate a list of nearby recycling centers.
Once you get a list of local recycling centers, you'll need to peruse through their websites for more information. Some recycling centers will charge to drop items off. Others will pay you.
It's important to note that not all recycling centers accept all types of materials. Some focus on certain products such as scrap metal. Other recycling centers accept a range of products.
Look through each center's website or call directly if you have to. Find the centers near you that pay for paper drop off.
It's important to know too that each paper recycling center may have varying rules on the types of paper they accept. While one may only accept corrugated cardboard, another may only accept newspapers and magazines.
This is why it's important to do your research via phone and the Internet before you go. You don't want to waste time visiting the various centers to find out they don't accept all types of paper.
Note: It could help to check out paper companies as well. Some paper production companies may be willing to pay you for bringing recyclable paper in.
2. Collect Paper Products to Bring to the Center
Once you've compiled a list of which recycling centers or paper companies accept which paper products, you can start collecting. There are a variety of places you can get paper to recycle.
For instance, you can get paper products right from your own home. Or you can collect from neighbors, family, friends or your workplace, provided you get permission ahead of time.
Local private or public schools may also be willing to allow you to collect their paper products for recycling. Start making calls to places and people you know that have paper that is recyclable.
Check with neighbors who get a daily paper. Or friends and family members that get a lot of deliveries. They might have a pile of cardboard boxes they want to get rid of. Talk with loved ones that get a lot of magazines delivered to their homes.
Collect based on what types of paper the recycling centers you've found want and which types pay the most cash. This will help make collecting and recycling paper worth your efforts.
3. Sort Paper Products into the Right Groups
Sorting paper products into appropriate groups is important. Most recycling centers will pay by weight and won't let you bring in a pile of miscellaneous paper products.
Instead, they will want each type of paper they accept sorted into specific groups. The cardboard goes into one group. Corrugated cardboard (the kind with the ridges in the middle layer) may have to be in a separate group.
Newspapers, magazines and plain printing paper will all likely have to go in their own groups as well. The more sorted and organized you are with your paper, the easier it will be to get your cash.
4. How To Make Money With Shredded Paper
Sell your shredded paper to vendors who sell ceramics that may use shredded paper at the bottom of the box to protect the ceramics from breaking.
You can also look for local companies that ship fragile products that need packing materials. Your shredded paper might be just what they need to protect those items at a reasonable price.
5. Get Your Cash!
Okay, you know which center pays the best for which paper products. And you've got everything collected and sorted by type of paper. Now it's time to head to the recycle center to get your money.
Be sure you check ahead of time what the days and hours of operation are. And go with plenty of time to spare. It takes a while to have the paper weighed and for the operator to be sure you've sorted properly.
After you drop off the paper, you'll get paid in one of two ways. Either they'll pay you on the spot, or some centers mail a check. You should get a receipt listing the weight of your paper right away though.
Now you can use that money to put toward debt, save for a vacation or have some extra fun money. While you won't get rich from recycling paper, that extra cash may be able to be used for something fun.
Maybe it will help you buy Christmas gifts or get you extra cash to use for new flowers for your gardens.
Since you won't get rich by recycling paper, I thought I'd share some side hustle ideas with a bigger income. There are side hustle ideas out there that have literally helped people support their families or pay off debt.
More Side Hustle Ideas for Bigger Cash Payouts
While I myself don't do much recycling for cash, I can tell you that side hustling has changed my life. After years of struggling for income, I now bring in a large portion of my family's income from side hustling.
Last year alone I made over $25,000 by doing the right types of side hustles for me. Here are some of my very favorite side hustle ideas for bringing in serious cash.
Freelance From Home
The cool thing about freelancing from home is that you can, in a lot of cases, make your own hours. I do my writing jobs between 4 and 7 a.m. before my kids get up for school.
This allows me to be home with them, make money, and still be here to homeschool them during daytime hours.
Here is a list of virtual side hustle jobs you may be able to work from home at your convenience.
Freelance writing for magazines and websites
Working as a virtual assistant for online or other businesses
Working in a graphic design business where you design websites, t-shirts or other items
Working as a transcriptionist or data entry tech
Start a blog and earn income from affiliate links
If you're not interested in doing virtual side hustling from your home computer, you've got other options as well. Check out these side hustle ideas.
Sell Hand-Crafted Items
If you've got a knack for making stuff such as knitted or wood items, you can sell them for cash. There are several sites that allow you to sell your hand-crafted items.
In fact, you can make money on Etsy and sites like it even by selling digital items you make. If you have a gift for creating quality products you may be able to sell them online or at craft fairs.
Use Your Skills to Make Extra Cash
Another way to make extra cash is to use your skills to start a side hustle business. If you're a good photographer, you can do portrait sittings or sell your photos online.
Or, if you're great at groundskeeping you could start a lawn mowing business. If you love teaching you could do a side hustle as a tutor, with Course Hero.
One way to figure out what type of skills you could make extra cash with is to sit down and make a list. Write down all of the things you're good at and like to do. Then think of ways you could use those gifts and talents to make extra money.
For instance, if you're good at setting up or repairing computers you could start a computer repair business. If you like to clean you could start a cleaning business or window washing business. Are you good at organization or home staging? You could work with people sharing your skills in those areas.
If you like kids or pets you might be able to get work pet-sitting or babysitting. Or you could start a mobile car washing business. The possibilities for using your skills to make extra cash are nearly endless.
Get a Part-Time Job
Part-time jobs can be nicer than running your own side hustle business. When you work for someone else, you do your job and go home.
No having to deal with accounting or marketing. Instead, you just show up and get paid, free from many of the problems that come with business ownership.
When Well Kept Wallet owner Deacon Hayes needed to pay off $52k in debt, he started delivering pizzas. It wasn't always the funnest work around.
Sometimes they had him cleaning drain traps and changing the oil in the deep fryers. But the extra cash and tips helped him get the debt paid off in just 18 months.
Part-time jobs such as being a restaurant server, cleaning offices or delivering food can bring in serious cash. Check with local businesses in your area or browse the newspaper for job openings.
You could even work a part-time job from home. Companies such as U-Haul often hire customer service reps who work from home. This way you can clock in and out from the comfort of your own home.
Extra Cash Through Side Hustles Can Help You Reach Your Goals
Earning extra money can be a great way to help you reach financial goals that seem to be eluding you. Whether you want to get out of debt, save to pay cash for a house or reach financial independence, extra cash can help.
When you bring in extra money you can funnel it all towards your financial goals since it's "extra". You didn't miss it before you had it; just pretend it doesn't exist and use it to accelerate your goals.
The thing about a few hundred extra dollars a month is that it adds up. You may not notice it on a monthly basis, but over time it can make a huge difference in your finances.
Summary
If you want to help the environment and make some extra money, recycling paper can be a great option. You won't make a full-time living but it can be a decent option to make some money on the side.