Are you looking for a way to work from home? If you have a computer and smartphone with internet access at home, being a search engine evaluator lets you achieve this goal.

Search engines like Google and Bing don't provide accurate results by accident. They rely on evaluators to test keywords — the words or phrases that people use when searching for information about a topic.
The search engines then use the evaluator's feedback to refine their algorithm for the newest trends.

This can be an excellent opportunity when you need flexible part-time income. If you already have experience testing websites, then you might enjoy being a search engine evaluator.
You don't need that specific experience to get hired. Read on to find out how to make money as a search engine evaluator.
What Does a Search Engine Evaluator Do?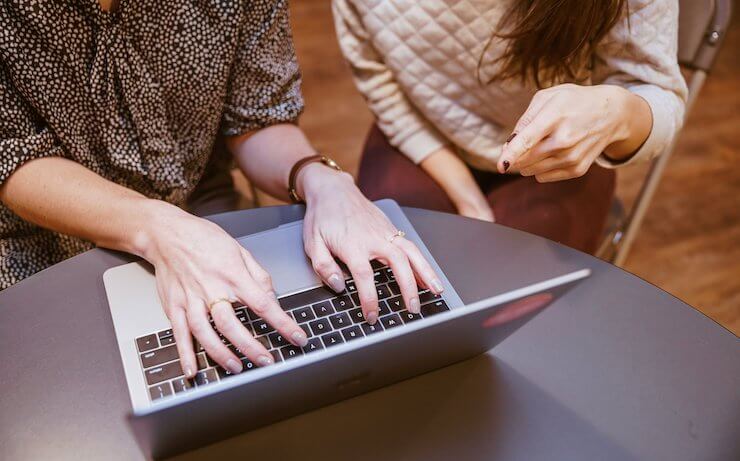 Search engines partner with testing agencies that hire search engine evaluators on a part-time basis to test keyword results.
If you live in the United States, you will most likely be testing Google or Bing search engine results and evaluating them for relevance.
These are your basic job duties:
Test the provided keyword on your computer or phone
Decide if the page results are relevant to the keyword
Provide a report summarizing your findings
Your report to the search engine describes how relevant each page ranking is. Relevant pages move closer to the top of the results if the folks at the search engine accept your evaluation.

For example, you might get a certain keyword like "Watch football games." When testing an American search engine, you want to make sure the results are for watching college football and professional football games.
In other parts of the world, football is what Americans refer to as soccer, so the results might be for the UEFA Champions League.
While search engine algorithms are smart, they can't always distinguish cultural differences for certain words and phrases.
Your research helps refine the algorithm so it understands what people are searching for.
Best Search Engine Evaluator Jobs
There are several search engine evaluator companies where you can apply to become an evaluator.
To prevent conflicts of interest, only plan on working with one company at a time. In other words, don't expect to be testing the Google and Bing search engine algorithms at the same time.
You won't know which search engine you will be evaluating until you are assigned a project. It's also possible that your future projects can be with a competing search engine.
1. Appen
One of the largest testing companies is Appen. They have openings in multiple countries and several different languages. In the United States, Appen is looking for evaluators fluent in the following languages:
English
Chinese Simplified
Spanish
Persian/Farsi
Appen hires evaluators in many countries across the globe, so if you live outside the United States, there still may be opportunities for you.

Appen also has non-evaluator openings that might be of interest. For example, it has language jobs that include transcription and translation.
Appen is also one of a number of companies that will pay you to complete short tasks online that only take an hour or less to complete.
According to Appen, it's possible to begin your first paid assignment within 14 days of applying. But if there aren't any open projects, you can wait a few weeks or months to start working.
Once you begin working, Appen pays monthly with direct bank deposit.
2. Lionbridge
Lionbridge offers a few different evaluator positions for different countries around the world. The exact positions will vary by country and current need. These are some of the jobs you can apply for:
Rater. Daily internet user who evaluates text, web pages, images and other information for search engines. This is Lionbridge's most extensive evaluator position.
Mobile and Desktop Internet Search Reviewer. Evaluate web pages for desktop and mobile web searches.
Personalized Ads Evaluator. Analyze and determine the relevance of search engine result ads.
Multimedia Judge. Determine if online images and videos comply with search engine guidelines.
Intent Judge. Rate keyword and search term pairs for websites, popular culture articles, celebrity pages, images, videos and ads.
The best job for you depends on your strengths and interests. Each position may have different requirements. For instance, you may have to work between 10 and 20 hours, live in the United States for at least three years, or be an active Gmail user.
Before applying, review the various position requirements to make sure you qualify. After that, choose the position you believe is the best fit for your skills.
Plan on receiving payment by direct deposit into your bank account. That means you will need to open a checking account if you haven't already.
3. Teemwork
You might also find an evaluator position on Teemwork.ai. The quickest way to see if they are hiring is clicking "view all open job positions." You can then search for jobs based on your current country.
Some of the possible positions include:
Search engine evaluator
Online ad evaluator
Online web evaluator
If one of these positions isn't available in your country, check the listings regularly.
How to Become a Search Engine Evaluator
There is a steady demand for search engine evaluators. However, there are only a few companies you can work with.
As a result, plan on only working for one company at a time to avoid potential conflicts of interest that could come from working for competing search engines.
Requirements
The exact hiring requirements depend on the company and the type of project. Plan on submitting a resume listing your educational and professional experience.
Basic guidelines for becoming an evaluator:
Be familiar with the latest social, media and web culture
Be fluent in English or the search engine's local language
Have strong research skills
Have a college degree or be in the process of receiving one
Have access to high-speed internet
Own a smartphone with an Android, iOS or Windows operating system
Own a computer with current antivirus and antispyware software
Other general requirements include being at least 18 years old. Ideal candidates will either currently be in college or have a college degree.
That doesn't mean you can't become an evaluator if you only have a high school diploma, but you might have fewer options.
Being a "content expert" for a certain niche is also very helpful. But you will find yourself researching many topics, so having good general knowledge makes you a strong candidate.
Another general policy is that only one person per household can be a search engine evaluator. This is primarily because the search engines base your results on your IP address.
Even if you test the same keyword as a person a few states away, you might get different results for certain keywords.
Salary
Pinning down exactly how much you can make as an evaluator is a little difficult. The companies don't make this information public.
Your pay rate may depend on where you live, the project difficulty and the quality of your previous research assignments.
As a general rule of thumb, you can expect to make between $9 and $15 an hour for U.S.-based testers.
New hires can expect to be on the lower end of the pay spectrum at first. But you can earn more as you gain experience.
Also, you are hired as an independent contractor, which means you won't receive employer benefits.
Work Schedule
For most projects, expect to work on a part-time basis up to 20 hours per week, though the precise number of hours you work depends on the project you are assigned.
Some projects may require you to work more than 20 hours a week.
Besides working a specific number of hours each week, expect to work a minimum number of hours each day. For example, if you have to work 20 hours a week, you may actually have to work one four-hour shift on five different days that week.
But you get to decide the days and hours to complete those shifts.
Search engine evaluation is a flexible job and you can earn more than some other online jobs. But more effort is required to earn the higher wage.
Submit an Application
The first step for every evaluator is submitting an online application. You will need to put your best foot forward to continue the qualification process.
On the application, you will submit your basic contact information and list the number of hours you can commit to working each week.
Most importantly, you will need to include a resume. Make sure your resume includes any relevant experience to improve your qualifying odds.
If the testing company believes you are a potential search engine evaluator, they will contact you to start the next step.
Search Engine Evaluator Exam
After submitting your initial application, you wait for the company to invite you to complete the search engine evaluator exam.
Consider the exam as your hiring interview. Instead of having a conversation with the hiring manager, you must perform well on the exam to land a job.
Although it's an open book exam, this exam is difficult and you will need to study hard to pass it the first time. If you fail on the first attempt, the company might offer one retake.
You usually have seven days to study and complete the entire exam. It's your choice as to how much time you allocate for studying and taking the exam. One downside is that the company doesn't pay you for taking the exam.
The study guide is an ebook that's roughly 150 pages long. It contains all the evaluator guidelines you will need to follow to effectively rate search engine results.
Within the pages are links and videos for additional training content. In reality, you have more than 150 pages to cover in a few days.
Although each company will produce a slightly different exam, you can expect the same testing format.
This exam is usually broken into three parts:
Company guidelines – This comes from a digital booklet listing the social media evaluator best practices.
Computer exam – Tests your research and scoring skills when using your computer.
Mobile phone exam – Tests your research and scoring skills when using a mobile phone.
The computer and mobile phone exam portions test your ability to research. Make sure you use the study guide and your personal notes during these parts to follow the guidelines.
Exam Tips
Here are a few tips on preparing for the exam:
It's an open book exam. Look at the evaluator guidelines as much as possible to choose the best answer.
Study, study, study. Do your best to study the guidelines as much as possible before you take the exam so you don't worry about running out of time while looking answers.
Take notes when studying. Once again, this is an open book exam. Taking notes as you study helps organize your topics on paper. And writing down notes can be an effective way to remember new material.
You have seven days to study and test. There are several different study strategies you can pursue. But it's a good idea to split your study time and exam time into multiple days or evenings. For instance, you might take one exam part each day instead of taking all three on the final day.
Start Making Money
After passing the exam, the company will have you sign a contract. This contract may state your hourly wage and, more importantly, your contract end date.
During this contract period, you won't be able to work with other testing companies. The contract period also means you're able to receive projects to work on from the testing company.
How soon you receive your first project depends on how many current evaluators are awaiting assignments. It can take a few days to several months before you begin working.
At the end of your contract period, the testing company can renew your contract if you meet expectations.
With each project, expect to sign a non-disclosure agreement with the testing agency. These agreements forbid you from discussing the specifics about which search engine you are testing.
Each project has a different number of weekly hours you work. In general, plan on working between 10 and 20 hours each week. Once the project ends, the testing company might have another project waiting for you.
In other cases, you might have to wait a few weeks or months. Doing your best work can help you receive more projects.
Because you're only working part-time as a search engine evaluator, you might consider working a second side hustle if you need additional income in between projects.
Pros
Ability to work from home.
Flexible hours.
Higher wages than other work-from-home jobs.
Requires only a cellphone and computer to start.
Cons
Work can be inconsistent at times.
Harder to qualify for than some other online jobs.
Doesn't pay you for taking the evaluator exam or reviewing the training material.
Summary
If you pass the exam, being a search engine evaluator is one of the higher paying online side hustles. The flexible working hours make it easy for you to complete the work in your free time.
This is a good option if you have an eye for detail and enjoy learning new things as you research.