If you love working with numbers and spreadsheets are your idea of fun, you can use your skills to earn money from home.
Becoming a bookkeeper is a flexible way to make money while having the freedom to create your own schedule.
Besides having a love of numbers and spreadsheets, if you desire to be a bookkeeper, you need to be detail-oriented and organized.
Also, you will need a reliable internet connection, a computer and bookkeeping software to get started.
To work from home as a bookkeeper, you don't necessarily need a degree in accounting.
But you do need a passion for tackling real-world problems and a commitment to being accurate and thorough.
This post will go over what bookkeepers do, what training they need, how much they can earn and where to find bookkeeping jobs.
How to Work From Home as a Bookkeeper
As a bookkeeper, you may be responsible for a company's accounts payable, payroll and bank reconciliations. You may also be assigned financial reporting for businesses, churches and nonprofits.
Working from home as a bookkeeper is best for those who have some prior experience.
Many companies that hire bookkeepers to work from home on a part-time or full-time basis require previous experience.
If you've never done bookkeeping before, consider taking a job in an office to learn the ropes.
You can also take a bookkeeping training course to teach you the basics, but there is no substitute for real-world experience.
Having a good foundation such as a degree in business, mathematics or a related field can make it easier to find a work-from-home position through a company.
Balancing books and working with a budget can also be a good introduction to the skills needed to become a bookkeeper.
If you have experience as a bookkeeper or a related field, you can brush up on the basics and get started. For the most part, standard bookkeeping and accounting practices stay the same over time.
Also, you will have to get up to speed on any updates to the field, including new software or bookkeeping materials before getting started.
Where to Find Remote Bookkeeping Jobs
If you're ready to work from home as a bookkeeper, you can reach out to companies you might have worked with before.
They may be open to hiring a remote bookkeeper or on a consulting basis.
We've made a list of companies that employ remote bookkeepers. However, many of them require prior experience.
Not all of these companies hire bookkeepers on a full-time basis. But they all have options for work-from-home bookkeeping work.
1. AccountingDepartment.com
If you're looking for a full-time, work-from-home job with benefits, check out AccountingDepartment.com. The company has an all-virtual staff and offers bookkeeping, controller and advisory services.
All employees must be based in the U.S. Plus, some local travel or office work may be required. For bookkeeping positions, you will need at least two years of experience.
The company prides itself on creating a work-life balance for its employees and supporting employees' personal and professional growth.
For current job openings, check out:
https://www.accountingdepartment.com/career
2. Belay Solutions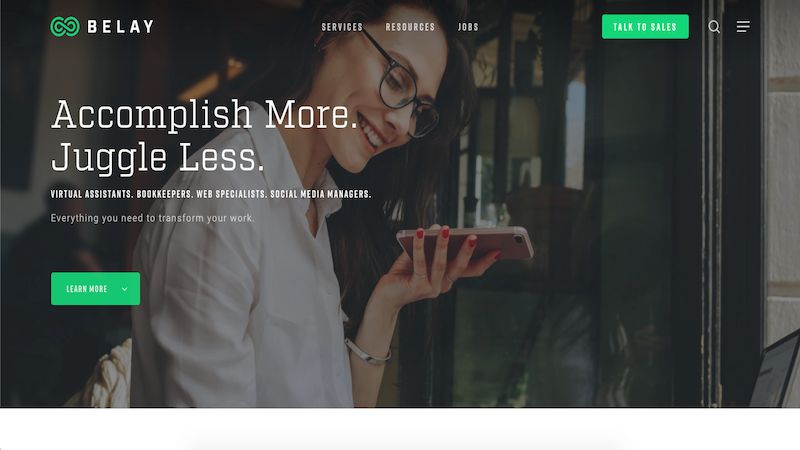 Belay Solutions company's base is in Atlanta, but it has employees across 48 states in the U.S. They hire virtual assistants, virtual bookkeepers and web specialists to support businesses and help them grow.
To be considered for a virtual bookkeeper position at Belay Solutions, you will need at least five years of previous experience.
Check out the company's jobs page for current openings:
Jobs
3. Bookminders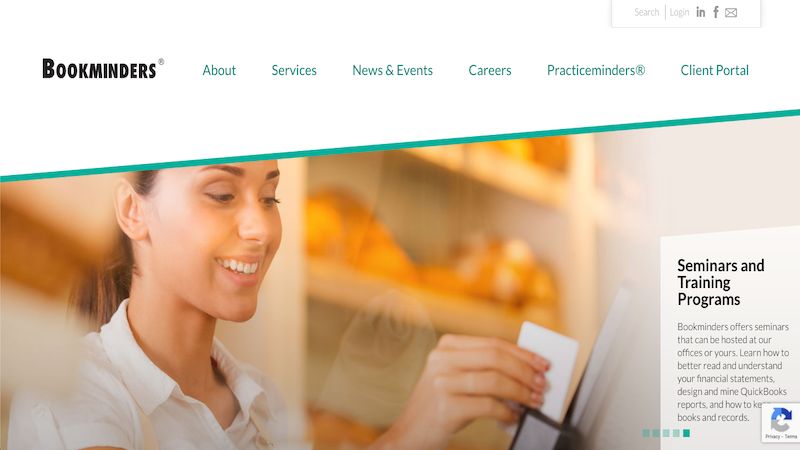 Started in 1991, Bookminders offers cost-effective bookkeeping services for small businesses and nonprofits. The company hires accountants who would like to work from home and achieve a better work-life balance.
Bookminders hires both full-time and part-time work-from-home positions. To be considered, you will need a degree in accounting and at least five years of work experience.
While the position is remote, applicants need to live close to one of the company's physical locations.
Bookminders has physical offices in Philadelphia, Baltimore and Pittsburgh. Other requirements include home office space, a computer and access to a car for local travel.
For more information on the hiring process, job descriptions and to submit your resume, check out the company's careers page.
4. ClickAccounts
ClickAccounts focuses on accounting and bookkeeping services for small and mid-sized companies.
The company is a business process outsourcer (BPO) with offices in California and Asia, but their team is virtual.
Bookkeepers work in partnership with a company's CPA, CFO, controller and accountant.
Bookkeeping services include accounts payable and receivable, transaction entry and bank reconciliation.
The company also handles revenue recognition, bill payments, income, depreciation and balance of all receipts and income.
While ClickAccounts does not list open positions, they are always looking for talented individuals to join their team.
You can send your resume to careers@ClickAccounts.com to be considered.
Related article: Bookkeeper Launch Review
5. FlexJobs
FlexJobs is an online job board focused on remote and flexible jobs in several different areas, including bookkeeping. The FlexJobs team screens all the job listings and are verified to be legitimate.
The platform helps you find a remote, flexible position that fits your experience. To clarify, it offers one-on-one career coaching, resume review, expert skills tests and job search checklists.
On FlexJobs, you can find full or part-time, freelance, flexible or telecommuting bookkeeping positions.
For a list of current openings, check out their bookkeeping jobs page:
https://www.flexjobs.com/jobs/bookkeeping
6. SimplyHired
SimplyHired is another online job marketplace where you can find a variety of job openings, including virtual bookkeeping positions.
Jobs can be part-time, full-time or freelance. You can create a profile and upload your resume to get started.
SimplyHired offers information on local and national salaries as well as background about companies that can help when applying.
Check out the SimplyHired bookkeeper's job opening board for current positions.
7. SmartBooks
SmartBooks works specifically with small businesses to offer services designed to fit their needs and budgets. The company offers bookkeeping, accounting, tax, payroll, CFO services and HR help.
SmartBooks offers employees flexibility and the ability to work from home for the most part.
You will also have access to medical and retirement benefits, paid time off and a monthly home office stipend.
For a list of current openings, check out the SmartBooks jobs page.
8. Start your own business
If you would rather be your boss, you can start your own bookkeeping business. Unlike traditional bookkeeping jobs, it's up to you to figure out how to set up the processes and framework for working from home.
You will also need to learn how to run a business and find clients. Running your own business means a much higher earning potential.
However, you don't have the safety net of a regular paycheck and potential benefits such as health insurance and retirement. You will also be responsible for paying your taxes.
To get started, you will need a computer, reliable internet and accounting software to manage the finances of your clients. QuickBooks and Xero are two popular options. You will need to find out which platform is best for your clients.
Taking a course that helps you learn how to run a bookkeeping business can be an invaluable shortcut.
Having your own business comes with its own set of challenges, so the right course can help you learn the ins and outs.
Next, build a website to help you market your business and show potential clients how you can help them.
Be sure to include any relevant experience or certification, area of expertise, the services you offer and any client testimonials.
Not sure how to build a website? There are many tools available to help you get going even if you know nothing about web design.
Having a good hosting company is vital if you run a business or blog. Plus, here's a guide for setting up a blog from the ground up.
Some clients may require you to have business insurance or to be bonded. It's essential to do your research and ensure you have adequate protection in place that will cover you and your customers.
What Do Bookkeepers Do?
One of the great things about bookkeeping is that it translates to every field and industry. Nearly every business needs to keep track of their income and outflow, balance inventory and manage payroll.
Bookkeepers work for and with many types of clients, including small businesses, Fortune 500 companies, charities, nonprofits and even bloggers.
Bookkeeping duties can include:
Managing payroll
Maintaining the general ledger
Managing accounts payable and receivable
Staying on top of project budgets
Managing inventory
Bank reconciliation
Bill payment
Balance of receipts and income
Revenue recognition
What Training Do You Need to Become a Bookkeeper?
If you want to work for a company as a bookkeeper, you usually need a degree in business, accounting or a related field. Related experience dealing with budgets and balancing the books can help get you on the right track.
Still, another option is taking a bookkeeping training course from Bookkeepers.com, which can help you start your own business. You need to do your research to find a course that will teach you not only the skills of a bookkeeper but how to build a business, find clients and keep them happy.
Get familiar with accounting software such as Xero, QuickBooks and Quicken. Some bookkeeping courses also include training on accounting software, which can help you when getting started.
Bookkeepers fall under the accounting umbrella in most companies but have a different set of responsibilities.
They are focused on day-to-day operations such as bill payment, inventory and tracking income and expenses. You will need to be thorough and accurate when managing a company's financials.
How Much Can You Earn as a Bookkeeper?
Several factors go into how much you can earn as a bookkeeper. According to ZipRecruiter, work-from-home bookkeeper jobs pay, on average, $28 per hour, although the pay can range from $7 to $62 per hour.
The amount you make depends on whether you're working for a company or yourself. Also, how much experience you have will be a factor in the difference.
If you run your own business, you can charge higher rates than if you work for a company where you get paid by the hour or a salary.
Bookkeepers who are also certified public accountants (CPAs) can command a higher salary. The average CPA bookkeeper salary is $65,014 per year, but they can make as much as $122,500 per year.
Summary
If you want to work from home and have a head for numbers, becoming a bookkeeper is a great option. There are many opportunities to earn money while enjoying the freedom of a flexible schedule.
Nearly every field or industry needs bookkeepers, which means the position is in demand and has a good long-term employment outlook.
If you already have experience as a bookkeeper, it can make it easier to get a remote job with a company.
However, maybe you don't have experience or would like to start your own business.
If that's the case, you can take a course that will teach you not only bookkeeping but also how to find clients and go out on your own.