Do you want to save more but have a hard time setting aside the money? Do you have trouble determining exactly how much you can save? Digit can help to solve both of those problems.
Continue reading this review of Digit to learn more.
Summary
Digit is helpful, but the price may not make it worth it for every saver. If you are able to practice saving discipline, then you likely do not need the help of Digit along the way. However, if you need help saving, then Digit may be the way to get started.
Cons
Monthly fees
Low compounding
What is Digit?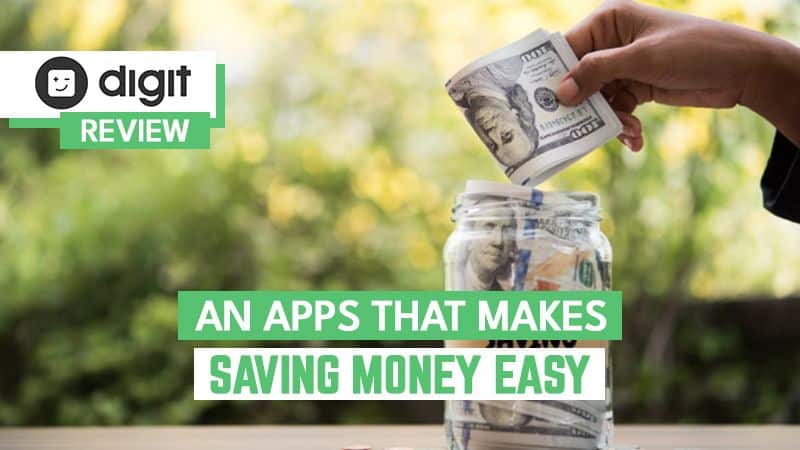 Digit is an app that connects to your checking account and automatically withdraws money from your account every couple of days.
The app does not transfer large amounts of money but instead withdraws $5 to $50 at a time. You may not even really notice an impact on your checking account.
The idea is that your Digit savings account will grow effortlessly.
Digit will not help you to become rich in savings overnight. But if it saves $100 to $200 a month, that's $1,200 to $2,400 in a year.
Like other savings apps, Digit is also helping to instill a healthy habit of saving over time. The more you are able to save, the healthier your financial future will be.
One of the best things about Digit is the automation of savings into a separate account. Over the course of several months, you will notice how your savings grow.
This growing Digit savings account will likely give you a good feeling. You can perpetuate that feeling by continuing to save.
Once you realize that saving money is doable and not extremely painful, you may be able to save more money even without the help of Digit.
Although the small account you will build with Digit is a good source of emergency cash, it is not likely that it will drive you to a major goal.
Saving for a large purchase like a home or car will require more a more extensive saving effort that Digit is not set up for.
The Digit savings account will likely be able to help you out with smaller things like car repairs, doctors' appointments, or school supplies.
How Does Digit Work?
Digit has an algorithm programmed into the app that will analyze your spending habits before transferring money.
The app also monitors your checking account balance, upcoming bills and income, ensuring that it does not take out too much money.
The goal of the app is to create savings that you almost do not notice.
Once the app has studied your financial situation, it will transfer small amounts of money from your checking account to your Digit savings account.
The transfers typically happen every two to three days. For a rainy day fund, the average transfer amount is $10 to $30.
In order to see how much you have saved, you will need to check the app. You can check the app as often as you like.
Key Features of Digit
Digit offers a variety of features that help to make saving money easier. Let's take a look at the most important features.
Unlimited Savings Goals
You can choose to set up as many small savings goals as you want. For example, you may want to save for a beach vacation, a college class, an impending car repair or anything else you can think of.
In the app, you will be able to set up the savings goal and the name of the goal. When Digit transfers money from your checking account, it will divide the money among each of the accounts.
You can slowly watch yourself accomplish all of these small savings goals through Digit.
Automatic Savings
The automatic nature of your savings is the most important feature of Digit. The entire app focuses on the idea that you can save money effortlessly.
The idea is to have the company save money for you without you even noticing it.
This popular feature is what makes Digit very attractive. Maddy Osman, says "My favorite thing about Digit is that it works in the background to get me to save."
Although the automatic savings is a great thing, it will be taken in small amounts. Remember that this method of saving will probably not help you reach your large goals.
It is a great way to save for small goals. However, bigger things like retirement or a home need to be saved for in a more intentional way.
Smart planning
The Digit app takes your upcoming bills into consideration as it maps out its savings opportunities.
"I love the fact that it takes your upcoming bills into account. It's more intelligent than just setting up a recurring transfer (which I could just do on my own).
And it actually moves the money to another account, so you can't earmark it for one thing and accidentally use it for another," says Ann Marie O'Braskin.
Mobile Access
Many people prefer to manage their money on the go. Digit allows you to do this easily through their app. Not only does the automatic savings happen through the app, but you also have control over your money through the app.
You can set goals, transfer money, monitor your accounts and more through the Digit mobile app. Digit is available for iOS and Android devices.
Credit Card Debt Reduction
Credit Card Debt Reduction is a specific savings goal that will help you eliminate credit card debt. The service will allow you to make automatic payments from your Digit account to any major credit card company.
In order to use this feature, you will need to activate the "credit card debt" goal in the Digit app. Once you have activated this goal, Digit will continue to save through the same micro-transfer method.
However, once a month Digit will make an extra payment on your credit card debt for the amount that you were able to save that month.
It may not seem like a big help, but extra payments of any kind will help you pay off your credit card debt faster. Do not underestimate the power of extra payments, no matter how small.
Savings Bonus
Every three months, Digit will reward you for any money you have saved in your Digit account. It will pay you a small bonus calculated based on the average daily balance your Digit account over the past three months.
Your account will need to be active for a three-month period in order to be eligible for the bonus.
Unlimited Withdrawals
Once your money is saved in the Digit app, you may not need to touch it for a while. That is the whole idea behind the savings app. But eventually, you will want to access your money to pay for your goal.
The money stored by Digit is accessible to you at any time. Simply follow the prompts in the app to withdraw your money.
Although you can take the money out whenever you want, it is not advisable to take it out until you reach your savings goal. Try to wait until you've hit the mark, but if an emergency comes up then you will have easy access to this money.
Low-Balance Protection
If your checking account balance is getting dangerously low, then Digit will transfer money from your Digit savings account to your checking account.
It is the reverse of micro saving, but it will help you get out of a tough situation.
By transferring money back to your checking account, Digit may help you to avoid overdraft fees.
Overdraft Reimbursement
Digit claims that it will pay your overdraft fee if the app causes an overdraft. You will not have to worry about the app accidentally causing a mountain of fees that you are on the hook for.
The company will reimburse the fees for two instances of overdraft.
This feature just means that you have less to worry about when it comes to using Digit.
No Account Minimums
Digit does not have any minimum account requirements for its users. This is a great feature, especially for new savers. You want to be able to build your savings slowly from scratch.
The lack of an account minimum will allow you to save at your own pace. You may reach your goal and then decide to clean out your account. Digit will not penalize you for having a lower account balance.
How Much Does Digit Cost?
In the beginning, Digit will offer you a free trial period of 30 days. At the end of your free trial period, the app is charged as a subscription service. Each month, Digit will charge you $5.00 for its services.
That means Digit will cost you only $60 per year. Depending on how much you are able to save, this may or may not be worth it for your situation.
Before you decide to purchase the app, think carefully about how these features will (or will not) help you reach your savings goals.
Is Digit Safe to Use?
Yes, Digit is a legitimate company that seems to be safe to work with. The company is a startup funded by Google's venture capital branch.
This means that Digit is not a scam trying to steal your account information.
Additionally, any money you save in your Digit account is FDIC-insured for any balance up to $250,000.
It is unlikely that you will reach that large amount in your micro savings account, but it is nice to know that it would be insured.
Digit's overdraft policy adds a layer of protection against overdraft fees. Any time that Digit overdrafts your checking account, it will pay the fee for you. This policy may offer you peace of mind if you know that you may be close to that overdraft penalty.
How to Sign Up for Digit
It is easy to sign up for Digit. Simply go to the Digit website and start the sign-up process. You will need to share your phone number, email address and checking account information to get started.
You can sign up through the app or through the website. However, the app is where most of the features are available, so downloading the app is an important place to start.
Within two or three days, Digit should start transferring money to your automated savings account. You can pause your automatic saving helper by heading into the Digit app. Simply head to the "Manage Account" tab to pause for up to 60 days at a time.
Digit Reviews
Here is some information on Digit Reviews from around the web.
"I was unsure of this at first. I used it while it was free and when they started to charge I was like man I can't do this. After not having it for awhile, I went back to it. I am not the best at saving. I have tried multiple ways to save but have been unsuccessful. Digit has helped me save to reach certain financial goals. I'm on track to save $100/month for a down payment towards a car I want to buy next year." – Joseph G.
"I love this app. I think it's amazing. It makes saving for specific goals a breeze. I love not having to consciously think about how much to save from each paycheck. With that being said, i would love to see a few updated options. One, being able to adjust the order of your goals." – Ashley W.
"It used to be great. But for months now, it continues to cause my bank to lock me out and reset my password on an almost weekly basis. I did not reconnect it for over two weeks because I was tired of the lock outs and I had no issues. I just reconnected my bank with Digit a few days and again, today, I am locked out of my bank once more." – Franklin G.
"Been enjoying the app for the past 2+ years, so I decided to finally open a Spending account today, and was very disappointed to find out that it completely changes the entire app. I though it was just going to be an additional checking account, but now I can't deposit to goals directly from my main checking account. Now I have to transfer to Spend, which takes 3-5 days and then transfer to goals, which is very convoluted and inconvenient." – Joseph D
Be sure to do your own review research to learn more about Digit. Now let's talk about some Digit alternatives.
Digit Alternatives
These Digit alternatives may be good considerations for you.
Acorns
Like Digit, Acorns helps you round up purchases and save the money from rounding up.
With Acorns you can like to a checking account or to credit card accounts. Any roundup funds go into your Acorns retirement or non-retirement savings pod.
You'll pay $3 a month for a personal Acorns account and $5 a month if you get a family account. Acorns' family account works for you, your partner and your kids.
Chime
Chime is an online fintech that offers free checking accounts and savings accounts.
There are no minimum balances, monthly service fees or ATM fees with Chime.
And every time you use your Chime debit card, Chime rounds up the purchase to the nearest dollar and transfers the money to your Chime savings account.
Bonus: Chime has a credit building feature as well.
Summary
Digit offers an easy way to save, but it is not for everyone. The micro-transfer feature of Digit is a good way to start saving if you have trouble saving. However, if you are a pro saver, then Digit is likely not a useful app for you.
Digit is the perfect way to get started for someone who has not been a successful saver so far. The app will give you the confidence you need to get started saving quickly.
By reaching smaller goals slowly, you may realize that saving is possible. Once you realize the possibilities of savings, you may be more able to motivate yourself to save on your own in the future.