Free checking accounts are one of the best bank accounts you can have. You'll get easy access to your cash and won't pay annoying bank fees.
These accounts make it easy to receive direct deposits on payday and pay bills. Some even offer exciting benefits like free ATM access and the ability to earn interest.
If you are looking for the best free checking accounts, these online banks are a great place to start your search.
Top Free Checking Accounts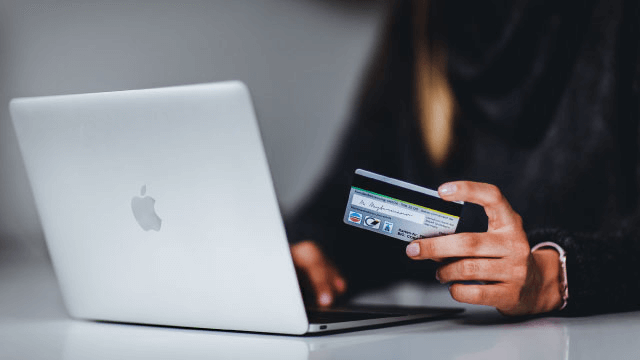 When you are looking for the top free checking accounts, comparing the key features of each platform can help you find the right account for your money habits.
Here are some of the best options currently on the market.
1. Varo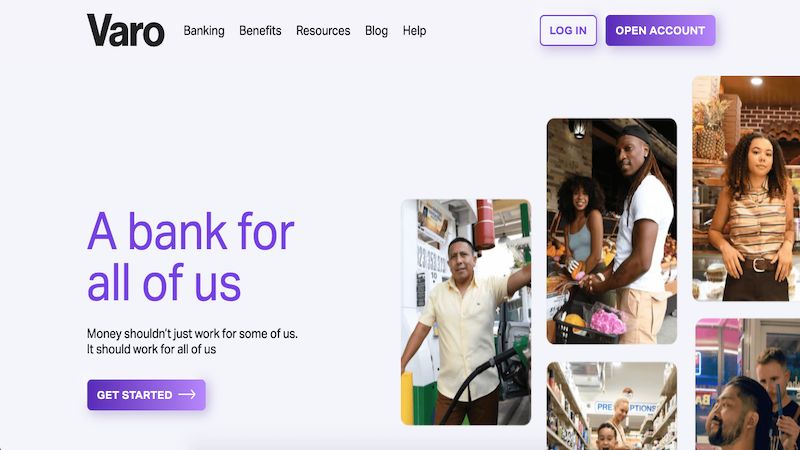 Varo offers several banking options with many unique perks. For example, you have the opportunity to get a small cash advance, build credit and get paid faster.
The service's bank account is an online checking account that provides a debit card with access to 55,000 fee-free Allpoint ATMs. Better yet, the debit card won't incur foreign transaction fees when you travel abroad.
With Varo's checking account, you can get paid up to two days earlier via direct deposit.
Like other banking apps, you can deposit paper checks remotely. You can also make cash deposits at GreenDot reload stations, but retail fees apply.
Additionally, customers with bad credit can improve their credit with a Believe credit builder loan. Customers who are looking to earn interest can also explore Varo's savings account.
Best for: At least $1,000 in monthly direct deposits and building credit
Pros
Several banking options,
No foreign transaction fees
55,000+ fee-free ATMs
Cons
Cash deposits incur fees
Need a savings account to earn interest
2. Wealthfront Cash Account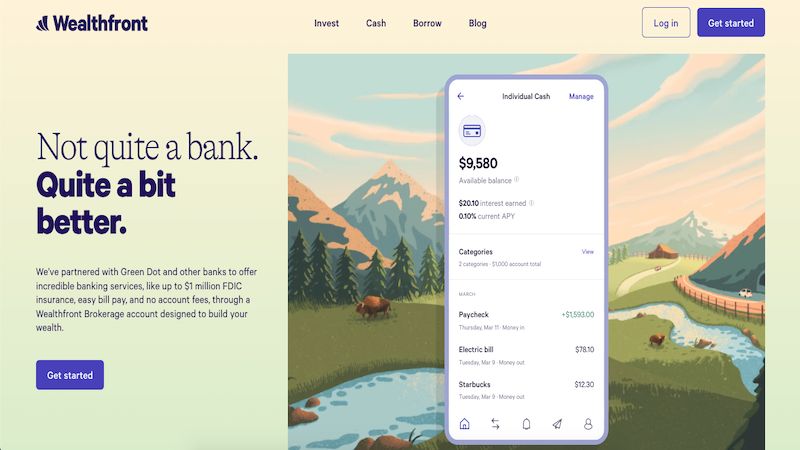 A Wealthfront Cash Account can be an excellent option if you want both a spending and investing account at the same bank.
With the Cash Account, all deposits earn 0.10% APY interest, and you never incur overdraft fees. You'll also have access to 19,000 free ATMs.
This does mean a lower interest rate and fewer fee-free ATMs than its competitors. However, the service has several bank partners to offer $1 million FDIC insurance instead of the standard $250,000 coverage.
Consider Wealthfront if you want a robo-advisor automated investing portfolio. The service invests in stock and bond index funds and automatically rebalances your portfolio to manage risk.
Best for: Saving money and investing with one app
Pros
Up to $1 million FDIC insurance
No overdraft fees
Entire balance earns interest
Cons
Few fee-free ATMs
Low interest rate
3. LendingClub Banking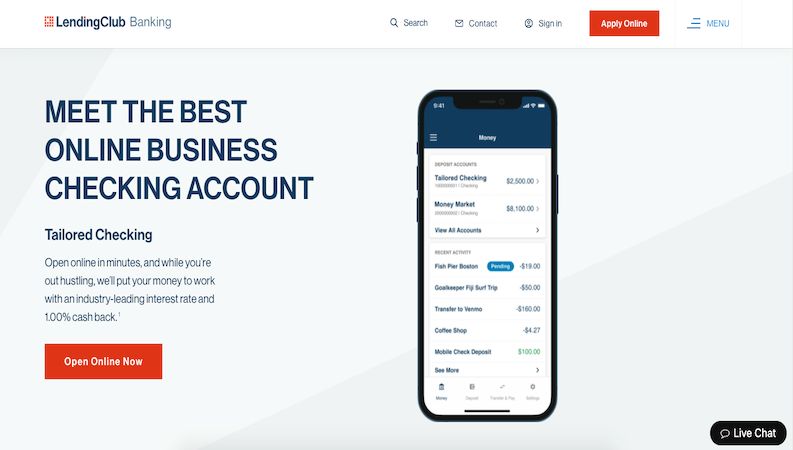 LendingClub Banking (previously Radius) offers the Rewards Checking account. The minimum initial deposit is $100, although you don't have to maintain a minimum balance.
It's important to note that you must maintain at least a $2,500 account balance to earn interest.
You can earn 0.10% APY on balances of $2,500 to $99.999.99. Balances above $100,000 earn 0.15% APY.
With the Rewards Checking account, you can earn 1.00% cash back on all your debit card purchases and receive unlimited ATM fee reimbursements worldwide.
This checking is an excellent option if you want debit card rewards and free ATM withdrawals.
However, if you are trying to earn interest on your extra cash, consider transferring it to a high-yield savings account instead.
Best for: Debit card rewards and free ATM withdrawals
Pros
Higher APY than most banks
Rewards checking account
No ATM fees
Min start $100
4. Aspiration Spend & Save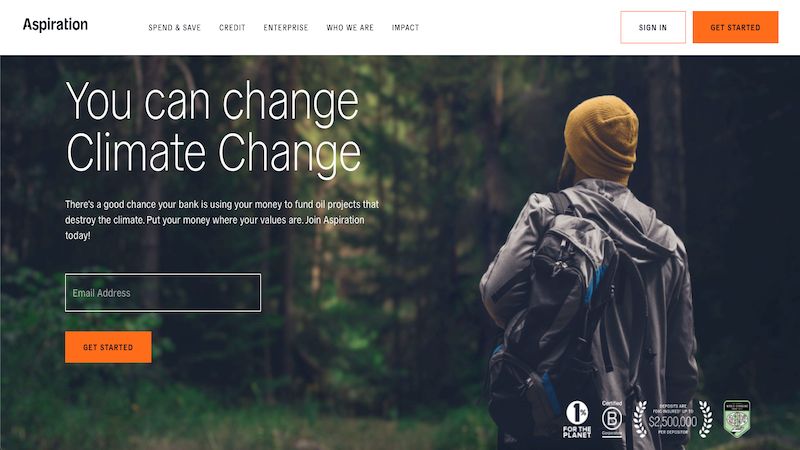 Consider Aspiration if you want a socially conscious bank. Your deposits won't fund fossil fuel exploration or production.
The bank partners with select "Conscience Coalition" retail partners. You can earn up to 5% back on purchases at brands including Toms, Warby Parker and Blue Apron.
With Aspiration's free checking account, you'll be able to access over 55,000 in-network ATMs, and you can round up your spending to plant trees.
You don't have to pay a monthly service fee for this account. However, the platform uses a "pay what is fair" model to make a monthly contribution if you wish.
Best for: Supporting social causes with banking transactions
Pros
55,000+ fee-free ATMs
Environment-friendly banking practices
Cons
Deposits don't earn interest
No non-network ATM fee reimbursements
5. GO2bank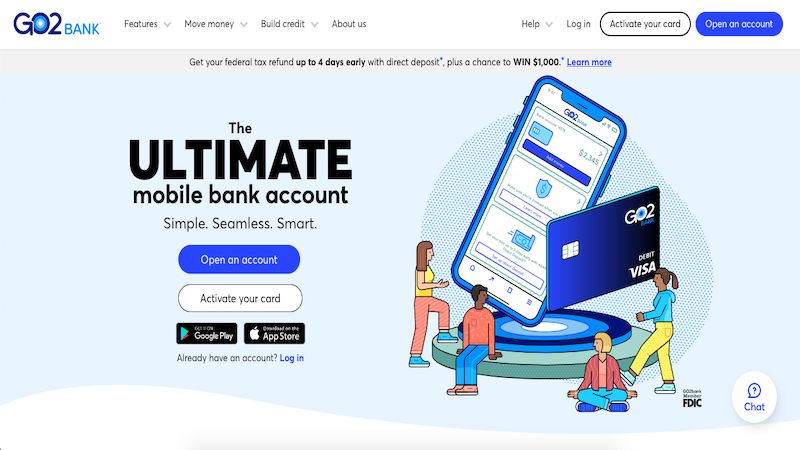 GO2bank is a free banking account when you receive at least one direct deposit from an employer or government benefits. Otherwise, you'll pay a $5 monthly service fee.
With 19,000 fee-free ATMs, GO2bank also offers in-person cash deposits at over 90,000 retail locations. Fees do apply for this service.
Consider this bank if you have a history of paying overdraft charges. Receiving at least two direct deposits with a total deposit balance of at least $400 covers up to $200 in free overdraft protection.
This banking app can be a good option for customers who want to give their credit score a boost. GO2bank offers a secured credit card that reports your monthly card payments to the three credit bureaus.
Debit card deposits won't earn cash back. However, one way to receive cash rewards is by purchasing digital gift cards in the GO2bank mobile app and getting 7% cash back.
While your checking account deposits won't earn interest, you can open a standalone high-yield savings account. The first $5,000 in savings deposits earn 1.00% APY.
Best for: Overdraft protection and earning cash back on gift card purchases
Pros
7%cash back on gift card purchases
Free overdraft protection
Can make cash deposits
Cons
Relatively few fee-free ATMs
Requires direct deposit to waive the $5 monthly fee
6. Ally Bank Checking
Ally Bank is one of the best overall online banks because they offer many high-interest account options and several banking perks.
The bank's only checking account option is the Interest Checking Account. There is no minimum account balance or initial deposit requirement.
With this account, you can get $10 in monthly non-network ATM reimbursements. This is a nice touch if you can't find one of the 43,000+ no-fee Allpoint teller machines.
Your entire account balance earns 0.15% APY when your average daily account balance is less than $15,000. Keeping a balance higher than $25,000 means the whole balance earns 0.25% APY.
Instead of maintaining a high checking account balance, you can earn a higher interest rate with a free savings account and bank CDs that Ally Bank offers as well.
You might also like this banking option since you can also open an Ally Invest account. The brokerage account options include a self-directed account and managed portfolios with no trade commissions.
Best for: No ATM withdrawal fees and earning interest
Pros
Entire balance earns interest
43,000+ in-network ATMs
Up to $10 in monthly non-network ATM fee reimbursements
Cons
Relatively low interest rate
Debit card doesn't earn cash rewards
No cash deposits
7. Axos Bank Rewards Checking
The Axos Bank Rewards Checking can be the best of the service's five free checking accounts. You will need to make a minimum $50 initial deposit, but you don't have to maintain an ongoing balance.
With the Rewards Checking account, you get unlimited domestic ATM reimbursements and no overdraft or non-sufficient fund fees.
It's possible to earn a high APY with this account, which is a higher interest rate than most high-yield savings accounts.
Earning a high interest rate is an exciting perk, but you must complete three activities each month.
These monthly activities each earn an APY:
Even if you only achieve one of the high-interest requirements, the interest rate is higher than many checking and savings account rates.
Best for: Maximizing direct deposits and frequent debit card purchases
Learn more: Axos Bank Review
8. Discover Cash Back Debit
Discover Bank offers a Cashback Debit checking account. As the account name implies, this account is one of your best options for earning cash rewards on debit card purchases.
Unlike competing banks that charge a fee or require that you complete specific activities to earn cash back, this account doesn't require a minimum initial deposit or ongoing balance.
The first $3,000 in monthly debit card purchases you make earn 1% back, but the excess purchases don't qualify for any purchase rewards.
You'll get access to over 60,000 no-fee ATMs with this account, and you won't get hit with insufficient funds fees.
This online checking account from Discover Bank is one of the few to offer free paper checks. Most online banks only offer online bill pay and will mail paper checks to a recipient.
As this account doesn't earn interest, you can consider a Discover Bank Online Savings Account to earn a competitive interest rate on deposits.
Best for: Debit card cash rewards and free ATM withdrawals
Pros
Debit card purchases earn up to 1% back
Many no-fee ATMs
Free paper checks
Cons
Account balance doesn't earn interest
Monthly cap on debit card cash rewards
9. Capital One 360 Checking Account
Capital One 360 is the online-only service of the Capital One bank network. While you won't have local branch access, you won't pay monthly fees either.
There is no minimum deposit or ongoing balance requirements for this checking account, making it an excellent option for earning interest and avoiding ATM fees.
The 0.10% APY interest rate isn't the highest for online checking accounts but remains an effortless way to earn monthly income.
Capital One's 70,000+ fee-free in-network ATM portfolio is one of the largest offered by any bank.
Since Capital One 360 is a larger bank, account holders can use the Zelle feature. This tool lets you instantly send money to friends at other large banks.
Best for: Free ATM withdrawals and earning interest on the entire balance
Pros
Entire balance earns interest
Over 70,000 no-free ATMs
Cons
Relatively low interest rates
No debit card rewards
What to Look For in a Free Checking Account
Any free checking account lets you avoid common bank fees, receive direct deposits and use online bill pay.
You should also take the time to compare these factors to find the best account for your banking needs.
Minimums
Before you open an account, review the minimum requirements. You may need to make a minimum initial deposit or maintain a minimum ongoing balance to earn interest or waive monthly fees.
Fortunately, more online banks are waiving the minimum balance requirements to open or maintain a free account.
Fees
Some banks have "free" checking accounts but may charge a monthly service fee if you don't maintain a minimum ongoing balance or receive sufficient monthly direct deposits.
Other standard checking account fees include:
Out-of-network ATM withdrawals
Overdraft fees
Non-sufficient funds
Cash deposits
Official bank checks and paper checks
Many banks will reimburse non-network ATM fees. They may also waive overdraft fees if you regularly receive direct deposits from an employer or government benefits.
Mobile/Online Access
Most checking accounts offer web access along with Android and iOS mobile app platforms.
Consider the bank's mobile app so you can choose the option with the best layout and features. These can include mobile check deposits and online bill pay.
Customer Service
Customer service contact options and service hours can vary widely for online banks. Some banks may offer 24/7 access via live chat or phone.
Other banks may only offer service for some topics during regular business hours or can be difficult to reach by phone.
Interest Rates
Many interest-bearing online checking accounts award at least 0.10% APY on qualifying balances. In certain cases, you can earn at least 1% APY on deposits.
However, some accounts require customers to complete certain activities to earn interest.
These activities may include:
Maintaining a minimum daily balance
Receiving monthly direct deposits
Completing a minimum number of debit card purchases per month
FAQs
Here are answers to several questions you may have about how free checking accounts work.
Are free checking accounts legit?
Yes, most free checking accounts are legit. However, any bank can close due to financial troubles, and it can be a challenge to retrieve your funds.

Make sure your checking account has FDIC insurance. This coverage benefit can help you recover up to $250,000 in deposits if the bank fails.

In addition, some platforms partner with several banks to provide up to $1 million in FDIC coverage.
Do free checking accounts pay interest?
Many free checking accounts pay interest. However, you may need to maintain a minimum balance or complete certain activities such as enrolling in direct deposit or making several debit card purchases.

If a rewards checking account doesn't pay interest, it might be possible to get cash back on debit card purchases.
Are free checking accounts safe?
In general, free checking accounts are financially safe as they offer FDIC insurance. They can also provide data security to protect you from account breaches.
Can you get a sign-up bonus for opening a checking account?
Some banks offer a one-time cash signup bonus when you open a checking account.

You will need to complete certain activities, like making a qualifying minimum initial deposit, enrolling in direct deposit or making debit card purchases.

Usually, checking account bonuses are for accounts with monthly service fees. For many accounts, there is typically a way to waive the monthly fee.
Summary
A free checking account is the best bank account option for most people since you can avoid fees and access many bank perks.
Some of the complimentary benefits include earning interest, an extensive fee-free ATM network and getting cash back at stores with debit card purchases.
If you need unique banking perks like discounted wire transfers, paper checks or local branch access, a fee-based checking account can be better.