Startups and entrepreneurs need to look for creative ways to raise funds and expand their businesses.
Equity crowdfunding sites are a popular alternative to small business loans or business lines of credit.
These sites create unique opportunities for investors by allowing them to purchase an equity stake in a startup company.
While this investment is riskier than buying stocks, it can have higher potential returns.
Here are some of the best equity crowdfunding sites you may want to consider investing with.
Top Equity Crowdfunding Websites
Crowdfund investing is naturally risky, and some platforms may only be open to accredited investors.
Investing small amounts of money can minimize your portfolio risk, while simultaneously providing an opportunity for potentially higher returns. .
This list shares some of the best equity crowdfunding sites for investors.
1. Fundable
Fundable lets accredited investors invest in companies across the world. You will need to connect your LinkedIn profile to start the investor enrollment process.
Some of the recent offerings include:
E-bikes
Medical diagnostic tools
Banking and online shopping apps
The site has a feature that lets you follow companies that interest you. Once you follow a company, you can access it using your dashboard.
This makes it easy to stay up to date on startups you might want to invest in.
When investing in a startup on Fundable, there is a $1,000 minimum for equity or debt raises.
Best for: Investing in medical and fintech software
Open to: Accredited investors only
Pros
Invest in international business deals
Many open investment offerings
Cons
Only for accredited investors
Limited customer service
2. Republic
Republic lets you invest in crowdfunded deals with as little as $10, making it easy to dabble without being too risky.
However, some deals may require between $100 and $1,000 to open a position.
The site is open to accredited and non-accredited investors. That said, certain opportunities on the site are only available to accredited investors.
There are a variety of deals you can invest in, including:
Startups
Video games
Real estate
Cryptocurrency
The average estimated holding period is between four and six years. This is the standard period for most equity crowdfunding sites.
If you are looking for short-term investments, this might not be the best option for you.
Best for: Startup and video game investing
Open to: Accredited and non-accredited investors
Pros
Multiple investment options
No fees for investors
Cons
Investment minimums $1,000
Email-only support
3. StartEngine
StartEngine is one of the largest crowdfunding sites and has low investment minimums.
The service has helped raise more funding for startups than other sites, according to StartEngine.
Shark Tank fans may also know about this platform since Kevin O'Leary ("Mr. Wonderful") is a strategic advisor.
Some recent offerings include:
Medical diagnostic testing
Autonomous electric lawnmower
Small wind turbines
The minimum investment is below $500 for most offerings. Investors can get special perks like a free product or service access from the startup.
It's also possible to buy or sell unwanted shares on a secondary market, but a 5% transaction fee applies. Typically, you cannot sell your equity stake quickly.
StartEngine offers a rewards program that can benefit frequent investors.
You pay $275 per year to join the Owner's Bonus loyalty program and can get 10% bonus shares in qualifying investments.
Owner's Bonus members can also get a priority spot on offering waitlists.
In addition, they'll get a 20% reduction on the 5% transaction fee when selling shares on the secondary market.
You can contact StartEngine customer service by phone, email or live chat. Response times may be slower than if you use one of the best online stock brokerages.
Best for: Low investment minimums
Open to: Accredited and non-accredited investors
Pros
Most investment minimums are $500 or less
Earn up to 10% bonus shares by joining the loyalty program
Can trade shares on the secondary market
Cons
Owner's Share loyalty program costs $275 per year
5% transaction fee selling shares
Slow customer service response
4. MicroVentures
MicroVentures is one of the older crowdfunding platforms.
Non-accredited and accredited investors can both invest thanks to the federal law changes several years ago.
The investment minimum can be as low as $100 for many offerings, making it a good option if you are looking to invest small amounts of money.
This minimum is lower than many platforms.
Late-stage investments in established startups are available to accredited investors. But the investment minimum can be $50,000 for each opportunity.
Recent offering examples include:
Animation software
Food technology
Medical research
Social media platforms
A secondary exchange is also available to trade current positions. You may pursue this option to sell unwanted positions or buy another investor's shares at a discount.
Investors can contact MicroVentures customer support by email.
Best for: Investing in apps and software
Open to: Accredited and non-accredited investors
Pros
$100 minimum investment
Secondary market to buy or sell late-stage shares
Cons
Email-only customer support
$50,000 investment minimum for late-stage companies
5. AngelList
AngelList can be a good option for accredited investors that prefer investing in funds instead of individual offerings.
There are three different investment options:
Rolling funds: Invest in themed-fund with quarterly funding rounds
Access Fund: Holds multiple rolling funds
Syndicates: Individual deals
Most investment options are for Rolling Funds and an index fund-like Access Fund.
Only a few investors qualify for the handpicked syndicate deals, according to AngelList.
Rolling Funds
The Rolling Funds are a unique concept. There are many to choose from, and each has a different investment strategy.
Pay attention to the minimum quarterly investment. Plan on investing between $5,000 and $50,000 per quarter.
Some of the Rolling Funds investment options include:
African startups
Environmental challenges
Early-stage tech companies
Health and biotech
These funds can be similar to investing in a mutual fund or ETF.
Access Fund
The AngelList Access Fund holds positions in multiple Rolling Funds.
The minimum quarterly investment can be at least $50,000. This may be too high for many investors.
If you can meet the minimum quarterly investment, this investment option can make it easier to diversify.
AngelList states that investors can get exposure to over 200 startups with each Access Fund.
Syndicates
Syndicates are venture capital funds designed for single investments.
These are private and allow investors to either invest in a fund or back an experienced angel investor with proven success in technology investments.
Some of the more well-known previous Syndicate investments include Lime, Wag! and RadPad.
Best for: Venture capital funds
Open to: Accredited investors only
Pros
Fast selling process
No shipping costs
Cons
Several cities don't have a store
Potentially low buying prices
6. Yieldstreet
Yieldstreet offers alternative assets that other crowdfunding sites may not. However, most investments are only available to accredited investors.
The investment minimum can be between $1,000 and $50,000. Most investment minimums are $10,000.
Unlike most equity platforms, Yieldstreet offers more customer service options. Investors can call YieldStreet by phone or send an email.
Accredited investors can invest in individual deals, including:
Commercial aircraft
Investment property refinancing
Supply chain financing
Some of these deals might be debt-based instead of equity-based and can earn interest payments.
Debt investments still require a multi-year investment period.
Non-accredited investors can use the Prism Fund to invest in six different asset classes:
Art
Commercial
Consumer
Corporate preferred bonds
Legal
Real Estate
The minimum initial investment for the Prism Fund is $500.
Using this fund can be an easy way to invest in alternative income-producing assets with a low investment minimum.
Best for: Alternative investments
Open to: Accredited and non-accredited investors
Pros
Prism Fund invests in multiple asset classes
Different investment options than other equity platforms
Phone customer support
Cons
Individual offerings are only for accredited investors
High investment minimums
7. SeedInvest
Many SeedInvest offerings have a minimum $500 initial investment, but this can be higher depending on the opportunity.
There is also an auto-invest tool with a $1,000 initial minimum and $200 for future offerings. You can opt-out of offerings you're not comfortable with.
It's possible to invest in apps and new technology, including:
Omni-directional treadmill for virtual reality games
Therapeutics for osteoarthritis
Ecommerce platform
Early earthquake detection app
Another recent offering is for an equity stake in the Groundfloor real estate investing platform.
Investors can read the offering circular and potential risks for each potential investment. You can also browse past and upcoming offerings.
Investing at least $5,000 in most offers lets investors get exclusive perks for the startup.
Best for: Investing in fintech startups
Open to: Accredited and non-accredited investors
Pros
Minimum investment starts at $500
Auto-invest drops minimum investment to $200
SeedInvest Academy can teach startup investing basics
Cons
Only offers chat and email customer support
The minimum investment may be at least $1,000
8. EquityZen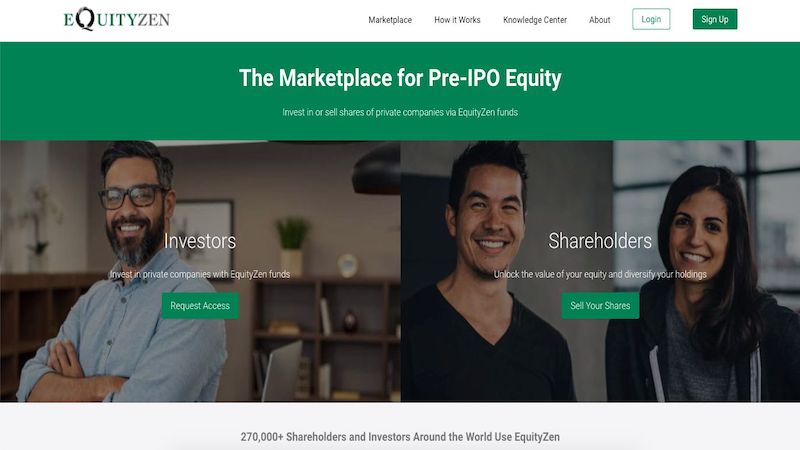 EquityZen only offers late-stage investments in tech companies preparing to list on the stock market.
Unfortunately, only accredited investors can invest in these deals. The investment minimum may be as low as $10,000.
Investing in late-stage tech companies before their initial public offering (IPO) on a stock exchange can be less risky than early-stage equity crowdfunding.
Some companies that are raising funds using EquityZen include:
Acorns
AXIOS Media
Instacart
Robinhood
SpaceX
TikTok
You have most likely heard of many of these services.
Buying shares now lets you convert your equity into stock shares when regular investors buy shares with free investing apps.
A quick example of a recent IPO is Airbnb. Late-stage investors bought an equity stake before the Airbnb IPO in December 2020.
Equity investors can sell their stock shares after the lockup period. The share value can be a lot higher than the initial investment amount during the crowdfunding phase.
Investing pre-IPO is riskier than waiting to buy stock shares. However, the profit potential is higher.
If you're unsure which companies to invest in, EquityZen offers managed funds that give you exposure to multiple brands.
Best for: Investing in pre-IPO tech companies
Open to: Accredited investors only
Pros
Invest in late-stage tech companies
Managed funds can offer more diversification
Cons
No early-stage offerings
Investment fees up to 5%
9. Wefunder
Wefunder has investment minimums as low as $100, but some opportunities may cost more. Investor perks can start with a $250 placement with most offerings.
These investment minimums can be lower than other platforms.
Some recent offerings include:
Clean energy
Medical testing
Small business apps
Entertainment services
One potential downside of Wefunder is that the only customer support options are email and an online knowledge base.
This is typical: Most platforms offer similar barebones support.
Despite the lack of on-demand customer support, Wefunder is FINRA and SEC-regulated. These are the governing agencies for other equity crowdfunding sites.
Best for: Investing in apps and medical technology
Open to: Accredited and non-accredited investors
Pros
Low investment minimums
Diverse investment offerings
Cons
Email-only customer support for investors
10. Localstake
Localstake is for accredited investors only and takes a different investment approach than other equity platforms.
Investors can express investment interest to a startup seeking funds. The company and investor may then negotiate a deal.
Localstake offers several different investment structures:
Revenue share loans: Earn a portion of each cash sale
Preferred equity: Purchase an ownership stake
Convertible debt: Loan funds that convert into equity in a future funding round
Traditional loans: Lend money and receive interest income
The offerings are similar to other platforms. You may also be able to invest in crowdfunded real estate, such as a solar-powered neighborhood.
There is a 30-day waiting period for new investors. This period lets Localstake complete the legal requirement to verify you're an authorized investor.
Best for: Flexible investment terms
Open to: Accredited investors only
Pros
Multiple equity investment structures
Negotiate investment terms with the startup
Cons
Investment structures might be confusing to some investors
30-day waiting period after joining
11. NextSeed
NextSeed investment minimums start as low as $100. The investment offerings vary, but recent offerings tilt toward the entertainment niche.
Recent investment opportunities include:
Producing a video documentary
Indoor miniature golf
Brewery and taproom
Tax compliance software for cryptocurrencies
Some offerings may only be available to accredited investors.
Since NextSeed is part of the Republic crowdfunding platform, you may see more open offerings at Republic.
One unique trait about NextSeed is that your first $250,000 in uninvested cash is FDIC-insured.
It's important to note that your startup investment has neither FDIC or SIPC insurance.
Best for: Entertainment investments
Open to: Accredited and non-accredited investors
Pros
Low investment minimums
Uninvested cash has up to $250,000 FDIC insurance
Cons
Some offerings are only available to accredited investors
12. Mainvest
Mainvest also has investments that start as low as $100.
They tend to focus on businesses such as breweries, coffee houses, bakeries, and other local small businesses.
In other words, Mainvest focuses on investing in brick-and-mortar businesses.
Examples of recent offerings include:
Luxury cinema
Breweries
Cannabis operations
Restaurants
You do not have to be an accredited investor to invest with Mainvest. Note that some investments may have a higher minimum investment.
Best for: Investors who want to back brick-and-mortar businesses
Open to: Accredited and non-accredited investors
Pros
Low investment minimums
No investor fees
Cons
Newish company with a shorter track record
FAQs
Before you use one of these sites, it's important to understand how you can earn money with them.
It's also important to understand the risks, benefits and other factors to determine if equity crowdfunding might be a good investment option for you.
How do equity crowdfunding investors make money?

Investors can make money with equity crowdfunding in several ways.

Payout opportunities include receiving a portion of future profits, when the company goes public on the stock market, if the company is acquired and more.

It can take up to six years for startups to start earning investment income.

Most startup shares are illiquid and cannot be sold until a qualifying "trigger event" unlocks the shares.

You won't make money if the business fails or doesn't earn a profit.

What are the benefits of equity crowdfunding?

There are a few benefits of being an equity crowdfunding investor.

One upfront perk is that the company may give you free access to the service or product because you're one of the first investors.

Another potential benefit is high profit potential. Investors can earn a small fortune if the company is successful or launches an IPO.

A third perk is helping small businesses grow. The early-stage funding helps them pay startup costs until they can produce a profit.
What are the risks of equity crowdfunding investors?

Most equity crowdfunding investments are for early-stage startups. These investments are some of the riskiest as many companies fail.

Investors can lose their entire investment if the company closes, doesn't launch an IPO or isn't acquired by a larger competitor.

Investors may also lose money if they need to sell their shares early. However, most crowdfunding platforms don't offer a secondary market to sell shares.

If the company doesn't repurchase the shares early, investors may need to hold them until a "trigger event" lets them sell their shares for a profit.

Transaction fees can also apply.
Is equity crowdfunding a good investment?

Equity crowdfunding can be a good investment option for highly aggressive investors.

Due to the above-average investment risk, investors should only invest a small portion of their portfolio.

Investors should only invest cash with a long-term investment horizon. It can take at least five years to realize a profit or even have the ability to sell shares.

Since equity crowdfunding is risky, you may consider investing in stocks, bonds and short-term investments that are less volatile and more likely to earn passive income.
Are there equity crowdfunding websites for non-accredited investors?

Yes, several equity crowdfunding platforms welcome non-accredited investors. Any investor can invest in equity crowdfunding deals thanks to federal law changes.

However, current law only allows non-accredited investors to invest up to 10% of their annual income.

Some of the best services for non-accredited investors include StartEngine, Republic, SeedInvestor and Wefunder.
Equity Crowdfunding Comparison Table
| | |
| --- | --- |
| Company | Trustpilot |
| Fundable | 3.2 |
| Republic | 3.1 |
| StartEngine | 2.4 |
| MicroVentures | 2.6 |
| AngelList | 2.7 |
| Yieldstreet | 2.6 |
| SeedInvest | 2.6 |
| EquityZen | 2.5 |
| Wefunder | 2.2 |
| LocalStake | N/A |
| NextSeed | N/A |
| Mainvest | N/A |
Learn More: Linqto Review: Is Pre-IPO Investing Right For You?
Summary
Equity crowdfunding is an exciting investment option for aggressive investors.
It's possible to get early investor perks and earn a significant profit if the company is successful.
Many platforms offer low investment minimums that make it easy to diversify into several ideas. Others are open to accredited and non-accredited investors alike.
Make sure to analyze the pros and cons of each platform before choosing the right one for your needs.
Also, consider using investment tracking apps to ensure your investments are moving you towards your goals.