Online survey sites offer a convenient way to earn a few extra dollars. Better yet, they don't require special skills or a lengthy time commitment.
If you're looking for a survey platform with many opportunities, Opinion Outpost is worth considering. It's possible to attempt multiple online surveys about various topics each day.
Our Opinion Outpost review can help you decide if this survey site is a good way for you to make some extra cash.

Summary
Opinion Outpost lets you attempt multiple surveys daily. Most surveys earn $1 and take less than 20 minutes to finish. The redemption minimum can be as low as $5 for cash and gift cards.
Pros
Multiple ways to earn points
Cash and gift card rewards
$5 redemption minimum
Cons
Won't always qualify
No disqualification payment
Paid surveys only
What is Opinion Outpost?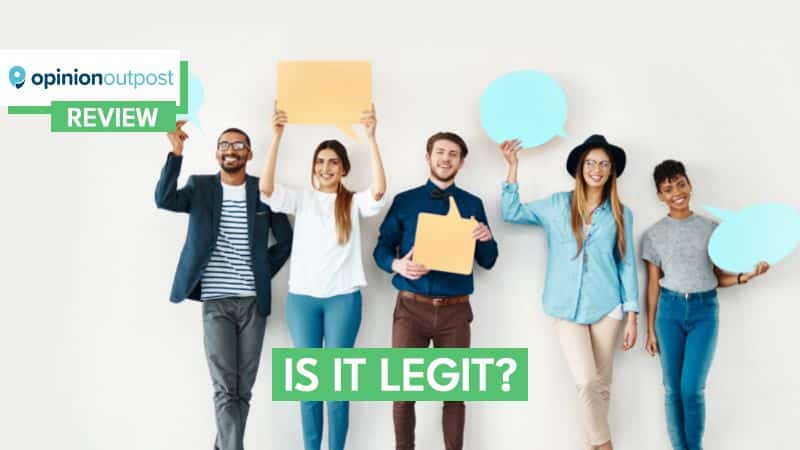 Opinion Outpost is a website that lets you answer surveys about various topics.
Most surveys take no more than 25 minutes to complete. You can redeem your survey reward points for PayPal cash and gift cards.
It's free to join this survey site and immediately start taking surveys. If you like answering questions about various topics, Opinion Outpost is worth considering.
Additionally, you might be able to participate in advanced studies and micro-tasks. These generally pay more than a survey.
Better yet, the company also donates $10,000 each month to the American Red Cross.
Is Opinion Outpost Legit?

Yes, Opinion Outpost is a legit online survey site. In fact, it is one of the oldest market research companies. You can actually get paid for taking surveys.
The service partners with several survey providers to offer opportunities about multiple topics. These range from your shopping habits to your daily routine to your social opinions and more.
Its parent company is Dynata, LLC, which operates several other survey research platforms.
Unfortunately, you won't qualify for every survey. There's a chance you will be "screened out" after answering the qualification questions.
Unlike other platforms, you won't receive a consolation reward for your time if this happens.
However, finding out you are ineligible for certain opportunities is common among survey sites, so Opinion Outpost isn't a scam.
How Opinion Outpost Works
If you want to make money with online surveys, here's how Opinion Outpost works.
Create an Account
You can join Opinion Outpost by submitting your name and contact information.
Membership is open to panelists who are at least 13 years old and live in the United States, Europe or Mexico.
Earn Signup Bonus
Immediately after verifying your email address to activate your account, you can complete a welcome survey. Doing so lets you earn a five-point bonus.
This initial online survey can also help you fill out your profile. In turn, this allows the site to match you with relevant opportunities.
Complete Tasks
After creating your account, you will see several open online survey invitations.
These will tell you the survey:
Topic
Time requirement
Earning amount
You must access the platform from your mobile browser or computer. There currently isn't an Opinion Outpost mobile app, but its site is mobile-friendly.
The screener questions are similar to most online survey apps, and the platform may recommend a different survey topic if you don't qualify for your initial attempt.
However, you must answer more qualification questions to see if you're eligible for the complete survey.
Most surveys have an estimated completion time of five to 25 minutes. You only earn points after finishing the entire survey. There are a number of surveys to choose from.
You can also earn points with tasks like product reviews, watching advertisements and more.
That said, surveys are the most common way to earn points on the site.
Badges
The Opinion Outpost loyalty program can help you earn various badges as you complete surveys. Unfortunately, these achievements are only for bragging rights. You won't earn bonus points.
However, this rewards system may motivate you to attempt a higher number of surveys. Indirectly, completing more surveys can open the door to receiving invite-only opportunities.
Redeem Rewards Points
You can start redeeming your points for Amazon gift cards after accumulating 50 points ($5 value).
However, other redemptions require 100 points for a $10 face value. These options include PayPal cash and gift cards to your favorite stores and restaurants.
Another redemption option is entering the quarterly $10,000 sweepstakes. Each entry only requires one point, but winning isn't guaranteed.
Is Opinion Outpost Safe?
The survey platform pledges to keep your personal information 100% private and confidential. Plus, they state that they belong to several market research governing bodies and practice standard privacy protection methods.
You must provide personally identifiable information (PII) to qualify for surveys. As a result, you may decide not to participate in specific topics.
For example, you may not want to talk about your children or a medical condition.
The survey platform will convey and sell your information to third parties to provide more income opportunities. Again, your personal identity is hidden.
In addition, the platform's privacy policy lists several ways you can opt-out of data sharing to reduce your online footprint.
Another way to protect your privacy is to verify any correspondence is from Opinion Outpost and not an imposter. Unfortunately, there are many survey scams because it's an easy way to steal sensitive information.
Be sure only to accept survey invitations from opinionoutpost.com.
How Much Can I Earn With Opinion Outpost?
Opinion Outpost states that the average survey earns 10 points ($1.00). The highest-paying surveys can pay up to 250 points ($25).
Unfortunately, more lucrative surveys are highly selective and can require a lengthier time commitment. But, you'll earn more per hour.
You can complete up to nine surveys per day. It's a great way to make money from home.
This earning potential is similar to other survey sites. Completing your profile can increase the likelihood of qualifying for surveys.
Since the payouts are competitive, it can be worth attempting a few surveys to see how often you qualify for the entire study. However, the per hour payout won't be enough to quit your day job.
Keep in mind that you won't earn any points if you don't pass the initial screener questions. Generally, it's common for platforms to award two points per survey for your effort.
Ways to Make Money With Opinion Outpost
There are several ways that you can earn points by sharing your opinion with this survey site.
Take Surveys
Paid surveys are the primary way to earn money on this platform. Make sure you can regularly qualify for surveys. Otherwise, reaching the redemption minimum and receiving payment for your hard work will be difficult.
Survey topics can include:
Food and beverage
Business and employment
Entertainment
Health and wellness
Home and family
Insurance
Investing
Shopping and retail
Politics
Social topics
You might be eligible for most topics if you're the primary decision maker for shopping and business decisions in your home. However, you must meet the desired demographics.
These surveys take at least five minutes but are usually no longer than 20 minutes.
Test Products
Loyal members might be eligible to test products and services. Keep in mind that these opportunities won't initially appear on your general dashboard.
Other product testing sites are a better option to receive more regular offers.
Watch Advertisements
You might be able to watch ads for money. Typically, this experience requires watching unreleased commercials and sharing your opinion.
The questions may ask how the commercial affects your emotions, what you believe the ad's message is and what company you think is sponsoring the advertisement.
Some of these gigs may require enabling your webcam and microphone to view your reactions during specific segments. If you aren't a fan of being on camera, this money-making opportunity won't be a great fit for you.
Furthermore, the company partners with Google to serve surveys based on ads recently shown while browsing the internet.
Go Outside
You may receive invitations to complete tasks within your community. For example, you can check product prices at a local store or become a mystery shopper.
These opportunities can be a breath of fresh air (literally) since you're not sitting inside tapping survey bubbles.
However, they are relatively uncommon on this site.
Diary Studies
If you were a fantastic candidate for a short survey, you may receive an invitation to participate in an extended diary study. Not every survey offers follow-ups, but it happens occasionally.
For instance, you could be asked to submit daily details about your:
Exercise habits
Meal plans
Music listening
Shopping purchases
TV viewing history
You may also be able to apply for these studies from your dashboard.
Opinion Outpost Reviews
Before signing up for any website, knowing what current and former customers have to say about it can be helpful.
Here are the rankings Opinion Outpost received online:
Here are some Opinion Outpost reviews from customers:
"I'm really happy with Opinion Outpost. They really value their members and out of all the survey companies out there, they pay the most for your time. Also, they provide instant cash-outs at $10 which is a huge help." — I Master007
"It is an okay survey site, I do however think that the points to survey length ratio is not well balanced, for example, receiving 5 points for half an hour of my time is not worth it. Otherwise, the site is fairly well built, and relatively easy to navigate." — Tarl
"Offers, deals, surveys, online diaries, online interviews, market research and many different ways to reach the number of points you need. I usually cash out at least one time in a month." — Andrew MacDougall
"I get some surveys through this site, but often spend several minutes, and then am disqualified. The pay is pretty good. I wish there was something for disqualifying, like 1 point, so it wouldn't feel like such a waste of time for trying so many surveys." — Patty
Alternatives To Opinion Outpost
If you aren't convinced that Opinion Outpost is right for you, it might be wise to consider some other survey sites.
These survey sites provide ways to make money in addition to paid surveys. They even offer a small consolation payment for disqualified survey attempts.
Survey Junkie
Survey Junkie is another top-notch site specializing in short online surveys. The payout minimum is only $5 for cash and gift cards. Plus, you may have an easier time qualifying for these invitations.
You can also download the SJ Pulse app to make money by sharing your mobile browsing activity. This program can even make it easier to qualify for personalized surveys.
Trustpilot score: 4.3 out of 5
Swagbucks
Consider Swagbucks if you want a variety of ways to earn rewards. You can enjoy payouts as low as $5 for PayPal Cash or gift cards. Better yet, Amazon gift card redemptions start at $1.
You can earn rewards from surveys, shopping, playing games and watching videos. Product offers and limited-time activities can also help you earn bonus points.
Trustpilot score: 4.3 out of 5
InboxDollars
InboxDollars is another leading get-paid-to site that pays you to complete various activities. Along with surveys, your earning opportunities include shopping offers, redeeming coupons, downloading games and apps and internet searches.
New members receive an instant $5 signup bonus, and the first-time redemption minimum is only $15. Subsequent redemptions require a minimum $25 balance. You can redeem your rewards for PayPal and gift cards.
Trustpilot score: 4.2 out of 5
FAQ
If you still have questions about Opinion Outpost, these answers might be able to help.
How easy is it to sign up for Opinion Outpost?
It only takes a few minutes to join Opinion Outpost by visiting their webpage. You start by entering your name, location, age and email address.
After verifying your email address, you can begin answering online surveys and earning points.
What customer support options does Opinion Outpost have?
Email support is available, and you can submit a support ticket through the chatbot button that is available on any page.
An online help section also addresses common problems and member questions.
Does Opinion Outpost have a mobile app?
No, the platform does not have a mobile app. However, the website is mobile-friendly and easy to navigate.
It's important to note that paid activities may require downloading additional software and enabling location services.
What should I do if Opinion Outpost suspended my account?
Sometimes the site will suspend an account for suspicious activity. You can contact the platform if this happens to get your account reinstated.
Summary
Opinion Outpost can be a great side hustle if you want to answer several online surveys each day. The platform's $10 redemption minimum (or $5 for Amazon rewards) is easy to reach.
Plus, there are several ways to earn points besides short surveys. However, you may have difficulty consistently qualifying for surveys if you don't satisfy the panelist requirements.
Nevertheless, Opinion Outpost can be a great option if you are researching the best survey apps.