Did you know that you can invest in farmland without ever setting foot on the property?
Farmland and agriculture can diversify any investment portfolio and may help smooth out risk, as returns are often not correlated with other parts of the markets.
How to Invest in Farmland
Invest in fields across the United States that grow a variety of crops.
The returns can be pretty attractive at 7-13% per year.
You can invest as little as $1 into stocks and ETFs for crop commodities.
There are several ways to earn passive income by investing in farmland. You can invest directly in farms or in farming-related companies.
1. AcreTrader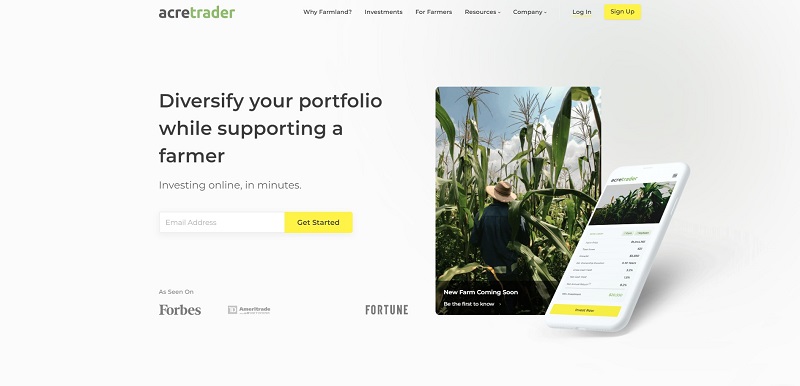 Directly investing in farmland can be easy with AcreTrader. You can invest in fields from across the United States that grow a variety of crops.
Individuals select a piece of farmland and purchase shares in the entity that owns it. Shares are equivalent to about 1/10 of an acre.
Investors earn rental income from the tenant farmer using the field. When the investment period ends, you can sell your shares and profit from appreciating property values.
Advertised as a great opportunity for passive income, AcreTrader claims that you can get a 3-5% annual yield from lower-risk properties.
Also, for informational purposes on all properties, AcreTrader provides a rating based on risk. You can see photos, location details and the crop information for the property.
Minimum investments with AcreTrader are high starting at $10,000. However, the minimum investment depends on the price per acre.
The average investment period is between five and ten years per offering. Some projects require a 20-year holding period.
One downside is that you must be a high net worth accredited investor to use AcreTrader. You must have an annual income above $200,000 ($300,000 for couples) or a $1 million liquid net worth.
If you want a long-term investing idea, AcreTrade can be a good option. You get exposure to farmland investing too.
Related: AcreTrader Review: An Easy Way to Invest In Farmland
AcreTraderDisclosure: "This is a sponsored promotion for the AcreTrader platform. Well Kept Wallet may have investments in companies represented on the AcreTrader platform. This informational article is by no means a promotion, solicitation, or recommendation of any specific investment."
2. FarmTogether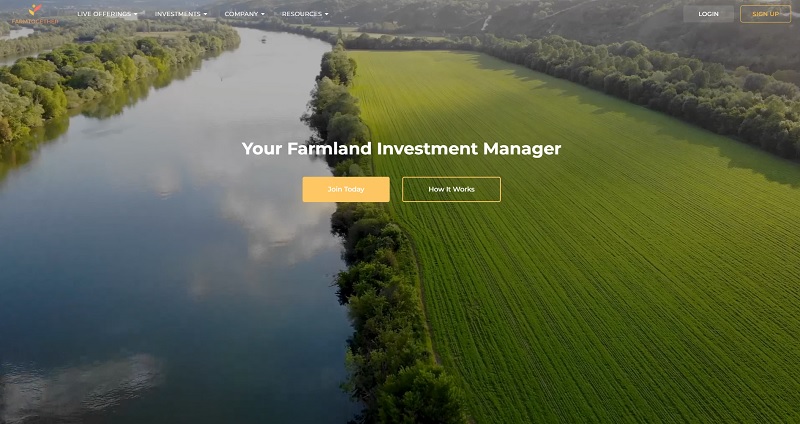 FarmTogether works similarly to AcreTrader. With FarmTogether, you own fractional shares of single farms. You can buy entire farms too, but that gets costly.
The farms that FarmTogether promotes buying shares in are leased to and managed by experienced farming professionals. The farms are purchased below value and then improved.
Shareowners earn money in two ways:
Steady income via the lease on the land
One-time payment with the selling of the farm
Investments with FarmTogether are usually long-term; expect a 5 to 10 year holding period. However, the returns can be pretty attractive at 7-13% per year.
FarmTogether doesn't offer REITs in farming. Instead, you're purchasing shares of an LLC.
Only accredited investors qualify to take part in FarmTogether offerings. However, the company is working on creating options for non-accredited investors.
Related: FarmTogether Review: Is This Farmland Investment Worth it?
3. Equities
Many farms, particularly the largest ones, are owned by corporations, and some of these are publicly traded. You can purchase shares of stock in a wide range of companies involved in farming.
Most free investing apps let you buy these stocks.
These companies with publicly traded stocks include:
Crop producers
Seed manufacturers
Fertilizer companies
Transportation companies
Food distributors
Here's a look at some types of publicly traded companies involved in agriculture.
Note: The following stock symbols are suggestions and not official recommendations. Perform your due diligence and use a stock screener to find farming stocks that fit your investment strategy.
Crop Producers
These are the companies that own or lease farms and produce the crops and livestock that feed the world.
Major publicly traded firms in this space include:
Adecoagro S.A. [NYSE: AGRO]
Fresh Del Monte Produce [NYSE: FDP]
Seed Manufacturers
Some of the greatest innovations in farming come from companies developing seeds designed to withstand drought and other harsh conditions and to produce high crop yields.
These companies include:
BASF [OTCMKTS: BASFY]
Dow [NYSE: DOW]
DuPont [NYSE: DD]
Many of these companies are big conglomerates with business units unrelated to agriculture. The non-farming business can negatively impact stock performance.
Also, by investing in a conglomerate, you don't have a farmland investing "pureplay" that only invests in farming.
Fertilizer Companies
Some of the top agricultural companies are involved in the fertilizer business and boast billions of dollars in revenue.
Some fertilizer stocks include:
Altius Minerals Corporation [NYSE: ATUSF]
Nutrien [NYSE: NTR]
Scotts Miracle-Gro Company [NYSE: SMG]
Equipment Makers
It takes tractors and a lot more to do the work of managing a farm. So it's worth exploring the companies that make the heavy equipment.
A considerable amount of consolidation in this industry has happened over the years.
Currently, three companies produce most farm equipment:
Deere and Company [NYSE: DE]
CNH Industrial [NYSE: CNHI]
Agco [NYSE: Agco]
Distributors and Processors
There is a lot that happens between when a farmer produces crops and when food ends up on your table.
Many companies process what farms produce and then get it to market in the products that Americans consume.
These companies include:
Archer Daniels Midland [NYSE: ADM]
Sysco Corporation [NYSE: SYY]
Tyson Foods [NYSE: TSN]
Related Article: 25+ Ways to Invest Outside of the Stock Market
4. Commodities
Did you know it's possible to invest in the following farm commodities?
Soybeans
Corn
Wheat
Coffee
Lean hogs
Live cattle
You can invest in these items as commodities, and essentially place bets on their price in the marketplace.
Commodities trade heavily on Mercantile Exchanges in New York and Chicago, both owned by CME Group.
If you are intimidated or confused by commodities trading, you can also invest in commodity funds.
These funds are exchange-traded funds that reduce your risk and give you exposure to the broad commodities market.
For example, you can invest in the Teucrium Soybean Fund (NYSE Arca: SOYB) to invest in soybean prices. If soybean prices rise, you can profit if you sell your fund shares.
Another example is the Invesco DB Agriculture Fund [NYSE Arca: DBA], which invests primarily in agriculture futures. You invest in multiple crops with one investment.
There are commodity ETFs for most crop commodities that trade on investing apps including M1 Finance. You can invest as little as $1 into stocks and ETFs.
One downside of commodity ETFs is that your investment income reports on a Schedule K-1 tax form. This form is more complex than a normal 1099 tax form.
You may choose to only invest in farming-related stocks that don't issue a K-1 form.
5. Mutual Funds and ETFs
Not sure how to select individual stocks related to farming?
Then consider a mutual fund or exchange-traded fund that focuses on the farming sector.
This can give you access to a broad swath of companies involved in farming but free you from researching each company.
It's easy to examine the individual holdings of a fund or ETF to see what it invests in.
The VanEck Vectors Agribusiness ETF (NYSE Arca: MOO), for example, invests in these farming companies:
Deere and Company
Archer Daniels Midland
Tyson Foods
Nutrien Co
There are also dedicated ETFs and funds for the commodities markets, as mentioned in the previous suggestion.
6. REITs
Real Estate Investment Trusts are companies that collect money from portfolios of real estate. And there are REITs related to farming that you can invest in.
These securities often provide high dividend income because they are forced by law to return profits to shareholders in exchange for avoiding corporate taxation.
Gladstone Land Corporation [NASDAQ: LAND] was the first farming REIT, specializing in buying land and leasing it to farmers. As of 2019, it owned 90 farms and 75,000 acres.
Farmland Partners [NYSE: FPI] is the nation's largest farm REIT with about 162,000 acres and 125 tenants.
For non-accredited investors who don't qualify for AcreTrader, these REITs can be a good alternative to hold income-producing assets.
7. Investing in Farm Debt
In addition to purchasing equity in farms, you can also be a lender to them. Farm debt is expected to hit $312 billion in 2022.
According to the USDA's Farm Sector Income Forecast, 10% of farm debt is owed by individuals.
Farmers borrow money frequently because they are in a capital-intensive business. They may need short-term loans to finance planting. Plus, they may get long-term loans to finance the purchase of equipment.
In many cases, they will also have mortgages on their land.
If you purchase farm debt, either directly or through bonds, you'll receive consistent payments as the borrower pays back the loans. You won't have to worry about the inconsistent nature of cash flow from farm revenues.
Of course, when you buy debt, there is always the risk that the borrower will default. However, find a farm that can pay its bills, and you may find a good investment opportunity.
Potential of Investing in Farmland
It was recently reported that there are more than two million active farms in the United States. That represents nearly 900 million acres of farmland, according to the U.S. Department of Agriculture.
This farmland is used for a wide range of agricultural purposes, and all of it produces revenue. (To be officially labeled as a "farm," you must produce at least $1,000 in sales of agricultural products in a year.)
It has also been reported that, in recent years, there were about 150,000 farms that earned more than $500,000 in revenue.
Needless to say, farming is a big business and represents a big investment opportunity.
In addition to owning and operating a farm yourself, you can purchase shares of a farm, or place bets on the prices of livestock and crops.
Pros and Cons
There are many reasons to believe that investing in farming and agriculture-related businesses could be profitable.
But like any investment sector, there are risks along with rewards.
Here are some things to consider before "farming up" your investment portfolio.
Advantages
Here are some things to consider before "farming up" your investment portfolio.
People Need to Eat
The farming sector is not going away. As long as there are people on Earth, there will be farms. Given that our global population is only growing, one could argue that it's an industry you can bet on for the long term.
Farms Are Increasingly Productive
An acre of farmland today produces significantly more crops, on average, than one from 20 years ago.
This means that you might not need to buy as much property as you might have in the past.
Thanks to advancements in science and technology, farms can produce higher yields with less land and other resources.
The USDA notes that even as total farmland and labor decreased, the total output from farms doubled between 1970 and 2015.
Disadvantages
Returns Have Been Underwhelming
The farming and agriculture industry is wide and broad, but it's hard to argue that it's been a major driver of investor returns in recent years.
U.S. net farm income rose in 2019, to $88 billion. But that's about 28% lower than its peak of $123 billion in 2013.
The average cash net income per farm in 2021 projects that net farm income will decrease by 8.1% in 2021 from 2020 farm incomes.
The median household income of farmers in 2019 reached $83,111, which is roughly the same as four years ago.
The USDA notes that most income from farmers is actually from off-farm activities.
For those investing in commodities and farm stocks, consider that the S&P GSCI Agriculture Index has reported an average annual loss of 1.99% in the last ten years, but nearly a 7% gain over the previous five years.
So farm investments have not been as profitable as the S&P 500 index funds over the last decade.
You Are at the Mercy of the Weather and Climate
In farming, there are many factors beyond your control, like if conditions are right for crops to grow.
Plants need an appropriate amount of rain and sunshine. Too much or too little of each can affect crop yields.
Over the years, U.S. farmers have dealt with these adverse weather conditions:
Droughts in California
Flooding in the Midwest
Hurricanes in the Southeast
Heatwaves everywhere.
Moreover, climate change has the potential to impact farming worldwide.
"Overall, climate change could make it more difficult to grow crops, raise animals, and catch fish in the same ways and same places as we have done in the past," the Environmental Protection Agency says.
Trade Wars Present Uncertainty
It's bad enough that you can't control the weather. You also can't control the decisions of the government, which have an impact on what you can earn.
One of the biggest challenges currently facing farmers is the trade war between the U.S. and China which has resulted in fewer imports of U.S. crops.
The Chinese announced that they would stop importing U.S. agricultural products, an apparent retaliation to tariffs that the U.S. imposed on Chinese goods.
This announcement comes after imports were already down 50% between 2017 and 2018.
"China's announcement that it will not buy any agricultural products from the United States is a body blow to thousands of farmers and ranchers who are already struggling to get by," American Farm Bureau President Zippy Duvall said.
However, due to local crop shortages, China increased record amounts of US corn in 2020, according to Bloomberg.
Geopolitical risks can ebb and flow but continually impact crop prices.
Summary
As the world population has exploded, farming has become as essential as ever. And that means there's an opportunity for investors who want to diversify their portfolios.
Choosing to invest in farmland isn't a risk-free investment. However, choosing the right companies and fields can earn a steady passive income.